Keela Chooses 360MatchPro by Double the Donation for Advanced Matching Gifts Integration
Double the Donation and Keela are excited to announce a new integration between Keela's online donation forms and 360MatchPro. The new integration and partnership will empower nonprofits of all sizes to seize their opportunity to raise more from matching gifts, engage with their donor base, and benefit from advanced tracking. 
"Keela and 360MatchPro are a natural fit for an integration because they combine two advanced yet easy-to-use solutions to create something seamless," says Nejeed Kassam, CEO at Keela. "This partnership will create lasting impacts for nonprofits and donors alike as we add matching gifts to organizations' fundraising efforts."
With an activated integration, donors can search their company name on the donation page and discover their match eligibility details on the confirmation page. Nonprofit organizations can then see where their supporters work and stay up-to-date with matching gift submission progress. Together, the two solutions create value for nonprofits looking to increase their matching gift revenue. 
"We're thrilled to provide eager nonprofit clients with the integrated solution they've been asking for between Keela and 360MatchPro," says Adam Weinger, President at Double the Donation. "Nonprofits were confident about the value this integration would bring them, and we can't help but agree!"
Read on to find out more about how this integration helps nonprofits raise more from matching gifts.

Activate in Seconds and Start Raising More from Matching Gifts!
Getting started with the 360MatchPro and Keela integration only takes a few minutes and a couple of steps. When a nonprofit organization is ready to start their integration, they can activate using their unique 360MatchPro API keys. 
Once these keys are placed and verified in Keela, orgs can easily add 360MatchPro tools to any desired forms to maximize matching gift potential. 
After this step is complete, the fundraising begins! Donors will then be able to navigate their giving experience with matching gifts in mind, thanks to the 360MatchPro auto-complete search tool and matching gift plugin present on Keela donation forms and confirmation pages.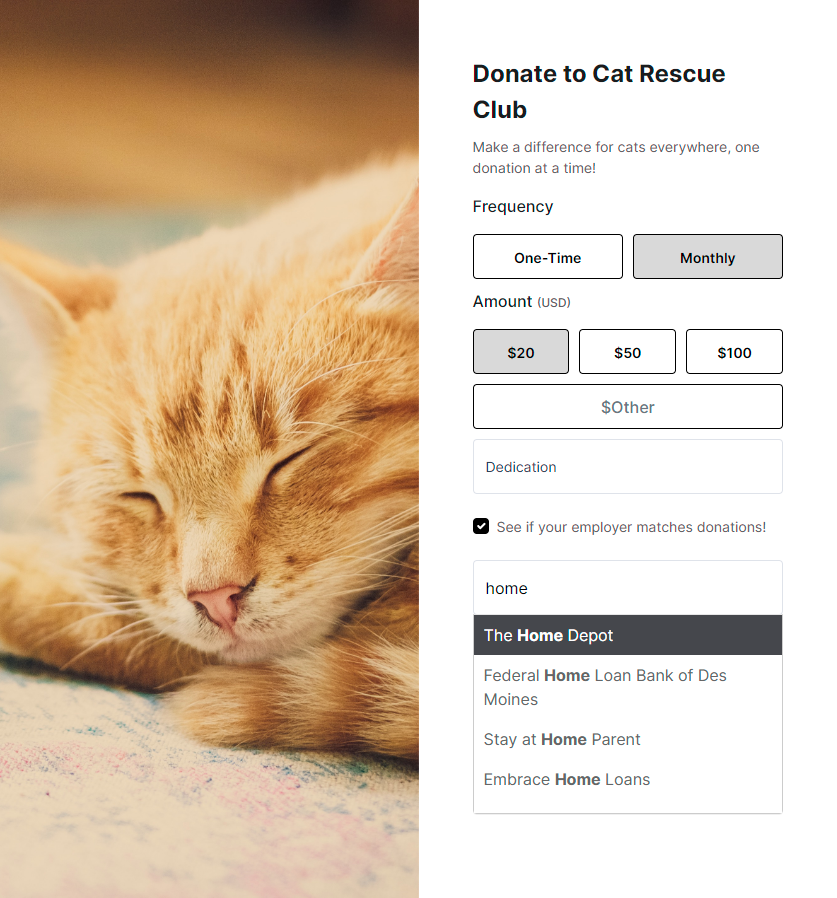 Donors can learn more about matching gifts, discover their eligibility, and take next steps to getting their gift matched – whether that be via a direct link to their matching gifts experience or an opportunity to automatically submit their match from the confirmation page.

Drive More Matching Gifts to Completion with 360MatchPro!
Keela and Double the Donation are proud to provide a solution that makes matching as easy as 1-2-3: activate, search, match! 
Check out these additional features: 
Identify more matching gift revenue opportunities: 360MatchPro enables you to automatically collect matching gift eligibility from donors using email domains, within donation forms, on confirmation screens, or by email. The more matching gift opportunities 360MatchPro discovers and shares with donors, the more matching gift requests your donors will successfully submit.

Drive more matches to completion, from form submission to corporate payment: Direct donors immediately to their matching gift forms after the donation process is complete. Then, provide the right information to the right donors at the right time with custom emails based on match eligibility. Target follow-ups drive more completed submissions than ever before, bringing exponentially more matching gift checks from companies through your door.

Reallocate your time from routine follow-up to your top opportunities: Your time is valuable, so why spend it chasing small dollar-value matching gifts? Let 360MatchPro automate your matching gift outreach while flagging your highest-value opportunities, allowing your team to personalize follow-ups to the most valuable match-eligible donations. Rest easy knowing that 360MatchPro can handle the rest.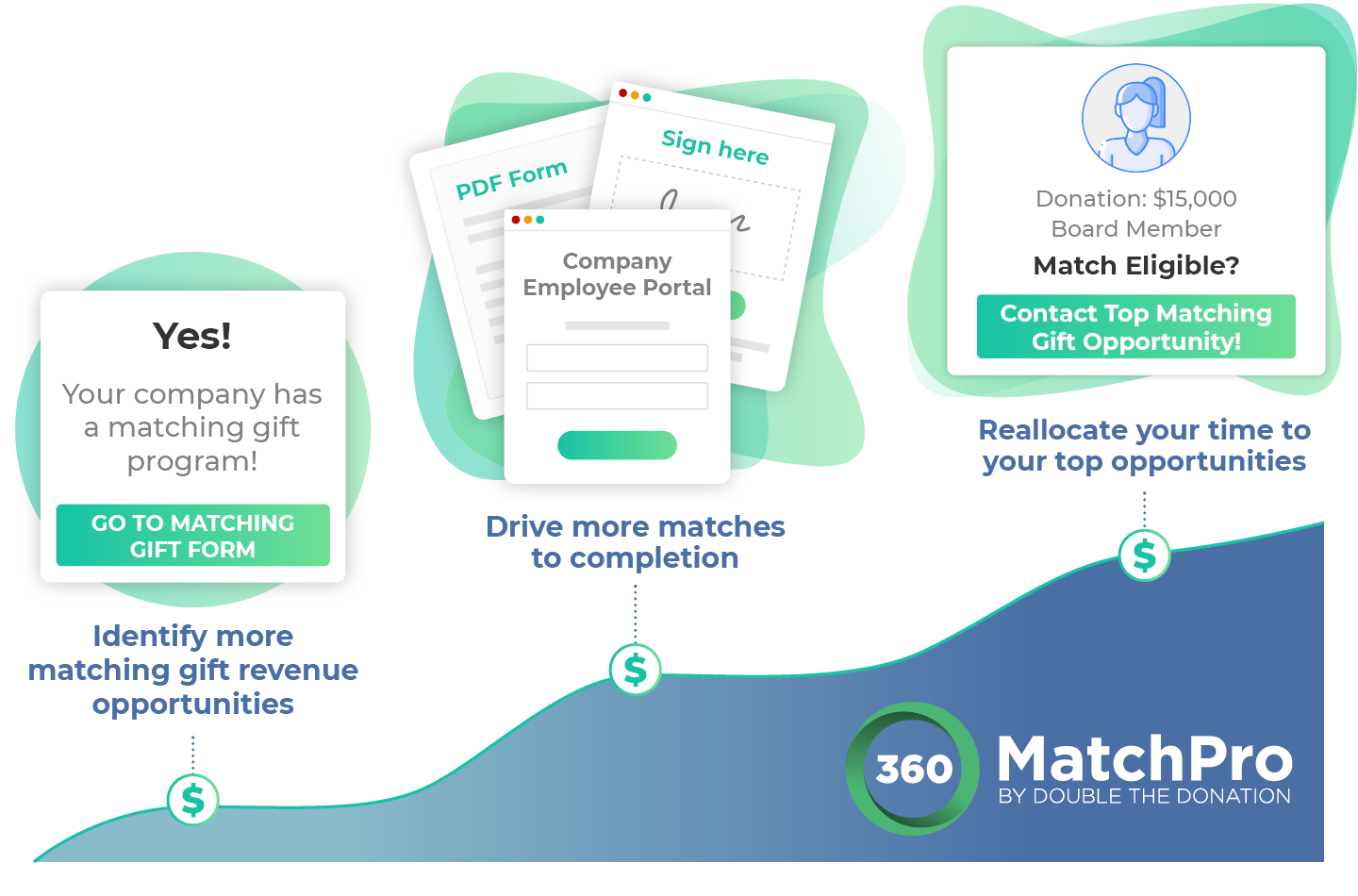 Interested in increasing your fundraising revenue with matching gifts? Request a demo today to get started with corporate gift matching through Keela and 360MatchPro by Double the Donation.
---
About Keela: Keela is a fundraising-focused software company on the cutting edge of innovation in the sector. Our mission is to serve and support every organization that is empowering positive change. Our uniquely powerful solution bridges the gap between fundraising and communications that exists in other solutions. This allows nonprofits to improve donor relations through a targeted, multi-channel approach. Keela is officially certified as a B-Corp. This means we're always prioritizing people over profit and never forgetting our commitment to the communities in which we operate. 
About Double the Donation: Automate your matching gift fundraising with the industry-leading solution from Double the Donation. The 360MatchPro platform provides nonprofits with tools to identify match-eligible donors, drive matches to completion, and gain actionable insights. 360MatchPro integrates directly into donation forms, CRMs, social fundraising software, and other nonprofit technology solutions to capture employment information and follow up appropriately with donors about matching gifts.
https://doublethedonation.com/wp-content/uploads/2022/12/DTD_keela-announcement-feature.png
290
775
Adam Weinger
https://doublethedonation.com/wp-content/uploads/2022/03/logo-dtd.svg
Adam Weinger
2022-12-05 12:23:59
2022-12-06 15:09:18
Keela Chooses 360MatchPro by Double the Donation for Advanced Matching Gifts Integration