14 Types of Corporate Philanthropy You Should Know About
Did you know that corporations give an average of $20-$26 billion to nonprofit causes each year?
More than ever before, companies are committed to giving back to their communities and improving the welfare of others—they're embracing corporate philanthropy.
But what exactly does corporate philanthropy look like when it's put into action? We've put together this guide to explore different types of corporate philanthropy you should know about and how you can embrace them, whether you're a company looking to start your own program or a nonprofit strategizing to increase giving to your cause. Here's what we'll cover:
Corporate philanthropy holds the potential to benefit both companies and nonprofits. In order to get the most out of these programs, it's important to gain an understanding of the different forms they can take and how they work. Let's get started.
Corporate Philanthropy: A Quick Overview
First, let's create a strong foundation for understanding the different types of corporate philanthropy by covering some basics.
What is corporate philanthropy?
Corporate philanthropy is a term that refers to the ways in which a company gives back to its community or promotes the welfare of others. Most commonly, corporations donate money or time to nonprofits to accomplish these goals. However, each company's program will look a little different, as they're often built around the company's unique values and the needs of the community it aims to serve. 
As you research corporate philanthropy, you'll likely come across the term corporate social responsibility (CSR). Though related, CSR should not be confused with corporate philanthropy. CSR refers to the general attitude a company takes toward society and the role it plays in it. You can think of corporate philanthropy as a specific way that companies put their CSR into action.
Eye-Opening Corporate Philanthropy Statistics
Corporate philanthropy may sound good in theory, but you're probably wondering if corporate philanthropy is successful in the real world. Let's take a look at the numbers:
The Prevalence of Corporate Philanthropy Programs
65% of Fortune 500 companies have matching gift programs.
28% of employers offer paid leave for volunteering, and that percentage increases each year.
The Effects on Nonprofits
The percentage of total giving by corporations to nonprofits increased from 2022 to 2023.
The top 10 corporations give over $2 billion annually to nonprofits, most of it through employee matching gift programs.
The Effects on Companies
71% of employees say it's important to work for a company where the culture is supportive of giving and volunteering.
Companies that engage their employees in philanthropic efforts see 57% lower turnover.
Clearly, companies that are leaning into corporate philanthropy are making a difference in their communities and even strengthening their workplaces. But wait—there are even more benefits!
The Benefits of Embracing Corporate Philanthropy
Corporate philanthropy is a win-win-win for the companies that embrace it, the employees who participate in it, and the nonprofits that are able to move their missions forward because of it.
Let's take a closer look at the benefits each party experiences when they participate in corporate philanthropy.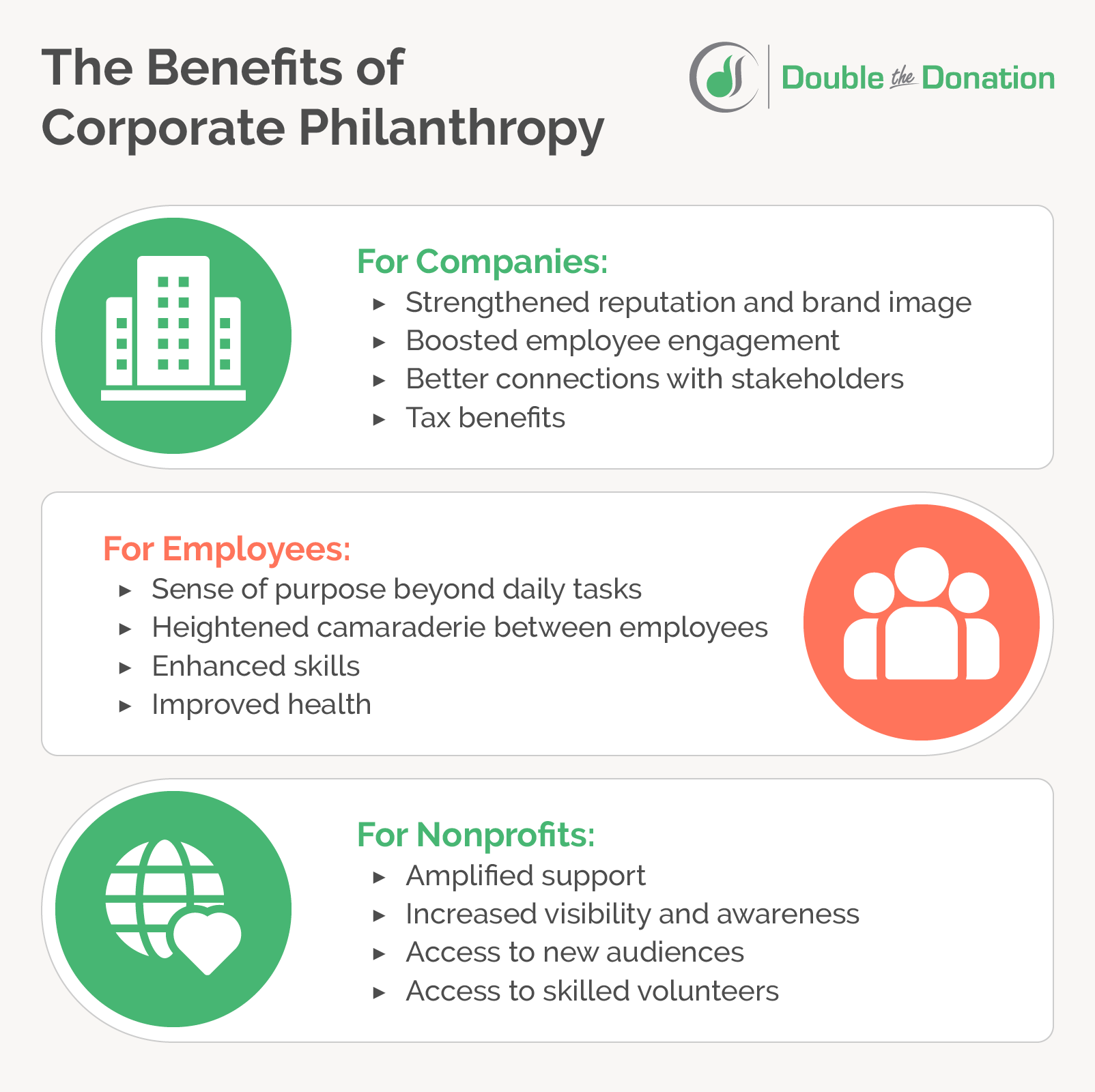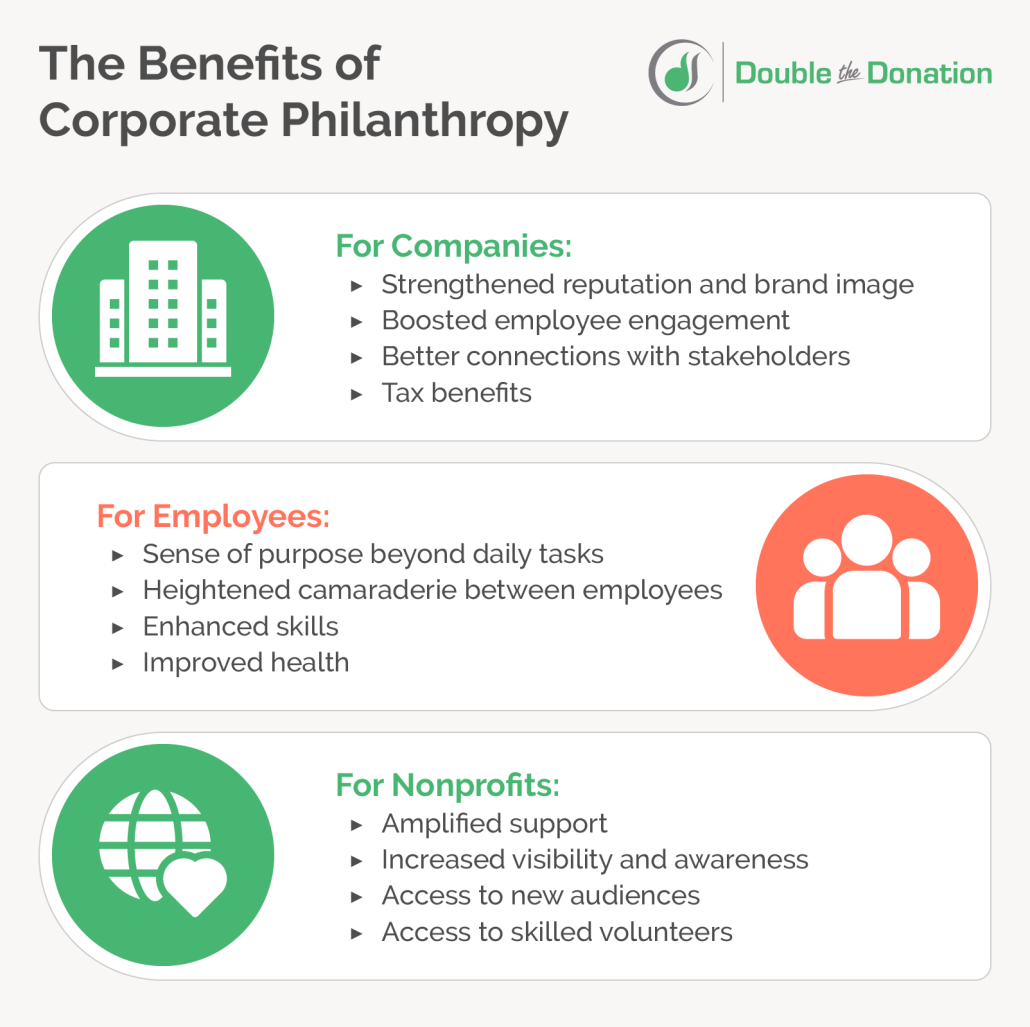 Benefits for Companies
Strengthened reputation and brand image. A company that demonstrates a commitment to making the world a better place is often perceived as a more appealing company to work for and buy from.
Boosted employee engagement. When employees are empowered to give back through their employers' corporate philanthropy initiatives, they have more pride in their jobs and are more motivated to be high achievers.
Better connections with stakeholders. The investors, suppliers, and other groups who support a company's operations want to see their partners making a positive difference in society. Stakeholders may even want to get involved in a company's philanthropic work.
Tax benefits. Depending on the area in which a company operates, it may be eligible for tax deductions up to a certain amount if it engages in corporate philanthropy initiatives like matching gifts.
Benefits for Employees
Sense of purpose beyond daily tasks. When charitable work or giving is woven into employees' working lives, they have a stronger sense of purpose and a more expansive view of their work. They can see the connections between what they do every day and what their company does to improve others' lives.
Heightened camaraderie between employees. Philanthropic programs that encourage employees to volunteer or serve together enable people to get to know their coworkers outside of the day-to-day at the office. Employees can bond over shared values and experiences, which can help build friendships and improve how employees collaborate.
Enhanced skills. Some corporate philanthropy initiatives provide opportunities for employees to use their professional skillsets or to develop new skills. For example, an expert computer programmer might find it fulfilling to use their knowledge to tutor at-risk youth in coding. Or, an employee may enjoy the chance to do something they don't do every day, like walking shelter dogs.
Improved health. Research shows that people who give back are healthier and happier. According to the Cleveland Clinic, philanthropic giving can lower blood pressure, reduce stress, boost self-esteem, help combat depression, and even extend the lifespan.
Benefits for Nonprofits
Amplified support. Any increase in support, whether it's funding or volunteer time, is the obvious benefit nonprofits experience from corporate philanthropy. But its importance can't be overstated. Nonprofits translate companies' support into tangible results for their beneficiaries. More funding and time may also empower a nonprofit to drive new projects forward instead of staying in maintenance mode.
Increased visibility and awareness. Because companies often promote their philanthropic work, the nonprofits they partner with get more exposure while the causes they champion get more awareness and attention.
Access to new audiences. A corporate donor or volunteer may very well turn into a lifelong supporter. Tapping into a company's philanthropic initiatives opens nonprofits up to entirely new communities of potential supporters and, better yet, gives them the chance to start building relationships with those potential supporters.
Access to skilled volunteers. When a company partners with a nonprofit to help drive its mission forward, the nonprofit has access to a whole new group of volunteers with diverse skills. Those skills might include customer service, landscaping, graphic design, or more!
Corporate Philanthropy Challenges To Be Aware Of
While companies, employees, and nonprofits can experience countless benefits from corporate philanthropy initiatives, there are also challenges that come with these programs.
For instance, the initial setup of a corporate philanthropy program can divert resources from a company's business activities and require careful and consistent monitoring of employee engagement in the program. Or, a nonprofit may face difficult questions from its supporters regarding how it allocates funds from its corporate partner.
Whether your organization is a company or a nonprofit, be aware that you will face challenges as you work to lean into corporate philanthropy. However, don't let the challenges you face deter you from getting involved with corporate philanthropy programs. With careful planning, open communication, and a commitment to making a positive difference in the community, nonprofits and their corporate partners can overcome the challenges of corporate philanthropy and share in the benefits.

14 Types of Corporate Philanthropy To Know
Now that you know what corporate philanthropy is and why it's important for companies, employees, and nonprofits, you're likely ready to start participating. Knowing what to look for in a corporate partner or what your company's program can offer will be critical to your success. So, let's explore 14 types of corporate philanthropy you should know!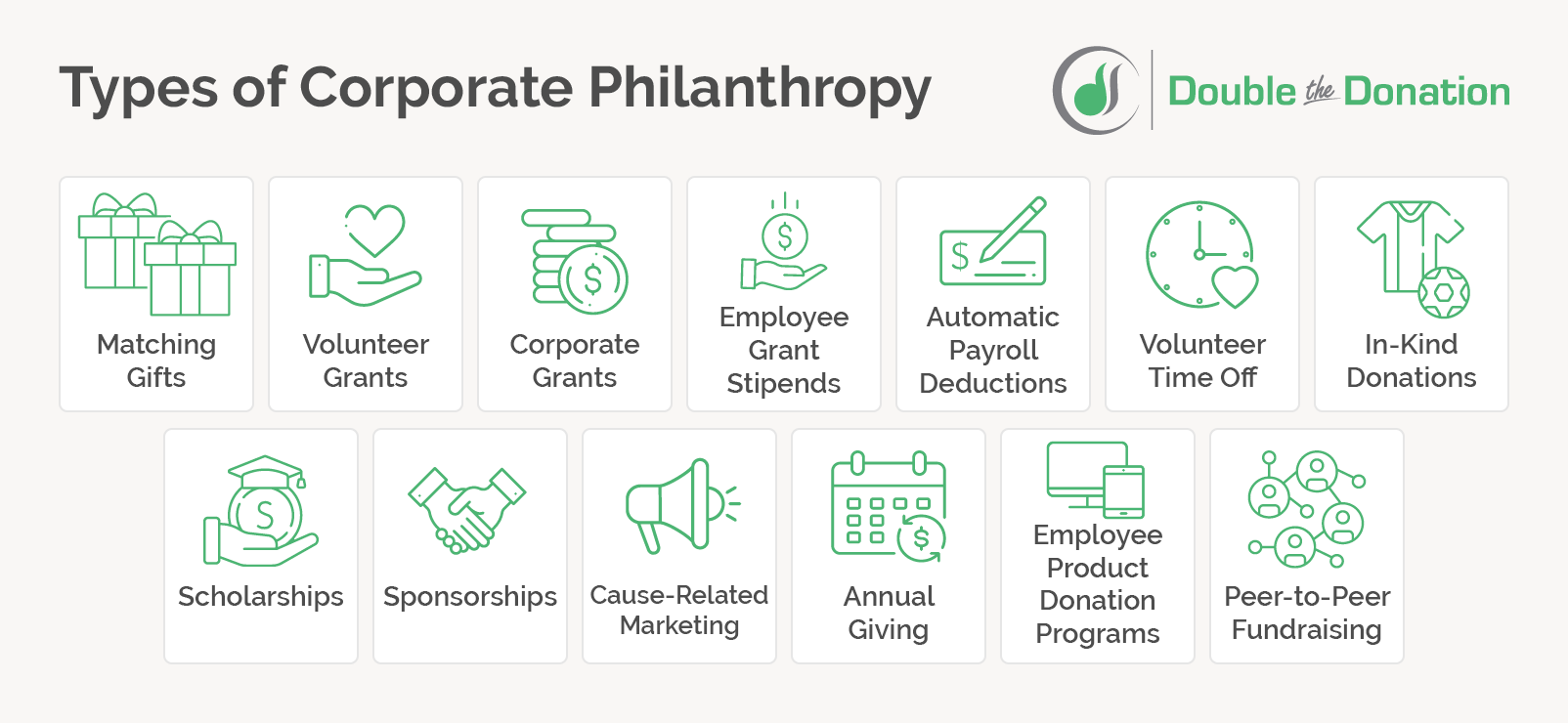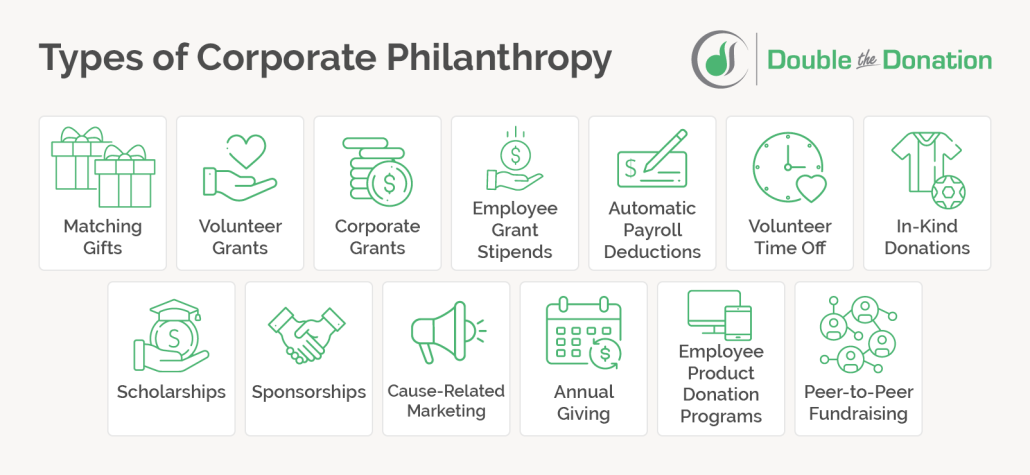 1. Matching Gifts
The most popular type of corporate philanthropy program that companies offer is matching gifts.
Through these programs, companies financially match the donations their employees make to charitable organizations, usually organizations deemed eligible by the company beforehand (e.g., educational institutions or youth-focused nonprofits).
The company will typically donate the same amount of money to the nonprofit, effectively doubling the donor's gift. Sometimes the company will donate double or even triple the amount of the initial donation.
The beauty of a matching gift program is that it allows a donor to boost their donation's impact without reaching back into their wallet!
Here's how the process works: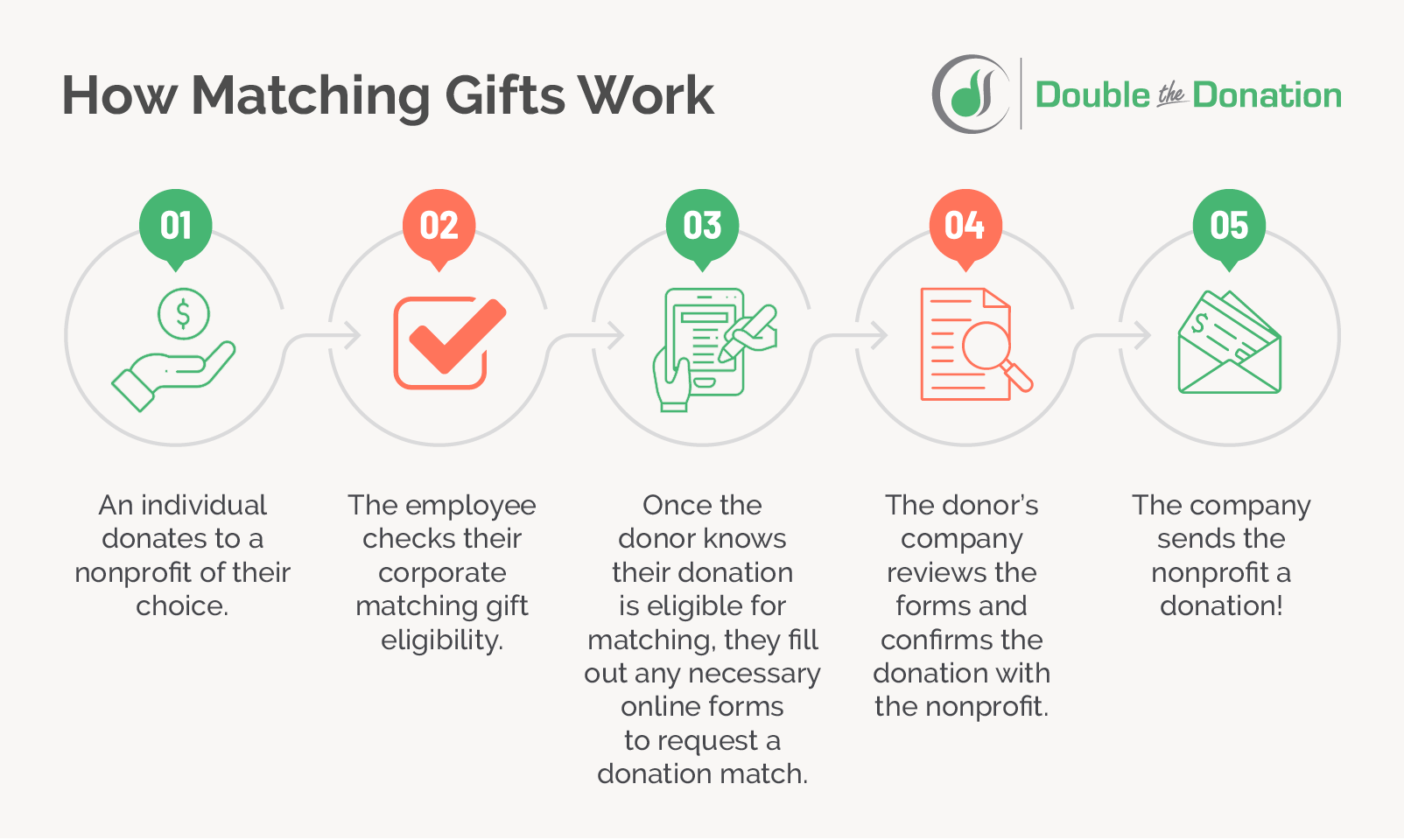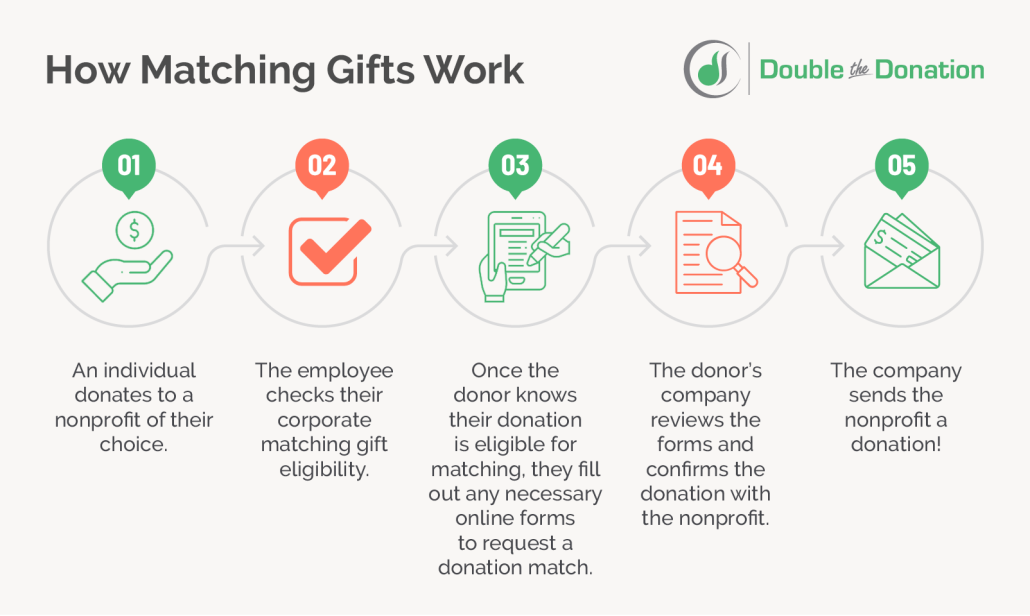 An individual donates to a nonprofit of their choice.
The employee checks their corporate matching gift eligibility using a database search tool on the nonprofit's website.
Once the donor knows their donation is eligible for matching, they fill out any necessary online forms provided by the database tool.
After the donor's company reviews the forms, it follows up with the nonprofit to confirm the donation.
Then, the company sends the nonprofit a donation!
This process is made even easier when a donor uses a CSR platform that offers auto-submission (more on this below). Instead of filling out multiple forms, all they have to do is provide their corporate email address. The rest is taken care of for them!
Each company's matching gift program will look a little different, depending on the nonprofits they deem eligible for gift matching, the types of employees they deem eligible for the program (e.g., full-time, part-time, retired), the ratio at which they match gifts, the minimum and maximum gift amounts they will match, and the submission deadlines for the program.
If this type of corporate philanthropy sounds too good to pass up, learn more about matching gifts with these resources!
For Companies: How to Start a Matching Gift Program
For Nonprofits: Get to Know the Basics of Corporate Matching Gift Programs
2. Volunteer Grants
Sometimes referred to as Dollars for Doers, volunteer grants are another incredibly popular type of corporate philanthropy.
Through these programs, employers match the hours their employees have volunteered with a nonprofit with a donation to that nonprofit.
Volunteer grants are a way to turn time into money—and another way for your nonprofit's supporters to drive more impact without spending a cent. 
The volunteer grant process works like this:
An individual volunteers with a nonprofit on a regular basis.
The volunteer uses a corporate giving database to check if they're eligible for a volunteer grant from their company.
After verifying their eligibility, the volunteer submits their application for a volunteer grant to their company.
The company reviews the application and confirms the volunteer hours the volunteer has put in with the nonprofit.
The company sends the nonprofit a donation!
Like matching gift programs, volunteer grant programs can differ. For instance, one company may give nonprofits a certain amount of money per hour volunteered, while another may donate a flat amount once a certain threshold of volunteer hours is met. Some companies may also offer team volunteer grants, where a grant is provided when a group of employees volunteers together!
Whether you're a nonprofit or a company, it will be important to have volunteers log their hours. Verifying those hours will be essential to giving and collecting a volunteer grant.
3. Corporate Grants
When awarding a corporate grant, a company gives money to a nonprofit for a specific program or project. Typically, large companies will offer a grant program, as it can be a lot to manage. But this doesn't mean smaller companies should shy away from the opportunity to award grants!
The process of getting a grant is a little more complex than something like matching gifts or volunteer grants. The nonprofit will have to apply for the grant with a compelling written grant proposal that clearly outlines its needs for the grant and what it will do with the money.
After reviewing the grant proposals, the company decides which nonprofit will receive the funding. The nonprofit must then use the money specifically for the purposes outlined in the proposal and approved by the granting corporation. To maintain a strong relationship with the company (and to lay the groundwork for future grant success), the nonprofit must report back to the company on how it used the funds and impacted its beneficiaries.
4. Employee Grant Stipends
Also known as employee grants or annual grant stipends, employee grant stipends are given on top of an employee's normal compensation package each year to allow that employee to give to the nonprofit of their choice.
Grant stipends may not yield as much funding for nonprofits as something like a matching gift program, but they do put the power in an employee's hands, allowing them to choose where their donations go. This allows a company's employees to choose to give to an organization that aligns with their personal values or interests. Plus, employee grant stipends can be an attractive part of a well-rounded compensation package!
5. Automatic Payroll Deductions
With this kind of corporate philanthropy, employers make giving extremely easy for their employees.
To participate, employees simply arrange to have part of their paycheck deducted and given to a nonprofit of their choice. However, companies may dictate which types of organizations are eligible to receive donations. To offer this type of corporate philanthropy, companies will need to check that their payroll system enables this functionality.
6. Corporate Volunteer Programs
With a corporate volunteer program, a company coordinates with a nonprofit to set up times when the company's employees can volunteer.
These volunteering outings may take the form of optional standing times for employees to volunteer with a nonprofit after work or on the weekends. Alternatively, businesses might host full-blown corporate volunteering days, where the entire company engages in a day of volunteer work.
Whatever they look like, corporate volunteer programs can be a lot of fun for the people involved. Employees can enjoy working alongside each other and nonprofits can get to know a new large group of enthusiastic potential supporters.
Plus, these programs allow nonprofits to tap into the company's skill sets or specialties. For example, a graphic design company might volunteer with a nonprofit and spend time helping a nonprofit revamp the branding on its social media content. Or, a team of bakers might come together to bake and serve treats at a nonprofit event.
The possibilities are endless! And employees will love using the skills they've developed at work to do good in the community.
7. Volunteer Time Off (VTO)
Volunteer Time Off (VTO) is paid time off for employees to do volunteer work for nonprofits in their community.
According to the Academy to Innovative HR (AIHR), VTO is a relatively new form of corporate philanthropy. (Remember, 28% of employers currently offer VTO, with the number increasing each year.)
AIHR also notes that the amount of VTO usually ranges from eight to 40 hours per employee per year. While that may not sound like a lot of time, a day or two of VTO can be an attractive part of a benefits package and do a lot to nurture a culture of giving within a workplace. Plus, the collective VTO hours donated by just one company can translate into a huge amount of progress for a nonprofit's cause.
8. In-Kind Donations
When you think of a donation to a nonprofit, you probably picture a check or credit card. However, donations of items or services, also known as in-kind donations, can also be extremely valuable for a nonprofit.
The great thing about in-kind donations is they cut out a step for nonprofits. Instead of having to purchase items or invest in services, they get access to them with less footwork, saving them time and money.
Here are some examples of how a company might provide a nonprofit with in-kind donations:
Give the nonprofit gently used computers or other technology when transitioning to new equipment for the company's employees
Donate a day of weeding to clean up the grounds of the nonprofit's facilities
Run a canned food or clothing drive on behalf of the nonprofit
Have the company's accountants give nonprofits advice during tax season
In-kind donations are a flexible form of corporate philanthropy. Nonprofits should be specific in what they're looking for—we suggest nonprofits post a wishlist on their websites. Meanwhile, companies should think of out-of-the-box ways they can give items or services.
9. Scholarships
You may be familiar with some private scholarship programs, like the Coca-Cola Scholars Foundation or the Dell Scholars Program. You or someone you know may have even applied to these programs!
Giving scholarships to deserving students is an excellent way for companies to invest in the potential of the rising generation and show how much they value education. A company may decide to offer scholarships directly to high school students headed for college or students who are already studying at the undergraduate or graduate levels. Or, a company may partner with a nonprofit to fund an existing scholarship program.
10. Sponsorships
Setting up a sponsorship between a nonprofit and a company is an effective way to create a long-lasting partnership.
Through a sponsorship, a nonprofit provides frequent financial support to its nonprofit partner. In return, the nonprofit acknowledges its sponsors' contributions through methods such as:
Issuing press releases to announce the sponsorships
Giving the sponsors a shout-out at events in promotional materials
Spotlighting the sponsors on its website
Creating a sponsorship acknowledgement wall or display
Providing sponsors with exclusive opportunities like behind-the-scenes tours or meetings with the nonprofit's board
Giving sponsors tokens of gratitude related to the nonprofit's cause (such as branded merchandise)
The months and weeks ahead of an event is an especially good time for nonprofits to seek out sponsors. Companies can not only provide funding for the event but also critical equipment or even venue space.
11. Cause-Related Marketing
Cause-Related Marketing (CRM) is a type of corporate philanthropy in which a company partners with a nonprofit organization to support a specific cause. The nonprofit then develops marketing campaigns that promote its products or services while raising awareness for the chosen cause or issue at the same time.
The key to a successful CRM initiative is to call the company's audience to action. When they see the marketing materials promoting both the nonprofit cause and the company's product, they should be inspired to do something on behalf of the nonprofit cause. This could be donating, sharing a social media message, or registering for an event.
12. Annual Giving
For this type of corporate philanthropy, companies encourage their employees to donate to nonprofits at certain times of the year. This is most common at the end of the calendar year. Donating is popular at the end of the year for personal tax purposes and because of the autumn and winter holidays that focus on giving and generosity!
This can be a fun way for companies to engage their teams around holidays like Thanksgiving, Christmas, Hannukah, Kwanza, and more. Companies can even get involved in their local communities' GivingTuesday campaigns, which take place on the Tuesday after American Thanksgiving.
13. Employee Product Donation Programs (EPDP)
Some companies may encourage charitable giving among their employees by offering discounts on the products they sell, which can then be donated to nonprofits.
This is an especially popular form of corporate philanthropy for tech companies. And what nonprofit wouldn't love new computers, tablets, or smartphones to streamline its operations?
14. Peer-to-Peer (P2P) Fundraising
Companies may also partner with a nonprofit and transform their employees into volunteer fundraisers for the nonprofit's cause.
This is done through peer-to-peer (P2P) fundraising campaigns. For these fundraisers, participants (like a company's employees) are given their own personal online fundraising pages. Then, the volunteer fundraisers solicit donations from their personal networks of family and friends, usually through social media.
This can be a powerful way to engage a company's workforce, tap into employees' competitive spirits, and even expand a nonprofit's audience to volunteer fundraisers' family and friends.

For Companies: How to Create Your Own Corporate Philanthropy Program
If your organization is a company, you might be interested in starting a corporate philanthropy program of your own after learning about the different options out there.
Here are some steps your company can take to set yourself up for success and engage employees in your efforts: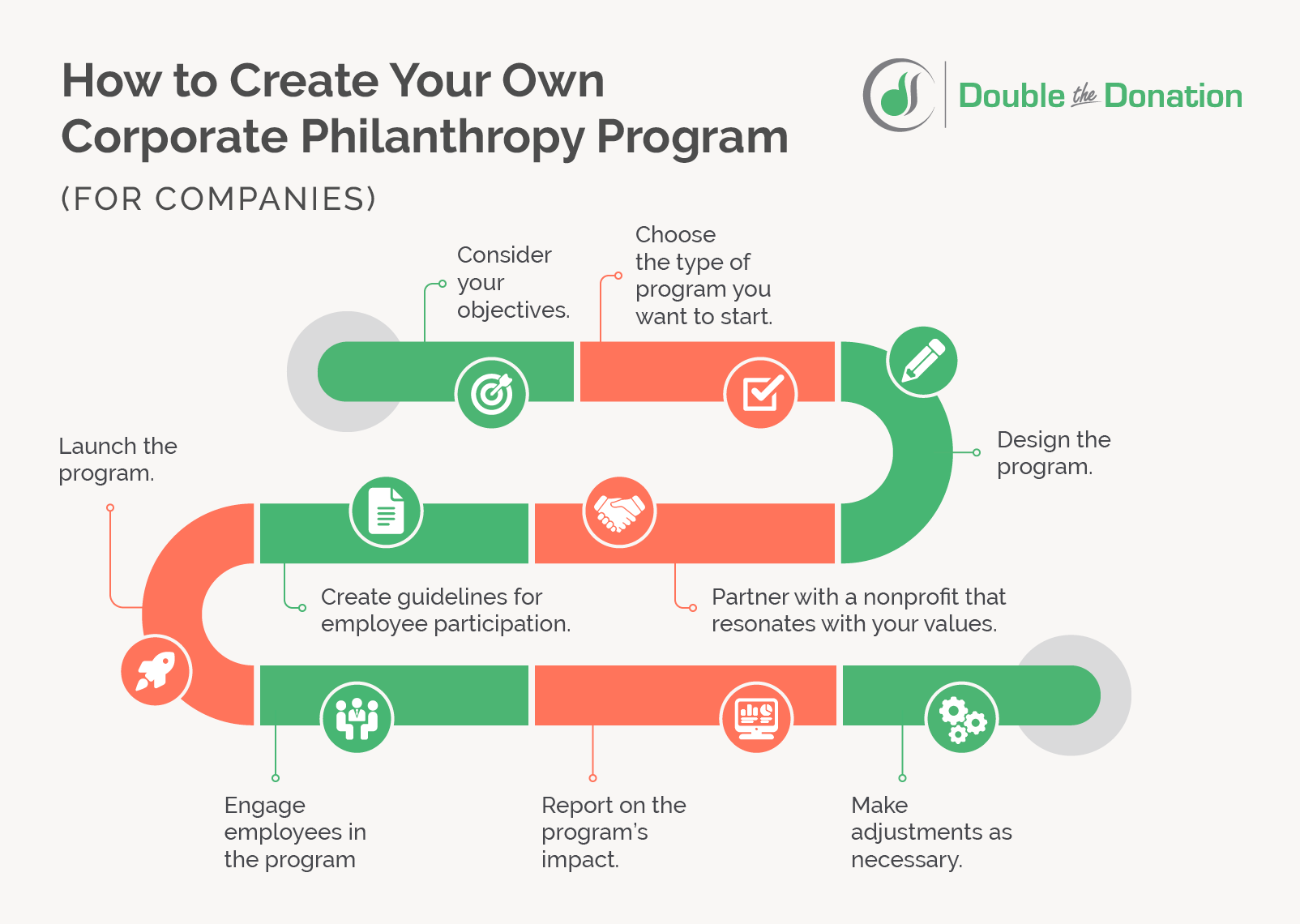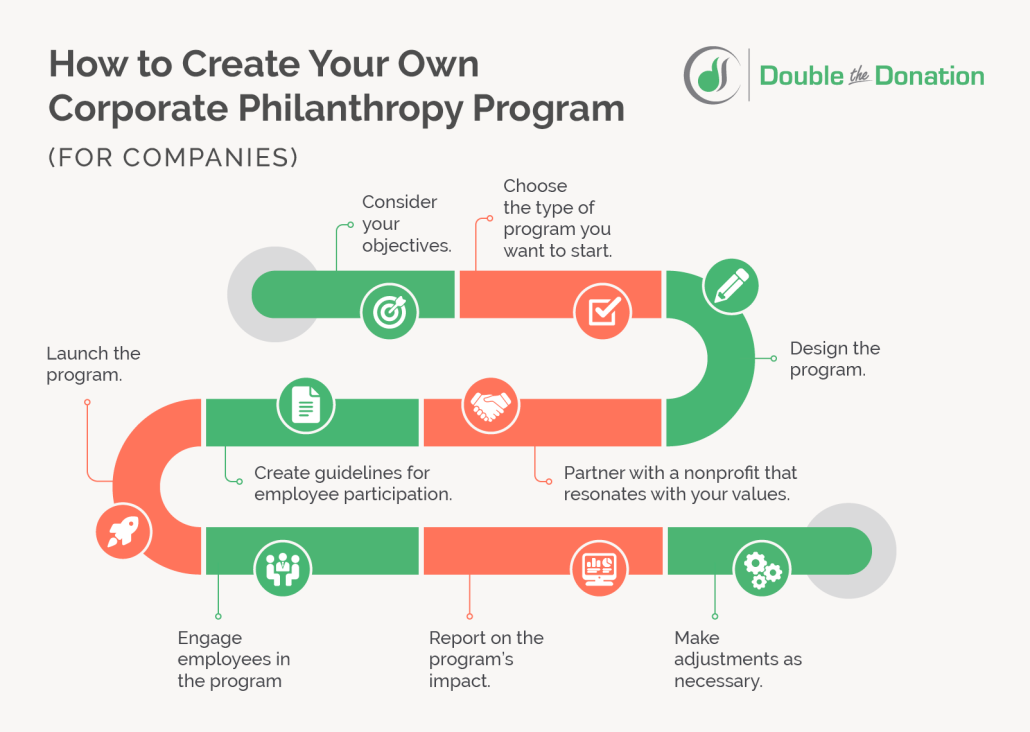 Consider your objectives. What are you hoping to achieve through your charitable efforts? You may want to make a positive social impact, build customer loyalty, or take care of your local environment. After you define your objectives, set clear and achievable goals, like "Launch a matching gifts program in March for all of our full-time employees." Having a rock-solid goal will make it easier to bring your corporate philanthropy program to life in a way that maximizes your team's efforts and minimizes the strain on your company's time and other resources.
Choose the type of program you want to start. Review the list above to decide which type of program you'd like to start. Consider your company's philanthropic goals, the shared values you have with potential nonprofit partners, and your employees' interests. Taking into account the type of program that will resonate with your employees will be imperative because success will depend on their participation. Also, note that you can work up to running multiple types of corporate philanthropy programs. For instance, you may want to have both a matching gift program and a scholarship program, but currently only have the bandwidth for the matching gift program. That's okay! One initiative is a great starting point and will provide the framework you need to expand your efforts later.
Design the program. Lay out what your program will look like and how it will work. Continuing with the matching gift program example, you should identify which nonprofits will be eligible to receive matched donations, what matching ratio you will offer, and what the minimum and maximum donation amounts are that your company will match. As part of your program design efforts, you may want to invest in a CSR platform to help you facilitate the program.
Partner with a nonprofit that resonates with your values. Partner with organizations that your company and your employees can be excited about working with. Your missions don't have to be totally aligned, but that can be a bonus. For example, if your company manufactures toothbrushes, you could partner with organizations that provide dental care to people in need.
Create guidelines for employee participation. Identify who at your company can participate in the program. For instance, you might allow part-time, full-time, and retired employees to tap into your matching gift program. You should also lay out the process for how to kickstart the matching process and who employees can talk to if they have questions or encounter any issues.
Launch the program. When you roll out your corporate philanthropy program, be transparent with your employees (and the rest of your community) about the program's goals and how it will work. Don't be afraid to share that the program is part of a larger push for CSR or that you're looking to make more of a positive impact on the community in which your company operates. This honesty will drive more interest in your program and get your employees excited to participate.
Engage employees in the program. Actively promote your corporate philanthropy program to your employees. For example, you might include information about your new VTO policy in your weekly company-wide newsletter or encourage managers to talk about the program in their next one-on-one meetings with directs. To make things more exciting, launch a participation challenge. You might see which department can volunteer the most hours with your nonprofit partner over the next quarter or see which team can bring in the most cans of food for your in-kind donation drive. Don't forget to reward the winners!
Report on the program's impact. After your program has been up and running for a good amount of time, take a look at how things are going. (Hint: A CSR platform can help you gather data on your program!) Report to your employees, nonprofit partners, and the larger community on the program's impact and how you envision the future of your efforts.
Make adjustments as necessary. As you evaluate your program, you may find that some things need to change. For example, you may need to adjust your matching gift ratio or the scholarship amounts you're offering to local students. Don't be afraid to make changes. You can even seek feedback from your employees and nonprofit partners so that you have a better idea of how to improve the program.
Starting a corporate philanthropy program takes a lot of work and ongoing maintenance, but it's worth the effort! You'll positively impact your community and drive employee participation when you take a thoughtful and thorough approach from the very beginning.
The Winning Element of A Corporate Philanthropy Program: Matching Gift Auto-Submission

Starting a matching gifts program is the easiest way for your company to dive into corporate philanthropy. But sometimes, the process of getting a gift match can be long and drawn out, meaning that employees may disengage with the process and your nonprofit partners may lose out on critical funding.

You can solve this problem by leveraging a CSR platform that offers Double the Donation's auto-submission functionality. Check out this video to get an overview of auto-submission:

With auto-submission, you'll:

Take any complexity out of the donation matching process for your employees
Guarantee all matching gift requests are formatted correctly (and actually submitted to your company)
Ensure that the matching gift funds reach your nonprofit partners faster

To tap into the power of auto-submission and level up your matching gifts program, you'll need to work with the right CSR platform. Double the Donation is not a CSR platform, but we partner with plenty of great vendors that leverage our auto-submission technology. Click the button below to learn more!

For Nonprofits: How to Tap Into Corporate Philanthropy Programs

If your organization is a nonprofit, you're probably eager to benefit from one or more of the types of corporate philanthropy discussed above! To do so, you need to have a strategic approach. Here's what we recommend: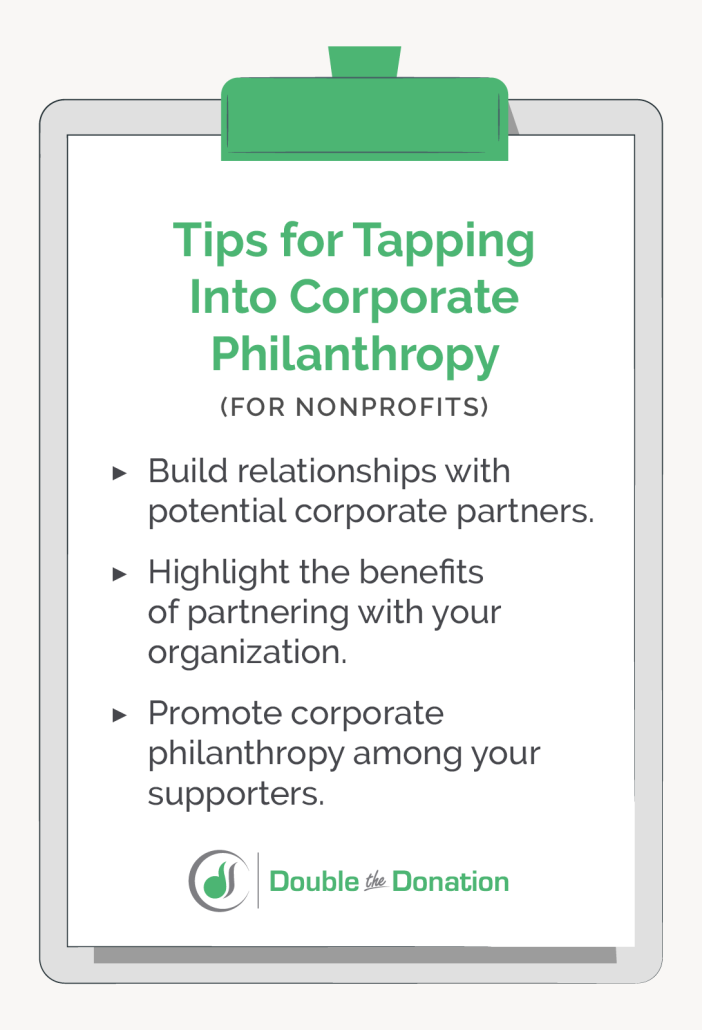 Build relationships with potential corporate partners. Get to know the business leaders who run companies in your local area or who share similar values or missions to your own. Get face time with them so that your teams are familiar with each other.  Invite them to events. Demonstrate the impact that you could have if you worked together. Then, when the time is right, ask how your nonprofit can become part of their philanthropic program.
Highlight the benefits of partnering with your organization. For instance, when reaching out directly to ask companies to partner with your organization, you might highlight the benefits you give sponsors, such as free publicity or exclusive perks. You could even speak to how your specific cause will help to engage that company's workforce or how your causes align.
Promote corporate philanthropy among your supporters. Depending on the type of program, the onus will be on your supporters to help your nonprofit tap into their employers' corporate philanthropy initiatives. Let your donors know that programs like matching gifts and volunteer grants exist and that they could be eligible. Encourage them to inquire about these programs at work, or even to advocate for the creation of a program.
Being thoughtful in how you approach corporate giving will allow you to tap into as many opportunities as possible. You'll develop more impactful relationships with companies and ultimately drive greater outcomes for your mission.
The Key to Maximizing Corporate Support: A Corporate Philanthropy Database

The most important tool for tapping into corporate philanthropy is a corporate philanthropy database, like 360MatchPro by Double the Donation.

Our database is the largest and most up-to-date collection of information about companies' matching gift and volunteer grant programs. Here are a few fun facts about our platform:

We have 24,493 company records
This represents nearly 27 million employees
Our database covers an estimated 99.68% of all gift-match-eligible donors

So, when you invest in our database and embed it on your donation form or your website, you're empowering your donors (and your team members) to check their volunteer grants and matching gift eligibility and start the process.

Click the button below to take 360MatchPro for a test drive!

Wrapping Up: Don't Miss Out on Corporate Philanthropy!

Remember, although there are many different types of corporate philanthropy out there, the benefits for companies, employees, and nonprofits are universal. Now that you know your options (if you're a company looking to build its own program) or what to look for in a corporate partner (if you're a nonprofit), you're ready to experience those benefits for yourself!

Want to continue exploring the world of corporate philanthropy and CSR? Check out these resources:
https://doublethedonation.com/wp-content/uploads/2023/10/types-of-corporate-philanthropy_feature.png
760
2000
Adam Weinger
https://doublethedonation.com/wp-content/uploads/2022/03/logo-dtd.svg
Adam Weinger
2023-11-07 19:05:37
2023-11-22 15:03:52
14 Types of Corporate Philanthropy You Should Know About