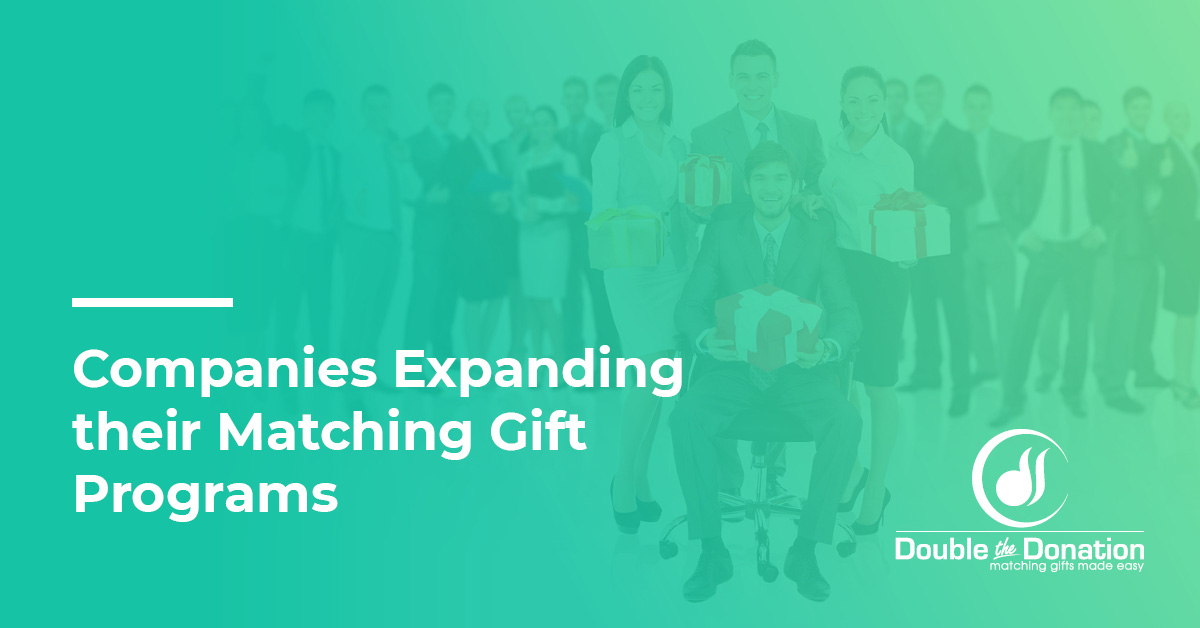 Matching Gifts and COVID-19: How Companies are Responding.
Amid the COVID-19 crisis and everyone being impacted, many businesses across the globe have taken a closer look at their corporate philanthropy efforts.
In a majority of cases, these companies have expanded their programs, especially their policies surrounding matching gifts.
Through these philanthropic programs, corporations agree to financially match the donations their employees make to eligible nonprofit organizations. Because of this, philanthropic corporations are able to give back to their communities, specifically to the charitable organizations their employees care about.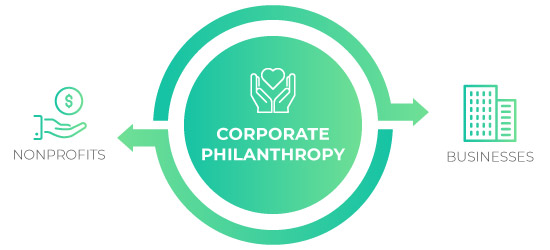 While it's true that some companies are pausing or narrowing their program benefits, many more companies have instituted new programs or broadened their existing programs in response to the pandemic. These changes include:
COVID-19-specific matches

Higher maximum match limits

Higher match ratios (e.g., 2:1 versus 1:1)
One of the most prominent reasons for these expansions is so companies can better support the outpouring of giving from donors during these challenging times.
To give you a better idea of these positive changes, we've compiled a few of the companies that have expanded their matching gift programs over the past year in response to the global pandemic.
We're in the middle of updating our matching gift database for these companies, but if you have additional information on these programs or any other company changing their matching gift program in response to COVID-19, feel free to let us know by emailing us at data@doublethedonation.com.
As we walk through each one's philanthropic efforts, we can explore the various ways in which individuals, charitable organizations, and corporations work toward a greater social good.

AbbVie

AbbVie, a company dedicated to pharmaceutical research and development, has announced a significant increase in their charitable giving programs. The AbbVie Foundation is currently working to counteract the effects of the COVID-19 crisis as best as possible. To help, they have doubled their match agreement with eligible employees— now offering to match donations at a 2:1 ratio.
Apple

The widely-known technology company Apple has increased their matching gift donations to a 2:1 ratio, and committed donations have already surpassed $15 million. These funds are going to support COVID-19 response efforts on a local, national, and global scale.
AutoDesk

AutoDesk, an engineering software company based out of California, has increased the match ratio from 1:1 to 2:1— while also raising the maximum match offered per employee. The AutoDesk company is encouraging willing and able employees to help out in any way they can, while doing their part as well.
Blackbaud

Blackbaud, a cloud computing software provider, has increased its matching gift limit by up to 30%, which is the second time they've upped the maximum since January. Additionally, Blackbaud employees are known for consistently high levels of participation in their matching gift programs— more than twice the national average.
Caterpillar

Caterpillar construction machinery partakes in corporate philanthropy through the Caterpillar Foundation— a group dedicated to improving lives around the world with basic infrastructure services. Caterpillar employees and retirees are currently eligible for increased gift matches from a 1:1 to 2:1 match ratio to make an even bigger impact.
Facebook

Facebook is currently offering a unique take on a matching gift program. Not only are employees and retirees eligible for a donation match, but the general public can take advantage as well. They've committed to matching $20 million in charitable gifts to support the COVID-19 Solidarity Response Fund and the CDC Foundation.
General Mills

General Mills' food company is encouraging employees to participate in their matching gift program by increasing both the match ratio and the match limit. With a match ratio of 2:1 and a maximum of $1,500 rather than $1,000, General Mills' employee donations can make over 4 times a larger impact.
Google

Google is upping its matching gift program as well. Google has introduced a significantly higher cap where the company will match up to $20,000 per employee for an even greater impact.
Honda

Honda Motor Company is increasing its individual gift limit to $1,000 in order to better support relief aid and local food programs. This matching gift revenue is in addition to Honda's $1,000,000 pledge to address food insecurity across the globe.
KLA

KLA Foundation, a semiconductor manufacturing company, has shown one of the largest increases in corporate matching gifts— from $500 to $10,000 per employee. The KLA team is looking to amplify employee giving efforts and make the biggest difference they can.
Micron

Micron Technology is working to provide relief to those affected by the COVID-19 crisis by increasing their matches to a 2:1 ratio for all related donations by company employees. These generous donations are run through Micron Gives, their charitable giving program that has also pledged over $35 million for coronavirus aid.
Microsoft

Microsoft is offering an initial $1 million donation to a coronavirus relief fund, with additional funding offered through employee matching gift programs. They are encouraging Microsoft employees to give any way they can by contributing to organizations providing food and medical supplies to those in need.
Moody's

Moody's is looking to provide relief both in monetary grants through matching gifts as well as a growing virtual employee volunteer program through pro-bono service projects. Moody's is also offering additional grants for small businesses and educational institutes that have been impacted by the pandemic.
NetApp

NetApp has recently implemented an employee matching gift program, offering dollar-for-dollar matches on gifts up to $500 to COVID-19 response organizations on a global scale. The NetApp team is working to sponsor worldwide solutions including vaccine research, tests, and treatment.
PepsiCo

PepsiCo, Inc. has recently upped its matching gifts program from a dollar-per-dollar approach to a 2:1 match ratio for double the impact. The PepsiCo company is encouraging employees to do what they can to promote COVID-19 relief and response efforts, while they do their own part as well.
Tapestry

Tapestry, Inc. is currently offering a 2:1 match on donations up to $10,000 made to eligible, COVID-19 related missions. Tapestry employees and employers alike are working to fight coronavirus and its social and financial impacts to make a larger impact than one could individually.
Twilio

Twilio has increased its matching gift ratio to 2:1 in order to promote charitable giving by employees. The company is giving to nonprofit organizations focused on COVID-19 relief, including the CDC Foundation, Global Relief International, Give2Asia, and International Medical Corps. In addition, Twilio has boosted volunteer efforts through virtual mentorships and other online programs.
UnitedHealth

UnitedHealth Group is matching employee donations dollar-for-dollar up to $5,000 to support the coronavirus response efforts of community and global partners. Dedicated and generous employees are looking to support those in need during these trying times, and UnitedHealth is boosting those efforts.
VMware

VMware has currently doubled its matching gift limit for the year, bringing the maximum contributions matched over $6,000 per employee. This way, each VMware employee is able to make a larger impact on their community and help others that have been significantly affected.
---
Thousands of businesses already have established corporate giving programs, while others are rolling out new policies every day. Whether they choose to make an impact by expanding an existing matching gifts program, or by introducing a new program altogether, these boosted levels of corporate social responsibility are sure to provide some sort of relief in these trying times.

https://doublethedonation.com/wp-content/uploads/2022/06/DTD-Linkedln-Feature-Image.jpg
628
1200
Adam Weinger
https://doublethedonation.com/wp-content/uploads/2022/03/logo-dtd.svg
Adam Weinger
2020-04-03 17:02:31
2023-09-19 18:42:36
Matching Gifts and COVID-19: How Companies are Responding.