Company Spotlight: Maximizing Matching Gift Innovation with Innovative Discovery
The list of matching gift companies is endless⁠—and not exclusive to one region, business size, or corporate sector. Instead, employers all over the world opt to match their employees' charitable donations. Doing so results in elevated corporate philanthropy, team-wide engagement, and even positive brand image.
So what makes one company's program stand out over another? There are a lot of factors that go into a top matching gift company, including donation (low) minimums and (high) maximums, open eligibility, seamless donor experiences, and more.
One that stands out in all areas is legal services company Innovative Discovery. And we'll tell you why!
Read on to learn more about:
Ready to get started? Dive in and see what makes Innovative Discovery's matching gift program top-tier.
What to Know About Innovative Discovery
Founded in 2005 in Arlington, Virginia, Innovative Discovery is a strategic consulting firm and legal services provider to a wide range of corporations and groups. The company partners with government agencies, construction and manufacturing businesses, energy and utility companies, financial services, healthcare and life sciences providers, and more.
Innovative Discovery employees—a combination of technologists, lawyers, and cybersecurity experts—work as strategic consultants to provide authoritative guidance throughout the litigation processes and information lifecycles. Specifically, the consulting group aims to offer unique insights into cybersecurity, data breaches, digital forensics, and high-stakes litigations to set their clients up for maximal success.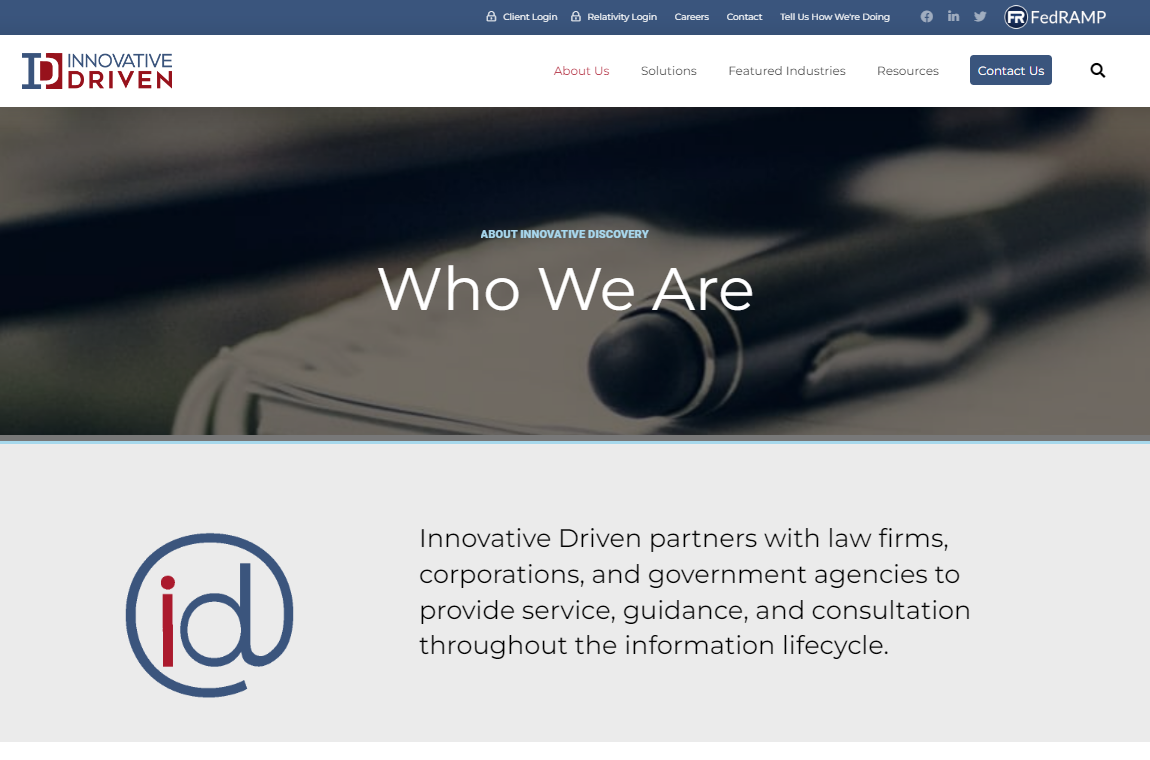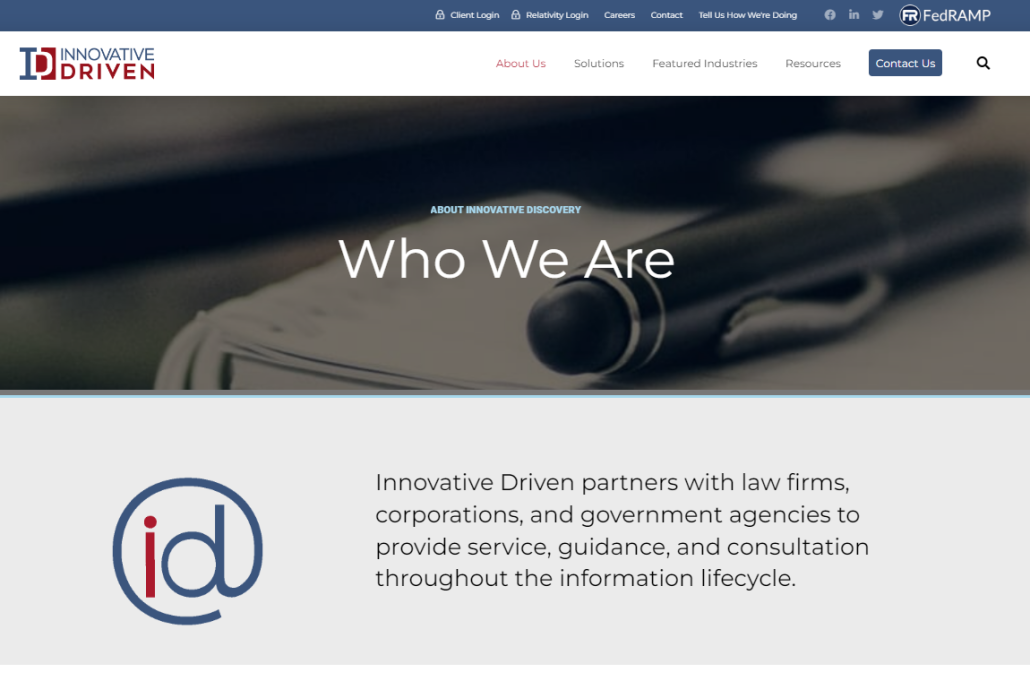 This corporation also places a significant emphasis on giving back to the communities in which they operate, including offering community service, nonprofit sponsorships, and more. Plus, they support nonprofit organizations of all shapes and sizes through their generous matching program.
Current Matching Gift Program Guidelines
Innovative Discovery employees have the opportunity to double their charitable giving impact by participating in the company's matching initiative. Personal gifts made by Innovative Discovery team members of between $25 and $2,500 are eligible to be matched at a 1:1 rate.
Even better, nearly all nonprofits qualify for the program. This includes K-12 and higher education institutions, arts and cultural institutions, environmental nonprofits, and other registered 501(c)(3) organizations.
And the company makes it as easy as possible for employees to take part, driving participation and overall program usage with auto-submission.
Here's a quick overview of the Innovative Discovery corporate matching gift program eligibility requirements:
Matching gift ratio – 1:1 (or dollar for dollar)
Qualifying employees – Current full-time and part-time Innovative Discovery team members qualify to request corporate matching donations.
Eligible nonprofit recipients – Most nonprofit mission types qualify for Innovative Discovery matching, which includes:

Educational institutions (K-12 included)
Health and human services
Arts and cultural organizations
Civic and community groups
Environmental nonprofits
And most other 501 (c)(3) organizations

Submission process – Employees may complete their match request directly following their initial donation on the organization's giving form using auto-submission or navigate to Selflessly's online matching gift portal to fill out a brief application.
Learn more about Innovative Discovery's matching gift program guidelines here.
Standing Out With Matching Gift Auto-Submission Through Selflessly and Double the Donation
The #1 thing that makes Innovative Discovery's matching gift program so innovative is its participation in newly developed matching gift auto-submission. By partnering with Double the Donation and corporate giving platform Selflessly, ID is streamlining the process for employees getting involved.
Enabling auto-submission significantly reduces the time and effort involved in completing a matching gift request⁠. And it can all be done directly from a nonprofit's website⁠—driving more ID employees to participate. With increased program participation, more funding goes to the nonprofit causes their employees care about. Not to mention, the company itself receives elevated benefits from its corporate giving offerings. It's a win-win-win⁠—and it's easier than ever before!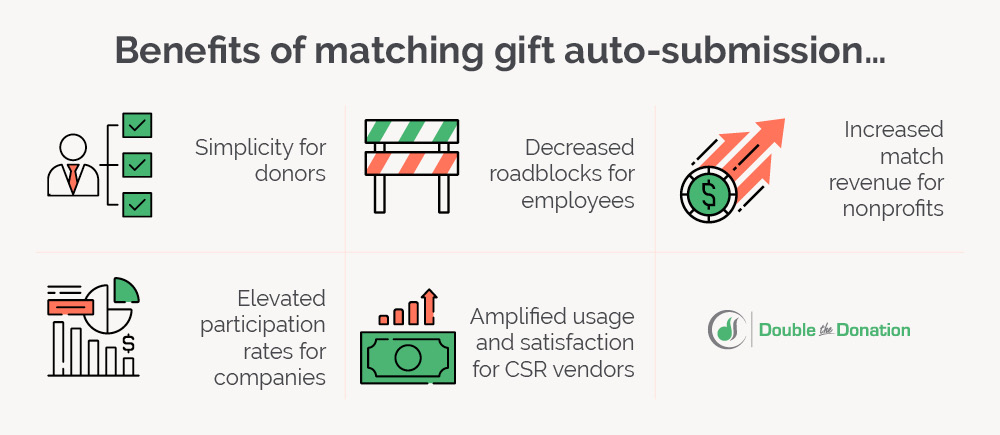 Here's how the matching process works for Innovative Discovery team members using auto-submission:
An ID employee makes a donation directly on their favorite nonprofit's website and enters their company name⁠—Innovative Discovery⁠—in a donation form field.
On the confirmation screen, the employee enters their corporate email address. They then check a box and authorize Double the Donation to submit the match request on their behalf.
From there, the matching gift request is processed behind the scenes⁠—thanks to the integration between Double the Donation and ID's corporate giving software Selflessly⁠—and the match funding is paid out to the organization.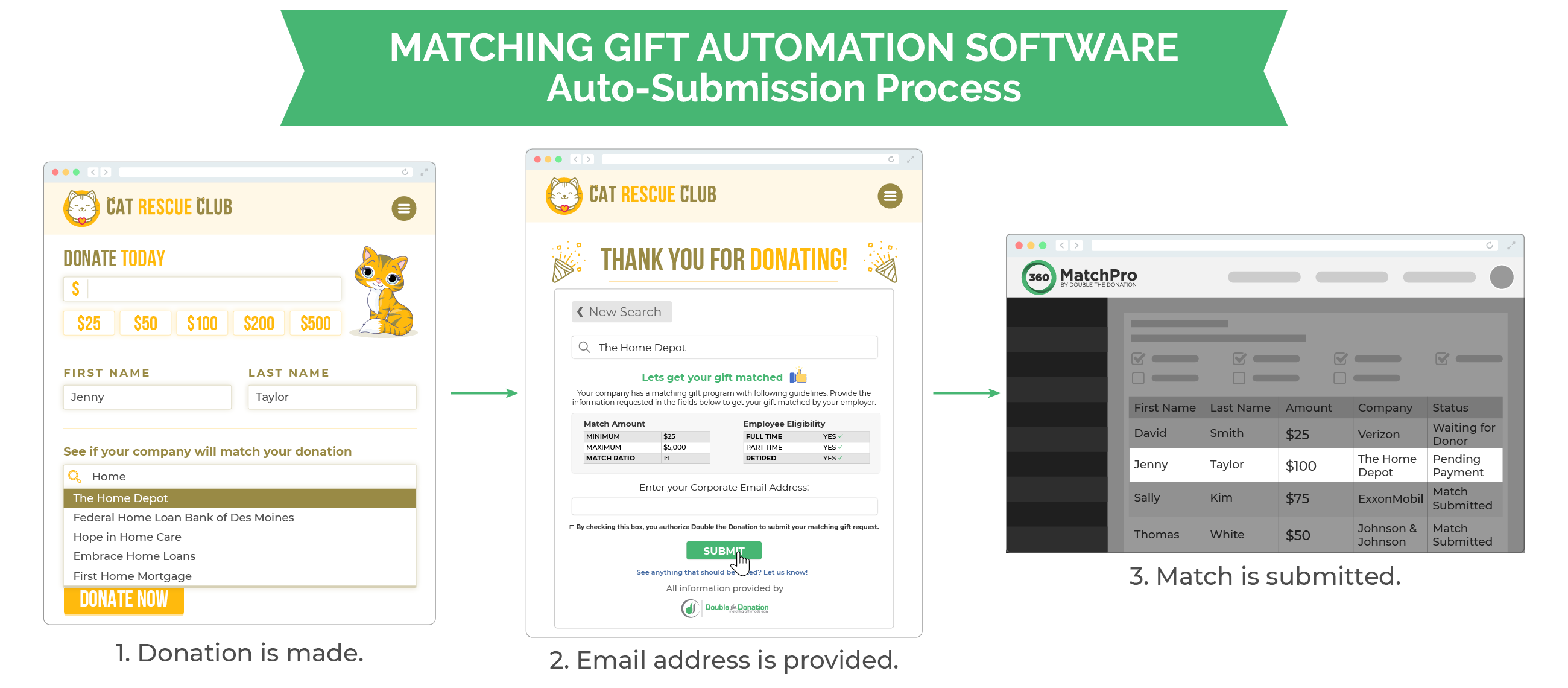 Learn more about matching gift auto-submission with Double the Donation here.

Innovative Discovery's CSR Software Partner, Selflessly
Innovative Discovery facilitates its matching gifts and other corporate giving initiatives by leveraging a CSR management software company, Selflessly. Selflessly is framed as an "all-in-one giving platform for CSR," offering both corporate giving and volunteerism features.

Through this software solution, companies like Innovative Discovery are able to:
Elevate corporate giving and employee matching with ease;
Simplify corporate volunteering and organize team and individual volunteer opportunities;
Increase employee engagement by participating in social good;
Make the most of purposeful reporting and impact assessments.
Recently, Selflessly was also one of the first providers to roll out new auto-submission functionality with Double the Donation, making corporate matching gifts easier than ever before.
Other Innovative Giving Initiatives
Innovative Discovery's website shares that "the primary focus of ID's corporate philanthropic efforts are nonprofit organizations valued by our employees." This idea is reflected in the company's matching gift program as well as additional team-wide efforts for various charitable causes.
This includes:
ID Civic Day ⁠— Innovative Discovery's Civic Day offers an annual opportunity for team members to engage in their communities. Beyond typical PTO, the company offers an additional paid day off work for employees to volunteer with community service projects.
Employee volunteer grants ⁠— ID states that the company supports team member philanthropy through matching donations and investments of their time with corporate volunteer grants. When employees volunteer with various causes, the company pays out grants to the organizations to which they dedicate their time and efforts.
Steps for Autism team challenge ⁠— Every April, Innovative Discovery employees take part in a workplace giving campaign on behalf of the Autism Society. During World Autism Month, team members compete by department to see who can get the most steps. At the end of the month, ID makes a donation to the Autism Society on behalf of the winning group.
Sponsorship for Climbing Blind: Tibet Expedition ⁠— In 2004, Innovative Discovery aided groundbreaking Climbing Blind's Tibet Expedition. The company sponsored the event by building essential technical infrastructure. With their newly developed interactive website and intuitive web content management system, Climbing Blind had access to the tools they needed to connect climbers with their growing online community.
Innovative Discovery leadership has made it a point time and time again to invest in giving back to their communities. We're excited to see what they roll out next!
---
Wrapping Up
Companies like Innovative Discovery are paving the way for more businesses⁠—and the nonprofits, donors, and communities they support⁠—to benefit from groundbreaking matching gift programs with ease. As more and more corporations roll out innovative auto-submission functionality by leveraging partnerships between corporate giving and matching gift-specific technology, the results will continue growing to new heights.
Ready to learn more about standout matching gift companies and practices? Explore other Double the Donation resources here:

https://doublethedonation.com/wp-content/uploads/2022/12/DTD_Company-Spotlight-Article-Selflessly-Innovative-Discovery_Feature-1.png
600
1600
Adam Weinger
https://doublethedonation.com/wp-content/uploads/2022/03/logo-dtd.svg
Adam Weinger
2022-12-19 15:48:38
2022-12-20 23:07:43
Company Spotlight: Maximizing Matching Gift Innovation with Innovative Discovery