2023 at a Glance | Double the Donation's Year in Review
As we near the end of another extraordinary year, the Double the Donation team is thrilled to reflect on the incredible journey we've taken in our 2023 Year in Review. Throughout these last twelve months, we've seen remarkable growth, exciting developments, and forward-thinking strategies emerge.
And we're thrilled to review some of our most compelling milestones and updates here! These include:
Now, let's rewind and see what's happened in the past year.
Exciting product updates & enhancements
Over the last twelve months, Double the Donation has continued to enhance our flagship product, 360MatchPro. Marked by an exciting array of more than 35 product updates and enhancements in the past year, the consistent developments are designed to bolster our matching gift automation platform and its overall effectiveness for users⁠.
Let's take a look at some of our standout new features and enhancements here:
Matching gift auto-submission adoption ⁠to improve and simplify the matching experience
As one of our most cutting-edge developments, matching gift auto-submission is increasingly adopted by corporations working with our CSR platform partners. By significantly streamlining the match request process and strengthening relationships between companies and nonprofits, auto-submission functionality remains projected to yield matching gift revenue growth of 200% or more.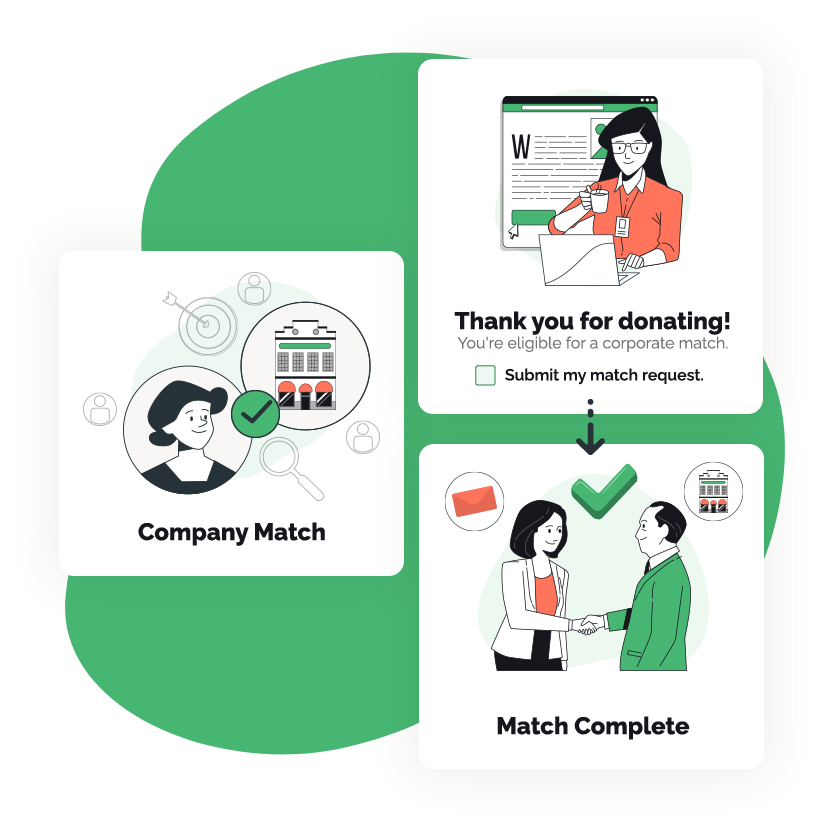 Custom matching gift program management to empower deeper corporate partnerships
Custom (or "one-off") matching gift programs can provide organizations with an additional source of matching gift funding. Initially offered exclusively to 360MatchPro Enterprise clients but now available for all standard users as well, our new custom matching gift program functionality makes managing these opportunities simple and impactful for nonprofits.

*As a note: this feature is designed specifically for fundraisers to manage their end of the matching gift process⁠. If you're a corporation interested in matching gifts, let us know, and we'll refer you to a corporate vendor partner that can help.
Improved tracking and reporting functionality ⁠to demonstrate the impact of matching gift automation
We want to make match tracking and reporting as easy (and insightful) as possible for our users. In order to do so, recent product updates include a new "Simple Statistics" module, a donor event tracking log, an updated reporting tab that provides quick, pre-built action items and data-informed recommendations, and more.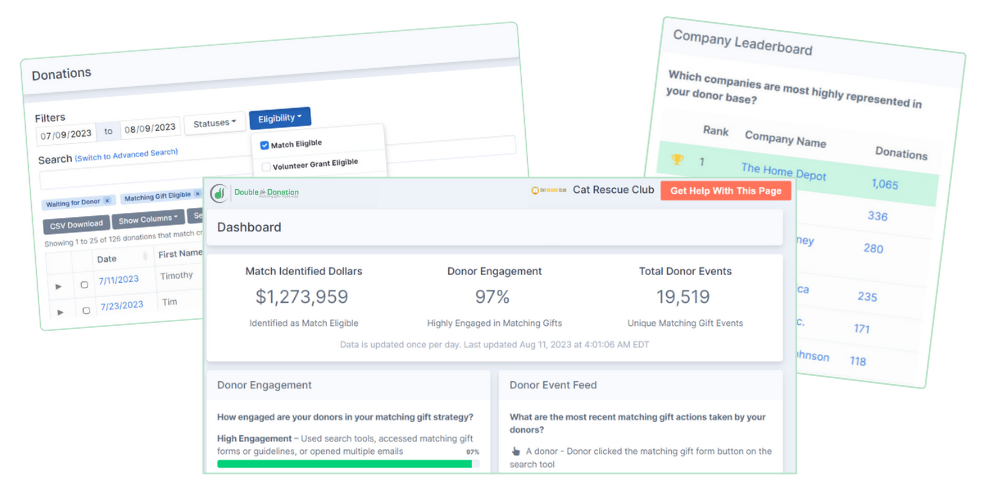 Renewed VPAT for Revised 508 Standards ⁠to verify and increase software accessibility for all users
An accessibility audit and updated Voluntary Product Accessibility Template ensure our platform stays up to date with and adheres to the most current accessibility guidelines. After all, our goal is always to offer a fully inclusive tool for fundraisers and donors alike.
These product updates and more have paved the way for our most powerful solution yet. As a result, our team is better equipped to serve nonprofit fundraisers and aid as they maximize their matching gift potential. And we've built a strong foundation for future advancements in 2024 and beyond.
Continually expanding client base
At Double the Donation, we take great pride in our ability to forge meaningful relationships with an ever-growing number of nonprofit and school fundraisers. Over the past year, we've been delighted to welcome more than 1,800 new organizations into our ever-growing client family.
Here's what a few of our newly onboarded clients have had to say:
"360MatchPro has been an excellent tool for uncovering matches from donors and, moreover, has integrated easily into our giving pages on various platforms.

What especially stands out, though, is Double the Donation's superb customer service and support. We love partnering with our contact there; she always takes the initiative to make sure we are getting the best use out of the product. Also, she is always ready to hop on a Zoom call whenever we need her support."

— Mamie Smith, The Westminster Schools
"The Double the Donation team is incredibly responsive and knowledgeable. Their willingness to help has been instrumental in our organization's implementation of the platform."

— Catalina Fischer, Plan International USA
"Even if you are remotely interested in finding out more, I highly recommend setting up a demo to explore the possibilities."

— Christie Deems, Rubicon Programs
"360MatchPro has saved us a ton of manual work. Once we set up our templates and schedules, the system did the work for us–sending out matching gift reminders and updates. Our onboarding specialist was super helpful, providing us with checklists and support to keep us on track and to make sure we didn't miss anything during setup. We already have folks opting in to make matching gifts! 360MatchPro is definitely increasing our revenue stream."

— Liz Dixon-Eversole, Milton Academy
By collaborating with causes like these across widespread verticals and mission types, our team is honored to support the work our clients are doing to make a positive impact on the world around them.
As we head into 2024, we're excited to see the upcoming successes that occur as new organizations dive deeper into strategic matching gift fundraising with our tools.

Numerous new & enhanced partnerships
At Double the Donation, successful partnerships are at the core of what we do. We understand that the more extensive our integration offerings, the more effortlessly organizations can incorporate matching gifts into their existing donation processes. This facilitates a streamlined and positive experience for donors, ultimately increasing the impact of their support.
That's why we continually prioritize partnership network growth by establishing integrations with new donation tools, peer-to-peer fundraising software, CRMs, corporate giving platforms, and more. At the same time, we're improving and enhancing existing integrations to provide the most seamless, impactful solutions for our clients.
In 2023, we're happy to report that our team has celebrated more than fourteen new integrations and eighteen partnership enhancements. And that's in addition to our existing technology network!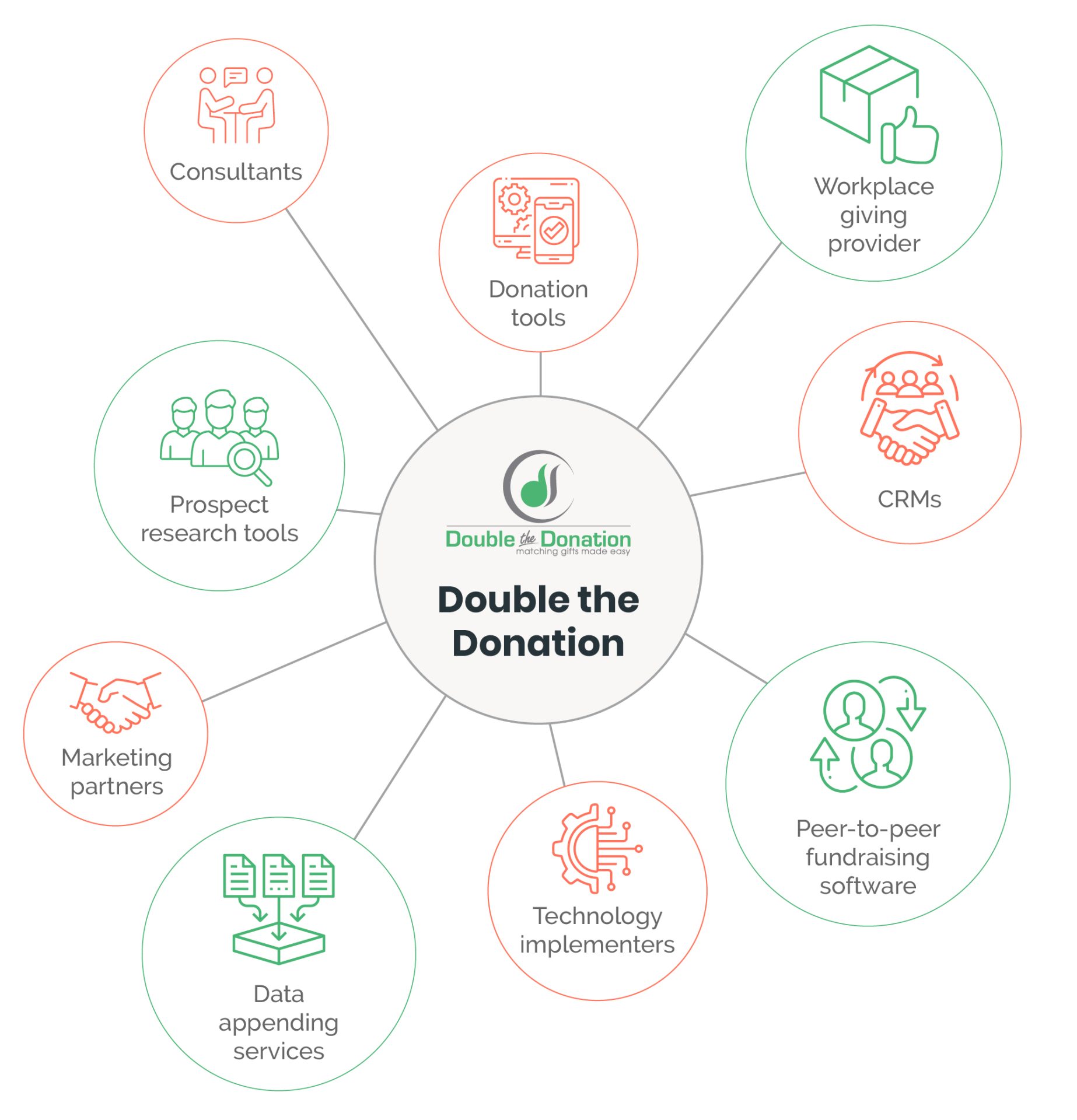 With these new integrations, along with ones that are soon to come, we're excited to continue building industry relationships that will propel the matching gift fundraising ecosystem to new heights.

Remarkable levels of overall matching gift success
A key recurring highlight of our annual Year in Review report involves examining our clients' monumental matching gift fundraising outcomes. And this year was no exception!
So far in 2023, Double the Donation software users have boasted impressive metrics like these: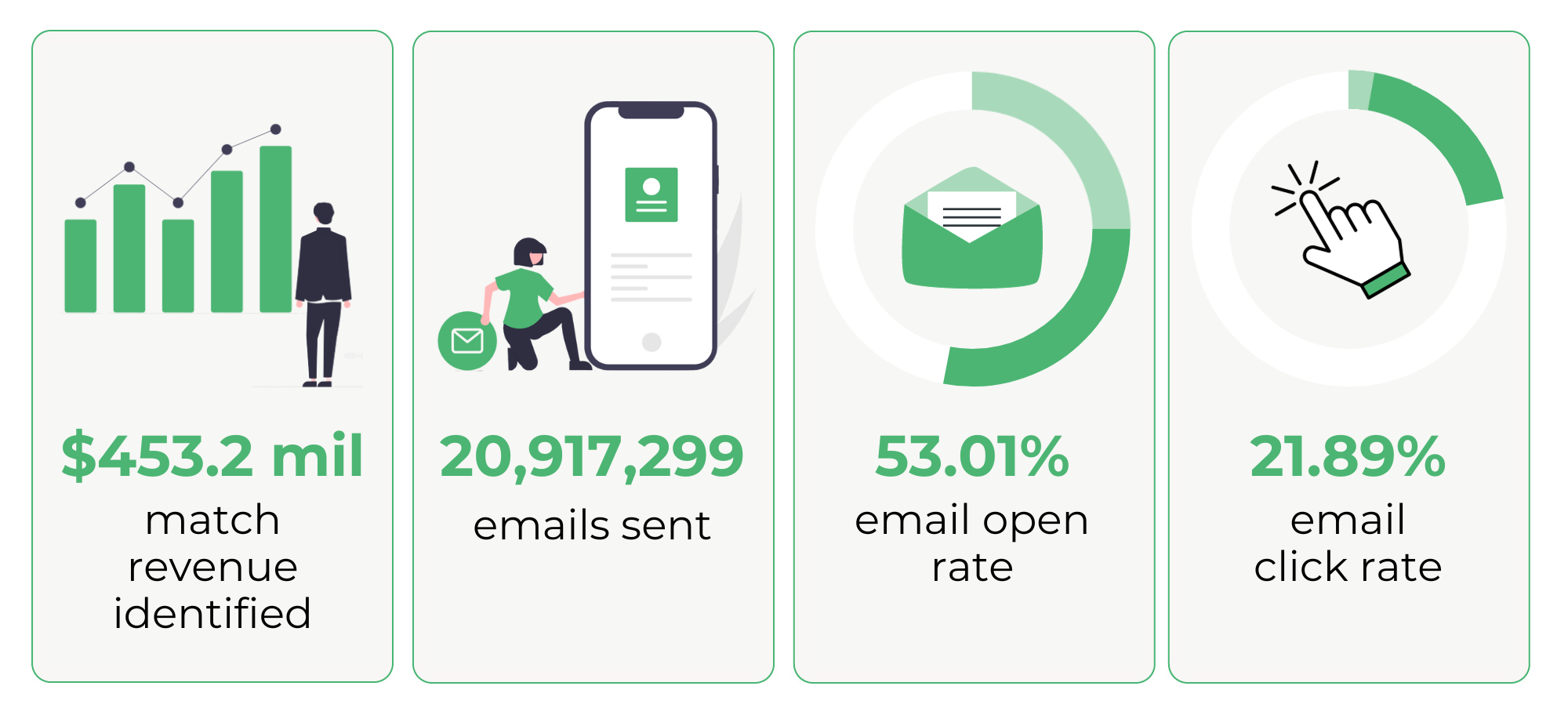 Not only do matching gift strategies identify new opportunities for additional funds, but they also produce greater levels of donor engagement with impactful communications and outreach. And this year, we are glad to say that our clients have reaped the benefits outlined above and more!
Significant matching gift database growth
At Double the Donation, our extensive matching gift and volunteer grant database is one of our most powerful assets. And organizations use this tool every day to power their own corporate giving strategies.
That's why it's so crucial that we provide the best, most comprehensive compilation of program information⁠. And why we continue to expand its coverage and scope.
At the time of our 2023 Year in Review, our database consists of more than…
24,493+ company records
26,800,000+ employees represented
99.68% estimated coverage of match-eligible employees
91% form availability for match-eligible donors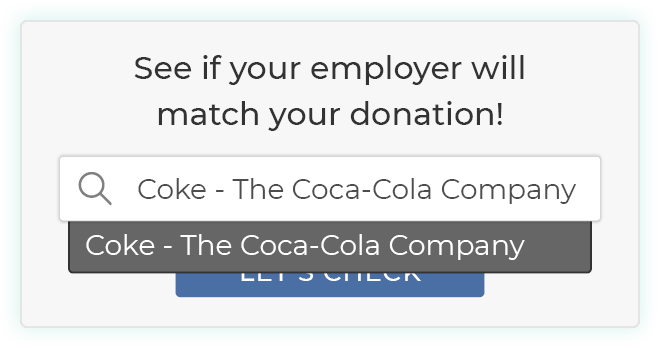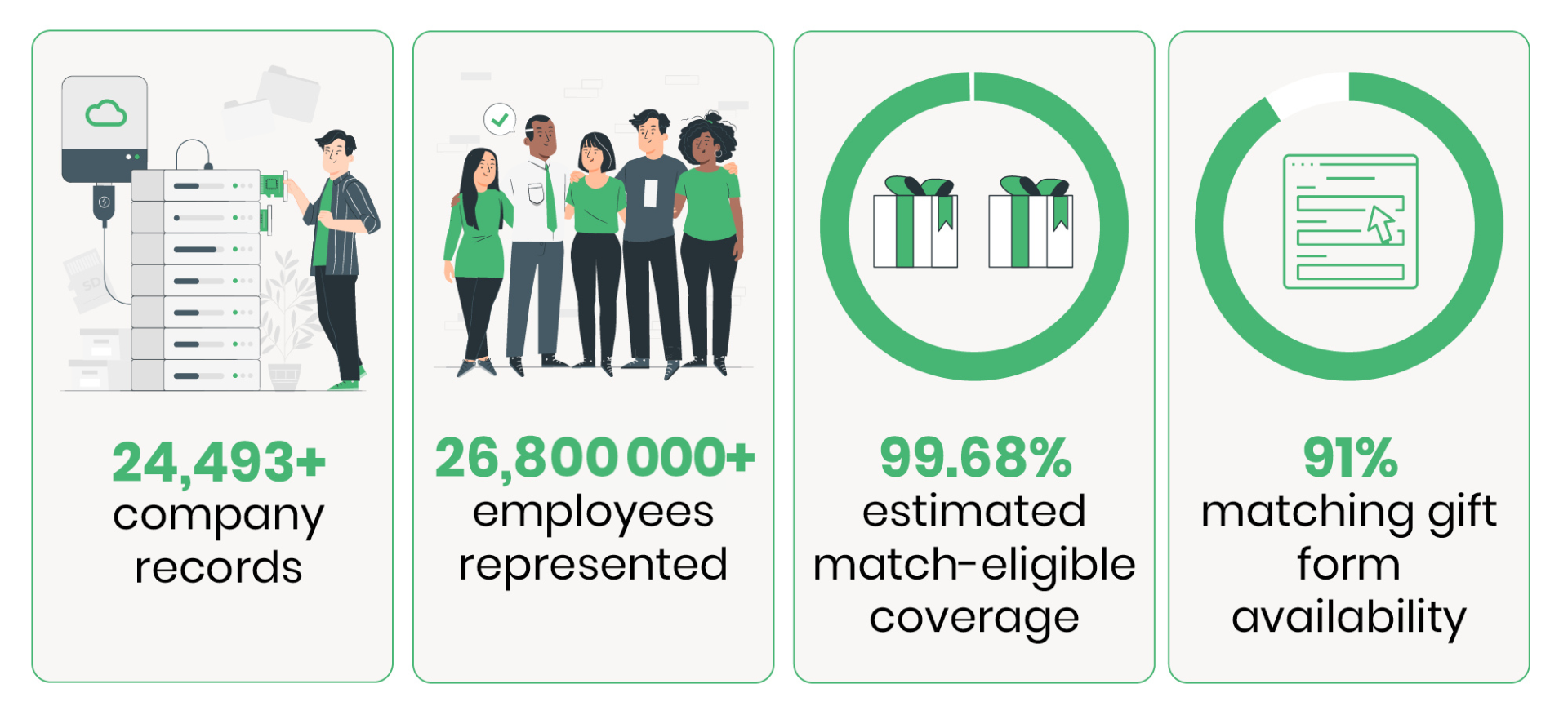 And these figures will only continue to grow⁠—especially as corporate giving trends show more and more companies matching gifts.

Invaluable matching gift resources
A lot of what we do at Double the Donation involves equipping nonprofits with the resources to maximize matching gifts. In addition to our complete automation platform, 360MatchPro, another type of tool we provide is educational content on corporate giving.
This year, the Double the Donation team has significantly grown our resource library. We're proud to introduce a wealth of readily available materials, such as…
Insightful blog posts (over 65 new this year)
Free downloadable resources
Live and on-demand webinars (77 and events counting)
Ready-made, customizable marketing graphics (more than 35 free templates)

Our favorites include Holiday Season designs for email, Facebook, Instagram, and LinkedIn

And more!
Plus, we can't forget about our most standout resource this year: the Matching Gift Academy! This online learning system, which is available free of charge to Double the Donation users (a $199 value/year), consists of all new materials with 11 modules, 45 lessons, and 7 hours of video content. It provides a comprehensive, self-paced, and immersive learning experience for nonprofit professionals looking for a complete overview of the matching gift opportunity.
Check out this quick overview of our webinar offerings to learn more:
By equipping fundraisers with a robust array of resources, we empower organizations to make the most of matching gifts to the best of their ability. After all, knowledge is power!
---
Wrapping Up
As we eagerly step into the new year, we're filled with excitement and enthusiasm for what's to come. To our inspiring clients, partners, team members, and more: we greatly appreciate the support you've given us this year⁠. We truly couldn't do it without you!
We look forward to another year of innovation, growth, and development as we continue to seek new ways to empower fundraisers to maximize their matching gift potential.
From all of us at Double the Donation, here's to a joyful holiday season and a prosperous, promising year ahead. Thank you for being part of our journey, and we can't wait to see what 2024 has in store!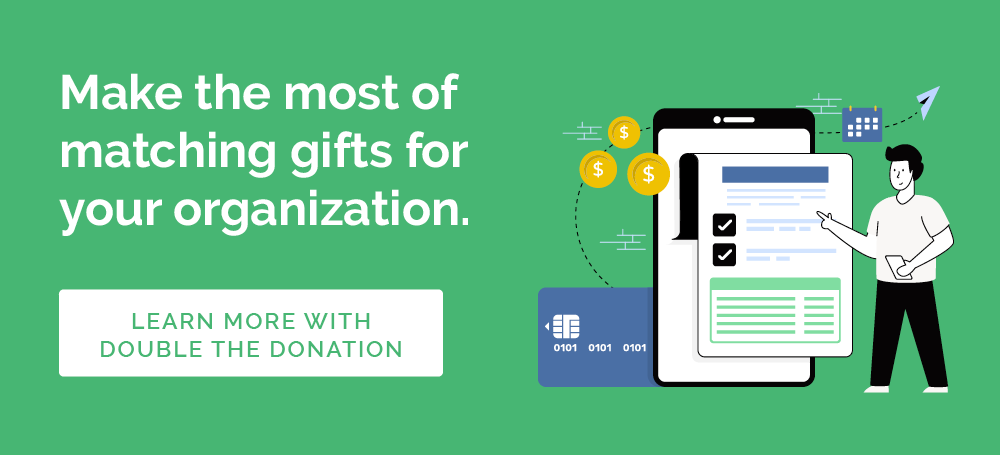 https://doublethedonation.com/wp-content/uploads/2023/10/DTD_2023-at-a-Glance-Double-the-Donations-Year-in-Review.png
600
1600
Gabrielle
https://doublethedonation.com/wp-content/uploads/2022/03/logo-dtd.svg
Gabrielle
2023-10-30 19:41:29
2023-11-30 03:01:15
2023 at a Glance | Double the Donation's Year in Review