Matching gifts can be a powerful tool for nonprofits. Corporate donation matching allows teams to amplify the value of individual donations and maximize their impact on the cause. However, the matching gifts process can often be a complex and overwhelming one for donors⁠—ultimately leading to billions of dollars in available match funding going unclaimed. In light of this challenge, it's crucial to prioritize accessibility in matching gift fundraising to simplify participation where you can.
We've written before on powerful ways to overcome common matching gift challenges and make the most of the opportunity for your mission. What you don't want to do is cause supporters to face needless barriers due to an inaccessible matching gift experience. Thus, highly accessible software is a must-have in all situations.
So here, we'll explore the impact of accessibility for matching gifts and discuss practical strategies to unlock your full potential. This includes:
Accessibility is not just an ethical obligation in fundraising. It's also a strategic decision that can significantly impact matching gift results by maximizing the inclusivity of your efforts.
And the more you know, the better you can position your team for success.
The Importance of an Accessible Matching Gifts Strategy
The importance of accessibility in matching gift fundraising cannot be overstated.
Adhering to accessibility standards aids organizations in creating inclusive digital experiences that cater to individuals with disabilities, improving their overall access to information and services. Regarding matching gifts, prioritizing accessibility means that all of your donors will be able to receive and interpret the information needed to get involved.
Not only will this result in more completed matching gifts coming your way, but it also ensures that participating donors have a more optimal experience doing so. This allows you to continue fostering positive relationships with supporters, who will appreciate your team's commitment to inclusivity.
Plus, if you receive funding from government sources or other grantmakers with accessibility regulations, you can ensure your organization is up to par⁠—and won't miss out on any opportunities available to you.
Components of Accessibility in Matching Gift Fundraising
A matching gift fundraising strategy typically involves a multifaceted approach to promoting the workplace giving opportunity. As a result, an effective accessibility plan should expect to account for multiple aspects of your overall engagement strategy.
This should include the following items, as well as any other matching-gift-related donor touchpoints and supporter-facing materials.
Written Matching Gift Information
Much of your audience is likely coming from a place with no prior knowledge regarding corporate gift matching. Thus, you'll likely produce written content to explain the significance and process of matching gifts, encouraging donors to get involved.
From dedicated matching gift letters to quick blurbs in online content, it's essential that you keep accessibility in mind. To ensure inclusivity in written matters, we recommend implementing the following practices:
Prioritize clear and concise language. Avoid complex or jargon-filled messages to increase readability and comprehension among your audience. It's generally suggested that online content targets a 6th to 8th-grade reading level!
Follow a logical heading hierarchy. Organizing content using proper heading structure  (i.e., H1, H2, H3, etc.) helps facilitate navigation and understanding for users employing assistive technologies.
Utilize appropriate formatting. Formatting techniques like short paragraphs, bulleted and numbered lists, and sufficient line spacing makes it easier to consume written materials. Plus, it increases "skimmability," which is often the key to online content.
Enlist descriptive links for CTAs. When encouraging readers to take a specific action in digital communications, use descriptive link text when possible. This provides meaningful context as to the purpose of the intended action. For example, instead of a generic "Click here," you might say, "Click here to search our employer matching tool."
Multimedia Matching Gift Marketing Materials
An effective matching gift marketing plan typically encompasses a number of multimedia elements to attract and retain your audience's attention. When incorporating images and videos to complement your written materials, accessibility should be a key consideration.
For matching gift videos, include closed captions to accommodate viewers with hearing impairments. This ensures inclusivity and allows everyone to engage with your content. Additionally, when using images, provide descriptive alternative text (ALT text) that accurately describes the visual content. This will assist users who rely on screen readers to understand the context and meaning of digital images.
Online Donation Platforms
In addition to the content you create yourself, it's vital that any third-party resources are accessible as well. For example, your online donation pages may be created by a fundraising technology provider and embedded into your organization's website. Still, it's your organization's responsibility to ensure that the forms meet your predetermined standards. This will likely include screen reader compatibility, form field accessibility, clear navigation, responsive design, and more.
Otherwise, you may end up with frustrated potential donors abandoning the giving process⁠. And without that initial donation, your nonprofit won't qualify for the subsequent matching gift.
Looking for an online giving platform that will offer an optimal supporter experience? Double the Donation integrates with some of the industry's top donation tools. Check out our 75+ partners here!
Dedicated Matching Gift Technology
Similarly, you'll want to ensure that your matching gift software is committed to meeting accessibility standards as well. Typically a separate tool that integrates directly into your online donation platform, matching gift technology should also focus on offering an inclusive matching gift experience for your donors.
This should encompass every aspect of your matching gift promotions, from an embedded company search tool in your giving forms and confirmation page plugin to personalized email follow-ups. Key elements to remember include screen reader and other assistive technology compatibility, responsive design, form field accessibility and color contrast, and more.
And to ensure your technology provider continues to adhere to ongoing accessibility standards, it's a good idea to look for a solution that conducts regular accessibility testing and complies with relevant standards.
At Double the Donation, we continually prioritize accessibility and strive to provide all users with a seamless matching gift experience. (Hint: Click here to skip to an in-depth look at Double the Donation's accessibility criteria.)
Understanding Key Accessibility Standards
There are several accessibility frameworks and guidelines that help ensure tech-based products and services are accessible to individuals with varying abilities. Understanding the scope, priorities, and value of each criterion can go a long way as you develop your own organization's approach to accessibility in matching gift fundraising.
Here are some of the main standards you might see when discussing digital accessibility:
Section 508
Section 508, established in 1973 and revised in 1998, is a U.S. federal law that mandates accessibility standards for electronic and information technology used by federal agencies. It outlines specific requirements for software applications, websites, and other digital content to be accessible to individuals with disabilities. Compliance with Section 508 is crucial for federal agencies, organizations providing goods or services to government agencies, and organizations receiving federal funding.
Web Content Accessibility Guidelines
Web Content Accessibility Guidelines, or WCAG, is a widely recognized set of guidelines developed by the World Wide Web Consortium (W3C). It provides detailed technical specifications and success criteria to make web content more accessible. WCAG has different levels of conformance, including A (minimum), AA (intermediate), and AAA (highest), which provide varying degrees of accessibility.
Accessible Rich Internet Applications
ARIA (Accessible Rich Internet Applications) is a set of technical specifications that enhance the accessibility of web content and applications. It provides additional attributes and properties that developers can use to make dynamic web content and interactive components more accessible to assistive technologies, such as screen readers.
European Accessibility Act
The European Accessibility Act (EAA) is legislation the European Union adopted in 2019 to harmonize accessibility requirements for various products and services as a way to build on the EU's Web Accessibility Directive. The EAA aims to ensure equal access to digital technology across member states and improve the accessibility of information society services throughout the European Union.
Canadian Accessibility Standards
In Canada, there are different accessibility standards depending on the province or territory. For example, the Accessibility for Ontarians with Disabilities Act (AODA) sets accessibility standards for Ontario, including requirements for accessible websites and software. Meanwhile, the British Columbia Accessibility Act dictates standards for British Columbia, and the Act to Secure Handicapped Persons in the Exercise of Their Rights with a View to Achieving Social, School, and Workplace Integration establishes standards for Quebec.
These differing standards provide specific recommendations (and, in some cases, requirements) to ensure that developers design digital content with accessibility in mind. It's important to remember that no one framework is above any other. Instead, it's important to determine which set of criteria most closely aligns with your organization's needs, audiences, and objectives.
Establishing a framework for your nonprofit⁠—and utilizing software and other technology that does the same⁠—ultimately certifies that your matching gift and other fundraising strategies comply with the applicable standards above. In the end, the goal is to produce an optimized and accessible matching gift experience for your supporters.
Double the Donation's High-Level Accessibility Framework
At Double the Donation, we understand the importance of providing highly accessible tools for our clients and their end users. Of the various accessibility standards highlighted above, the most applicable criteria regarding accessibility in matching gift fundraising is that of Section 508⁠—the U.S. Federal accessibility standard. Thus, this is the framework that our team has committed to ongoing compliance with. Plus, our tools meet the criteria for ADA and WAI-ACT compliance as well.
In 2018, Double the Donation became the first matching gift provider to receive a VPAT (or Voluntary Product Accessibility Template) to reflect and communicate this compliance. As of June 2023, we have renewed our VPAT to meet updated standards, reflecting the continuous development of both our tools and the accessibility guidelines to which we adhere.
In other words, Double the Donation's matching gift technology surpasses the U.S. federal government's revised standards for accessibility, as outlined in Section 508 of the Rehabilitation Act.
And to this date, we remain the only matching gift software provider with a VPAT⁠. This demonstrates not only our ongoing commitment to accessibility but our user-centric product design and general stature as the leader in matching gift technology.
Want to know what that entails? The following elements are flagged as compliant by Double the Donation's tools, according to WCAG 2.1.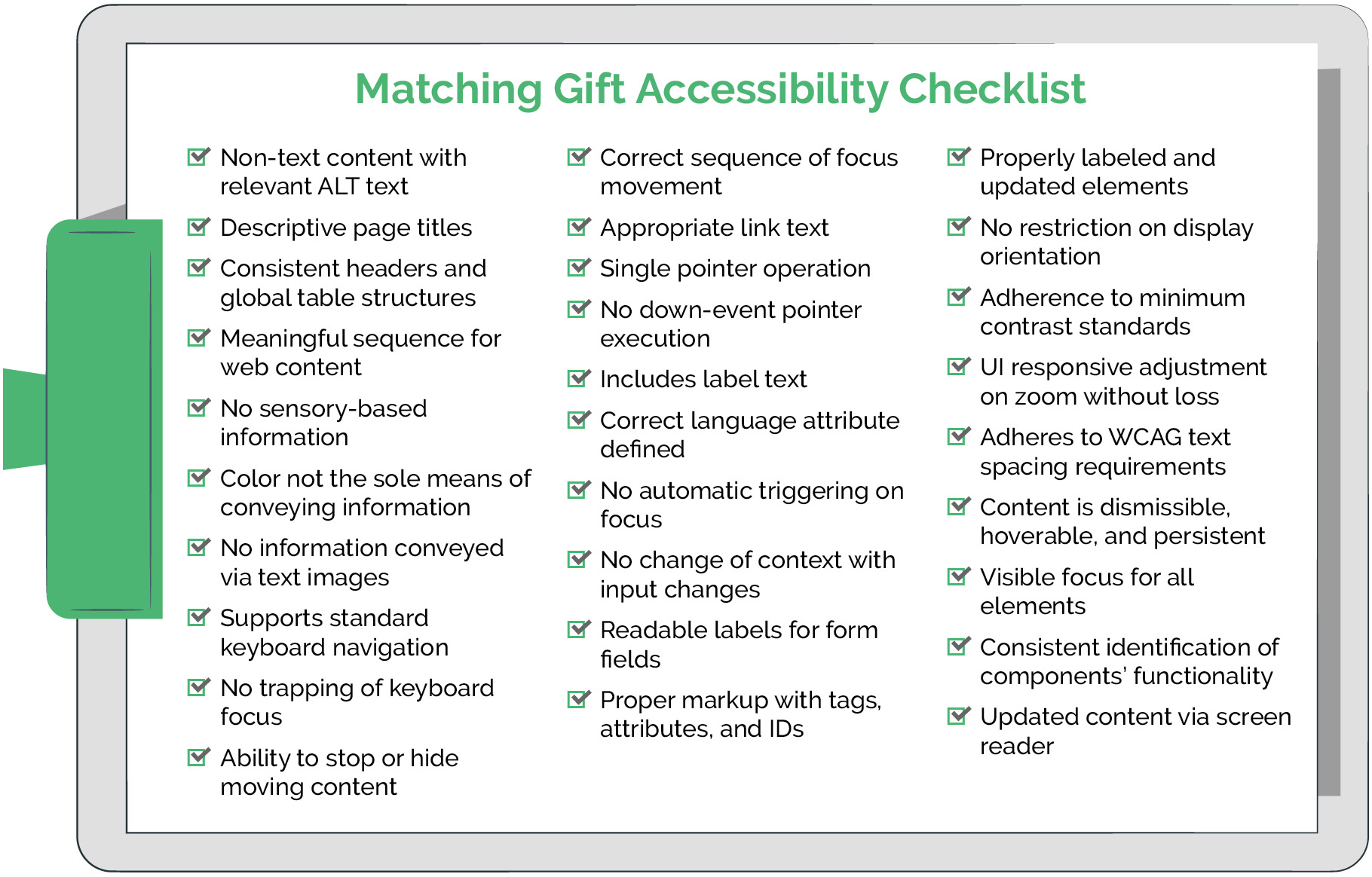 Non-Text Content

Images on the website contain relevant alternative text.

Info and Relationships

The website has consistent headers and global table structures to establish clear information and relationships within the website. Screen readers properly identify most of the information available on the website. Visually impaired users are easily able to perceive the relationships between a particular element and its role.

Meaningful Sequence

The sequence of the content present on the website is meaningful and appropriate and does not affect the meaning of the provided content.

Sensory Characteristics

No information is present on the website which is based on sensory characteristics such as shape, size, location, sound, etc.

Use of ⁠Color

Color is not used as the only visual means of conveying information, indicating an action, prompting a response, or distinguishing a visual element.

Keyboard

The website supports standard keyboard navigation and input functions (including swiping to move between input fields and pressing [Double tap] to make selections). Keyboard focus moves sequentially throughout the website without the focus getting trapped in any section, and it is convenient to access the functionality.

Pause, Stop, Hide

A mechanism is provided to stop, pause, or hide the moving/ scrolling content.

Page Titles

Descriptive and correct page titles are present for pages throughout the website.

Focus Order

The focus moves in a correct sequence order on the website from left to right and top to bottom.

Link Purpose

All links are provided with appropriate link text, and the user would be able to understand the purpose of the link from its link text.

Pointer Gestures

All functionalities present in the website can be operated with a single pointer without a path-based gesture unless a multipoint or path-based gesture is essential.

Pointer Cancellation

No down-event of the pointer is used in the website to execute any part of the action.

Label in Name

All labels on the website include text, and the same text is defined in the code as well to assist speech recognition technologies.

Language of Page

The language attribute is correctly defined for the web pages.

On Focus

No interactive element is triggered automatically on receiving the focus.

On Input

Change of context does not happen when the user changes the setting of any input controls.

Labels or Instructions

The website provides support for motor-impaired and cognitive users as the labels and instructions are provided for the form fields, which are clearly visible and readable to such users.

Parsing

The markup of the website has complete start and end tags, attributes, and unique IDs.

Name, Role, Value

All the website elements have a proper label associated with their role, and the screen reader recognizes them correctly with updated values as well.

Orientation

The website does not restrict its view and operation to a single display orientation.

Contrast

The website adheres to minimum contrast standards.

Resize Text

The website is fully responsive. At a zoom of 200%, the site responds to that resolution by adjusting the UI as it would if the user were on a smartphone.

Images of Text

No information is conveyed to the user via an image of the text.

Reflow

The website does not require scrolling in two dimensions to present content without loss of information in 400% zoom.

Non-Text Contrast

The website user interface components have a contrast ratio of at least 3:1 against adjacent color(s).

Text Spacing

The website is compliant with WCAG text spacing requirements.

Content on Hover or Focus

The content that is triggered by hover or focus is dismissible, hoverable, and persistent.

Headings and Labels

Headings and Labels on the website provide sufficient detail of the content they are describing.

Focus Visible

All the elements present in the website have focus visibility.

Consistent Identification

Components that provide the same functionality throughout the website can be easily identified by the user.

Status Messages

The updated content automatically notifies the visually impaired users via a screen reader.
In other words, Double the Donation takes accessibility seriously⁠—and we continue to pursue a positive user experience for donors and nonprofit teams of varying abilities.
---
Wrapping Up & Next Steps
By making a tangible effort to highlight and prioritize accessibility in your organization's matching gift strategy, you can foster a sense of inclusivity within your fundraising. After all, you surely want all your donors to be able to support your cause in this way.
So take the steps to test your existing matching gift strategy. Is your website up to standard? Does your matching gift platform adhere to a fully accessible framework? (Hint: if you already use Double the Donation's tools, the answer is yes. If you're not already a client, click here to get a personalized demo!)
When everyone, regardless of their abilities or limitations, can contribute to your nonprofit's matching gift success, you'll be set to make the most of the workplace giving opportunities in your network.
Best of luck!
Interested in uncovering more ways to improve your matching gift fundraising strategy? Check out these recommended resources to keep learning: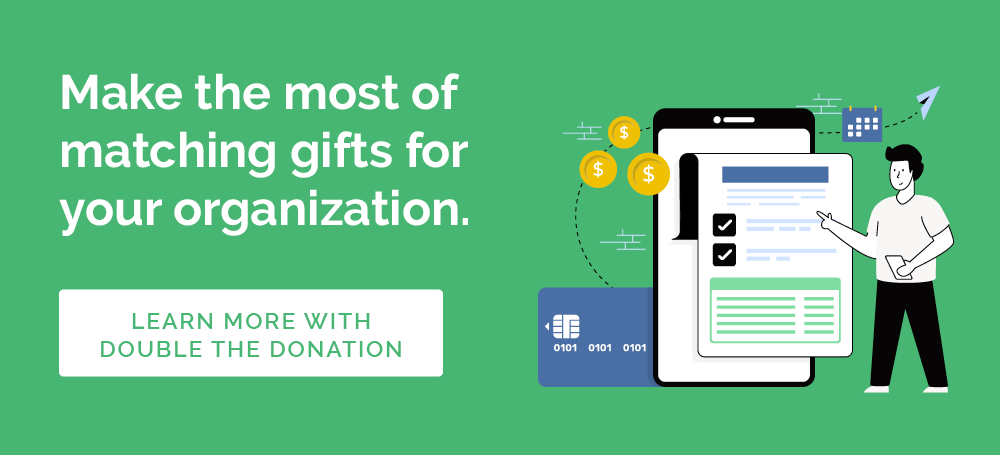 https://doublethedonation.com/wp-content/uploads/2023/06/DTD_Prioritizing-Accessibility-in-Matching-Gift-Fundraising_Feature-1.png
600
1600
Adam Weinger
https://doublethedonation.com/wp-content/uploads/2022/03/logo-dtd.svg
Adam Weinger
2023-07-10 23:00:45
2023-07-10 23:00:45
Prioritizing Accessibility in Matching Gift Fundraising