Arreva Chooses Double the Donation for Integrated Matching Gifts Provider
Double the Donation is proud to announce a new strategic partnership with Arreva, trusted leader in fully integrated online fundraising and donor relationship management software.
Arreva clients may now activate matching gift functionality directly from Arreva's fundraising software and include a streamlined matching gift search tool with the click of a button through 360MatchPro by Double the Donation, a robust, fully-automated matching gifts platform.
"We're thrilled to bring yet another incredibly valuable integration to our clients through our fully integrated online fundraising and donor relationship management software," said David Blyer, CEO of Arreva.
Susan Packard Orr, chairman of Arreva adds "Arreva is dedicated to our clients' success by helping them optimize their fundraising through best-in-class technology and fundraising best practices. With 360MatchPro, Arreva clients now have a powerful new tool to increase average donation size and volume without asking more from donors. The streamlined integrated donor experience helps nonprofit organizations run successful matching gift programs with much less effort and greater results."
Donors giving through the Arreva online fundraising form, integrated with 360MatchPro, will be automatically screened for matching gift eligibility and their transaction and employer information will be recorded in the Arreva platform. 
"Lack of donor awareness is the number one reason for the $4-7 billion in matching gift revenue left on the table every year," said Adam Weinger, President of Double the Donation. "We are delighted to be working with Arreva and their many clients. Our strategic partnership with Arreva and integration of 360MatchPro with their fundraising platform closes the donor awareness gap for organizations, allowing them to significantly increase their matching gift revenue using Arreva's robust software."
The streamlined, frictionless integration between Arreva and 360MatchPro ensures that donors take advantage of the matching gift programs for which they're eligible, helping nonprofit organizations maximize their fundraising opportunities.

Activate in Seconds and Start Raising More in Matching Gifts!
Activating your 360MatchPro account within your organization's Arreva platform is quick and easy. With the new native integration, all you have to do is enter in your public and private API keys to activate and get started.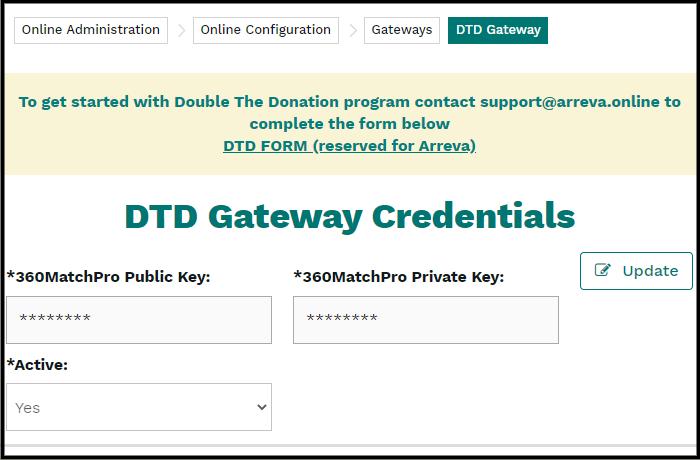 Once the 360MatchPro tool is active on your donation and confirmation pages, donors can easily search their employer's name using the 360MatchPro autocomplete search function. Encouraged by the possibility of a match, donors are likely to increase their donation amount!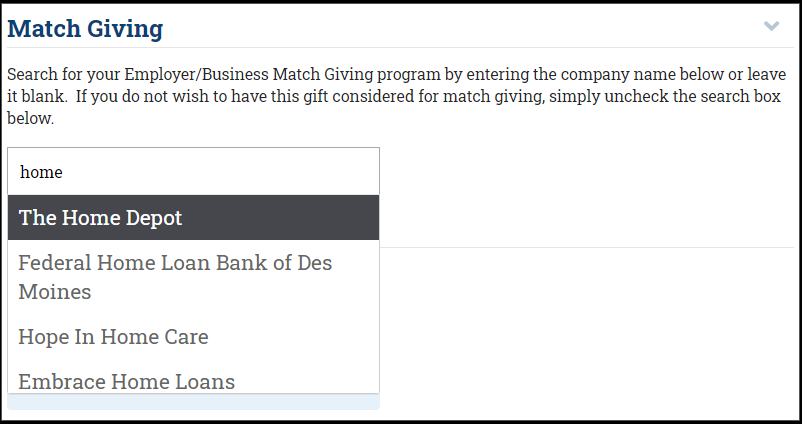 The easy search function prompt on both the donation page and confirmation page allows donors to go straight from your organization's confirmation page to their company matching gift application form, streamlining the donor's journey to doubling their donation!
Looking to learn more? Check out our in-depth integration guide to get started!

Drive Matches to Completion with 360MatchPro!
Arreva and Double the Donation are now able to help nonprofits further their mission by making the gift matching process an easy and streamlined experience for both the donor and the nonprofits they support. The 360MatchPro tool helps organizations identify match-eligible donors, lead donors to their employer's donation pages, and drive matches to completion to help donors double or even triple their contribution.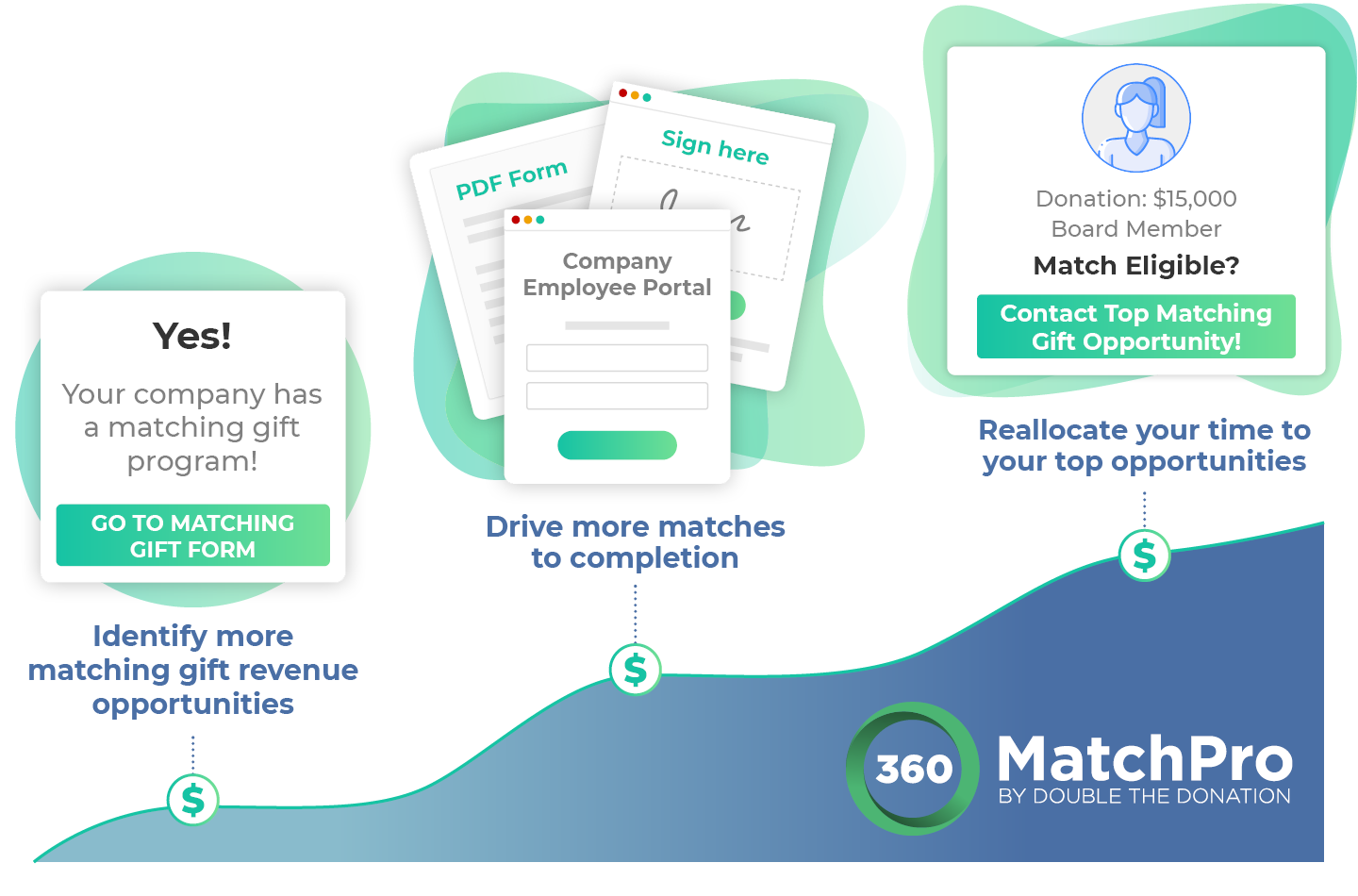 Arreva aims to help their clients optimize their fundraising efforts in creative ways that allow the nonprofit to focus helping their communities instead of worrying about finding the funds to do so.  The 360MatchPro integration helps Arreva accomplish that mission with features like the following:
Identify more matching gift revenue opportunities:

360MatchPro enables you to automatically collect matching gift eligibility from donors using email domains, within donation forms, on confirmation screens, or by email. The more matching gift opportunities 360MatchPro discovers and shares with donors, the more matching gift requests your donors will successfully submit.

Drive more matches to completion, from form submission to corporate payment:

Direct donors immediately to their matching gift forms after the donation process is complete. Then, provide the right information to the right donors at the right time with custom emails based on match eligibility. Target follow-ups drive more completed submissions than ever before, bringing exponentially more matching gift checks from companies through your door.

Reallocate your time from routine follow-up to your top opportunities:

Your time is valuable, so why spend it chasing small dollar-value matching gifts? Let 360MatchPro automate your matching gift outreach while flagging your highest-value opportunities, allowing your team to personalize follow-ups to the most valuable match-eligible donations. Rest easy knowing that 360MatchPro can handle the rest.
Request a demo today to get started with improving the giving experience for you and your donors. 
---
About Arreva: Arreva is a trusted advisor and market leader of fundraising and donor relationship management software. ExceedFurther, Arreva's All-in-One, Cloud-based, Integrated Solution, is helping thousands of nonprofits worldwide further their mission, transform fundraising, and cultivate relationships with donors and constituents. Visit www.arreva.com for more.
About Double the Donation:  Automate your matching gift fundraising with the industry-leading solution from Double the Donation. The 360MatchPro platform provides nonprofits with tools to identify match-eligible donors, drive matches to completion, and gain actionable insights. 360MatchPro integrates directly into donation forms, CRMs, social fundraising software, and other nonprofit technology solutions to capture employment information and follow up appropriately with donors about matching gifts. To learn more about Double the Donation, visit https://doublethedonation.com and request a demo at https://360matchpro.com/demo-request/. 
https://doublethedonation.com/wp-content/uploads/2022/06/Double-the-Donation-Arreva-matching-gifts-integration-feature.jpg
290
775
Adam Weinger
https://doublethedonation.com/wp-content/uploads/2022/03/logo-dtd.svg
Adam Weinger
2019-07-24 15:50:06
2023-04-02 20:44:46
Arreva Chooses Double the Donation for Integrated Matching Gifts Provider