GiveSignup | RunSignup is proud to debut a new corporate matching gifts integration with 360MatchPro by Double the Donation, the leading provider of matching gift and volunteer grant solutions to nonprofits and educational institutions.
Nonprofits that use Double the Donation as their corporate matching gift platform can now enable the integration on any GiveSignup | RunSignup fundraising run/walk/ride, virtual event, challenge, donation website, donation form, and standalone fundraising campaign.
When $4-7 million in corporate matching gift revenue is left on the table every year, nonprofits miss out on revenue that could be used to power their missions. 360MatchPro helps nonprofits capture their full matching gift potential through powerful automated matching gift identification, completion, and reporting. Integrated with GiveSignup | RunSignup, 360MatchPro closes the matching gift revenue gap with minimal configuration and setup.
"GiveSignup | RunSignup is proud to recommend Double the Donation as our preferred partner for corporate matching gifts," said Bob Bickel, Founder of RunSignup. "The time-saving, custom automation available through the 360MatchPro system can't be beat. We hope all our nonprofits take advantage of this new partnership!"
The integration is simple for nonprofits with a 360MatchPro account to activate (Don't have a 360MatchPro account? Request a demo!). With one click in the GiveSignup | RunSignup platform, nonprofits can link their 360MatchPro account to any event, donation website, donation form, or fundraising campaign that they create.
360MatchPro makes it easy for donors, too! When giving through GiveSignup | RunSignup donation pages, each donor is automatically evaluated for their matching gift eligibility and presented with the next steps for their company's matching gift program.
"Seamlessness is a hallmark of 360MatchPro integrations," said Adam Weinger, President of Double the Donation. "It's important for donors to move smoothly through the donation process while the nonprofit simultaneously captures essential matching gift eligibility information. 360MatchPro and GiveSignup | RunSignup combine to provide that seamless experience for nonprofits and their donors."
Close the revenue gap for your next race with the new integration between Double the Donation and GiveSignup | RunSignup!

Activate in Seconds and Start Raising More from Matching Gifts!
360MatchPro integrates seamlessly with GiveSignup | RunSignup software, making the setup process quick and easy. Once you obtain a 360MatchPro account, you can begin adding the powerful gift matching tool to your website and race forms.
Simply log on to your GiveSignup | RunSignup account, and navigate to the "Corporate Matching Gifts" tab. This can be found by first selecting the "Donations" option. This page will then prompt you to enter your Double the Donation credentials.

These API keys can easily be obtained once your 360MatchPro account has been provisioned. They are designed to link the gift matching tool on your donation forms directly to your 360MatchPro dashboard.
After this step is completed, you will be ready to begin increasing your revenue through corporate gift matching! Now you can check out the 360MatchPro tool on your donation websites or race forms.

This streamlined search tool allows donors to type in the name of their employer directly onto the form. Then, a drop down menu will appear and suggest possible options. This keeps the donor running smoothly through the donation process.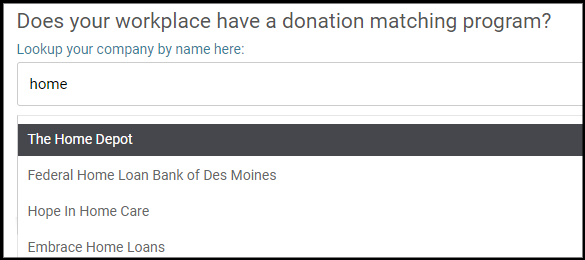 Once a donor enters their employer information, the 360MatchPro database scans an extensive database of employer gift matching programs. If the donor is identified as match-eligible, an automated yet personalized email to help them drive their gift match to completion.
That's all there is to it! This simple setup process can be activated in seconds so that you may drive donations through corporate gift matching.
Looking to learn more? Check out our in-depth integration guide to get started!

Drive More Matching Gifts to Completion with 360MatchPro!
360MatchPro uses industry-leading practices to ensure a valuable and efficient gift matching experience. Its many features take care of the gift matching process so that you can focus your time on your organization's top priorities.
360MatchPro will:
Identify more matching gift revenue opportunities: 360MatchPro enables you to automatically collect matching gift eligibility from donors using email domains, within donation forms, on confirmation screens, or by email. The more matching gift opportunities 360MatchPro discovers and shares with donors, the more matching gift requests your donors will successfully submit.
Drive more matches to completion, from form submission to corporate payment: Direct donors immediately to their matching gift forms after the donation process is complete. Then, provide the right information to the right donors at the right time with custom emails based on match eligibility. Target follow-ups drive more completed submissions than ever before, bringing exponentially more matching gift checks from companies through your door.
Reallocate your time from routine follow-up to your top opportunities: Your time is valuable, so why spend it chasing small dollar-value matching gifts? Let 360MatchPro automate your matching gift outreach while flagging your highest-value opportunities, allowing your team to personalize follow-ups to the most valuable match-eligible donations. Rest easy knowing that 360MatchPro can handle the rest.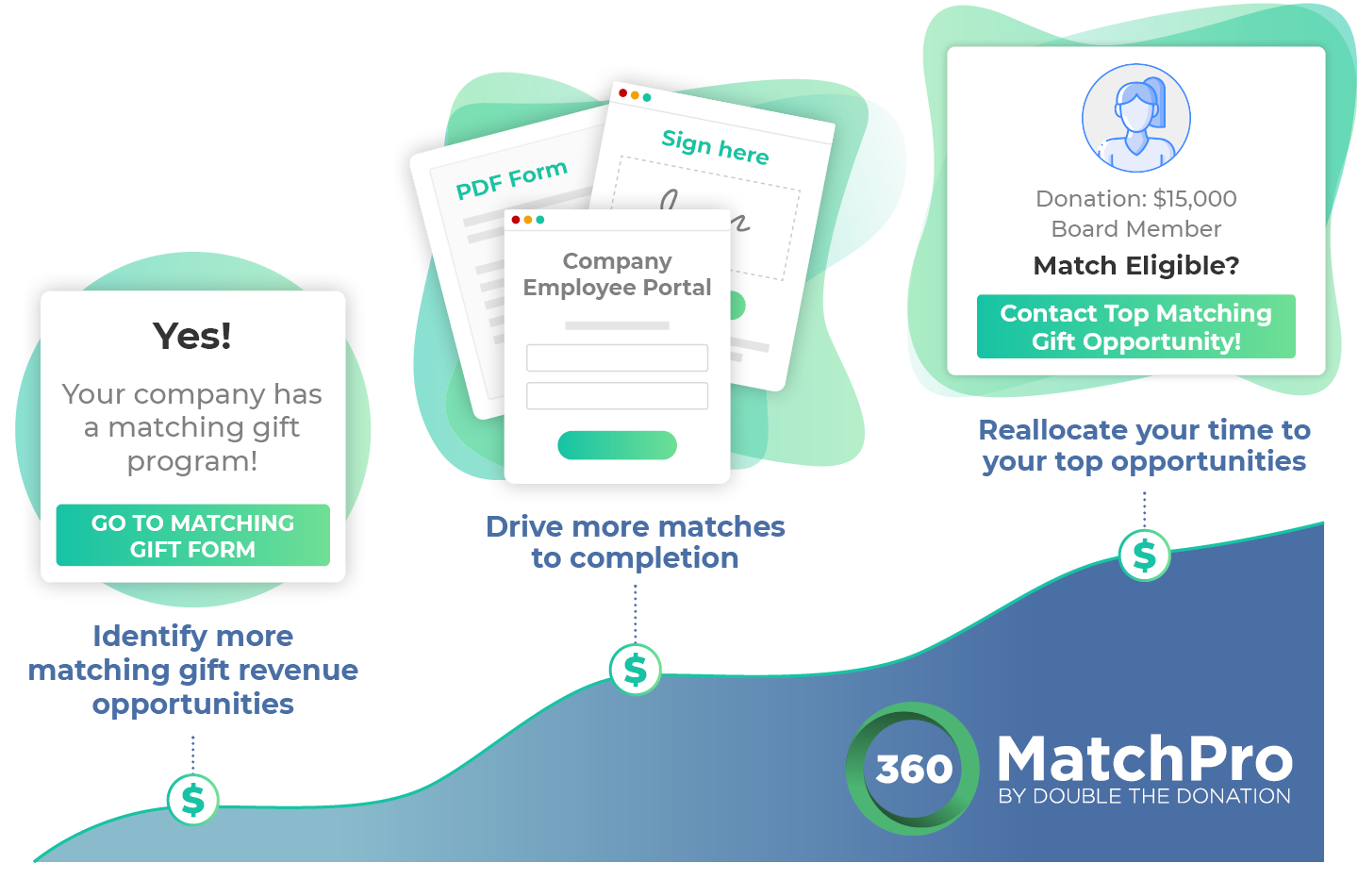 Ready to see it in action? Schedule a demo with 360MatchPro for a personalized session to discuss the gift matching needs of your organization.
---
About GiveSignup | RunSignup: GiveSignup | RunSignup is a leading all-in-one platform for fundraising and endurance events. More than 21,000 events, supporting over 8,000 nonprofits, use GiveSignup | RunSignup's free and integrated solution to save time, grow their events, and raise more. Built on a powerful CRM, our expertly crafted, open, and all-in-one solution powers nonprofit revenue generation and supporter engagement from run/walk/rides to ticket events to donation websites, forms, and fundraising campaigns. For more information, visit www.givesignup.org or www.runsignup.com.
About Double the Donation: Automate your matching gift fundraising with the industry-leading solution from Double the Donation. The 360MatchPro platform provides nonprofits with tools to identify match-eligible donors, drive matches to completion, and gain actionable insights. 360MatchPro integrates directly into donation forms, CRMs, social fundraising software, and other nonprofit technology solutions to capture employment information and follow up appropriately with donors about matching gifts. To learn more visit https://360matchpro.com/demo-request/
https://doublethedonation.com/wp-content/uploads/2022/06/Double-the-Donation-RunSignup-feature.png
290
775
Adam Weinger
https://doublethedonation.com/wp-content/uploads/2022/03/logo-dtd.svg
Adam Weinger
2020-07-20 15:55:07
2023-09-12 17:06:59
GiveSignup | RunSignup Debuts Corporate Matching Gifts Integration with 360MatchPro by Double the Donation