DonorDrive Chooses Partnership with Double the Donation to Drive More Matching Gift Revenue for Nonprofits
DonorDrive is proud to announce a new built-in integration with 360MatchPro, the leading matching gifts automation platform by Double the Donation.
The new partnership drives more revenue for nonprofit organizations through a tight integration between DonorDrive donation forms and 360MatchPro's automated gift matching identification and workflows. With $4-7 billion in matching gift revenue left unclaimed every year, the new integration is essential for nonprofits looking to bridge the gap.
"Our mission at DonorDrive is to power our nonprofit clients' missions by making available the best-in-class strategies, tools, and partners" said Marc Rubner, CEO at DonorDrive. "Our new partnership with Double the Donation supports this mission through our integration with the 360MatchPro solution."
The new integration with 360MatchPro is quick for nonprofits to activate and easy for donors to navigate. Nonprofits using the integration will capture donors' matching gift eligibility when they give, then automated personalized communication streams will drive matching gifts to completion. Donors who are match-eligible move seamlessly through the entire integrated workflow to swiftly match the gift they've just made, thereby doubling revenue for the nonprofits they're supporting.
"360MatchPro drives immediate results for DonorDrive clients with the new integration," said Adam Weinger, President of Double the Donation. "We're focused on a frictionless donor experience, which preserves donation form conversion rates while capturing the employer information that's essential for doubling revenue."
The new 360MatchPro integration with DonorDrive will help nonprofits take advantage of the corporate matching gift opportunities their donors are eligible for, working together toward closing the $4-7 billion matching gift revenue gap.
Activate in Seconds and Start Raising More from Matching Gifts!
Activating the 360MatchPro integration within DonorDrive is easy. The support teams will take care of everything for you! And once you're integrated, it's time to get the most out of your new 360MatchPro automation.
As donors make a gift to your organization, they will have the opportunity to search for their company's name. The helpful text above the company name search fields lets the donor know why you're asking for their employer information — to double the impact of their gift!
But the matching gift journey doesn't stop there. After your donor submits their gift, it's time to direct them to the next steps they need to take to get it matched by their company. The 360MatchPro integration will inform the donor right on the confirmation page whether they're eligible for a matching gift and what to do next.
The donor can navigate directly to their company's matching gift form or view additional guidelines with one click. That one click means double the revenue for your organization!
Looking to learn more? Check out our in-depth integration guide to get started!

Drive More Matches to Completion with 360MatchPro!
The combination of DonorDrive donation forms and 360MatchPro matching gift automation will seamlessly lead donors through the donation and matching gift process for all your fundraising events. Keep in mind the following benefits of 360MatchPro:
Identify more matching gift revenue opportunities: 360MatchPro enables you to automatically collect matching gift eligibility from donors using email domains, within donation forms, on confirmation screens, or by email. The more matching gift opportunities 360MatchPro discovers and shares with donors, the more matching gift requests your donors will successfully submit.
Drive more matches to completion, from form submission to corporate payment: Direct donors immediately to their matching gift forms after the donation process is complete. Then, provide the right information to the right donors at the right time with custom emails based on match eligibility. Target follow-ups drive more completed submissions than ever before, bringing exponentially more matching gift checks from companies through your door.
Reallocate your time from routine follow-up to your top opportunities: Your time is valuable, so why spend it chasing small dollar-value matching gifts? Let 360MatchPro automate your matching gift outreach while flagging your highest-value opportunities, allowing your team to personalize follow-ups to the most valuable match-eligible donations. Rest easy knowing that 360MatchPro can handle the rest.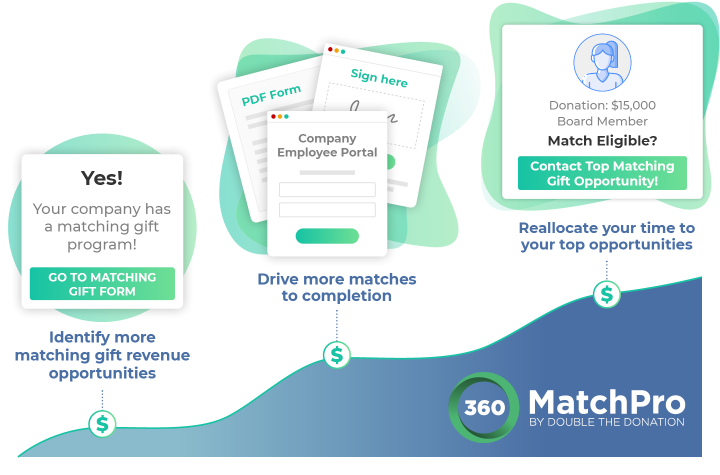 Put the integrated solutions to work for your next fundraising event! Schedule a demo of 360MatchPro to learn how to maximize your matching gift revenue.
---
About DonorDrive®: DonorDrive is an enterprise-level fundraising platform that turns everyday people into powerful fundraisers. With over 20 years of fundraising innovation, DonorDrive has helped hundreds of nonprofits, like Children's Miracle Network Hospitals, the American Foundation for Suicide Prevention, Arthritis Foundation, and World Vision grow and become industry leaders. Through innovative solutions such as Live FundraisingTM, Express DonateTM, Facebook Fundraisers, and the Fundraising Motivation EngineTM, DonorDrive has enabled nonprofits to raise over $1 Billion. To learn more visit, www.donordrive.com.
About Double the Donation: Automate your matching gift fundraising with the industry-leading solution from Double the Donation. The 360MatchPro platform provides nonprofits with tools to identify match-eligible donors, drive matches to completion, and gain actionable insights. 360MatchPro integrates directly into donation forms, CRMs, social fundraising software, and other nonprofit technology solutions to capture employment information and follow up appropriately with donors about matching gifts. To learn more visit https://360matchpro.com/demo-request/
https://doublethedonation.com/wp-content/uploads/2022/06/Double-the-Donation-DonorDrive-feature.png
290
775
Adam Weinger
https://doublethedonation.com/wp-content/uploads/2022/03/logo-dtd.svg
Adam Weinger
2020-07-02 15:50:00
2023-09-14 21:38:32
DonorDrive Chooses Partnership with Double the Donation to Drive More Matching Gift Revenue for Nonprofits