Fundly Integrates Double the Donation Matching Gift Tools
Atlanta, GA (October 17, 2018) — Double the Donation is proud to announce a new integration with NonProfitEasy's Fundly CRM. This 360MatchPro integration into Fundly CRM will provide users with industry-leading matching gift functionality. Fundly is used by nonprofits to revolutionize the way they serve their communities.
This integration allows Fundly CRM users to fully automate the matching gift process, exponentially increasing their matching gift revenue while reducing time spent on collecting matching gifts. With this integration, Fundly users can turn on this functionality directly through their Fundly CRM account.
Looking to learn more? Check out our in-depth integration guide to get started!
"In deciding which matching gift tools to offer our customers, we found Double the Donation's 360MatchPro to be the most comprehensive and easy-to-use platform," said Lomesh Shah, President and Co-Founder of NonProfitEasy. "We are so excited to offer our users the opportunity to double their donations with ease, efficiency, and accuracy."
360MatchPro allows users to automatically track the match-eligibility of their donors, the status of those potential matches, and the revenue raised in matching gifts. Most importantly, 360MatchPro's automated and customizable email follow-up vastly increases the amount of matching gift requests successfully driven to completion.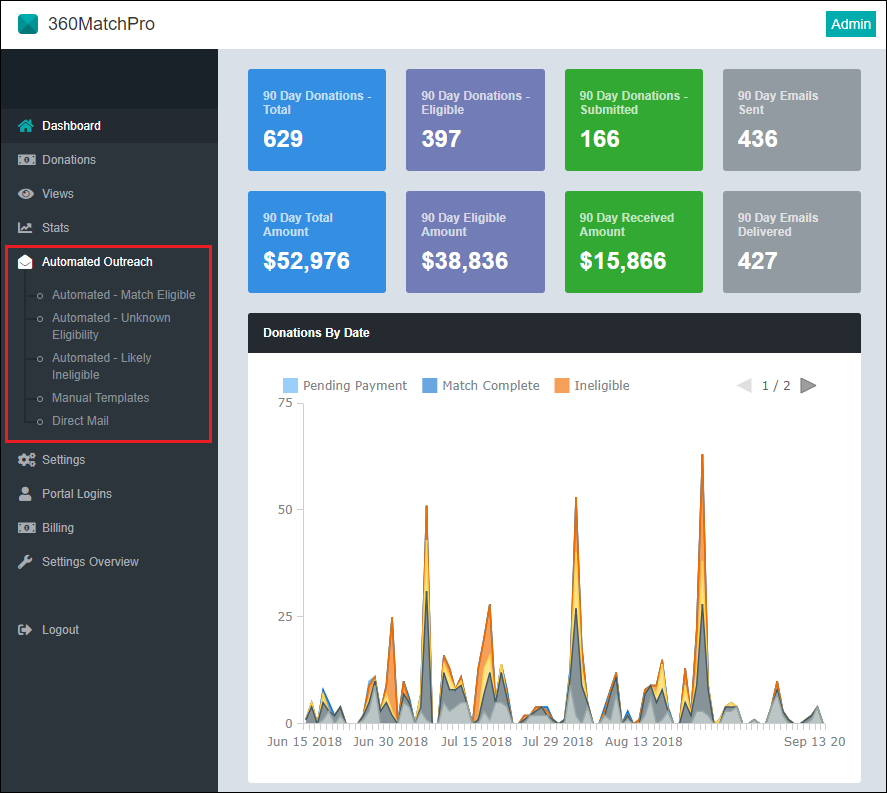 The biggest hindrance to matching gifts is lack of donor awareness. With 360MatchPro, Fundly CRM users are able to automatically identify match-eligible donors through email domain capture as well as self-identification directly on their donation forms.
"We are so excited to see that Fundly has integrated our matching gift tools into their CRM, offering all of their users a chance to enhance their matching gift programs," said Adam Weinger, President of Double the Donation. "There are 15 million people in America who are eligible for matching gifts, and we're looking forward to seeing how Fundly CRM users connect with those donors."
Double the Donation has the most extensive database of existing matching gift programs, including more than 20,000 companies, subsidiaries, and spelling variations. Use of this database affords organizations the opportunity to follow through on every possible corporate matching gift donation.
Match-eligible donors are presented with simple, streamlined information about the matching gift program that they qualify for. They are also presented with direct links to the appropriate online forms or downloadable PDFs required to submit their matching gift requests.
Find out more about Fundly CRM at https://www.fundlycrm.com/.
https://doublethedonation.com/wp-content/uploads/2022/06/Double-the-Donation-Fundly-partnership-feature.jpg
291
773
Adam Weinger
https://doublethedonation.com/wp-content/uploads/2022/03/logo-dtd.svg
Adam Weinger
2018-10-17 12:33:05
2023-09-14 22:02:23
Fundly Integrates Double the Donation Matching Gift Tools