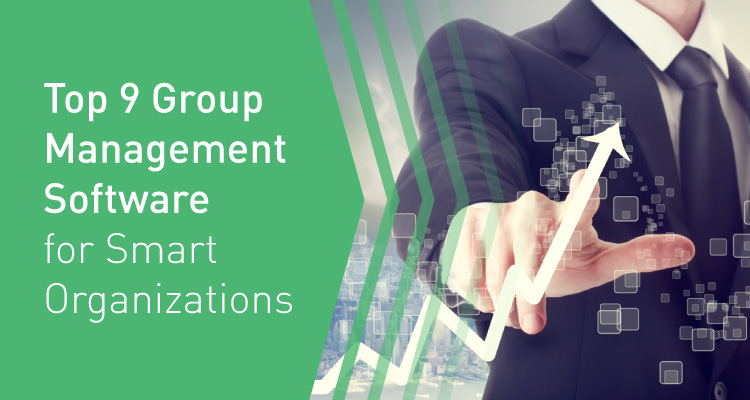 Top 9 Group Management Software for Smart Organizations
Managing your association, members, or camp population can seem scary. How is your team supposed to keep up with the information and needs of thousands of people? Luckily for you, we've compiled a list of our favorite group management software options by specialty, so that you can learn which software is best for your organization.
Our favorites are:
Let's dive in!
---

1. Fonteva – Top Group Management Tool for Associations
Group Management Tool Overview
Fonteva is a flexible and easy-to-use group management tool for mid-size to large groups. It can easily manage groups of any size (like trade associations, professional societies, and more!) due to its diverse toolkit of features in a lean and intuitive platform.
All Fonteva products are powered by Salesforce and come with full customer support so that your association can thrive.
Top Group Management Features
Some of the features that make Fonteva our top choice for associations are:
Cloud-based database.

Online community communication.

Event planning software.

Easy-to-use and easy-to-understand financial and reporting tools.
With these features, your Fonteva software can grow as your organization does. With software updates included in your subscription, you don't need to worry about having to pay more if the system changes.
Takeaway
For an association that needs an intuitive and simple yet intelligent group management software, Fonteva is the right choice.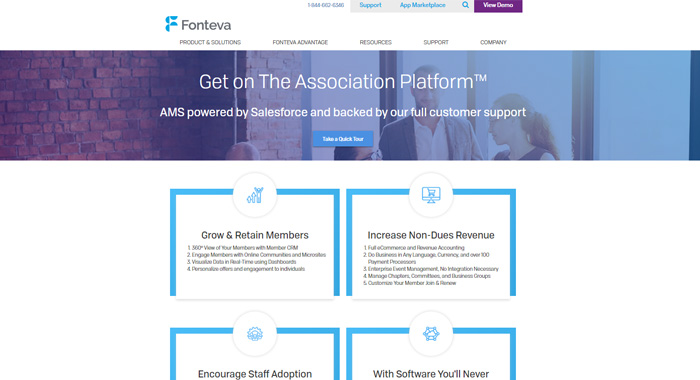 ---

2.  Salsa – Top Group Management Tool for Nonprofits
Group Management Tool Overview
This group management software from Salsa Labs is built specifically for nonprofits. By centralizing donor data and empowering users to seamlessly track relevant information, Salsa's group management tool is perfect for nonprofits looking to optimize their fundraising strategy.
The donor profiles are easily customizable and allow for information like relationships, interests, demographics, and social media accounts, so that a nonprofit has a 360-degree view of their donors.
Top Group Management Features
Salsa's group management software comes with valuable features such as:
Member management.

Donor profile customization.

Grant management.

Double the Donation, WealthEngine, and DonorSearch integrations.
These options allow a nonprofit to strategically target their donors and discover actionable trends, in order to maximize their fundraising capabilities and increase engagement with their community.
Takeaway
If your nonprofit is looking for a powerful and easy to use group management tool to maximize your fundraising success while strengthening supporter relationships, invest in Salsa's software.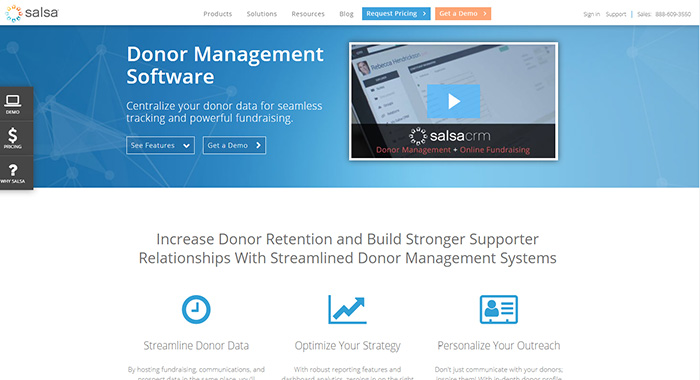 ---

3. CommunityPass – Top Group Management Tool for Community Centers
Group Management Tool Overview
CommunityPass is a group management tool that provides solutions for aquatic centers and pools, sports leagues and teams, adult education, and more for community centers through their cloud-based software.
This group management tool is great for getting everything done: it includes features for communicating with members through text and email, creating class schedules and online sign-up forms, and creating and issuing key cards, member ID cards, and guest passes. 
A community center can plan their season of classes, customize its registration forms, plan and implement their pricing structure, and accept payment all online through CommunityPass.
Top Group Management Features
CommunityPass has a lot of great features for running a successful community center, but some of our favorite group management features are:
Email and text alerts and reminders.

Automated receipts.

Rolling membership options.

Easy guest pass and membership purchase options.
CommunityPass's engagement features allow community centers to successfully manage their guests and members, as well as create and plan the classes and opportunities those members want.
Takeaway
For a community center ready to streamline their group management strategy and combine all their administrative needs into one program, CommunityPass is the perfect software.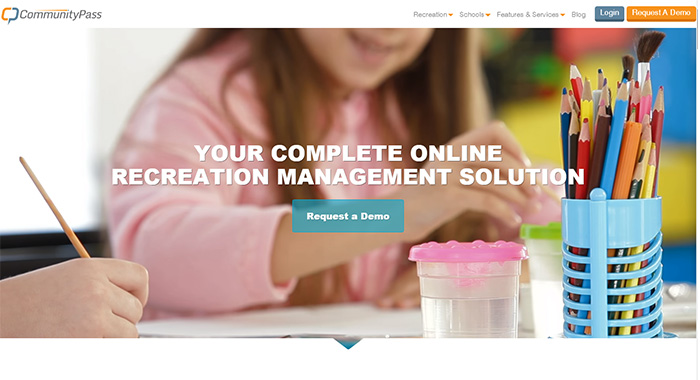 ---

4. OmegaFi – Top Group Management Tool for Greek Organizations
Group Management Tool Overview
With OmegaFi's easy-to-use and mobile-optimized financial management, member database, and website/communications solutions, it's the clear winner for Greek organizations.
OmegaFi's three software solutions—Vault, Compass, and GINSystem—are all important aspects of OmegaFi's group management tool, but the most important for members is Compass.
Compass manages members from the moment they're offered a place in the sorority or fraternity to their later status as a continuing donor.
Officers can customize their dashboard based on the data that they need to see, and the OmegaFi team and the officers work together to build a reporting process that works for their specific organization.
Top Group Management Features
OmegaFi's comprehensive fraternity/sorority support system has too many useful features to name, but here are our favorite group management features:
Custom dashboard.

Event management tools.

Member reporting tools.

Fundraising tools and online giving options.
OmegaFi offers Greek organizations all the tools they need to successfully manage their members as well as maintain relationships with graduated brothers and sisters.
Takeaway
Greek organizations who are looking to make their group management tasks easier and simpler, while raising more money for their organization, should look into investing in OmegaFi's system.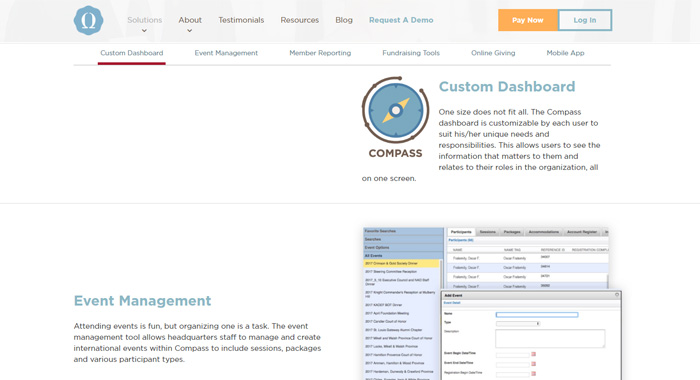 ---

5.
CircuiTree – Top Group Management Tool for Camps
Group Management Tool Overview
CircuiTree, created by people who know and love summer camps, is an all-in-one cloud-based group management software designed specifically to make running a summer camp easier.
This software manages everything from housing requests and food allergies to medical records and emergency contact information, all in one easy-to-understand database.
Parents will be thrilled to sign up multiple children, register allergies and medication conditions, and choose camp activities all from their own computers at home. With CircuiTree's integrated point-of-sale technology, a camp can guarantee secure payment processing and accurate data management.
Top Group Management Features
CircuiTree's software offers a multifaceted solution to collecting and storing all the information a camp team needs to have a profitable, safe, successful summer. Some of the best features for group management include:
Online registration.

Transportation tracking.

Activity self-scheduling.

Camper check-in.

Electronic health center.

Guest group management.

Donor management.
With all these features and more, your camp staff will be able to spend less time filing forms and more time making sure your campers have an excellent time.
Takeaway
If your team wants to spend less time tracking data and filing forms and more time having fun with campers and teaching them valuable skills, consider investing in CircuiTree for all your camp-running needs.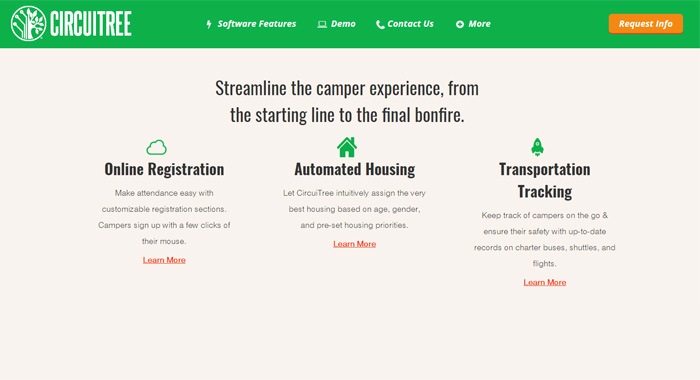 ---

6. Doubleknot – Top Group Management Tool for Museum Membership Programs
Group Management Tool Overview
Museum membership management can be complicated, but they don't have to be with Doubleknot's group management software. Built with museums and other similar nonprofits in mind, Doubleknot is built for maintaining member relationships.
Doubleknot's software provides integrated solutions for everything from ticketing and registration to reservations, donations, sales, and more. Their product is constantly being updated with requests and feedback from clients, which makes it a valuable investment for the future of your nonprofit.
Because it integrates well with other software products, you don't have to worry about having wasted your money on other software.  
Top Group Management Features
Doubleknot's priorities are recruitment, rewarding, and retaining members for your organization, so their features are focused on helping those things happen. Some of Doubleknot's best software features are:
Automatic onboarding messages and materials.

Automatic renewal reminders for members.

The option to gift a membership to someone else.

Member engagement tracking.

Member search and segmentation.

Historical member directory.
With these features, your museum can ensure that your members remain members and that you continue striving towards your goals.
Takeaway
Doubleknot's group management tools, in addition with everything else that its software does to ensure that your museum or similar nonprofit runs smoothly, can help you reach more people and maintain strong relationships with your supporters.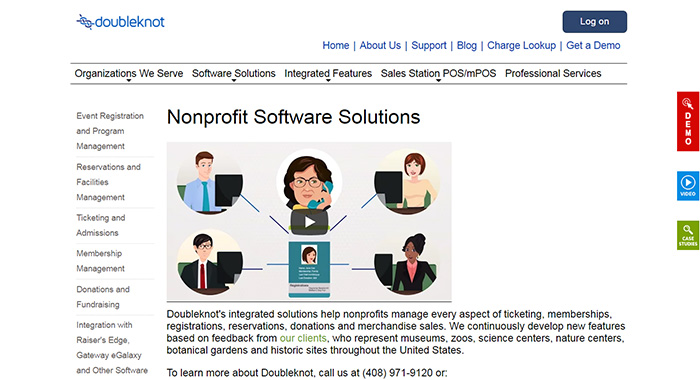 ---

7. Morweb – Top Group Management Tool for Online Communities
Group Management Tool Overview
Morweb is the child of two companies: Morad Media Inc., which is an award-winning digital design agency, and Morweb CMS Inc., which is a website platform for nonprofits and associations.
Morweb's group management tool is lightweight, yet functional: their cloud-based software allows online communities to keep track of members, manage events, allow or restrict access to pages based on membership level, and fundraising, all through the community website.
Top Group Management Features
In addition to providing beautiful, functional, and mobile-responsive websites to online communities, Morweb offers the following group management features:
Searchable member directory.

Member map.

Intranet and restricted-access pages.

Event planning capabilities.

Fundraising campaign pages and online donation forms.
Your online community can handle its group membership needs, all from your own website.
Takeaway
Online communities looking for a lightweight group management system with real-world fundraising and event functionalities will be thrilled to use Morweb.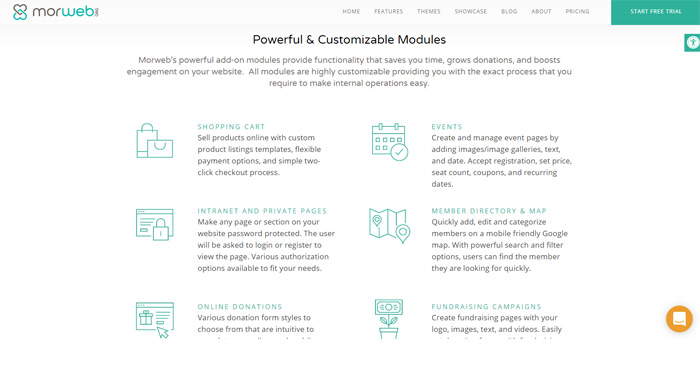 ---

8. Church Community Builder – Top Group Management Tool for Faith-Based Organizations
Group Management Tool Overview
Church Community Builder is a fully functional group management and event planning tool for faith-based organizations. With their cloud-based, Software as a Service group management tool, your church can make sure that all of your members are engaged and included.
Their software, which is accessible from anywhere with internet access as well as through their app, allows church ministries to build profiles for anyone from first-time visitors to long-term members and volunteers.
Top Group Management Features
In addition to Church Community Builder's ability to track church metrics, build intuitive web forms, provide online giving options, and streamline process queues, they also offer the following group management features:
Communication tools including email merges, direct mail, and texting options.

Attendance tracking for church services, small groups, and events.

Event planning, including room reservations in your church.

The Needs feature: your church can plan on-the-fly community events to help members with anything life might hit them with.
With Church Community Builder's group management tools, your church can make sure that everyone feels at home and welcome, even from their very first visit.
Takeaway
Help your church family work better together, increase engagement with everyone from dedicated volunteers to new visitors, and encourage church growth by investing in Church Community Builder for your ministry.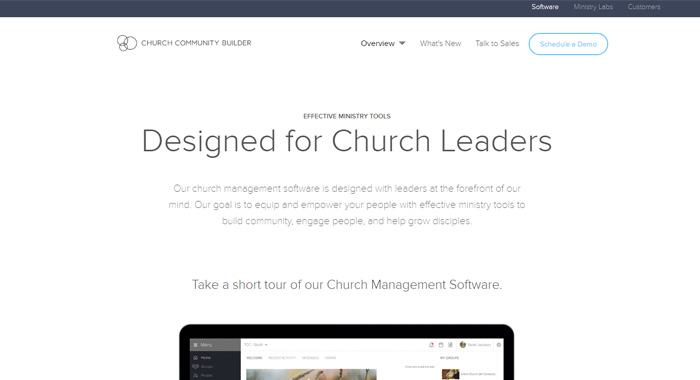 ---

9. Alumni Channel – Top Group Management Tool for Alumni Groups
Group Management Tool Overview
Alumni Channel is a dual-use database and website creation software that allows your organization to keep track of your alumni while also providing a beautiful and functional place online to communicate, network, and learn.
This software allows your alumni and your team to access the website from anywhere with an Internet connection, even from smartphones and tablets. You can invite alumni to events, post news updates, send out email blasts, and ask for donations all from the same place.
Top Group Management Features
Alumni Channel makes it easy to manage your alumni community and improve your university fundraising strategy by providing you with the tools to keep them engaged visit after visit to your website. Some of those engaging features are:
Quick member search capacity.

Organized and segmentable member directories.

Data import and export options.

Member profiles.

Networking opportunities.

Job postings.
With Alumni Channel's appealing interface for alumni and useful administrator features, you'll increase engagement after graduation as well as giving alumni the tools they need to build an online community where they can network and grow.
Takeaway
If you're looking to provide a functional and attractive website for your alumni to interact with others on while also creating an alumni database that your organization can use, check out Alumni Channel to see what else their software can do.
---

10. Pathable – Top Group Management Tool for Events
Group Management Tool Overview
May 2020 Update: Don't cancel your event yet. Click here to learn more about how Pathable can help you pivot your event from in-person to virtual.
Pathable is a custom mobile event app builder that creates a way for your event planners, attendees, and vendors to easily schedule meetings, attend sessions, workshops, and panels, and capture contact information for future relationships.
With an app built just for your event, your attendees never have to worry about out-of-date schedules or needing a map. They can use the app to keep track of CEUs, panels they're interested in, networking meetings, and find the vendors they're most interested in talking to.
Top Group Management Features
Pathable's features are built around prioritizing engagement and relationship-building. Some of the most functional features for attendees and vendors alike are:
Badge scanning capabilities.

Networking/meeting scheduling options.

Discussion forums.
Live polls and gamification tools.

In-app sponsorships for increased revenue.

Document hosting for easy access.
With Pathable's functional and customizable apps, you'll be able to offer your attendees all of the features that they need to get as much value as possible out of your events.
Takeaway
If you need an event that takes the stress out of scheduling and coordinating vendors, speakers, and attendees for your multi-day event, Pathable has got the perfect solution for you.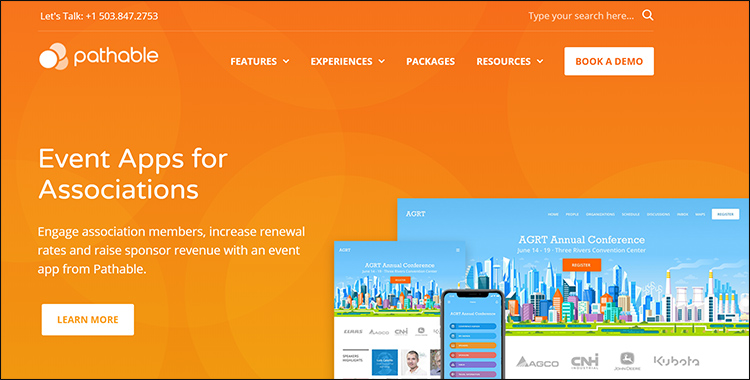 ---
With these options, you can determine the best group management software for your organization, no matter your mission. For more information on some of our other favorite software, check out these additional resources:
Top 11 Cvent Competitors. No matter what your organization needs event planning software for, we've got a suggestion for it. Check out our guide to Cvent competitors and learn more about how you can improve your event planning strategy.
Top 7 Silent Auction Software for Nonprofits. With this guide from OneCause, you'll be sure to choose the right silent auction software for your needs and ensure that your next fundraising event is a massive success.
Fundly Reviews: Testimonials from Nonprofits and Individuals. Are you thinking of starting a crowdfunding campaign? Before you commit to any specific platform for your endeavor, read these reviews about Fundly to make sure you make the right choice.
https://doublethedonation.com/wp-content/uploads/2022/06/top-group-management-software_feature.jpg
400
750
Adam Weinger
https://doublethedonation.com/wp-content/uploads/2022/03/logo-dtd.svg
Adam Weinger
2018-09-11 19:06:09
2023-04-08 12:37:51
Top 9 Group Management Software for Smart Organizations