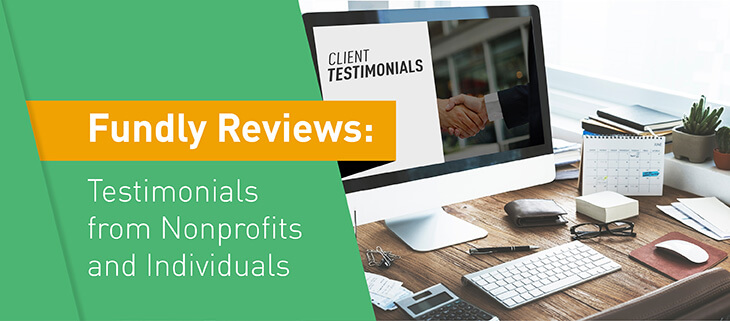 Fundly Reviews: Testimonials from Nonprofits and Individuals
Fundly Reviews: Testimonials from Nonprofits and Individuals
If you're familiar with crowdfunding then you've probably heard of Fundly, a crowdfunding website for individuals and nonprofits alike.
Since its launch 6 years ago, Fundly has raised over $330 million to support causes and projects of any kind. Organizations can connect their page with their social media accounts and email contents to spread the word. With an easy-to-use platform, users can create a campaign in a matter of minutes.
Fundly has many more fantastic features—and it's no surprise that we ranked them number 1 in our best crowdfunding websites for individuals.
But, don't just take our word for it! See how Fundly ranks on these top 4 review sites:
Let's get right into the reviews!
Rating:
Best Company gave Fundly a score of 8.2 and ranked it number 3 out of 23 crowdfunding websites.
What Best Company Had to Say:
Overall Best Company was pleased with the pricing and keep-it-all approach that Fundly's crowdfunding platform uses. The review site also appreciated that Fundly doesn't require any deadlines or minimum amount to receive funds. Users can withdraw donations at any time without it affecting their fundraising thermometer.
Here's what the main review says:
There is no maximum amount you're allowed to raise on Fundly. There also is no minimum amount to raise in order to keep your funds like on some crowdfunding websites. Users can focus on their cause and getting donations for whatever amount they need without limitations.
Rating:
Based on the CrowdsUnite reviews, Fundly has an overall score of 7.4 with high rankings in customer support and ease of use.
What Reviewers on CrowdsUnite Had to Say:
Many of the users gave Fundly high rankings for ease of use.
Here's what Sara Court had to say:
It's very easy to navigate, and you don't have to have a lot of html understanding or experience to set everything up.
Other users were really satisfied with the level of customization and resources that Fundly offers its campaign creators.
The user Elena posted this review:
There are lots of editable features, pictures, videos, and text can be added. Blog posts can be done and there are ready-made thank-you emails that can be used if desired.
Rating:
Card Payment Options gave Fundly an "A" in the overall ranking and a combined 4.5/5 score in the sales and marketing, costs and contract, customer service, and BBB rating categories.
What Card Payment Options Had to Say:
The Card Payment Options list key points that make Fundly's crowdfunding platform a great option. With benefits like low start up fees and very few complaints, this review site had very positive things to say about Fundly.
Here is what Card Payment Options had to say about Fundly's service:
There aren't any negative Fundly reviews on the usual consumer protection forums, and there is no indication that the service rips off its users. In fact, reviews of Fundly are generally positive, as nonprofit organizations praise its robust functionality and ease of use.
Rating:
Based on the reviews on Software Advice, Fundly has a 4 out of 5-star ranking.
What Users on Software Advice Had to Say:
Many of the reviews on Software Advice were happy with how simple and quick it is to create a campaign on Fundly.
Here's what John from Calvary Temple had to say:
It was easy and nice to work with. The process was simple and everyone there responded quickly. It was very simple to raise money for a good cause.
One reviewer liked how Fundly has a whole suite of features that make it perfect for all your fundraising needs.
Steven from Race for Kids said:
There is nothing like Fundly. Everything is all in one package for any of your fundraising needs. Our nonprofit, Race for Kids, solely uses Fundly for everything. We love it!
As you can see, many users find Fundly's platform easy to use and comprehensive enough to cover all their fundraising needs. With low costs and a responsive support team, individuals and nonprofits can use Fundly to raise money for virtually any reason.
Discover more about crowdfunding with these additional resources: 
Ultimate Guide to Crowdfunding. Before you launch your campaign, check out Fundly's complete guide to crowdfunding. You'll find information on how to create your page, share your campaign, and so much more!
Fundly vs. GoFundMe vs. Kickstarter vs. Indiegogo. By comparing the type, cost, and features of 4 popular crowdfunding websites, we hope to help you decide on a platform that matches all your needs.
Fundly Crowdfunding Campaign Examples. Did these raving Fundly reviews inspire you to start an online fundraiser? Check out 10 campaigns that meet or exceeded their goals before you start your own.

https://doublethedonation.com/wp-content/uploads/2022/06/Fundly-Reviews-feature-image-1.jpg
321
730
Adam Weinger
https://doublethedonation.com/wp-content/uploads/2022/03/logo-dtd.svg
Adam Weinger
2017-04-26 12:35:33
2022-06-20 07:54:41
Fundly Reviews: Testimonials from Nonprofits and Individuals