Matching Gifts for Special Fundraising Events
Many nonprofits host special event fundraisers like galas to boost them toward their revenue goals. However, only a few organizations realize that tickets and donations made during the event might be eligible for corporate matching gifts.
When brainstorming ideas for your next fundraiser, don't steer clear of special events. Instead, research your donors' employers and your corporate match opportunities. To kick off your research, review the following key examples and commonalities between companies' giving programs:
Ready to learn more about matching gifts for special event fundraisers? Let's get started!


1. Examples of Donations at Annual Galas and Special Events
Because of your familiarity with the nonprofit world, you likely know that organizations typically incorporate donations with their special events.
Let's take a look at some notable special events hosted by some major, well-known organizations:
The Greater Los Angeles Zoo Association gives individuals an opportunity to name one of its animals. For donations between $1,000-$50,000, you can name an animal, receive recognition in the zoo publication, have your photo taken with the animal, and get a VIP tour.
The Atlanta Botanical Garden has its Garden of Eden Gala, the organization's largest annual fundraiser. Tickets range in price from a few hundred dollars to $25,000 if you want to be the presenting sponsor. Benefits include tickets to the organization's Ball, a Patron Party, and much more.
NEXT for Autism (formerly New York Collaborates for Autism) hosts its annual "Night of Too Many Stars". Celebrities such as Jon Stewart, Katie Perry, Amy Poehler, Tina Fey, Seth Rogan, and many others auction off once-in-a-lifetime opportunities to hang out with them. For instance, becoming "best friends with Amy Poehler & Tina Fey" for an evening was auctioned for thousands of dollars a few years ago.
Most nonprofits aren't quite on this huge event level, but it's a great place to start researching. Take the time to look at special events hosted by major nonprofits whose missions are similar to yours. Who knows? Their major fundraisers may inspire your next event!
Looking to host your own charity auction? Check out these great platforms.


2. Eligibility of Donations Made at Galas and Special Events
It may come as a surprise, but many companies that offer matching gift programs will match donations made at special events!
When reviewing a company's matching gift form, you may notice a sentence similar to "the corporation will not match tickets or subscriptions." For instance, if your organization is a symphony selling a concert ticket or a science museum selling an IMAX ticket, companies won't match the ticket price.
The reason for this is that donors are receiving a tangible benefit that would be charged by other for-profit organizations. For example, an IMAX movie could be compared to a regular movie ticket while the symphony could be compared to a sporting event ticket.
If that's the case, then why are gala tickets and special event tickets often eligible?
If you look at the fine print on many nonprofits' special event tickets, you'll notice that it mentions a tax-deductible amount for each ticket. The tax-deductible dollar amount is what's eligible to be matched.
In general, at galas, you must subtract the cost of a similar meal and any gifts that guests receive. Otherwise, it won't be considered matching-gift eligible. For instance, if you host a gala and sell $500 tickets, you have to determine the fair market value of the benefits. In other words, how much would someone spend on the event if it wasn't a fundraiser?
Let's say people would typically spend $100 for a gala like yours plus $50 on the meal at a local restaurant. That makes the fair market value $150, meaning the tax-deductible amount is $350. In this case, $350 is the amount that would eligible for matches.
If you're interested in learning more, we wrote an entire article on calculating the tax-deductible matching gift value.
The Bottom Line: A significant percentage of a gala ticket's price is tax-deductible and is often eligible to be matched by an employee's company. However, corporate guidelines do vary by company.


3. Matching Gifts for Peer-to-Peer Fundraisers
When researching corporate match programs, you may come across some companies that match the fundraising efforts of its employees. In other words, if their employees voluntarily fundraise for your cause (i.e. peer-to-peer fundraising), a company that offers this program will match the entire amount up to a certain limit.
Some of the major companies that offer these generous programs are:
Peer-to-peer fundraising is a common strategy for boosting nonprofit revenue. With these campaigns, your volunteer fundraisers receive their own personalized webpages where they raise money for your cause. The most common example of these effective fundraisers is walkathons. Though these campaigns are heavily reliant on online tactics, once you master the peer-to-peer approach, you'll boost your fundraising potential!
Learn more about fundraising match programs.


4. Tips for Promoting Matching Gifts to Special Event Attendees
Unfortunately, for organizations, it's less common to receive employee matching gifts for galas and special events than it is for regular donations or annual fund contributions.
As with all donations, you have to raise awareness and make it easy for donors to submit matching gift requests. However, there's an extra component when it comes to galas and special events.
Even if an individual knows about their company's matching gift program, they rarely realize a portion of their recently purchased ticket is tax-deductible and often match-eligible. Therefore, you need to promote this. Start by doing the following:
Include the tax-deductible amount on the ticket with a line such as "Did you know $X of your ticket is tax-deductible? If your employer offers a matching gift program, it may be eligible to be matched."
If you subscribe to Double the Donation's matching gift service, consider setting up a laptop with your organization's page about matching gifts that's easily accessible at your event.
At payment stations where donors pay for auction items, make sure your staff asks each individual or his or her spouse if they work for a company with a matching gift program.
Do you give donors an acknowledgement card after they buy a ticket or make an additional donation? If so, this is a great time to encourage donors to see if their employer or their spouse's employer offers a matching gift program.
Before creating your promotion plan, make sure to review our list of top ways to promote employee matching gifts year-round.


5. How a Matching Gift Database Can Help
In addition to helping your day-to-day fundraising strategy, a matching gift database (like Double the Donation) can help your organization pinpoint additional revenue opportunities at special events.
Your nonprofit should promote corporate giving at any special fundraising event. Before going into ways to do this, here's how Double the Donation works:
A nonprofit embeds the tool on its website or online donation page.
A donor (or volunteer) starts typing his/her employer's name.
The database autocompletes the search, suggesting companies for the user to click.
The user receives all available updated information on his/her employer's giving program.
Best of all, the tool easily integrates with other fundraising software. Larger nonprofits might benefit more from 360MatchPro by Double the Donation, which streamlines the process even more through email automation and email domain screening.
There are multiple ways you can promote corporate philanthropy with Double the Donation's services:
At your event, set up a laptop with your page that has the search tool embedded.
Analyze your guest list prior to the event and research attendees' employers. That way, you'll have more insight on who to approach at your event.
For your event, create and hand out educational pamphlets on matching gifts and local employers that offer them.
Get creative with your matching gift promotion! Think your nonprofit can benefit from Double the Donation?
---
Corporate philanthropy represents a major opportunity for nonprofits. By taking the time to incorporate it into your fundraising and outreach strategies, you set your nonprofit up for success. Few nonprofits take the time to do proper research on these programs. Because of that, they overlook major revenue opportunities.
Now that you know special event tickets and donations can be matched by most employers, get started boosting your revenue!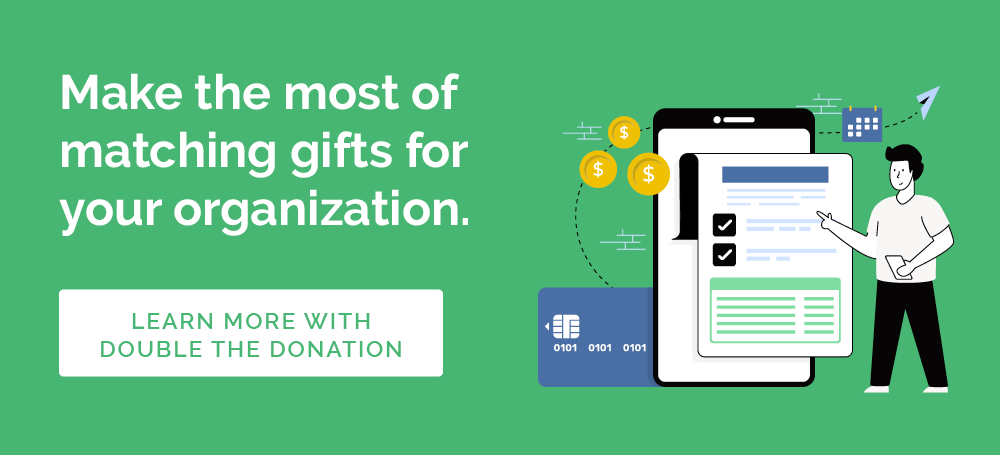 https://doublethedonation.com/wp-content/uploads/2022/05/Special-Fundraising-Events_Feature.jpg
285
725
Adam Weinger
https://doublethedonation.com/wp-content/uploads/2022/03/logo-dtd.svg
Adam Weinger
2014-04-25 13:06:23
2023-03-06 17:45:36
Matching Gifts for Special Fundraising Events