iDonate Reevaluates, Switches from Amply to Double the Donation
Double the Donation is proud to announce a new partnership with iDonate, a fast-growing digital fundraising solution for nonprofits. Together, iDonate and Double the Donation are providing integrated corporate matching gift marketing automation to nonprofits and higher education institutions.
iDonate has enhanced both functionality and customer experience by substituting the previous solution by Amply with 360MatchPro matching gift automation by Double the Donation, the leading provider of matching gift and volunteer grant software to nonprofits and educational institutions. All of iDonate's clients who were using the Amply tool have been transitioned over to the enhanced 360MatchPro offering.
"Based on client feedback, we reevaluated the matching gift solutions available from all vendors and invested in transitioning our clients to 360MatchPro's premium platform," said Karen Tanker, Director of Customer Success at iDonate. "We're excited to help our nonprofits better manage their matching gift efforts through the use of 360MatchPro's industry-leading software. The switch to Double the Donation is a major enhancement that provides more flexibility, enables more automation, and supports iDonate's philosophy of investing in technology and tools that better engage donors personally and help nonprofit raise more."
Through 360MatchPro by Double the Donation, organizations can identify more matching gift opportunities, automatically drive those matches to completion, and take further action based on advanced analytics and reporting.
"We couldn't be happier to provide advanced corporate matching gift automation tools to iDonate users," said Adam Weinger, President of Double the Donation. "With more than $4 billion in matching gift revenue left on the table every year, automating the matching gift follow-up process is the key step 360MatchPro makes easy for busy nonprofits and educational institutions."
At its core, 360MatchPro addresses a key lack of donor awareness about their employer's corporate philanthropy programs. Donors want to make their support go further, they just aren't always aware of the tools at their disposal. Through the native integration with iDonate, 360MatchPro is more readily available to and affordable for more nonprofits and educational institutions. 

Activate in Seconds and Start Raising More from Matching Gifts!
Your nonprofit can turn on 360MatchPro functionality directly within the iDonate platform and get up and running with a quick message to the iDonate support team.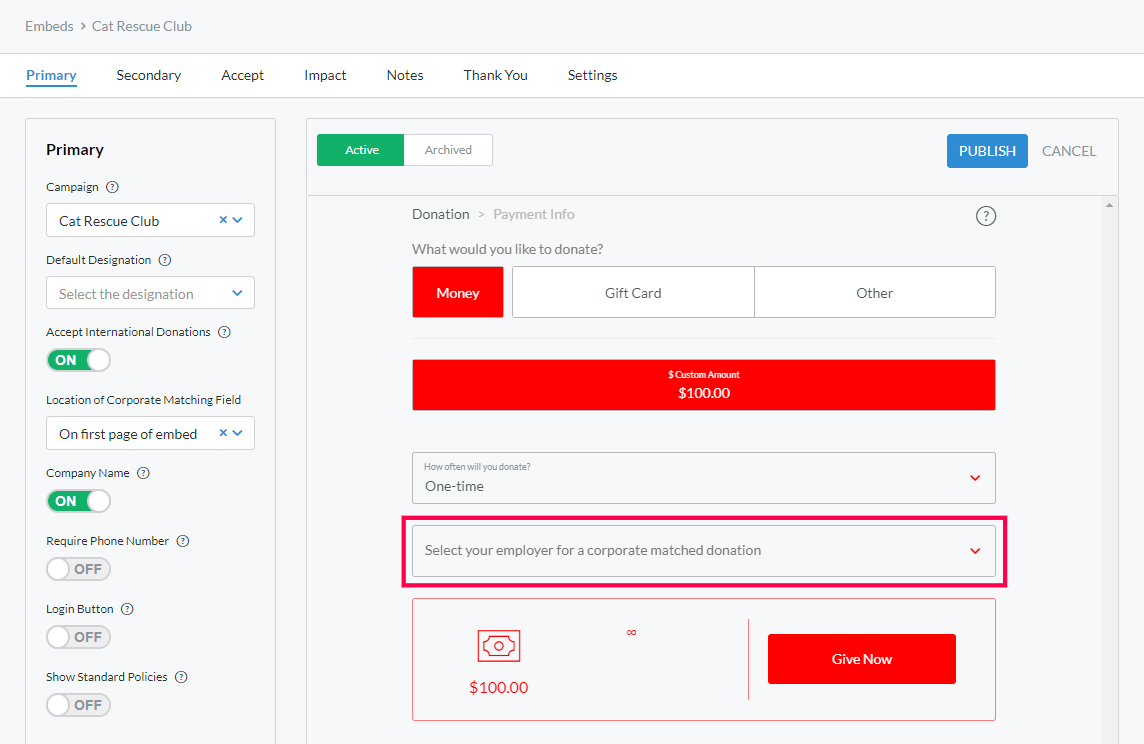 Once you're set up with the 360MatchPro tool in your donation page, donors will be able to search for their company and check their eligibility for a matching gift. The iDonate and 360MatchPro integration provides donors with a direct line to their employer's matching gift application form so they are more likely to complete a match.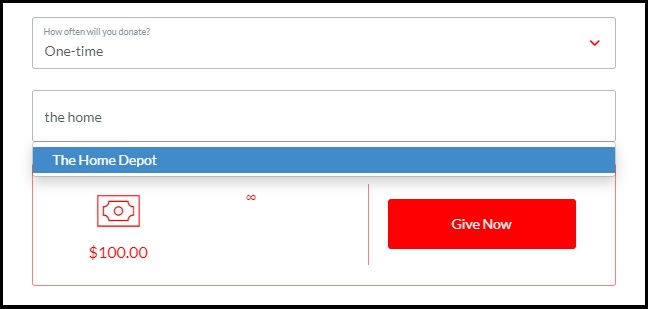 Donors often aren't aware that they could double or triple their contribution without reaching back into their own wallets, but the iDonate and 360MatchPro integration bridges that knowledge gap by informing donors of their eligibility without ever having to leave your organization's website.
Looking to learn more? Check out our in-depth integration guide to get started!

Drive Donations to Completion with 360MatchPro!
Corporate philanthropy can have an incredible impact on your nonprofit if you know how to take advantage of the resources available to you. The integration between iDonate and 360MatchPro makes corporate gift matching an easy process for the donor and the nonprofit, and helps your organization increase its fundraising revenue so you can get back to helping communities in need. 
The iDonate platform offers a simple, centralized, and secure way for your nonprofit to drive donations, and the 360MatchPro plugin follow suit with the following features:
Identify more matching gift revenue opportunities:

360MatchPro enables you to automatically collect matching gift eligibility from donors using email domains, within donation forms, on confirmation screens, or by email. The more matching gift opportunities 360MatchPro discovers and shares with donors, the more matching gift requests your donors will successfully submit.

Drive more matches to completion, from form submission to corporate payment:

Direct donors immediately to their matching gift forms after the donation process is complete. Then, provide the right information to the right donors at the right time with custom emails based on match eligibility. Target follow-ups drive more completed submissions than ever before, bringing exponentially more matching gift checks from companies through your door.

Reallocate your time from routine follow-up to your top opportunities:

Your time is valuable, so why spend it chasing small dollar-value matching gifts? Let 360MatchPro automate your matching gift outreach while flagging your highest-value opportunities, allowing your team to personalize follow-ups to the most valuable match-eligible donations. Rest easy knowing that 360MatchPro can handle the rest.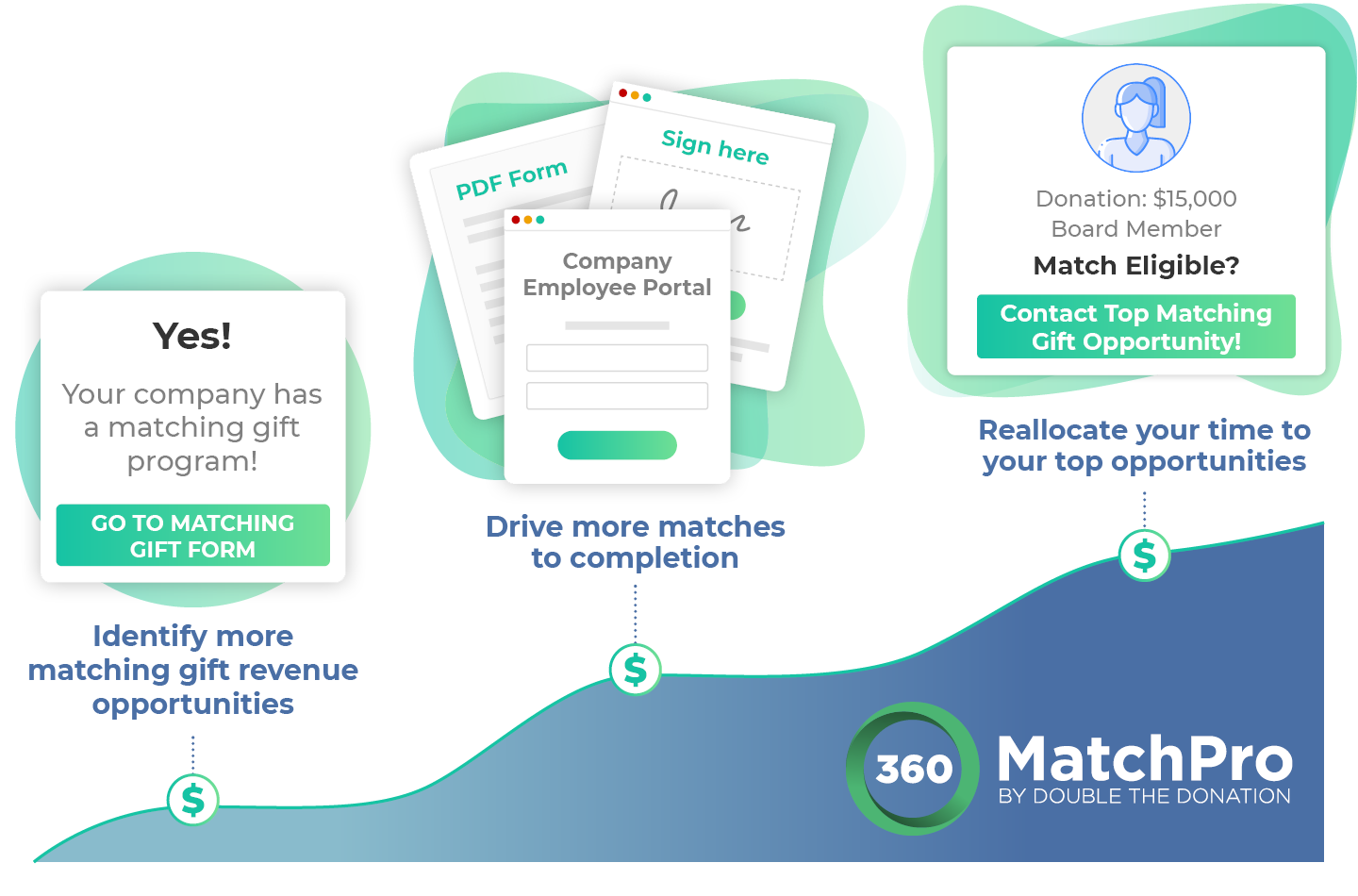 Don't wait on the opportunity to double your fundraising revenue with corporate matching—request a demo today to get started. 
---
About iDonate: iDonate is working to transform charitable giving by making giving simple and accessible for everyone, unlocking more ways to give, building tools that make it easier for nonprofits to make a bigger impact, and pushing the industry to innovate. Visit www.idonate.com for more information.
About Double the Donation:  Automate your matching gift fundraising with the industry-leading solution from Double the Donation. The 360MatchPro platform provides nonprofits with tools to identify match-eligible donors, drive matches to completion, and gain actionable insights. 360MatchPro integrates directly into donation forms, CRMs, social fundraising software, and other nonprofit technology solutions to capture employment information and follow up appropriately with donors about matching gifts. To learn more about Double the Donation, visit https://doublethedonation.com and request a demo at https://360matchpro.com/demo-request/. 
https://doublethedonation.com/wp-content/uploads/2022/06/Double-the-Donation-iDonate-Amply-switch.jpg
270
720
Adam Weinger
https://doublethedonation.com/wp-content/uploads/2022/03/logo-dtd.svg
Adam Weinger
2018-07-24 13:43:03
2022-06-25 14:12:55
iDonate Reevaluates, Switches from Amply to Double the Donation