Wilson-Bennett Shifts Functionality from HEPdata to Double the Donation

Double the Donation is excited to share news of a new partnership with Wilson-Bennett Technology, Inc. (WBT), a leading provider of educational and nonprofit fundraising programs.
This partnership situates Double the Donation as the exclusive provider of matching gift services to WBT, replacing the legacy solution managed by HEPdata.
All WBT clients now exclusively have access to 360MatchPro by Double the Donation, the industry-leading matching gift automation platform.
"Wilson-Bennett Technology has always taken pride in providing our clients with cutting-edge services and technology," said Rob Schlitts, Division President of WBT. "The phonathon landscape is evolving, and we are continually making changes to meet and exceed our clients' expectations. The phone still proves to be a vital avenue to generate donors and dollars. We are excited to partner with Double the Donation and know our clients will enjoy the powerful matching gift solution."
The integration places 360MatchPro's tools directly within Donor Connect call scripts for easy access and use. With 360MatchPro's autocomplete search tool and matching gift information present directly in Donor Connect scripts, schools can start collecting valuable employer and matching gift data from their supporters, while those supporters get to double or even triple their contributions.
With 360MatchPro, callers can help identify more donors as match-eligible. A smart auto-complete algorithm dynamically pulls from Double the Donation's comprehensive database of parent companies, subsidiaries, brands, and spelling variations to maximize the percentage of match eligible donors callers are able to identify.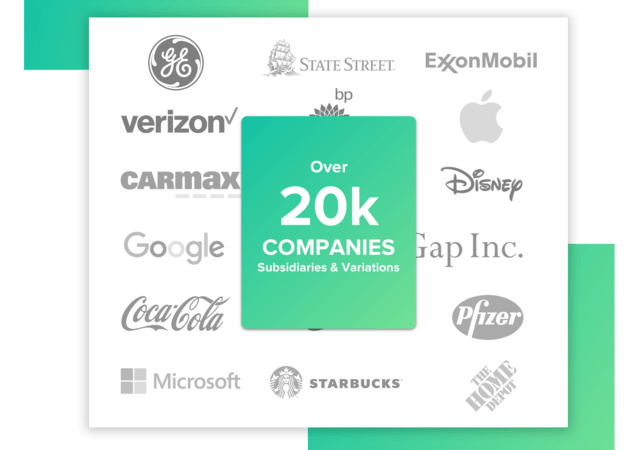 "Building and maintaining our database of companies that offer matching gift programs is really the core of our business at Double the Donation," said Adam Weinger, President of Double the Donation. "A full-time, onsite team is dedicated to making daily updates to the database so that more than 98 percent of the 15-19 million match-eligible individuals in the US workforce will find their company's program guidelines in our system."
The matching gift program guidelines returned by 360MatchPro are written for a donor, not for a fundraising professional. Tailored for callers who need to convey complex information quickly and accurately, Double the Donation and Wilson-Bennett ensure that callers can easily provide the right information that encourages donors to take the next step and submit their matching gift request.

Activate in Seconds and Start Raising More from Matching Gifts!
Getting set up with the Donor Connect and 360MatchPro integration is simple. All you need to do is get in contact with your representative at Wilson-Bennett Technology and they'll take care of activating your account for you! No complicated IT work required on your end.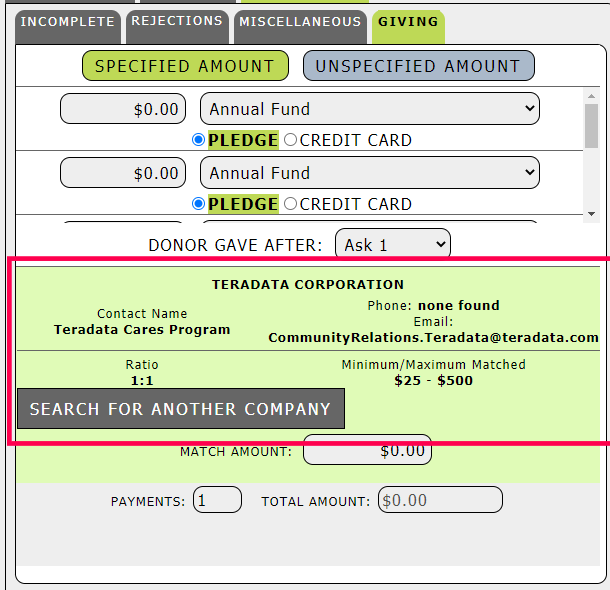 Once you're up and running with your integrated solution, your callers will be able to inform donors of their eligibility in real-time, all while storing valuable employer data from your donors in your 360MatchPro account. All your callers need to do is ask the donor for their employer, enter their employer name in the autocomplete search tool, and relay back match program information and eligibility for the donor! 
From there, 360MatchPro handles the automated follow-ups and stores donor data in the 360MatchPro dashboard for your later use. Link donors directly to their matching gift request form or employee portal via the automated email streams and start capturing those matching gifts!
Looking to learn more? Check out our in-depth integration guide to get started!

Drive More Matching Gifts to Completion with 360MatchPro
360MatchPro and Wilson-Bennett Technology use their powerful integrated solution to fuel your fundraising efforts through phonathons.
Some other features you should know about:
Identify more matching gift revenue opportunities:

360MatchPro enables you to automatically collect matching gift eligibility from donors using email domains, within donation forms, on confirmation screens, or by email. The more matching gift opportunities 360MatchPro discovers and shares with donors, the more matching gift requests your donors will successfully submit.

Drive more matches to completion, from form submission to corporate payment:

Direct donors immediately to their matching gift forms after the donation process is complete. Then, provide the right information to the right donors at the right time with custom emails based on match eligibility. Target follow-ups drive more completed submissions than ever before, bringing exponentially more matching gift checks from companies through your door.

Reallocate your time from routine follow-up to your top opportunities:

Your time is valuable, so why spend it chasing small dollar-value matching gifts? Let 360MatchPro automate your matching gift outreach while flagging your highest-value opportunities, allowing your team to personalize follow-ups to the most valuable match-eligible donations. Rest easy knowing that 360MatchPro can handle the rest.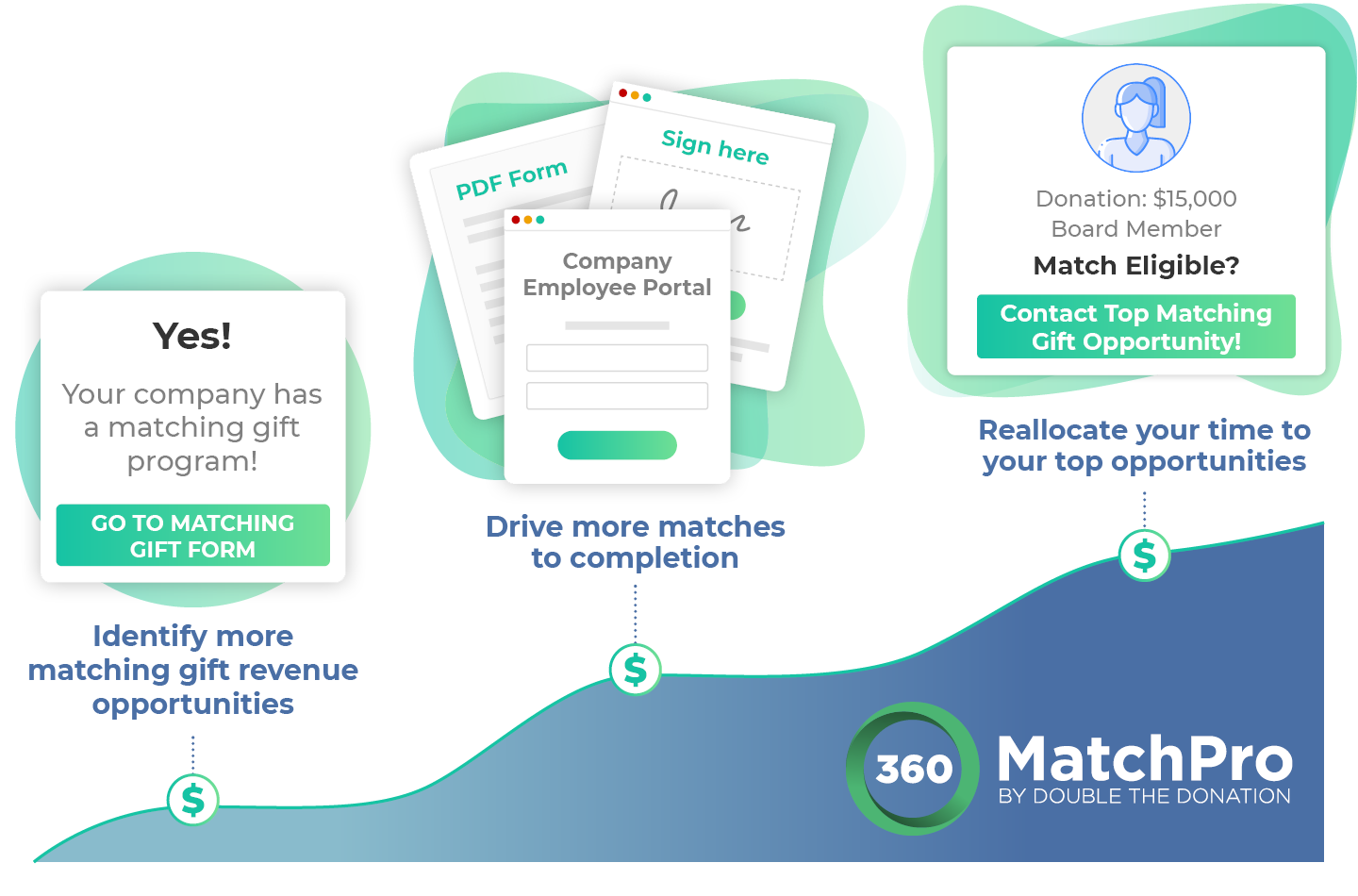 Ready to learn more or get started? Schedule a personalized demo to see how 360MatchPro can fit your organization's needs and drive donations through company gift matching.
About Wilson-Bennett Technology: Our Mission: Providing our clients with the most efficient and cost effective phonathon services in the industry today. Our knowledge and professional staff will help inspire, educate and implement best practices for your campaign. We offer on-campus managed phonathon programs, off-campus calling, membership calling, admissions calling, as well as software leasing; each tailored to the client's needs.
About Double the Donation: There's an unnecessary gap between fundraising organizations and corporate giving programs, to the tune of $4-7 billion in unclaimed matching gift revenue annually. Double the Donation helps nonprofits and educational institutions increase fundraising from corporate matching gift and employee volunteer grant programs. Double the Donation maintains a database of employee matching gift and volunteer grant programs. With more than 20,000 entries in the database, Double the Donation presents match-eligible donors with their company's specific program requirements, including a direct link to their company's online matching gift submission portal or PDF download.
https://doublethedonation.com/wp-content/uploads/2022/06/Double-the-Donation-Wilson-Bennett-Technology-HEPdata-replacement.jpg
270
720
Adam Weinger
https://doublethedonation.com/wp-content/uploads/2022/03/logo-dtd.svg
Adam Weinger
2018-08-22 14:00:17
2022-06-20 07:54:55
Wilson-Bennett Shifts Functionality from HEPdata to Double the Donation