360MatchPro by Double the Donation Joins the Ellucian Partner Community with Ethos Connectivity
Double the Donation is proud to join Ellucian, the leading provider of software and services built to power higher education, in partnership to offer a new technical integration. 360MatchPro by Double the Donation is the industry-leading matching gift automation tool for nonprofits and educational institutions. Through this integration, university clients are able to access valuable matching gift and employer information directly from their CRM Advance account.
"When searching for a partner in the matching gift space, we knew that we needed an experienced company focused on technical innovation," said Kim Coelho, Director of Product Management for the Advancement Solutions Portfolio at Ellucian. "Double the Donation brings a wealth of experience and a forward-thinking technological approach from the greater philanthropy world to our advancement solutions."
When connected to CRM Advance, 360MatchPro automatically scans gift records for matching gift eligibility. The system then delivers the correct employer matching gift forms and instructions to each donor, following up appropriately to drive matches to completion. Donors' employer matching gift data then flows from those follow ups back into CRM Advance, allowing university clients to monitor their matching gifts strategy from a single platform. 
"Time-saving automation is the key to the value of this joint solution," said Adam Weinger, President of Double the Donation. "360MatchPro shoulders the burden of research, outreach, and reporting that our clients were doing manually. That leaves time for advanced reporting and targeting manual communications to top matching gift opportunities."
The integration connects Ellucian CRM Advance and 360MatchPro by Double the Donation in a 2-way data sync. This seamless integration consolidates donor data and makes increasing fundraising revenue a quick and painless process for higher education institutions.

Activate in Seconds and Start Raising More from Matching Gifts!
Thanks to Ellucian Ethos integration, this powerful automation can be activated in minutes. Just enter your Ellucian API key in the 360MatchPro dashboard, map your 2-way sync to the appropriate fields, and start matching gifts!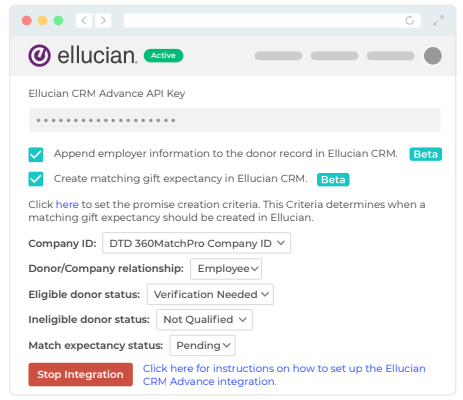 Once institutions are set up and ready to go, they can track match-eligible donors' data and drive matches to completion as well as keep an eye out for trends—and they don't ever have to leave their CRM Advance platform to see matching gift insights. If organizations use customer experience webpages with CRM Advance, the 360MatchPro search field and plugin can easily be placed in those pages as well.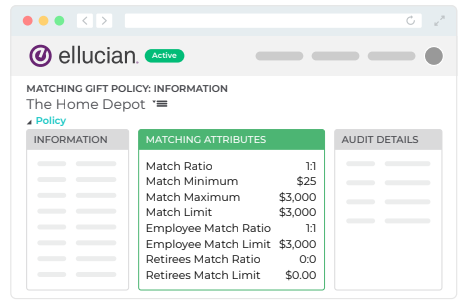 Since 360MatchPro handles the matching gift identification and follow-up automatically, gift officers and advancement offices can dedicate their valuable time to top opportunities instead of manual outreach.

Drive More Matching Gifts to Completion with 360MatchPro!
Corporate matching gifts are an underutilized source of fundraising for institutions of higher education. Although 15-19 million individuals in the United States are eligible for matching gift programs, $4-7 billion in matching gift revenue goes unclaimed each year. The joint solution of 360MatchPro and CRM Advance addresses this gap in client potential to turn match eligibility into matched donations.
Identify more matching gift revenue opportunities:

360MatchPro enables you to automatically collect matching gift eligibility from donors using email domains, within donation forms, on confirmation screens, or by email. The more matching gift opportunities 360MatchPro discovers and shares with donors, the more matching gift requests your donors will successfully submit.

Drive more matches to completion, from form submission to corporate payment:

Direct donors immediately to their matching gift forms after the donation process is complete. Then, provide the right information to the right donors at the right time with custom emails based on match eligibility. Target follow-ups drive more completed submissions than ever before, bringing exponentially more matching gift checks from companies through your door.

Reallocate your time from routine follow-up to your top opportunities:

Your time is valuable, so why spend it chasing small dollar-value matching gifts? Let 360MatchPro automate your matching gift outreach while flagging your highest-value opportunities, allowing your team to personalize follow-ups to the most valuable match-eligible donations. Rest easy knowing that 360MatchPro can handle the rest.
Learn more about Double the Donation at https://doublethedonation.com/ or schedule a private demo of 360MatchPro at https://360matchpro.com/demo-request/. 
---
About Ellucian: Ellucian is one of the world's leading provider of software and services that power the essential work of colleges and universities. More than 2,500 institutions in nearly 50 countries rely on Ellucian to enhance operations and enrich the student experience for over 18 million students. Learn more at www.ellucian.com. 
About Double the Donation:  Automate your matching gift fundraising with the industry-leading solution from Double the Donation. The 360MatchPro platform provides nonprofits with tools to identify match-eligible donors, drive matches to completion, and gain actionable insights. 360MatchPro integrates directly into donation forms, CRMs, social fundraising software, and other nonprofit technology solutions to capture employment information and follow up appropriately with donors about matching gifts. To learn more about Double the Donation, visit https://doublethedonation.com and request a demo at https://360matchpro.com/demo-request/. 
https://doublethedonation.com/wp-content/uploads/2022/06/Double-the-Donation-Ellucian-matching-gifts-integration-feature.jpg
290
775
Adam Weinger
https://doublethedonation.com/wp-content/uploads/2022/03/logo-dtd.svg
Adam Weinger
2019-08-20 15:30:45
2022-06-20 07:55:10
360MatchPro by Double the Donation Joins the Ellucian Partner Community with Ethos Connectivity