RaiseDonors Selects Double the Donation as Exclusive Matching Gifts Provider
Double the Donation is excited to share the news of a new matching gifts integration with RaiseDonors and 360MatchPro by Double the Donation, the leading provider of matching gifts and volunteer grant software to nonprofits and educational institutions.
360MatchPro is the industry-leading matching gift automation tool for nonprofits ready to take their matching gift revenue to the next level. When integrated with RaiseDonors online fundraising forms, 360MatchPro automatically identifies and follows up with matching gift-eligible donors without requiring any additional action from nonprofits stretched for time.
"Nonprofits are missing out on millions in matching gift revenue every year, and we wanted to do something about it," said Stephen Boudreau, Co-Founder of RaiseDonors. "360MatchPro by Double the Donation is the solution to increase fundraising revenue without any coding or lengthy setup — just one click."
Adding the 360MatchPro streamlined company name search field to RaiseDonors online fundraising forms allows nonprofits to capture donor matching gift eligibility, then automatically present matching gift next steps on the confirmation page and in follow-up email messaging.
"The key to increasing matching gift revenue is to address the lack of donor awareness about matching gift and volunteer grant programs," said Adam Weinger, President of Double the Donation. "The 360MatchPro integration with RaiseDonors online fundraising forms automatically identifies matching gift opportunities even donors had no idea they were eligible for, then guides them through their company's specific process to get their gift matched."
Each company with a matching gift program has different program requirements and processes for employees to take to get their gift matched. And with 65% of Fortune 500 companies and many others offering these programs, there are a lot of forms and guidelines to keep track of. Double the Donation's database of matching gift companies takes the guesswork and time out of the matching gift process, leaving nonprofits time to focus on top opportunities.
Nonprofits can take advantage of this vast database of matching gift programs automatically in the donation process with the integration between RaiseDonors and 360MatchPro by Double the Donation.

Activate in Seconds and Start Raising More from Matching Gifts!
360MatchPro can easily be accessed through the RaiseDonors platform. This integration only takes seconds, providing a hassle-free method to fuel your fundraising efforts. To activate the integration, first log in to your RaiseDonors account. Then, navigate to the "Integrations" option to access the "Double the Donation" tab.
If you already have a 360MatchPro account, then you can simply enter your public and private credentials to integrate the systems. If you need an account set up, then you can fill out the contact form that appears on this page. This will allow the Double the Donation team to provide you with a 360MatchPro account and credentials.
360MatchPro gives you the option to activate the software across all of your donation forms with the press of a button. If you would like to add 360MatchPro functionality to individual donation forms, then you can configure this in settings. These two options give you the freedom to choose which of your donation pages are equipped with the power of 360MatchPro and to customize what donors see on those donation pages! Nonprofits are able to change the text that appears around the 360MatchPro tool. Now your organization can configure messaging to tell donors if they are eligible for a matching gift along with how to proceed based on the information they entered in the search bar. 
After the setup is complete, donors will see an option to list their employer on donation forms. This feature includes a streamlined search tool that suggests company names. This allows donors to select their employer quickly and easily, keeping them on task during the donation process.
You can also equip your confirmation pages with the power of 360MatchPro. This tool auto-populates with the company entered during the donation process. Don't worry if the donor skipped this step during the initial donation. The streamlined search tool can be placed on the confirmation page too! Then, the confirmation page will display relevant matching gift information alongside a direct link to the donor's specific matching gift submission page. That means that your donors could submit a matching gift request immediately after the donation process, leading to increased revenue for your organization.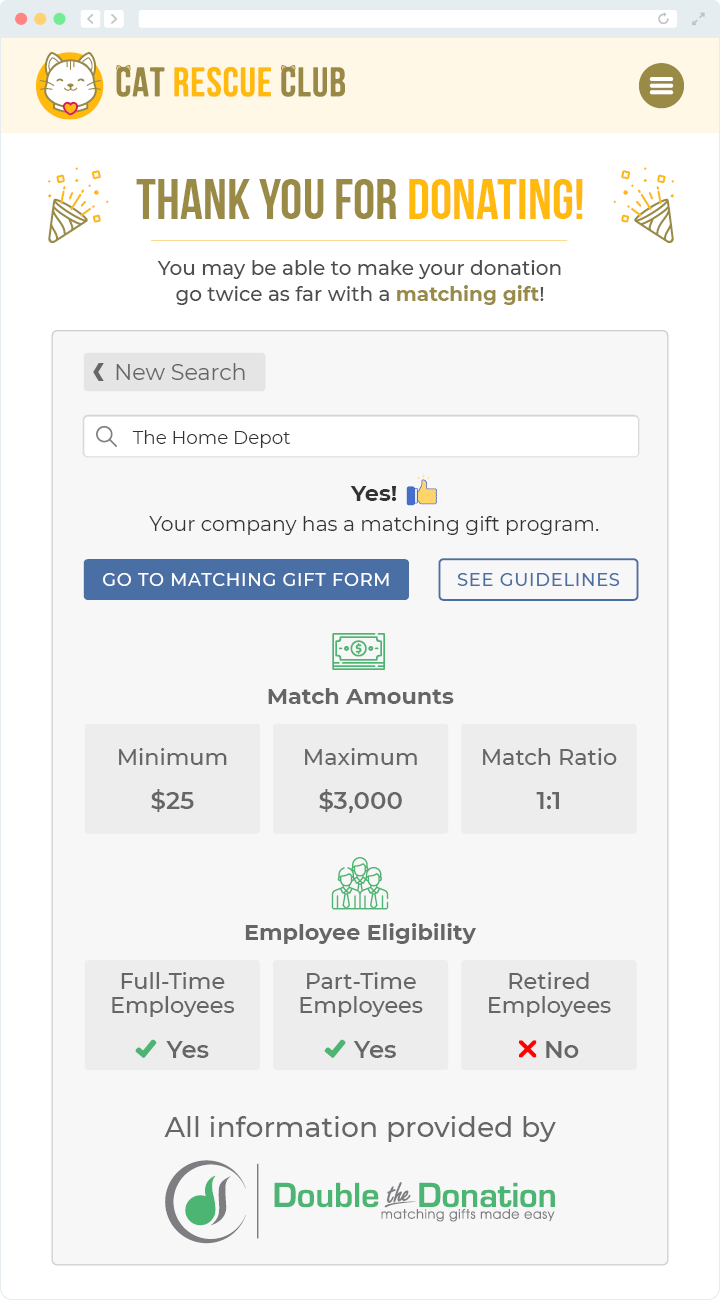 Once your donor selects their employer whether it be on the donation form or the confirmation page, 360MatchPro will scan a detailed database to check for gift matching eligibility. The donor will then be contacted via 360MatchPro's automated email outreach and supplied with some guidance on the matching gifts process! The email provides simple and specific steps to complete a gift matching contribution, making it quick and easy for the donor to drive their matches to completion.
Looking to learn more? Check out our in-depth integration guide to get started!

Drive More Matching Gifts to Completion with 360MatchPro!
360MatchPro provides specialized tools to ensure that users enjoy an easy yet valuable gift matching experience. 
This means that you can:
Identify more matching gift revenue opportunities

: 360MatchPro enables you to automatically collect matching gift eligibility from donors using email domains, within donation forms, on confirmation screens, or by email. The more matching gift opportunities 360MatchPro discovers and shares with donors, the more matching gift requests your donors will successfully submit.

Drive more matches to completion, from form submission to corporate payment

: Direct donors immediately to their matching gift forms after the donation process is complete. Then, provide the right information to the right donors at the right time with custom emails based on match eligibility. Target follow-ups drive more completed submissions than ever before, bringing exponentially more matching gift checks from companies through your door.

Reallocate your time from routine follow-up to your top opportunities

: Your time is valuable, so why spend it chasing small dollar-value matching gifts? Let 360MatchPro automate your matching gift outreach while flagging your highest-value opportunities, allowing your team to personalize follow-ups to the most valuable match-eligible donations. Rest easy knowing that 360MatchPro can handle the rest.
The 360MatchPro is a great way to drive donations while utilizing the valuable tools from RaiseDonors. Check out the 360MatchPro demo page to schedule a personalized session and see this integration in action. 
---
About RaiseDonors: RaiseDonors uses high-converting donation pages, numerous integrations, and valuable analytics reports to make online fundraising easy for growing nonprofits. Founded in 2014, RaiseDonors helps upgrade your giving experience with high-converting donation pages so that you can fundraise more while spending less. To learn more about RaiseDonors, check out their website at https://raisedonors.com/
About Double the Donation: Automate your matching gift fundraising with the industry-leading solution from Double the Donation. The 360MatchPro platform provides nonprofits with tools to identify match-eligible donors, drive matches to completion, and gain actionable insights. 360MatchPro integrates directly into donation forms, CRMs, social fundraising software, and other nonprofit technology solutions to capture employment information and follow up appropriately with donors about matching gifts. To learn more visit https://360matchpro.com/demo-request/ 
https://doublethedonation.com/wp-content/uploads/2022/06/Double-the-Donation-RaiseDonors-matching-gifts-integration-feature.jpg
290
775
Adam Weinger
https://doublethedonation.com/wp-content/uploads/2022/03/logo-dtd.svg
Adam Weinger
2019-08-28 15:30:16
2022-06-20 07:55:11
RaiseDonors Selects Double the Donation as Exclusive Matching Gifts Provider