iModules Debuts Preferred Technology Partnership with 360MatchPro by Double the Donation
Double the Donation is proud to announce a new technology partnership with iModules. This partnership enables institutions to integrate employee matching gift automation platform 360MatchPro by Double the Donation, the leading corporate matching gift automation platform, with Encompass from iModules for a seamless donor experience.
"iModules is proud to support organizations that help our customers succeed with their corporate matching gift programs," said Germaine Ward, Vice President of Product Management at iModules. "By aligning our Encompass solution with 360MatchPro, iModules continues to deliver on its commitment to helping higher education improve their fundraising efforts."
Universities in particular are well-positioned to take advantage of employee matching gift programs. Although all corporate philanthropy programs involve different requirements for gift size, submission format and deadline, and eligibility of nonprofits to benefit from them, educational institutions almost always meet any corporate program requirements. That means a high percentage of the 15-19 million match-eligible individuals in the US alone can get their gifts matched when those gifts are made to a university.
"360MatchPro tackles the gap between the vast numbers of match-eligible donors and the revenue they could be raising for the universities they donate to," said Adam Weinger, President of Double the Donation. "The reason for this gap is donor awareness of matching gift programs and processes. Our integrated solutions aim to provide the right information to the right donor at the right time to make matching gift request submission the natural next step of any eligible donor."
The integrated solution tackles the $4-7 billion in corporate matching gift revenue left unclaimed every year by fundraising institutions. More than three-fourths of donors who are eligible to have their gifts matched by their employers don't even know their company has a matching gift program. 360MatchPro and iModules automate the identification and outreach necessary to drive donor matches to completion.

Activate in Seconds and Start Raising More from Matching Gifts!
With ready-to-help support teams and an easy step-by-step process, you'll be able to integrate your 360MatchPro solution into your Encompass account in no time. Once integrated with Encompass, 360MatchPro presents donors with multiple opportunities to identify their employer during the donation process without interrupting the flow of the donation experience. Just add the 360MatchPro company name search field to any of your Encompass forms with the pre-formatted Gift Matching data field type, pictured below/above, to identify more matching gift opportunities during the donation process.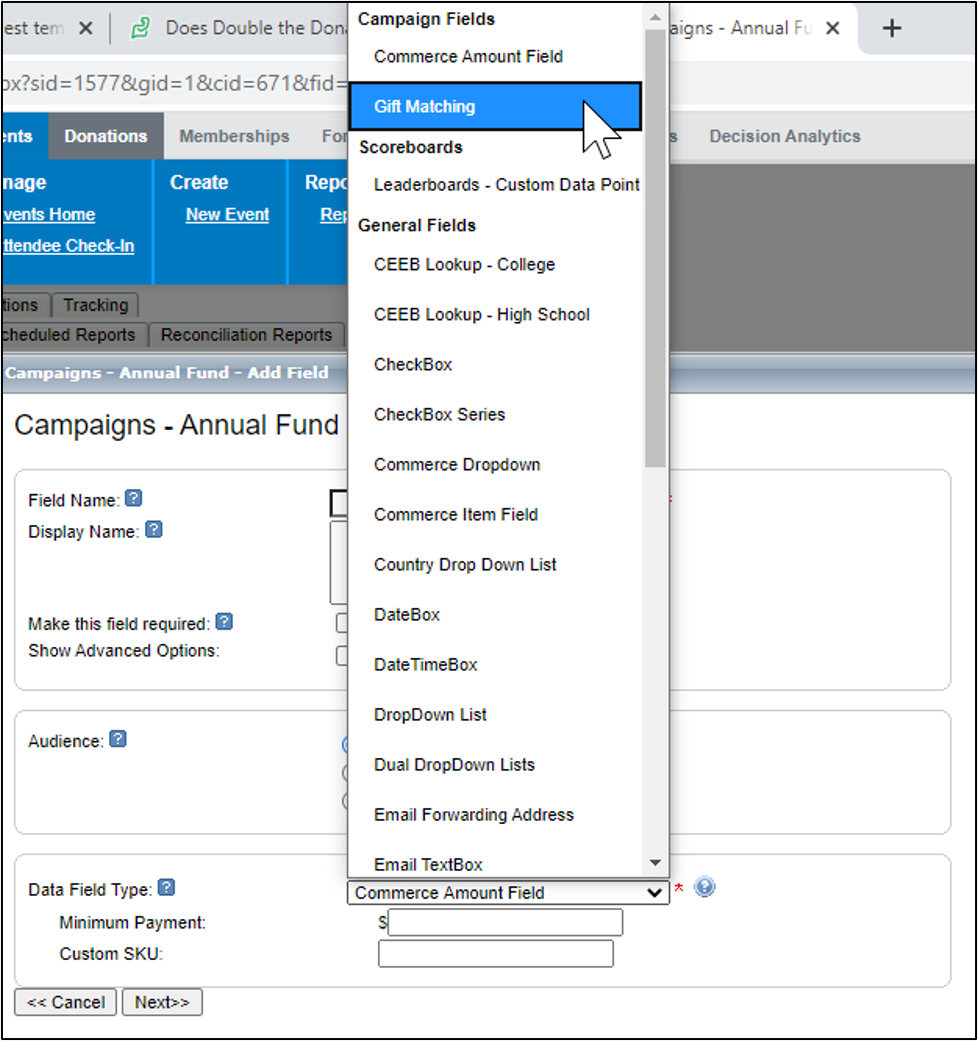 With this information, 360MatchPro then delivers actionable next steps and actively follows up on each submission. You can automate and customize emails to fit your organization's needs to drive gift matches to completion without putting more on your nonprofit's plate.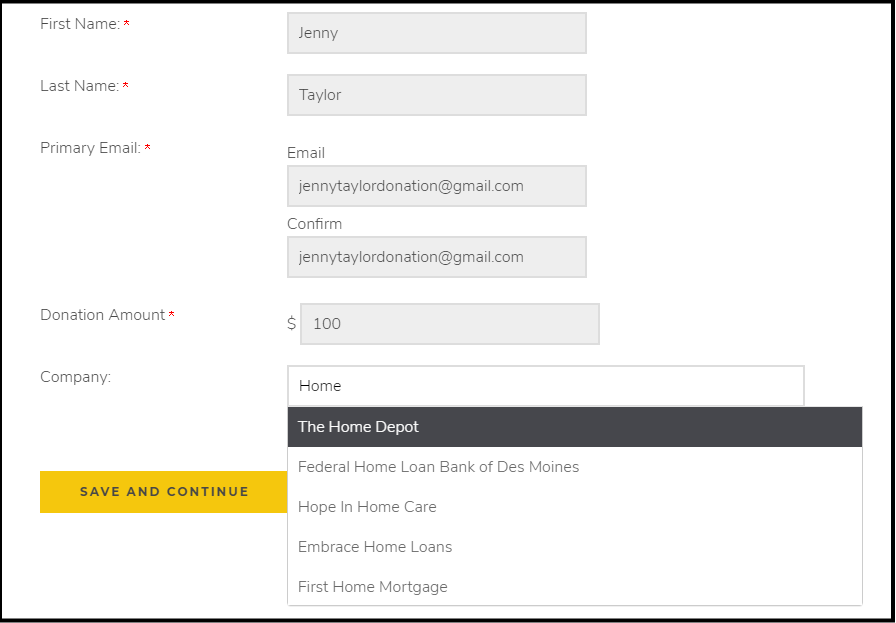 The autocomplete search tool powered by Double the Donation maps your donor's entries to corresponding company names so you can keep your data streamlined and consolidated. The results are higher matching gift request submission rates and revenue, higher percentages of donors with current employment information on file, and a wealth of useful corporate philanthropy-related data for university teams.
Looking to learn more? Check out our in-depth integration guide to get started!

Drive More Matching Gifts to Completion with 360MatchPro!
iModules is a leader in the alumni fundraising and engagement space with features that help your organization gain efficiency, increase engagement, build your legacy, and elevate fundraising. 360MatchPro by Double the Donation amplifies those benefits through corporate gift matching and allows your nonprofit to achieve the following: 
Identify more matching gift revenue opportunities:

360MatchPro enables you to automatically collect matching gift eligibility from donors using email domains, within donation forms, on confirmation screens, or by email. The more matching gift opportunities 360MatchPro discovers and shares with donors, the more matching gift requests your donors will successfully submit.

Drive more matches to completion, from form submission to corporate payment:

Direct donors immediately to their matching gift forms after the donation process is complete. Then, provide the right information to the right donors at the right time with custom emails based on match eligibility. Target follow-ups drive more completed submissions than ever before, bringing exponentially more matching gift checks from companies through your door.

Reallocate your time from routine follow-up to your top opportunities:

Your time is valuable, so why spend it chasing small dollar-value matching gifts? Let 360MatchPro automate your matching gift outreach while flagging your highest-value opportunities, allowing your team to personalize follow-ups to the most valuable match-eligible donations. Rest easy knowing that 360MatchPro can handle the rest.
To get started with your gift matching journey with iModules and Double the Donation, schedule a private demo of 360MatchPro at https://www.360matchpro.com/demo-request/.
---
About iModules: Powerful technology. Inspired engagement. Lifelong relationships. More than 800 higher education institutions partner with iModules to drive larger gifts, increase event attendance and membership, and improve participation rates through data-driven, meaningful engagement. Learn more at www.imodules.com. 
About Double the Donation:  Automate your matching gift fundraising with the industry-leading solution from Double the Donation. The 360MatchPro platform provides nonprofits with tools to identify match-eligible donors, drive matches to completion, and gain actionable insights. 360MatchPro integrates directly into donation forms, CRMs, social fundraising software, and other nonprofit technology solutions to capture employment information and follow up appropriately with donors about matching gifts. To learn more about Double the Donation, visit https://doublethedonation.com and request a demo at https://360matchpro.com/demo-request/. 
https://doublethedonation.com/wp-content/uploads/2022/06/Double-the-Donation-iModules-integration-feature.png
290
775
Adam Weinger
https://doublethedonation.com/wp-content/uploads/2022/03/logo-dtd.svg
Adam Weinger
2020-06-01 13:45:15
2022-06-20 07:55:25
iModules Debuts Preferred Technology Partnership with 360MatchPro by Double the Donation