Double the Donation Partners with Give Lively to Offer Corporate Matching Gifts Solution to 10,000+ More Nonprofits
Double the Donation, the leading provider of matching gift and volunteer grant solutions to nonprofits, is excited to announce the integration of its 360MatchPro corporate matching gift solution with Give Lively, a New York City-based tech company reimagining the future of nonprofit fundraising for free.
Give Lively built and supports a powerful and practical nonprofit fundraising platform that provides unlimited access to free digital, peer- a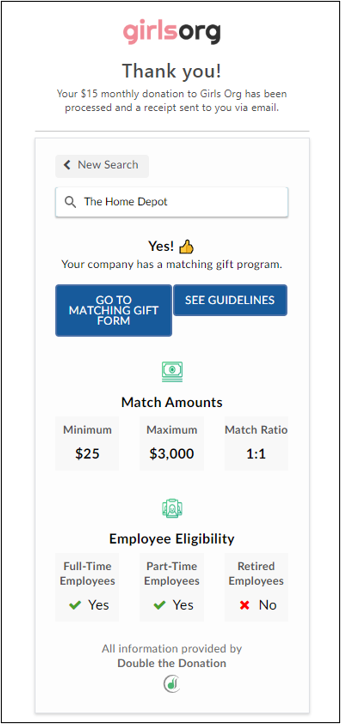 nd event-based fundraising technology. The rapidly growing tech company facilitates hundreds of thousands of donations every year for its 10,000+ nonprofit members, all of which can now benefit from industry-leading corporate matching gift automation from Double the Donation.
"We believe nonprofits, no matter their size, should not sacrifice their means to satisfy their missions. Our direct collaboration with them reflects this; their needs propel the development of our product," said David DeParolesa, CEO of Give Lively. "Double the Donation addresses an area of fundraising that our nonprofit members find invaluable for their fundraising strategy. We're proud to offer them the opt-in opportunity to add the 360MatchPro matching gift solution and open up new avenues for fundraising perhaps unknown to their donors."
$4-7 billion in matching gift revenue is left on the table every year and the gap can be attributed to a lack of donor awareness of corporate matching gift programs. According to Double the Donation's analysis, 78% of match-eligible donors do not know their company offers a matching gift program, and only 7% of donors at companies with matching gift programs get their gifts matched. 360MatchPro by Double the Donation ensures that every matching gift opportunity is identified, driven to completion, and reported back to the nonprofit — all automatically.
"Every nonprofit we speak with knows that corporate matching gifts are an important source of fundraising revenue, but many don't know how to increase their matching gift numbers," said Adam Weinger, President of Double the Donation. "The 360MatchPro platform closes the matching gift awareness gap by identifying match-eligible donors and guiding them through the complicated matching gift process, all without any manual action by the nonprofit."
The Give Lively and Double the Donation partnership integrates in minutes and can raising your fundraising revenue by double or even triple the amount.
Activate in Seconds and Start Raising More from Matching Gifts!
To begin your matching gifts journey, establish a 360MatchPro account with Double the Donation. Then, take your new 360MatchPro account and connect it to your existing Give Lively account. Once connected, 360MatchPro will automatically begin searching for matching gift opportunities and driving them to completion as donors give through your Give Lively forms!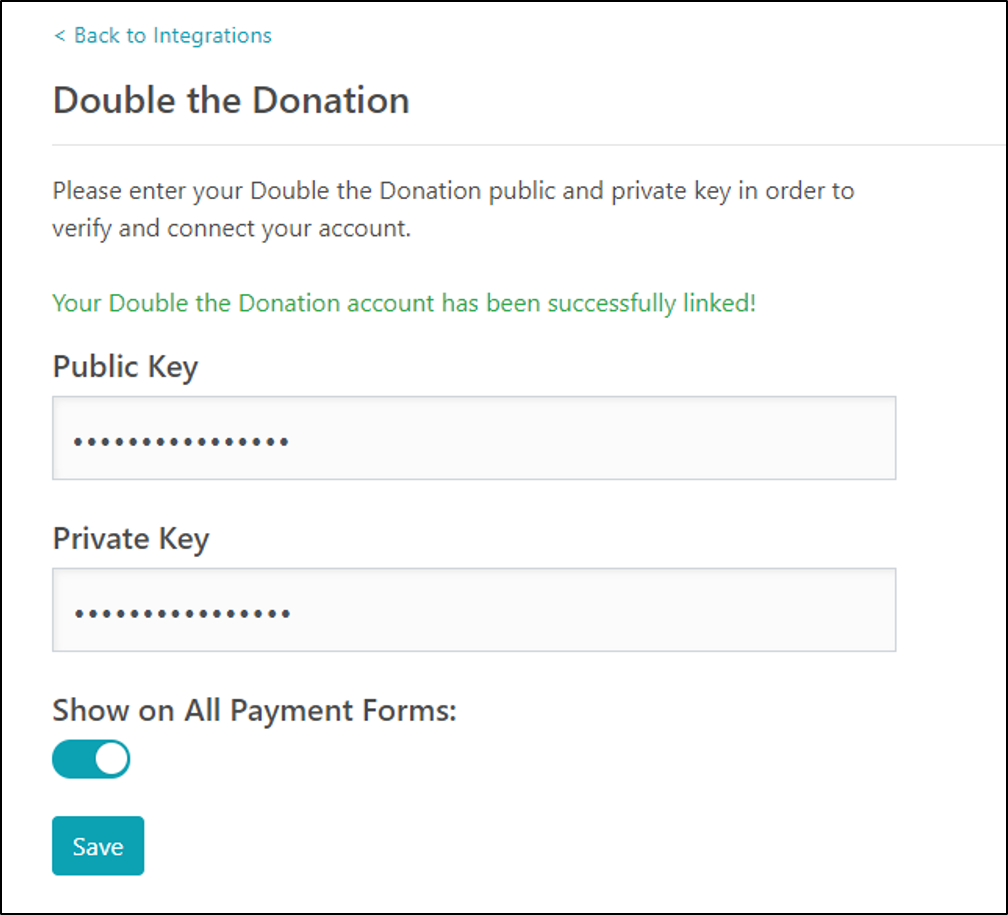 With your 360MatchPro account plugged into your Give Lively platform, the 360MatchPro tool is enabled globally across your confirmation pages. After a donor makes a donation to your organization, they'll be prompted to search for their company to see if they are match eligible via the 360MatchPro autocomplete search tool. That means donors can go straight from your organization's confirmation page to their company matching gift application form, streamlining the donor's journey to doubling their donation!
About 10 percent of the workforce—that's approximately 26 million individuals—work for companies with matching gift programs. The Give Lively and 360MatchPro integration makes it possible for your organization to reach that population by giving donors the resources they need to get their gifts matched through an easy-to-use search tool, consistent communication through automated emails, and a platform that keeps track of the gift matching process every step of the way.
Looking to learn more? Check out our in-depth integration guide to get started!

Drive More Matching Gifts to Completion with 360MatchPro!
With the new integration from Give Lively and Double the Donation, you can take advantage of corporate philanthropy and claim millions of dollars in fundraising revenue via corporate gift matching. The 360MatchPro tool helps you every step of the way from identification of match-eligible donors to leading those donors to their employer's gift matching page to tracking matching statuses and other fundraising trends.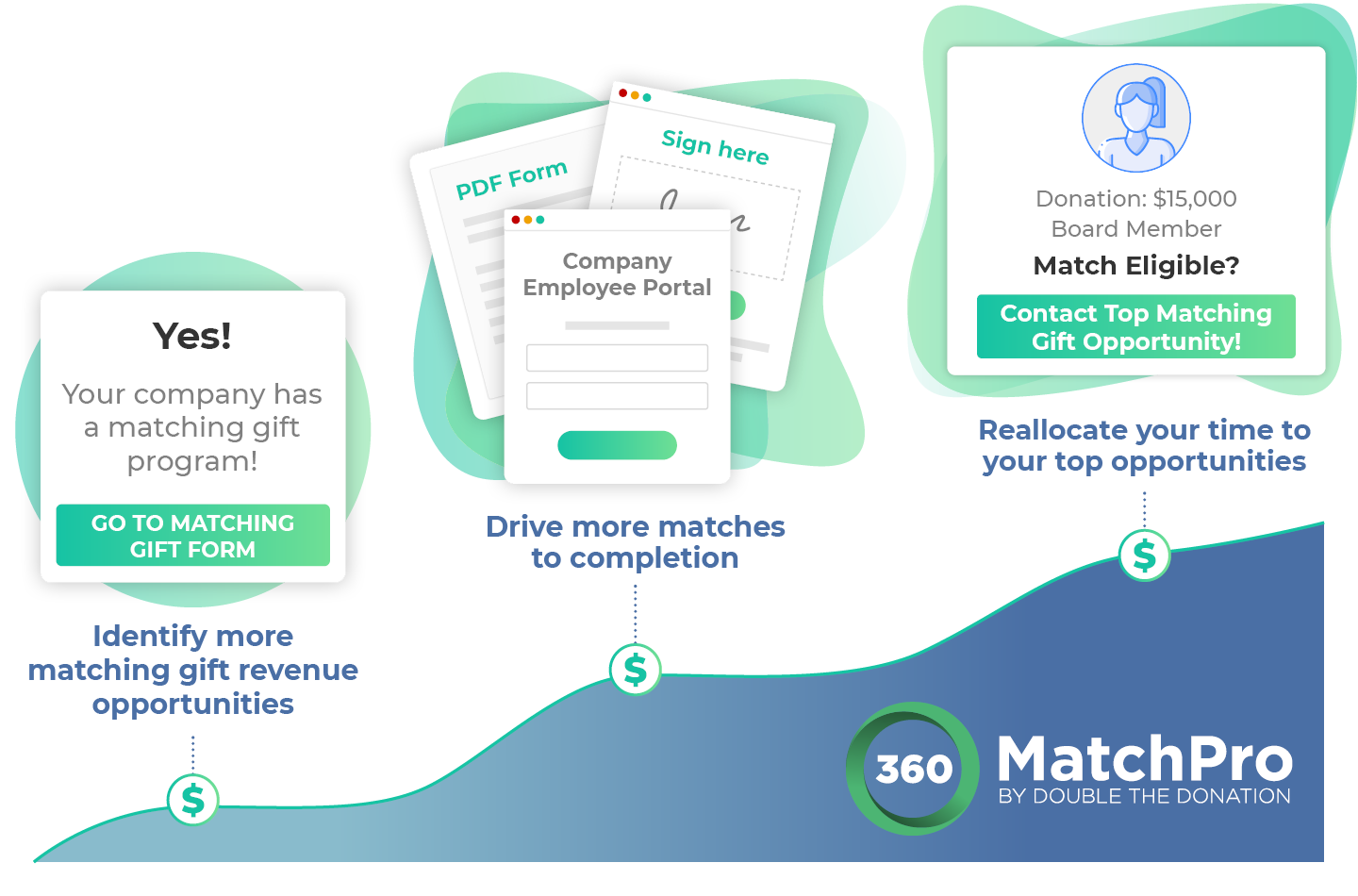 Give Lively's goal is to help nonprofits of all sizes take advantage of the digital fundraising movement by dramatically improving the giving experience for everyone. The 360MatchPro integration helps Give Lively accomplish that mission with features like the following:
Identify more matching gift revenue opportunities:

360MatchPro enables you to automatically collect matching gift eligibility from donors using email domains, within donation forms, on confirmation screens, or by email. The more matching gift opportunities 360MatchPro discovers and shares with donors, the more matching gift requests your donors will successfully submit.

Drive more matches to completion, from form submission to corporate payment:

Direct donors immediately to their matching gift forms after the donation process is complete. Then, provide the right information to the right donors at the right time with custom emails based on match eligibility. Target follow-ups drive more completed submissions than ever before, bringing exponentially more matching gift checks from companies through your door.

Reallocate your time from routine follow-up to your top opportunities:

Your time is valuable, so why spend it chasing small dollar-value matching gifts? Let 360MatchPro automate your matching gift outreach while flagging your highest-value opportunities, allowing your team to personalize follow-ups to the most valuable match-eligible donations. Rest easy knowing that 360MatchPro can handle the rest.
Request a demo today to get started with improving the giving experience for you and your donors. 
---
About Give Lively: Give Lively believes nonprofits shouldn't sacrifice their means to satisfy their missions. They are a philanthropist-funded, social impact-driven tech company that collaborates directly with nonprofits to build better fundraising tech and give it away to them for free. Visit www.givelively.org to learn more. 
About Double the Donation: Automate your matching gift fundraising with the industry-leading solution from Double the Donation. The 360MatchPro platform provides nonprofits with tools to identify match-eligible donors, drive matches to completion, and gain actionable insights. 360MatchPro integrates directly into donation forms, CRMs, social fundraising software, and other nonprofit technology solutions to capture employment information and follow up appropriately with donors about matching gifts. To learn more about Double the Donation, visit https://doublethedonation.com and request a demo at https://360matchpro.com/demo-request/. 
https://doublethedonation.com/wp-content/uploads/2022/06/Double-the-Donation-Give-Lively-feature.jpg
290
775
Adam Weinger
https://doublethedonation.com/wp-content/uploads/2022/03/logo-dtd.svg
Adam Weinger
2020-06-15 19:21:18
2023-01-15 17:06:05
Double the Donation Partners with Give Lively to Offer Corporate Matching Gifts Solution to 10,000+ More Nonprofits