What Is an Email Append? All Your Questions Answered
Email marketing is an extremely cost-effective way to reach out to your supporters. Compared to other types of marketing, email campaigns don't require any physical materials or the same level of staff time. Not to mention, they also offer a higher response rate than other marketing methods such as direct mail or phone calls.
Therefore, email marketing is an effective communication channel for getting in touch with your supporters and sending them valuable information.
However, the email addresses in your supporter database may not be accurate or may be missing entirely for some supporters. With email appends, you can stay on top of your email address data and have more time to focus on your campaigns' content.
We're here to answer your questions about email appends, so you can successfully deliver more emails and ultimately boost your marketing ROI. To cover all of the essential topics, we've compiled a list of the most frequently asked email append questions, including:
At Double the Donation, we help connect nonprofits with matching gift opportunities. Email is one of our primary forms of communication with our clients and their match-eligible donors, so we understand how important it is to have the correct email addresses for each of your contacts. That's why we've written this guide to email appends. Our goal is to make sure your nonprofit can leverage this useful data for easier communication with your supporters.
Since we have a lot to cover in this guide, let's should get started!
What Is an Email Append?
An email append occurs when an organization submits information from its supporter database to an email append service and receives updated supporter email addresses in return.
To help correctly locate email addresses, some of the identifying information the nonprofit might share with the data appends provider can include full names, postal addresses, past email addresses, and other details they have on file. The provider will then match the information against their database to obtain the most recent contact information. Since it's easy for email addresses to become outdated, email appends are extremely helpful in making sure you can stay in touch with your supporters.

Why Does My Organization Need Email Appends?
It's very common for email addresses in your supporter database to be incorrect. Think about how many times you've changed an email address, abandoned one, or gotten a new one. Here are some examples of situations that could cause email addresses to be incorrect or become outdated:
Typos
People using fake email addresses when signing up for your email list
People moving
Changing jobs or graduating
Switching to a different email address
Abandoning email addresses or forgetting passwords
Passing away
Missing email addresses from some supporters entirely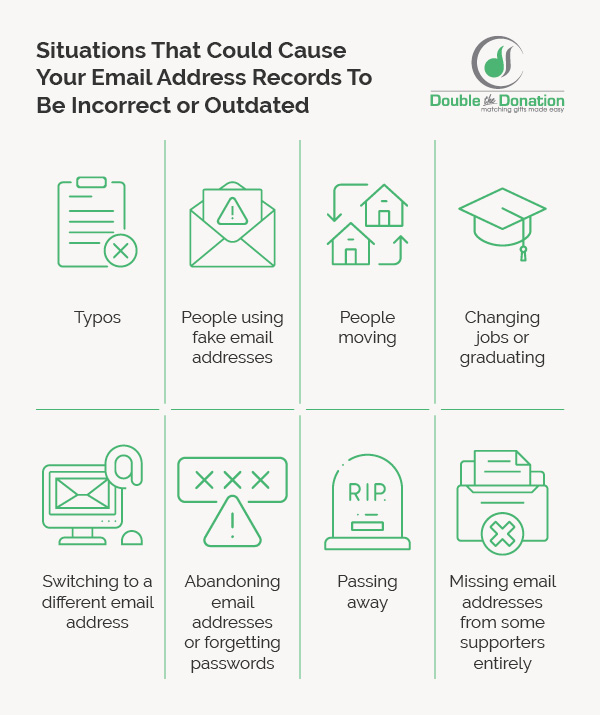 With this lengthy list in mind, it's clear to see how it's incredibly likely that your supporter database includes invalid email addresses, which can make your communication with your supporters less effective.

How Will My Nonprofit Benefit from Email Appends?
As we previously discussed, you may have missing or inaccurate information regarding your supporters' email addresses. Email appends will help fill in the gaps so you can communicate with as many of your supporters as possible.
When you have a strong collection of supporter email addresses, opportunities open up for how you can communicate and share information with them. Check out these six areas that will improve by using email appends:
Newsletters. Your organization likely already sends out email newsletters to your supporters. However, using email appends will allow you to expand your newsletter audience.
Online donations. When you have the right email addresses for your supporters, it'll be easier to increase conversions for donation requests.
Survey feedback. Since more people will receive your surveys, you'll be able to get more feedback and apply it to your organization.
Relationships with supporters. It's possible that you could lose your relationships with some of your biggest donors and supporters due to outdated email address data. Retain the bonds you've created with your supporters by keeping accurate contact information for them.
Time saved. Think about how long it would take people on your team to manually search for the matching email addresses for every supporter in your database. Save time that could be reallocated for better purposes by using email appends.
Matching gifts. Equipped with email appends, your organization can easily follow up with donors about matching gift opportunities. If a donor shares their business email with your organization, then your nonprofit can easily determine whether their employer has a matching gift program.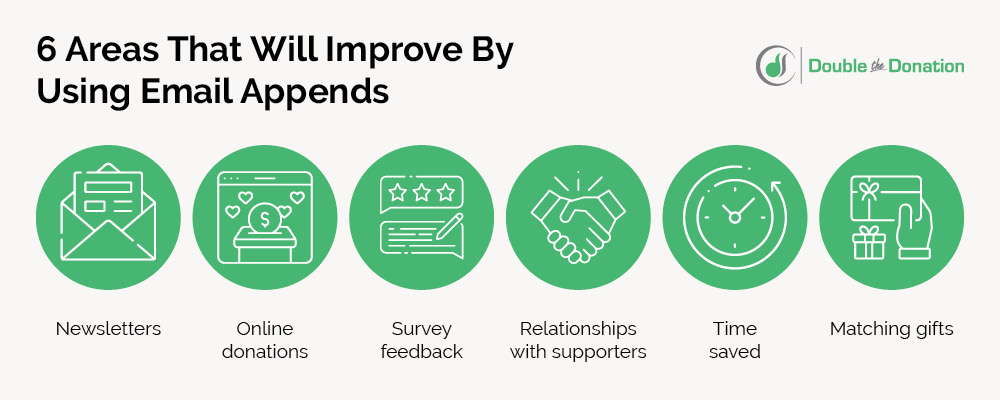 How Email Appends Will Impact Your Marketing Performance
In addition to the ones listed above, there are so many other benefits that email appends provide, specifically for the quality of your email communications. Some of the most impactful benefits you can expect on your marketing performance include:
Improved email deliverability. Sometimes, emails won't go through for various reasons. They might bounce back and send you a notification, but it's difficult to address the reason each email didn't go through individually. Email appends will improve your email deliverability by providing you with the most current email addresses for your supporters.
Increased open rates. The more emails that go out to the correct email addresses, the more people will open them. Make sure your email campaigns don't go to waste by sending them to the wrong email addresses.
Protection against spam traps. Spam traps are email addresses used to catch senders sending spam emails. Some organizations will repurpose outdated email addresses to create spam traps. If your organization falls for a spam trap, it can have serious repercussions for your email deliverability, bounce rates, and overall sender reputation. Cleaning your supporter database periodically will help to prevent spam traps.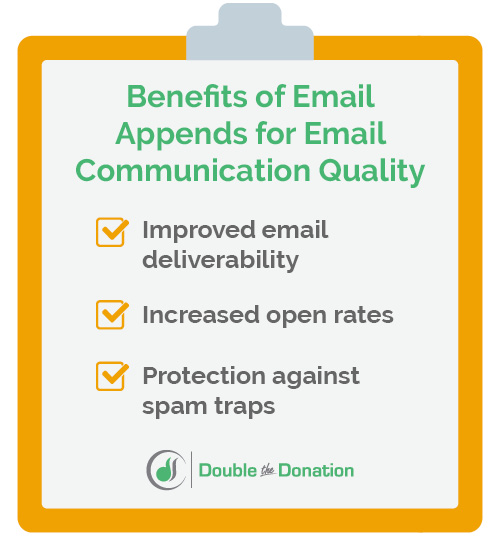 Email appends can help you with your marketing efforts and overall data hygiene. To add the updated contact information to your supporter database, you'll need to work with an email append service for help with the process.

How Can My Organization Obtain Email Appends?
If your organization is interested in email appends, you'll need some help getting the necessary data. That's where an email append service comes in.
Hiring an email append service simplifies the email append process. It will be your job to give them access to the relevant identifying donor data from your supporter database. In return, they'll send you the email appends they find.
Here's a list of different information types you can send an email append service to utilize as they search for your supporters' current email addresses:
Unique ID number
Name
Region
Past email addresses
College or university
Class year and major/degree
Last gift amount
Date of last donation
Date entry was last updated
Email append service providers will know that you probably don't have all of this information on hand, and that's okay. Just give them as much as you have to make their job easier.
Using the data you provide them, your email append service provider will find your email appends in different online databases. To ensure that they're accurate, most providers will perform some sort of accuracy check or scan before sending them back to your organization.

Are There Other Types of Data Appends Beyond Email Appends?
Email appends aren't the only data append type out there. If you're missing other data from your supporters, chances are there are appends available to help acquire that information.
Here are some kinds of data appends that data append services typically offer:

Combining your appended email addresses with other data appends can create even more value for your nonprofit. For example, you can use date of birth appends to segment your supporters by age. Then, you can leverage your email appends to send personalized newsletters to each age group with relevant organization updates and opportunities.
To knock out all your data appends at once, it's best to find a data append service that will provide all the data append types you need. That way, they can extract all the information and import it into your CRM all at once.

How Can Different Nonprofits Leverage Email Appends?
Organizations of all kinds communicate with their supporters via email. Therefore, there's a high chance your nonprofit could benefit from email appends by emulating the ways other organizations leverage them.
If you're not sure how your organization could best leverage email appends, we have a couple of examples of how different nonprofits use them to assist them in their communication with their supporters.
Bear in mind that to leverage email appends to their fullest potential, you'll need to contact an email append service provider and chat about your nonprofit's unique needs.
To start, use these examples for inspiration:
Environmental Nonprofits
It's important that your organization's operations align with your nonprofit's values. That's why environmental nonprofits choose to communicate in ways that are better for the environment. Direct mail can waste paper that can be saved by communicating through email instead.
Email appends ensure that these organizations can stay true to their missions while still fostering effective communication with their supporters.
Schools
Schools and universities rely on their alumni for donations, volunteers, and feedback. However, once people graduate, they typically abandon their university email accounts. Additionally, young alumni may start new jobs or enroll in graduate school, acquiring new email addresses as they go.
With the help of email appends, schools and universities can make sure they continue their relationships with alumni wherever they go after graduation.
Associations
It can be difficult to reach association members through direct mail, especially if they're spread out around the globe. Staying in contact with members through email is important because it reminds them of the perks of their membership and updates them about upcoming events and initiatives.
Cultural Institutions
Cultural institutions such as museums, zoos, and aquariums are nothing without their members and visitors. They depend on membership fees and ticket revenue to stay running. Therefore, it's necessary to keep supporters engaged through email to encourage them to come back and check out new events and exhibits.
Political Organizations
Informing people about important issues can be difficult over the phone and through text messages. Emails from political organizations allow people to digest the information on their own time and refer back to it when it's time to vote.
All Nonprofits
Any nonprofit can use email appends to identify matching gift opportunities. With business email appends, your organization can easily identify your supporters' employers and research their matching gift programs. If you already know your supporters' employers, you can leverage email appends to reach out to potential donors and inform them of their employers' matching gift programs to encourage them to donate.

What Qualities Should a Good Email Append Service Possess?
There are lots of email append services out there, so what makes one right for your organization? If you've never used an email append service before, it can be difficult to know what to look for and which claims are actually important.
Here's a list of qualities that every reliable email append service should possess:
Verifies your email appends for accuracy. There can be some uncertainty surrounding whether email appends are actually accurate or not. Ensure that your email append service has the necessary measures in place to check for correctness.
Offers other kinds of appends. It's way easier to use one data append service for all of your data append needs than to hire an individual service for each one. Think about which types of data you're looking for and find a service that supplies all of them.
Accepts entire data files. Effective email append services will allow you to send complete data files from your supporter database and pick out the information they need. That way, you don't have to spend time selecting certain columns or clearing out unnecessary information.
Gets back to you quickly. Once you decide to append email addresses, you'll probably start planning how you'll want to implement them fairly quickly. Find an email append service that can return accurate results efficiently so you can use your new data right away.
Provides quotes. It's extremely helpful to know ahead of time how much a service will cost your nonprofit. Some email append services will take a look at your data needs ahead of time and offer you a quote for their assistance.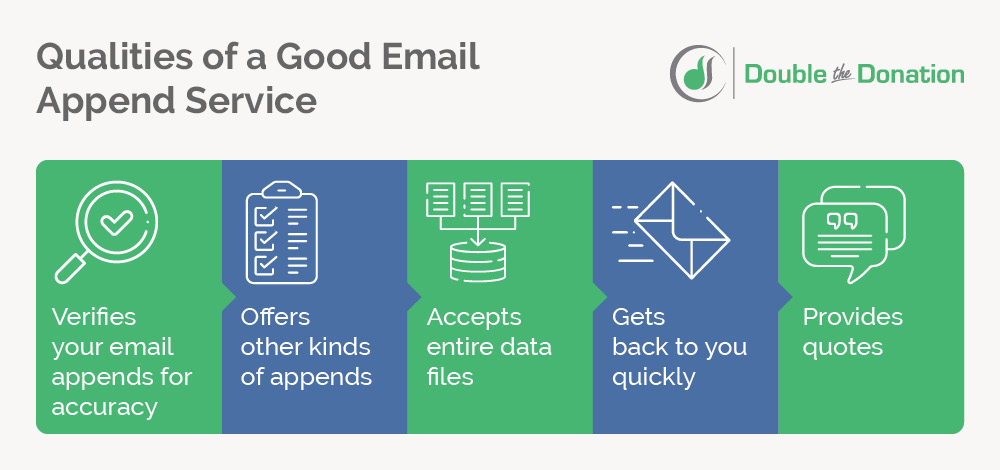 When you're looking for your email append service, keep these qualities in mind to find the best service for your organization. NPOInfo by Double the Donation possesses all of the qualities we've mentioned above. They'll be happy to assist you with email address appending!

Conclusion
Considering how widespread email newsletters, updates, and general communications are for nonprofits, it makes sense that any organization would benefit from email appends.
At their core, email appends ensure that you're reaching your intended audience and retaining relationships with your supporters. Additionally, they'll provide more information about your supporters, which is always helpful for guiding your decisions as an organization.
Now that you know all about email appends, you might want to learn more about other types of data appends that could benefit your organization. Check out these data append resources below: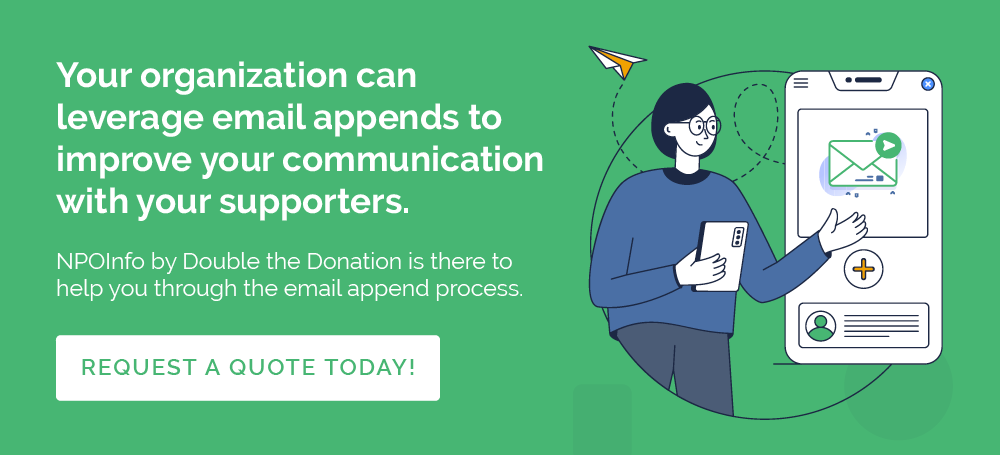 https://doublethedonation.com/wp-content/uploads/2022/07/Email-Append_Feature.jpg
380
1000
Adam Weinger
https://doublethedonation.com/wp-content/uploads/2022/03/logo-dtd.svg
Adam Weinger
2022-07-27 17:00:23
2023-05-03 13:31:13
What Is an Email Append? All Your Questions Answered