Nonprofit Basics: Nonprofit Jobs
The nonprofit world is full of talented individuals working to further charitable missions. From executive directors to grant coordinators to volunteers, there are a variety of roles that need to be filled for a nonprofit organization to run smoothly.
What are examples of nonprofit jobs?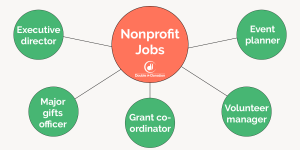 There are many different types of nonprofit jobs, such as the following:
Executive director. Similar to a CEO, executive directors lead nonprofit organizations. They deal with overall strategies, fundraising and programming policy, and driving growth.
Finance director. Similar to a CFO, the finance director tracks all funds and financial reports. They keep general ledgers and oversee the financial health of the nonprofit.
Development director. Development directors oversee all fundraising activity. They maintain relationships with major donors, build current constituent relationships, and identify new fundraising prospects.
Major gifts officer. These staff members deal with a nonprofit's most significant donations and strategize how to raise large amounts of funds from wealthy donors.
Grant coordinator. A research-heavy role, grant coordinators find available grants from federal departments or private foundations. They write grant proposals and make sure that grant funds are used in the way they outlined in the proposal.
Volunteer manager. This job involves coordinating volunteer shifts, assigning volunteer roles, and managing every aspect of the volunteer stewardship process.
Planned giving director. According to Freewill, planned gifts are charitable contributions that are typically given to nonprofits when the donor passes away. A planned giving director researches, identifies, engages, and solicits donors to secure these planned gifts.
Event planner. Event planners organize nonprofit events and make sure that they go smoothly. In the nonprofit industry, events can include major undertakings like auctions and galas, or more casual occasions like walk-a-thons or bake sales.
Marketing/communications director. Marketing for nonprofit organizations can be different from marketing for for-profit organizations. The marketing and communications director plans and oversees communication strategies, encouraging constituents to donate and otherwise engage with their nonprofit.
There are plenty of jobs available underneath these umbrellas as well. For example, a marketing department for a large nonprofit might include a marketing director, a social media manager, and a public relations specialist.
How to prepare for a nonprofit job
Jobs in the nonprofit industry are not significantly different from jobs in other industries. However, if you're specifically interested in nonprofit jobs, here are some ways you can prepare for them:
Become a regular volunteer at a nonprofit. The first step to understanding nonprofit work is to try it out. Volunteering will give you a grounded understanding of what the nonprofit is trying to accomplish and the good that they are trying to bring to the world. You can seek local volunteer opportunities, and if there aren't any near you, consider online volunteering.
Seek out a fundraising degree or complete fundraising courses. An advanced degree in nonprofit management isn't required for nonprofit work. But you might be interested in seeking out a relevant degree if you know that you'd like to work for a nonprofit full-time. You can also consider taking fundraising training courses to get more experience.
Pursue ongoing education opportunities. This might include earning certifications or attending conferences. This will give you a better understanding of the nonprofit industry and help you learn the skills necessary for you to succeed.
You don't necessarily have to specialize in nonprofit topics to be employed in the nonprofit sector. There are many skills from a variety of jobs that are applicable in nonprofits as well. However, it may be worth it to do more research and get some experience in the industry if you know you want to work in it.
How to find nonprofit job opportunities
After learning more about nonprofit job responsibilities, perhaps you've decided that you are very interested in working in the industry. But you're not sure where you should look for nonprofit jobs. Here are a few places that you can search:
LinkedIn. This large online social media platform can help you find jobs of all kinds, including nonprofit ones.
Online job boards like Work for Good or Idealist. These job boards are focused in the mission-driven space, helping nonprofit organizations find employees. You can also find internships, volunteer opportunities, and graduate programs.
Volunteer positions. If you regularly volunteer with a nonprofit, you may be one of the first to know when a new paid position becomes available.
Having a nonprofit career can be very rewarding, as you will be working with like-minded individuals dedicated to improving society. Just with making any other career move, make sure you take the time to research and learn more about the industry and the specific organizations you're interested in.
Other Resources to Explore
Nonprofit Basics – Learn more nonprofit management essentials by exploring other expert resources.
Nonprofit Fundraising Training: FAQs and 8 Top Resources – Curious about fundraising training? You can find answers to commonly asked questions here.
Nonprofit Conferences That You Won't Want to Miss in 2022 & 2023 – Nonprofit conferences are an opportunity to meet and discuss the state of the nonprofit world. Check out this list of top conferences in 2022 and 2023.
https://doublethedonation.com/wp-content/uploads/2022/07/NXUnite_Double-the-Donation_Nonprofit-Basics-Nonprofit-Jobs_Feature.jpg
760
2000
Adam Weinger
https://doublethedonation.com/wp-content/uploads/2022/03/logo-dtd.svg
Adam Weinger
2022-07-27 14:15:10
2023-01-27 19:39:36
Nonprofit Basics: Nonprofit Jobs