Nonprofit Basics: Donor Data
Between donations, events, and volunteer participation, you collect donor data constantly. The rise of fundraising technology and nonprofit digital marketing has only made data more accessible, and that can be a great thing for professional fundraisers!
Your donor data is incredibly valuable. It provides you with insight into who your donors are, what motivates them to support your cause, and how you can keep your cause top of mind.
In this quick guide, we'll share the fundamentals of managing your nonprofit's donor data, so you don't let yours go to waste!

What Is Donor Data?
Donor data refers to the information that nonprofits collect about their individual donors. The most common types of supporter data organizations store include:
Full names, preferred nicknames, and titles
Contact information such as mailing addresses, emails, and phone numbers
Employer information
Preferred communication channels
Donation history and average gift amount
Wealth indicators (such as real estate or stock holdings)
Other engagement history (such as events attended and hours volunteered)
To organize this information, nonprofits typically store data in a donor database or a custom relationship management (CRM) system. Nonprofits can integrate external tools (such as online donation forms and event management software), so new donor details will automatically be added to supporters' profiles within the main database.
Why Is Donor Data Important?
Data fuels today's fundraising efforts. As we mentioned, you collect data at every turn. When you leverage this data thoughtfully, your nonprofit can experience these benefits:
Cultivate donor relationships. The data you store for supporters gives you a better understanding of what types of engagement opportunities will resonate with them and what channels will help effectively deliver those opportunities to them. By knowing donors' priorities, communication preferences, and behaviors, you can cultivate meaningful relationships that drive improved fundraising results.
Prevent donors from lapsing. Jitasa's guide to donor analytics explains that your donor data can help you monitor individual donors' engagement. If someone stops giving, attending events, or reading emails, you can reach out to engage them before they lapse entirely.
Demonstrate impact. By storing engagement history, you can track the impact of donors' contributions on your organization's mission and programs. In turn, you'll be able to follow up and demonstrate the impact of your work to donors and other stakeholders, building credibility and trust with your community.
Tap into corporate philanthropy opportunities. By gathering employer names and job titles, you can pinpoint which donors are eligible for their companies' corporate giving programs, such as matching gifts and volunteer grants. Then, you can follow up and let eligible donors know about relevant opportunities. (Hint: If you don't have this information on hand, you can conduct an employer data append.)
Between highlighting the right engagement opportunities and communicating impact, your organization stands to gain a lot from effective donor data management practices. Of course, to properly manage donor data, you first need to collect the right details.
What Donor Data Should We Collect?
While we briefly touched on common types of supporter data nonprofits gather, it's worth a closer look. NPOInfo's guide to donor data management delves into a range of data you should collect. Some of the highlights include: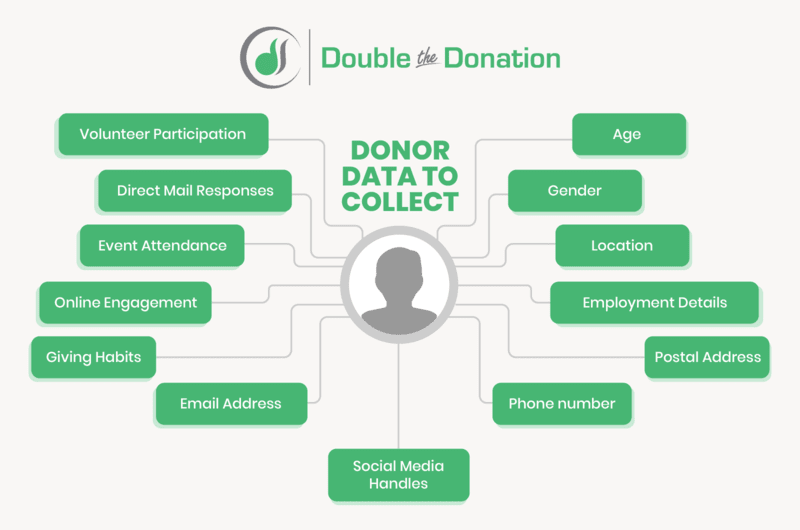 Demographics: Get to know supporters based on their characteristics. Demographic donor data typically includes age, gender, location, and employment details.
Contact information: Make sure you collect postal addresses, phone numbers, email addresses, and social media handles. This will allow you to connect via multiple channels.
Giving habits: Common giving data you'll want to collect includes gift amounts, frequency, preferred methods, and recency. You can also track recent upgrades and downgrades in support to stay on top of lapsed engagement.
Interactions: The types of interactions nonprofits record vary from organization to organization. For inspiration, you might track event attendance, social media engagement, volunteer activities, website visits, email open rates, and direct mail response rates.
Storing this kind of information will empower you to separate your community into meaningful segments and deliver targeted fundraising appeals to each group.
Knowing who your supporters are depends on your ability to collect and synthesize the right data. Doing so will ultimately empower you to experience the benefits we mentioned earlier.
How to Effectively Manage Donor Data
You know why you should collect details and have all the right information about supporters. Now, how can you leverage that data to drive deeper relationships?
Let's take a look at three of our favorite ways to maintain a clean CRM and ensure your donor relationships thrive as a result.
Use Data Appends to Build Stronger Profiles.
Did you know you can use reliable data sources to append missing or outdated data elements in your donor database?
Backed by a trustworthy data append service, you can pull information like contact details, employer information, demographics, and more! Doing so will help you: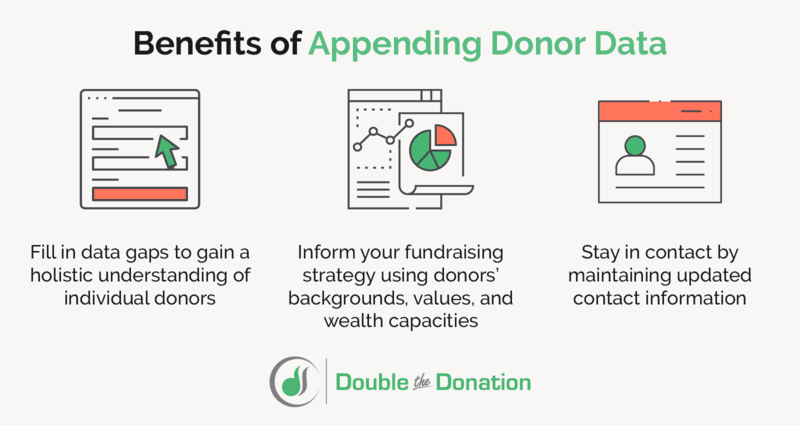 Fill in data gaps: Fill in missing or outdated elements to establish a more complete understanding of who your donors are and what drives them to give.
Inform strategy: Appending demographic and behavioral data can help your team understand donors' backgrounds, values, and philanthropic motivations. What's more, wealth screening will enable you to determine donors' giving capacities. This information can help inform fundraising and engagement strategies, leading to more effective donor cultivation.
Stay in contact: Supporters move, get new email addresses, and change their phone numbers all the time. Appending donor data means you can stay connected by filling in missing or outdated contact details, like phone numbers, email addresses, and postal addresses.
Luckily, the appending process is fairly straightforward. You'll send a file with donor data for each constituent to your provider. Then, they'll match the information you give them to an external, larger database with updated information.
By using unique identifying elements, they can match each supporter's profile to more current information in their database. Some providers will even conduct manual checks to make sure the appended data is accurate.
Dive into the appending world with our data append starter guide. You'll learn what types of information you can append and how to get started.
Use Your Donor Data to Personalize Communication.
Donor relationships are built on establishing personal connections. Show individuals that you care about them individually by using donor data to:
Craft tailored messages for segments. Segment donors into different groups based on interests and engagement levels. Once you've done that, you can craft tailored messaging that speaks directly to each group's interests and needs. This may include personalized emails, direct mail campaigns, or phone outreach specific to the group's giving history or interests.
Send relevant engagement opportunities. Store each donor's past history with your organization, so you can reach out with applicable opportunities. For example, share information about corporate giving based on individuals' eligibility, upcoming events based on past attendance, and certain programs based on recent giving history.
Use the right outreach channels. Make sure you're delivering these wonderful engagement opportunities through the right channels. By questioning each donor's communication preferences, you can reach out using the channels they check most frequently, whether it's email, text, phone call, or direct mail.
Your donor data can take your nonprofit marketing up a notch. Today's CRMs allow you to store pretty much any information you want, so you can form meaningful segments and deliver the right messages to the right groups.
Protect Donor Data By Taking Security Precautions.
When someone gives to your organization, they're entrusting you with their personal information. Failing to take proper security precautions can result in a violation of that trust. If your donor data falls into the wrong hands, you might even lose some of your donors altogether.
To avoid this, here are a few security steps any nonprofit should take when handling donor data:
Implement access controls. Restrict donor data access to only those individuals who need to access it to fulfill their responsibilities. Access to any sensitive information should be granted on a need-to-know basis based on an individual's job.
Use reliable software. Any tools you use should exercise proper security practices. For starters, ensure any systems encrypt donor data. Encryption scrambles data, making it unreadable to unauthorized users.
Regularly update and patch systems. Ensure your software systems are up-to-date at all times with the latest security patches to prevent vulnerabilities a hacker can exploit.
Increased reliance on technology can be a benefit and a challenge all at once for nonprofits. While you can gather more information than you ever thought possible, unauthorized users can exploit system vulnerabilities to steal that information. Make sure to take every precaution you can to protect your donor data, and it'll pay off!
Other Resources to Explore
Nonprofit Basics – Learn more nonprofit management essentials by exploring other expert resources.
Wealth Screening for Nonprofits: The Definitive Guide – Interested in pulling wealth indicators for your donors? Read this ultimate guide to learn how wealth screening works for nonprofits.
Prospect Research: The Ultimate Guide for Nonprofits – Prospect research is the process of gathering information about your donors and prospects. Explore our prospect research guide to learn more.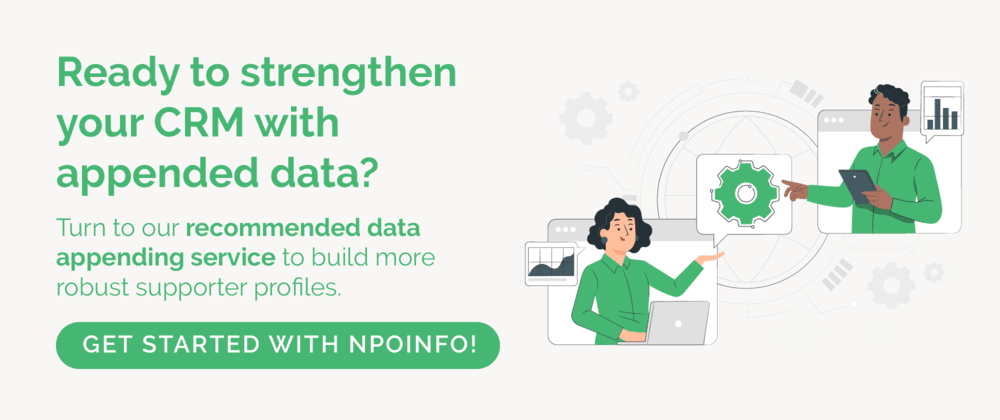 https://doublethedonation.com/wp-content/uploads/2022/12/Donor-Data_Feature.jpg
380
1000
Adam Weinger
https://doublethedonation.com/wp-content/uploads/2022/03/logo-dtd.svg
Adam Weinger
2022-12-01 21:20:12
2023-05-03 13:14:29
Nonprofit Basics: Donor Data