Nonprofit Marketing: A Complete Guide to Spreading Awareness
Picture this: you're scrolling through your social media feed. You see a video of your niece taking her first steps, posts about a good friend recovering from a hard-fought battle against cancer, and pictures from a family friend's wedding. Among those posts, you see a virtual event flyer for a local 5K that's proceeds will go toward skin cancer research. Especially after seeing posts about your friend's situation, you're intrigued, visit the organization's website to learn more, and ultimately register to attend. That's the power of effective nonprofit marketing!
A well-thought-out nonprofit marketing plan is a must these days. Between for-profits pushing products and other nonprofits promoting their missions, everyone's vying for consumers' attention. You need to put your cause out there by leveraging multiple platforms to push compelling messages to supporters.
If your nonprofit marketing strategy needs a refresh, you've come to the right place! This article will give you everything you need to build and maintain an effective plan. We'll cover all the bases — whether you want to lean into digital marketing or stick to traditional methods. Here's what we'll cover:
At Double the Donation, we understand the power of effective promotion. We work with nonprofits every day to boost awareness of corporate matching gifts.
By the end of this article, you'll have a better understanding of how to develop an effective marketing program for your nonprofit organization. From crafting persuasive messages to monitoring performance analytics, we're confident you'll have everything you need to spread awareness for your cause.

What Is Nonprofit Marketing?
Nonprofit marketing encompasses all activities and strategies designed to raise awareness and generate interest in a nonprofit organization, its mission, and its services. It involves communicating with potential donors, volunteers, and other stakeholders to increase donations, engagement, and participation in the organization.
Nonprofit marketing typically involves a combination of tactics between traditional outreach (e.g., print, radio, and TV) and digital marketing (e.g., email, social media, and online advertising). Many nonprofit organizations also develop branding guidelines, a website, and other assets to craft professional outreach that resonates with supporters.
Successful marketing for nonprofit organizations extends beyond getting your content in front of as many eyes as possible. Rather, it requires you to persuade those who feel connected to your work and inspired to make your mission a reality. Thoughtful marketing techniques will allow you to create meaningful, sustainable relationships with these supporters.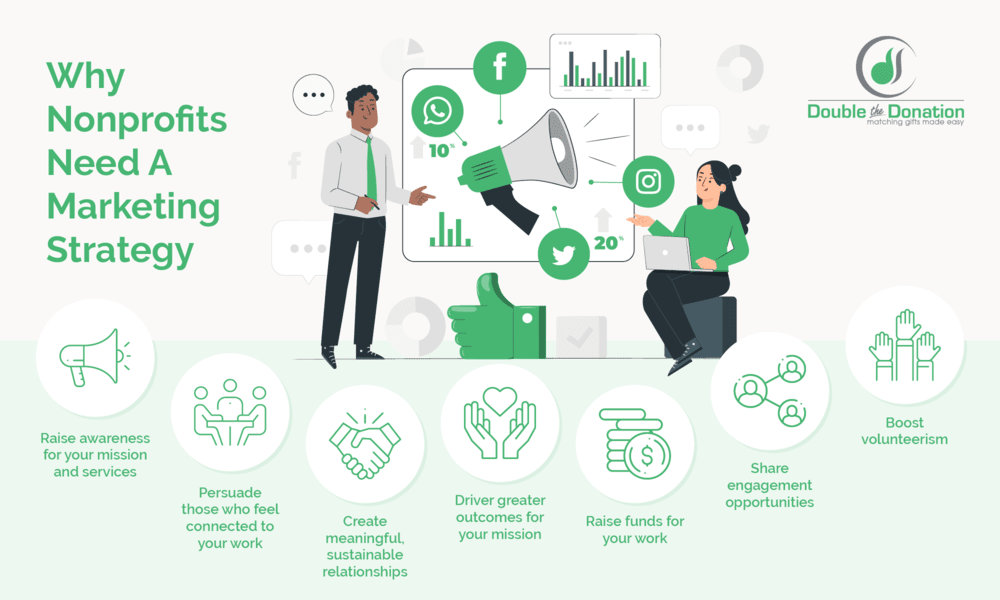 Compared to for-profit marketing, marketing for nonprofit organizations is unique in that you must "sell" your mission to donors, rather than sell a product to buyers. It also has a special emphasis on relationships and storytelling. The goal is to emotionally connect with supporters while also providing information about how they can help the cause.
Types of Marketing for Nonprofit Organizations
New marketing channels emerge almost every day. As a nonprofit marketer, it's up to you to determine which ones are most effective for your cause. In any case, we recommend using a multichannel technique. Doing so will allow you to reach a wider audience and engage supporters on multiple levels.
For example, you can use social media to reach out to a younger demographic, while using direct mail and email marketing to reach an older audience. Using multiple channels also allows you to track campaigns more effectively, showing you which channels generate the best results. This will help you fine-tune your campaigns for better ROI.
However, marketing research has found that only 30% of marketers are highly confident in their ability to deliver a multichannel strategy. By developing a strong multichannel nonprofit marketing strategy, you'll already be one giant leap ahead of 70% of marketers!
To get started, let's dive into 10 of the most popular nonprofit marketing channels.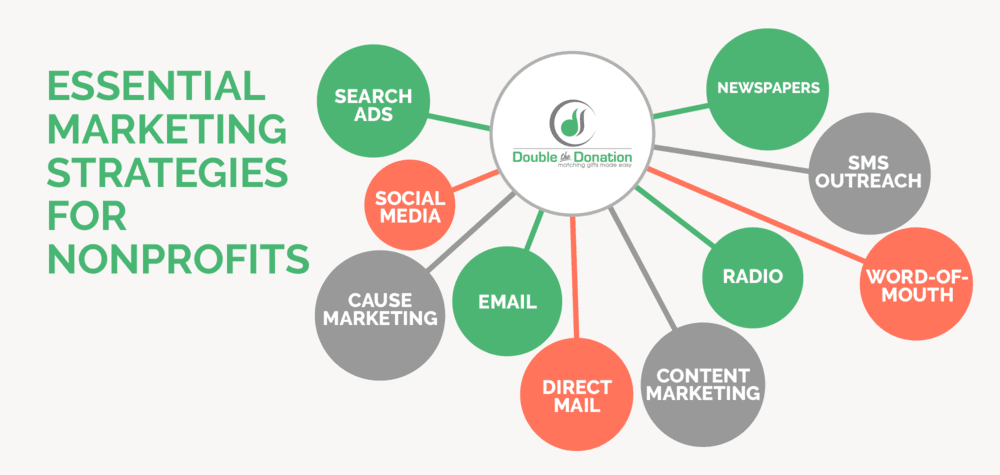 Search Ads
Nonprofits can leverage search advertising to increase their digital presence and attract more donations and volunteers. With this nonprofit marketing strategy, you'll need to bid on mission-critical keywords (like "donate to end homelessness" or "volunteer at a homeless shelter") and create nonprofit ads that target those terms.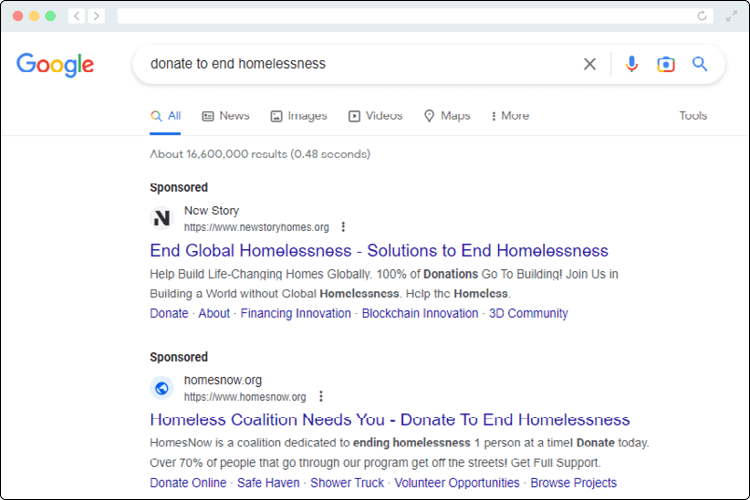 Organizations have a couple of options to tap into paid search advertising and reach prospects, including Google Ads and Bing Ads. Based on its incredible reach, Google is our top recommendation for search ads.
This Google Ad Grant Impact Report explains that Google owns over 92% of the global search engine market. What's more, Google Ads have an average ROI of $4.78, making it a cost-effective route for tight budgets.
With a thoughtful approach, search advertising can help to increase website traffic, improve your organization's visibility, and drive donations and volunteer registrations. 
Best of all, you can tap into free search advertising through programs like the Google Ad Grant and Microsoft Social Ads for Impact.
We recommend working with a Google Grants manager to make the most of Google's program. As our suggested agency, Getting Attention will work with you to understand your nonprofit marketing goals and design ads that champion your cause.
Instead of learning the intricacies of keyword research, you can focus on the areas of nonprofit marketing you're comfortable with, without overlooking an important part of modern marketing.

Social Media Marketing for Nonprofits
Social media marketing is an effective way to reach your target audience. Nonprofits like yours can use social media to create awareness, build sustainable relationships, and establish a sense of community among supporters.
With the right nonprofit marketing strategies, you can use social media to spread the message about your mission and goals, attract volunteers and donors, and build relationships with supporters. Here are a few ways to make the most of this channel:
Gather feedback. Social media can be used to ask questions, prompt conversations, and gather feedback from supporters to help shape your organization's strategy and plans. MemberClicks' event feedback survey guide notes that only 38% of people already use social media to collect feedback on their events. However, with convenient features like polls, collecting feedback has never been simpler.
Share success stories and updates. Social media is a great channel for demonstrating impact through testimonials and project updates. By sharing stories about helping those in need, nonprofits can increase engagement, build relationships, and inspire others to take action.
Interact with supporters. Social media makes two-way communication easier than ever. Respond to comments, shine the spotlight on dedicated followers, and join conversations related to your mission.
Incorporate these nonprofit marketing strategies to get more out of your social media campaigns. Spend time identifying key platforms, understanding each platform's audience, and creating a content calendar for the best results.
Email Marketing
Email marketing can help increase donations, boost event attendance, and build a larger support base. By sending out regular email newsletters, nonprofits can keep current supporters engaged and informed about important projects and events. Email campaigns can also be used to reach potential donors who may not be aware of the nonprofit's mission or the causes they support.
To drive greater engagement through this channel, you might:
Segment your email list. Create groups for donors, recurring supporters, volunteers, match-eligible donors, corporate sponsors, and so on. That way, you can personalize content and deliver tailored engagement opportunities to each segment.
Use creative subject lines that grab attention. Research has shown that creative subject lines are more likely to be opened, so brainstorm interesting and engaging subject lines for each email. Remember to keep your subject lines short, as emails with long subject lines are more likely to be overlooked.
Through email marketing, nonprofits can create compelling content that resonates with their target audiences and encourages them to take action. It just takes some brainstorming on how best to reach your different audiences through this channel. Using these tips will give you a solid foundation to kickstart your nonprofit marketing strategy for email campaigns.
Cause Marketing
Cause marketing is a unique type of marketing for nonprofit organizations that involves collaborating with for-profits. It often refers to social or charitable campaigns created by for-profit brands. As its popularity has grown, companies often use this strategy to show their commitment to social responsibility. The goal is to create awareness around a cause and synthesize a message that resonates with the company or influencer's target audience.
Take the collaboration between the shoe company TOMS and charity: water for example. Together, they launched a cause marketing campaign in which TOMS released a limited-edition collection of charity: water eyewear to raise money for clean water. For every pair sold, TOMS contributed $10 to help bring water to households in Orissa, India.
In the past, TOMS also created two limited-edition shoes and donated $5 from the sale of each one to charity: water. These cause marketing campaigns successfully raised awareness and funds for both organizations, while also promoting TOMS as a socially-responsible brand. Check out this video about the partnership that charity: water created:
As with any type of corporate partnership, we recommend partnering with people and companies whose values and mission align with your nonprofit. 
After all, they'll be associated with your nonprofit and can influence your brand's image.
Direct Mail Marketing for Nonprofits
Direct mail marketing for nonprofit organizations can help connect with audiences in a more personal way than other channels. You're able to customize content to specific segments especially those who may not be online or active on social media. While this channel isn't as popular as it once was, an awful lot of people still prefer the personal touch of physical outreach. 
Printing costs can add up, so consider how this channel plays into your overall nonprofit marketing strategy. For example, you might craft personalized membership renewal letters, postcards with a donation solicitation, brochures about a big capital campaign, or any other materials.
Depending on your exact materials, include some sort of call-to-action, such as your donation page URL, a QR code that leads to an event registration form, a perforated donation slip, or your nonprofit's contact information. This will go a long way in encouraging future interactions and building relationships.
Do you have poor deliverability rates for your nonprofit's direct mail marketing? Make sure you have the right addresses on file by conducting an address append!
Radio Advertisements
Radio ads empower nonprofits to reach large audiences in a relatively short amount of time. Ads can be tailored to a specific region or demographic, and with the right messaging, they can be quite powerful in getting your cause's message out to the public.
Radio ads can help drive donations, event registrations, volunteer sign-ups, and awareness of your nonprofit's mission. Additionally, radio ads are often cost-effective, making them a great way to reach potential donors, volunteers, and supporters.
Best of all, your organization might qualify for free public service announcements on local radio stations. The Federal Communications Commission requires radio stations to allot a certain amount of radio time to nonprofits. There's one caveat, though; your messages should be formatted as announcements rather than ads.
Newspaper Marketing for Nonprofit Organizations
Ads and newspaper articles are a great way to connect with local audiences, especially if you have a particularly newsworthy cause. With the ability to include visuals and compelling copy, newspaper ads and news stories can be used to create awareness of a nonprofit.
Maybe you have a specific campaign or upcoming event that your community might be interested in participating in. That'd be a great opportunity to buy ad space or reach out to your local newspaper with a story proposal. It's also a fantastic place to share your impact on the community. Include a call to action, encouraging readers to get involved and make a difference in their community.
Content Marketing for Nonprofits
Content marketing involves creating and distributing relevant, valuable content to attract, engage, and retain supporters. It's also a reliable way to establish trust with your audience. Content can come in several forms, such as:
Blogging: This nonprofit marketing strategy is great for creating engaging articles about your cause, sharing relevant stories, and providing information about upcoming initiatives.
Videos: Visual content like videos can forge an emotional connection with your audience by demonstrating the impact of your cause.
Ebooks, webinars, and podcasts: This form of nonprofit marketing provides unique educational content that can help you connect with and grow your audience.
Infographics and other interactive content: As a highly shareable form of content marketing for nonprofit organizations, infographics can provide in-depth information about your cause in a visually-engaging way.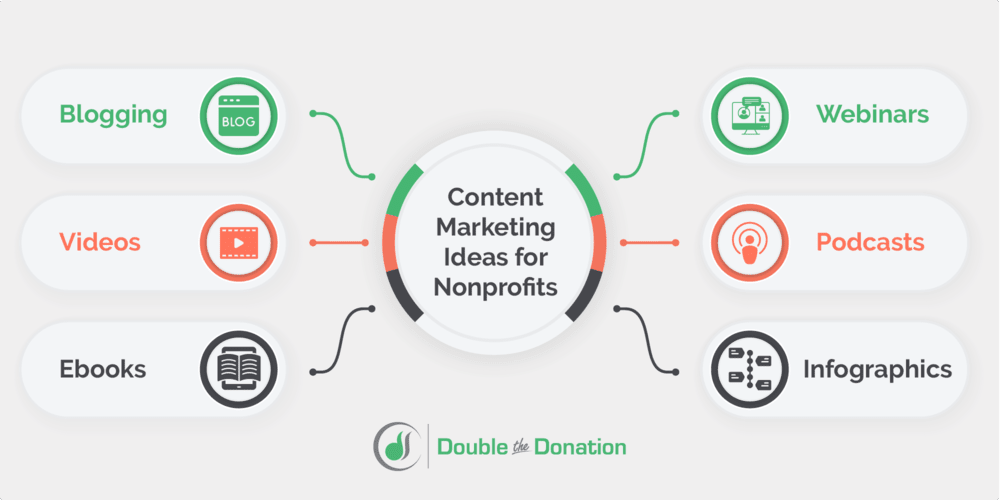 This form of nonprofit marketing can help position your nonprofit as a reliable resource for news and information about your cause. Plus, it's easy to distribute across different channels, including your website, social media, and email.
Word-of-Mouth Marketing
There's no better way to market your cause than by relying on those who feel passionate about it. Word-of-mouth marketing enables you to leverage the power of social proof.
If you're new to this concept, social proof is the idea that people conform to the behaviors of others in order to feel accepted. So, when someone speaks positively about your organization, their friends and family are likely to trust their recommendations.
Semrush's marketing statistics page estimates that 88% of people had the highest level of trust in a brand when a friend or family member recommended it.
Encourage your volunteers to share their experiences, reach out to their loved ones, and post on social media to spread awareness. Some nonprofits even develop referral programs to reward those who spread the word and help attract new supporters. Note that the success of this nonprofit marketing strategy depends on strong relationships with supporters.
Mobile Nonprofit Marketing
Make supporting your nonprofit incredibly convenient by leveraging text outreach. Compared to other forms of marketing for nonprofit organizations, texts have an astoundingly high open rate. Some sources estimate that SMS open rates are as high as 98%.
Text messages are a great way to send out reminders, project updates, and calls to action. You might send out a volunteer registration form or an event registration page. With text-to-give tools, nonprofits can even use SMS text marketing to collect donations.
If you're not already leveraging this form of nonprofit marketing, consider whether it's a viable option for engaging your supporters and keeping them updated on your mission and goals. If you're having trouble contacting supporters, you might want to double-check that you have the right phone numbers on file with a phone number append.
How to Create Your Nonprofit Marketing Plan
As a nonprofit marketer, you already know you're working with limited resources. That's why it's vital to create a nonprofit marketing plan.
A plan will help you leverage existing resources to reach your target audience and maximize impact without overspending. Developing a solid nonprofit marketing plan requires thoughtful planning and research, as well as a thorough understanding of your organization's objectives.
While each organization's plan will vary, there are some common steps you can take to create yours.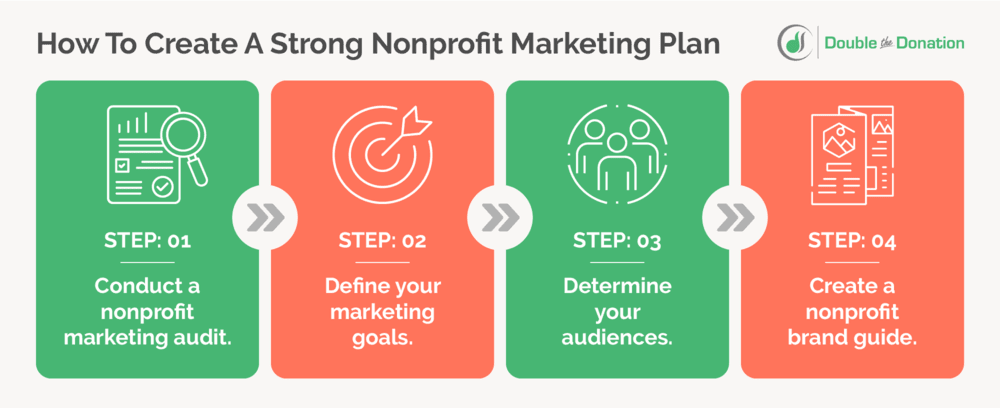 Conduct a nonprofit marketing audit.
Evaluate your organization's current marketing strategy and activities to identify areas for improvement. Assessing past performance helps you build off what works and what doesn't, so you can avoid the same mistakes.
When conducting your nonprofit marketing audit, we recommend analyzing:
The platforms you used. Did they help you reach your target audience? Did certain ones yield better results and engagement than others?
The progress you made toward goals. Were your goals too ambitious, or did you blow them out of the water?
The KPIs you chose. Did they accurately gauge success? If you could go back, which metrics would you monitor instead?
Essentially, you're determining what worked well and what could be improved for future outreach during this stage.
As a helpful tip, determine if you can reuse any old marketing materials (like photography, written content, or videos) during this step. Even if you can tweak existing collateral, that'll save your team time that can be spent on other areas of your mission.
Define your nonprofit marketing goals.
Actionable goals will ensure every team member is on the same page when crafting messages. Let's say your overall objective is to provide free educational resources like peer mentoring to at-risk youth. You might achieve that objective through nonprofit marketing by:
Sharing testimonials from program participants and mentors on social media
Promoting your services on Google search on maps through the Google for Nonprofits program
Asking for volunteers on local radio stations
Sending a monthly email newsletter with updates on your peer mentor program
Create goals for each of these channels. For example, you might set a goal to "increase your social media following by 10% and post twice a week to educate your community about the poor state of education by the end of the year." 
We recommend using the SMART method to ensure your goals are specific, measurable, attainable, relevant, and time-bound. That means you'll need to create a clear goal, attach metrics, and set a deadline. To ensure it's within reach, your goal should be incrementally higher than past performance.
Determine your audiences.
Each nonprofit has a variety of audiences. You'll need to define each group you're attempting to target, so you can create messages that resonate with each segment. For example, an animal shelter might target animal-loving donors, volunteers, and adopters.
A quick way to organize your audiences is by using your constituent relationship management (CRM) software's segmentation features. By separating your contacts with tags and lists, you can send the most inspiring outreach to the right groups.
Create a nonprofit brand guide.
Every piece of communication should strengthen brand awareness. The second someone sees outreach from your organization, they should immediately know it's associated with your cause. Define elements like:
Your nonprofit's voice and personality
What makes your nonprofit unique from similar organizations
Your official fonts and colors
Imagery standards
Knowing how to position your nonprofit makes it easier to create cohesive messages. In turn, your nonprofit will connect with supporters on a deeper level and gain their trust.
For a reliable framework, check out Getting Attention's nonprofit marketing plan guide. You can explore common methods for reviewing past performance, setting benchmarks, and spreading brand awareness.
Nonprofit Marketing Strategies to Drive Results
Following the steps laid out above, you'll establish a solid foundation for your outreach. Now, it's time to tweak your nonprofit marketing plan with strategies that drive meaningful results for your cause.
Promote Matching Gifts.
Corporate giving is one of the most influential fundraising strategies your nonprofit can pursue. However, an awful lot of matching gifts that go unclaimed each year — it adds up to about $4-$7 billion in unclaimed gifts each year. We can attribute that to poor nonprofit marketing strategies.
If you want to boost matching gift awareness, here are a few channels you can use:
Your website: Create content on your website about corporate giving. We suggest starting by embedding our employer search tool into your donation page, which inserts corporate giving into the donation process. Then, dive further into it by developing a 'Ways to Give' page and a dedicated matching gifts page.

Search ads: Use Google Ads to promote your website's corporate giving content. You can target general terms related to supporting your nonprofit, helping to connect with individuals who might not know about matching gifts. Our guide to promoting matching gifts with Google Ads takes a deep dive into this nonprofit marketing strategy.
Using matching gift autosubmission, you can even cut out a few steps in the match request process. Donors can conveniently select that they'd like our tools to check their eligibility and submit a match request to their employer for them. Marketing matching gifts as a convenient way to give will go a long way in pushing your mission forward.
Check out Top Nonprofits' Matching Gifts Research Report for some examples of how real nonprofits promote matching gifts, like the example above.
Make the Most of Google Ads.
As we explored earlier Google Ads are an incredible way to market your mission. However, their team understands that most nonprofits are limited on resources, which is why they offer free access to the platform to eligible organizations.
By applying for Google Grants, you'll receive $10,000 to spend on the platform every month. Don't let this free nonprofit marketing money go to waste, though! Here are a few ways to maximize your success:
Carefully research your keywords. You'll need to choose keywords that will connect you with the right users. Keywords should relate to your mission and services and target a specific user intent, like donating or volunteering.
Leverage geotargeting. Search advertising platforms allow you to target specific geographic areas and demographic groups, allowing you to reach the right people with the right message. Use this feature to make the most of your Google Ad Grant.
Use strong headlines and effective copy to grab attention. Your ad's headlines and copy will be displayed on the search results pages for keywords you bid on. Spend time crafting ones that capture people's attention. To simplify A/B testing, Google offers Responsive Search Ads (RSAs). You'll enter a variety of headlines and copy. Then, Google will automatically test different combinations to drive better results.
While incredibly beneficial, the Google Ads interface can take some time to master. Keyword research might be challenging if you're unfamiliar with Google Keyword Planner, and adhering to compliance regulations can be a bit tricky. That's why we recommend working with the Google Grants experts at Getting Attention. They'll help you apply for the program, set up your account, and create ads that take your nonprofit marketing to the next level!

Market your supporters
While you're busy communicating what your nonprofit does and the reason why it works toward that mission, don't forget to include the how! Your donors are at the core of what your nonprofit can accomplish, and you must make their contributions known in your marketing materials.
Highlighting your donors shows them the direct connection between their contributions and tangible impact. When they know the importance of their donations, they'll be compelled to give again. Plus, this will urge others to get involved when they see the potential impact of their participation as well as the lengths your nonprofit will go to recognize its donors.
Make your donors the face of your marketing campaign by:
Sharing donor testimonials: Interview your donors and ask about their experiences with your nonprofit. With their permission, you can share information about supporting your nonprofit from the supporter's perspective! Ask them questions
about why their involvement is so fulfilling and what they love about your organization.
Providing the numbers: Share the impact of what your donors' contributions can accomplish by sharing statistics and numbers associated with your work. For example, how many dollars were raised by a fundraising campaign, and how was that money spent? Organize this data in visually appealing infographics and include your nonprofit's branding. Then, share the information on all your marketing channels.
Illustrating the work: Sometimes, seeing the nonprofit community at work speaks more volumes than just describing the impact donors make. Use photos and videos of fundraising events, volunteer activities, and other ways your donors give to truly capture the heart of your nonprofit's supporters.
As you turn the spotlight on your supporters, be sure to make your appreciation efforts meaningful and genuine. After all, you don't want them to feel used as a marketing ploy! Make sure your public recognition supplements your other, personal signs of gratitude, and don't share any donor information without their permission.
Final Thoughts
Nonprofit marketing is essential for driving donations and growing awareness for your cause. Through targeted outreach, nonprofits like yours can engage potential donors, volunteers, and other supporters to build relationships that will then help to further worthwhile missions.
By practicing effective marketing strategies, you'll naturally boost visibility for your work and foster a sense of community around your cause, inspiring others to join and participate in your events. As you go, make sure to monitor your results every step of the way, so you can make adjustments and generate greater results for your brand awareness.
The best nonprofit marketers never stop learning! As you start to build out your nonprofit marketing plan, explore these additional resources: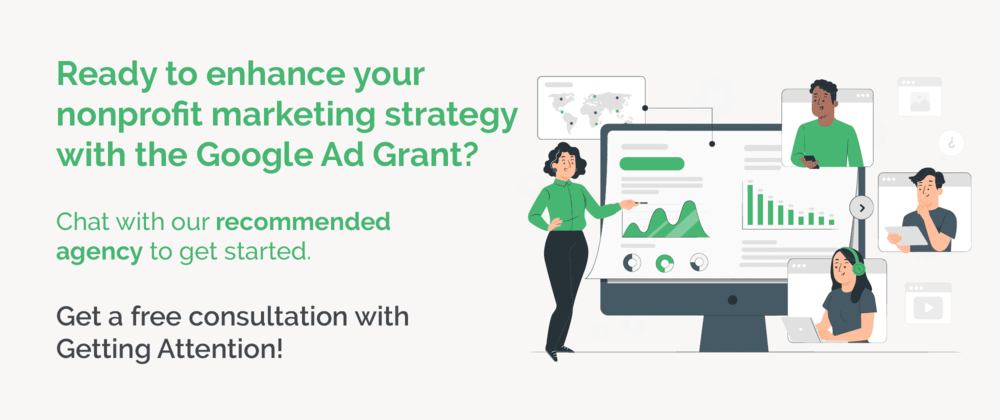 https://doublethedonation.com/wp-content/uploads/2023/03/Nonprofit-Marketing_Feature.png
380
1000
Adam Weinger
https://doublethedonation.com/wp-content/uploads/2022/03/logo-dtd.svg
Adam Weinger
2023-03-09 16:35:01
2023-08-25 15:07:19
Nonprofit Marketing: A Complete Guide to Spreading Awareness