16 Free & Low-Cost Nonprofit Webinars To Amplify Your Work
As a nonprofit professional, you know how important it is to stay on top of changing trends, connect with others in your field, and keep your skills sharp. Fortunately, there are a variety of training courses, events, and lectures designed just for nonprofit professionals that cover a wide range of topics.
To get the convenience of attending an event from home without missing out on learning from a variety of professionals, consider attending a nonprofit webinar. Nonprofit webinars and panels are online meetings that allow attendees to connect with one another and learn from influential nonprofit experts from around the world.
Nonprofit webinars are hosted practically every day — you just have to know where to look for them! Some of these events are free and open to the public, while others have limited seats or members-only tickets. Whether you're looking to learn more about leveraging corporate giving or marketing your nonprofit, there's training out there for everything.
To help you find the nonprofit webinar that fits your needs, this article will dive into 16 of the top nonprofit webinars and panels currently hosting events. Let's dive in!

1. Double the Donation
Overview
Here at Double the Donation, we strive to help nonprofits leverage corporate giving through powerful matching gift tools. With more than $4-$7 billion in matching gifts going unclaimed every year, we believe that proper education backed by the right software can transform your fundraising strategies and tap into missed opportunities. To help your nonprofit take advantage of corporate giving, we regularly host webinars for nonprofits.
Join one of our online events to hear about pressing topics like:
Engaging donors with matching gifts and volunteer grants
Increasing corporate and individual contributions during the giving season
Managing corporate sponsorships
Our rich educational sessions are designed to propel your mission forward and start a deeper conversation about corporate giving.
Explore
Check our nonprofit webinar schedule to see a complete calendar of upcoming events. If you missed one of our webinars or just can't wait for the next one, no worries! You can also access past nonprofit fundraising webinars on demand.
Or if you're interested in more in-depth insights, consider Double the Donation's complete Matching Gift Academy for a low, one-time cost!

2. NXUnite
Overview
If you're looking for panels with a diverse set of nonprofit professionals that can offer insight into a variety of topics, look no further than NXUnite's webinar and panel series. NXUnite partners with a wide range of leading nonprofit experts and influencers, allowing their webinars to go into depth on numerous topics, including:
Fundraising
Grant Writing
Donor Appreciation
Volunteer Management
Fiscal Best Practices
And Many More…
NXUnite has webinars scheduled throughout the entire year, all of which are free and open for anyone to attend. Their easy registration process requires attendees to submit just their email to receive an access link, making it possible to sign up in seconds.
Plus, if you're a nonprofit professional ready to share your perspective, NXUnite even allows you to apply to become a panelist. This ensures their webinars will always be staffed by diverse professional voices who can offer their unique perspectives.
Explore
Interested in attending a webinar hosted by NXUnite? Check out their collection of upcoming webinars and panels to register, view recorded webinars, and even sign up to be a future panelist.


3. Nonprofit Tech for Good
Overview
Nonprofit Tech for Good delivers valuable news and resources related to digital marketing, fundraising, and technology. As part of their offerings, they've ventured into the world of nonprofit webinars.
They have an expansive and evergrowing schedule of webinars lined up, coving topics like:
Social media strategies and platform-specific advice
Blogging best practices
Online fundraising techniques
Their free and low-cost webinars are available to nonprofit professionals worldwide, making them an accessible resource for improving your digital fundraising and communications.
Explore
Check out their schedule of nonprofit webinars for upcoming events. Even if you can't attend one of the events live, you can still register. Then, they'll email you a link to the recording within 48 hours of the end of the webinar. You can also browse Nonprofit Tech for Good's archive of webinars to watch past recordings.

4. Moz
Overview
Moz's SEO learning center contains a variety of resources for all organizations interested in improving their SEO. Their webinars focus on different aspects of SEO, and visitors searching through their archives can organize content by difficulty to find resources that match their technical expertise level.
All Moz webinars cover topics related to SEO, including:
Analytics and Reporting
Link Building
Crawling and Site Audits
Moz also features a variety of articles and video lessons on SEO, allowing visitors to learn in whatever style works best for them.
Explore
Browse Moz's webinar archive by filtering by content category, type, and difficulty level to find the most relevant information on SEO.

5. Firespring
Overview
Firespring partners with a range of other organizations in the digital marketing space to present webinars on marketing strategy, culture building, and social impact. These webinars promise tips to help nonprofits elevate their brands and fulfill their missions by covering topics such as:
Year-End Giving
Marketing Automation
Participants who register for a webinar can sometimes also opt-in to receive additional educational resources from Nonprofit Hub and the organization sponsoring the webinar.
Explore
Firespring only allows live access to upcoming webinars. Sign up for a webinar in advance to attend the live session.

6. TechSoup
Overview
TechSoup hosts nonprofit webinars and online events that can see over 1,000 attendees per session. These events are hosted by professionals from organizations related to faith-based fundraising, digital privacy, grant management, and more.
Sign up for a TechSoup webinar to learn more about topics like:
Grant Writing
Data Security
Creating Online Graphics
To attend a TechSoup webinar for nonprofits, you must create an account with their website. Be sure to do so ahead of time to make the registration process as easy as possible.
Explore
TechSoup records all of their webinars, and their archive of on-demand nonprofit webinars can be viewed on the same page as their upcoming events. To view a past recording, visitors can simply click on the webinar that interests them and begin watching.

7. Auctria
Overview
Auctria hosts webinars for nonprofit professionals about auctions, fundraising best practices, and how to make the best use of their fundraising website. These webinars are also often hosted in parts, allowing attendees to learn about extensive topics in more manageable sections over the course of several days.
Auctria covers auction-related topics, such as:
Procuring Specific Auction Items
Event Marketing
Event Fundraising Strategies
Auctia webinars are hosted by their staff and other qualified guests with years of experience hosting nonprofit auctions.
Explore
View past Auctria webinars on their website. You can even scroll through each presentation's slides while viewing the recording, allowing visitors to follow along easily or look through a webinar's notes.

8. Candid
Overview
Candid provides educational resources to mission-driven organizations to empower nonprofits to tackle the social sector's critical challenges. As part of this, they offer plenty of live and on-demand webinars and training.
Delve into topics related to:
Starting and managing a nonprofit
Grantmaking and proposal writing
Open to anyone looking to enhance their nonprofit management skills, these virtual training opportunities are a prime opportunity to learn from experts and peers in the field.
Explore
Candid is always adding new webinars for nonprofits to their site. Visit Candid Learning, where you can filter training opportunities by topic and location. Be sure to select "online" if you're exclusively looking for nonprofit webinars. While you're there, you can also explore their impressive catalog of on-demand training.

9. Nonprofit Quarterly
Overview
Nonprofit Quarterly hosts a nonprofit webinar series that addresses hard-hitting topics related to ongoing conversations in the nonprofit sector, such as equity, advocacy, and combatting disinformation. These monthly webinars are hosted by different panelists, providing a diverse range of speakers on each topic.
Attend a Nonprofit Quarterly webinar to learn more about subjects like:
Community Advocacy
Racial Justice
Tech Policies and Management
Nonprofit Quarterly's most recent webinar series, Remaking the Economy, focuses heavily on injustice, equality, and wealth distribution. If your nonprofit deals with causes related to these topics, consider attending a Nonprofit Quarterly webinar.
Explore
All of Nonprofit Quarterly's webinars are hosted on their website, dating back to their earliest on-demand webinar from 2012.

10. VolunteerMatch
Overview
VolunteerMatch is a virtual job board for volunteer opportunities, enabling nonprofits to recruit qualified and passionate volunteers. To help volunteer managers drive lasting relationships with supporters, VolunteerMatch hosts an online Learning Center, rich with resources on finding, training, and managing volunteers. As part of their Learning Center, you'll find plenty of nonprofit webinars designed to meet you where you are, no matter your experience level.
Explore volunteer-centric topics like:
Recruiting qualified volunteers
Implementing volunteer program changes
Managing remote volunteers
If you're ready to build a robust volunteer program, look no further than VolunteerMatch's webinars for nonprofits!
Explore
Visit VolunteerMatch's Resource Center, which is jam-packed with plenty of resources! You'll find a calendar of events featuring their webinars for nonprofits. Best of all, there are agendas for each event, so you can attend the events that are most relevant to you. Note that they don't record their webinars, so you'll need to do your best to attend them live.

11. DipJar
Overview
DipJar hosts its nonprofit webinars in partnership with NXUnite, combining the resources of both organizations to present high-quality webinars on assorted topics. These panels are held semi-infrequently, so be sure to check in on DipJar and NXUnite's websites to see when the next webinar is planned.
DipJar's webinars cover key nonprofit topics such as:
Social Media Strategies
Strategic Planning
Legacy Giving
With plenty of past resources on their site, you're sure to find helpful resources while you wait for the next live event!
Explore
To attend a DipJar webinar, sign up through NXUnite. In the meantime, browse DipJar's past nonprofit webinars and review slides from previous presentations for free on their website.

12. Achieve
Overview
Achieve offers nonprofit webinars hosted by a variety of experts in the nonprofit sector. By subscribing to Achieve's mailing list, you can stay up to date with the most recent news about upcoming events and webinars.
With Achieve's webinars you can learn about topics like:
Annual Reports
Donor Engagement
Peer-to-Peer Campaigns
Achieve's webinars are hosted monthly, so be sure to subscribe to their mailing list to stay informed when the next one is scheduled.
Explore
Achieve's past nonprofit webinars are hosted on their website for easy viewing, and visitors can even download the slides for each presentation without needing to give their contact information.

13. Nonprofit Marketing Guide
Overview
Nonprofit Marketing Guide is an online hub of tips, training, and resources that helps nonprofit marketers level up their skills. Every month, their team presents lecture-style nonprofit webinars and interactive, hands-on workshops. Designed with the busy nonprofit communicator in mind, these nonprofit webinars are a fantastic way to learn new tricks and see real-world examples of effective marketing.
Hear from industry experts on topics like:
Nonprofit Branding and Storytelling
Website Management and SEO for Nonprofits
Creating a Newsjacking and Crisis Response Plan
Whether you're a brand new marketeer or a seasoned professional, you're sure to find marketing ideas that will level up your communications strategies.
Explore
Browse Nonprofit Marketing Guide's nonprofit webinars and workshops to see upcoming topics. Register for upcoming events and see which topics will be covered and open for registration later on. You can either pay for each event individually or purchase an all-access pass for $200. Note that some workshops are pass-holder exclusive.

14. Tech Impact
Overview
Tech Impact offers technology services to nonprofits, empowering them to leverage technology and advance social impact. As part of this, they offer the occasional tech-centric webinar for nonprofits. That way, organizations can strengthen their technology strategies to enhance team collaboration, fundraise more efficiently, and track data.
By attending, you'll gain advice on topics like:
Technology planning and budgeting
Digital media production
Cloud-based collaboration platforms
If you're looking to enhance your technology skills to further your mission, Tech Impact is a solid place to start!
Explore
Visit Tech Impact's schedule to see when they're hosting upcoming webinars for nonprofits like yours. These sessions are typically free with an account, so you can become a tech wiz even if you're operating on a budget!

15. Eventbrite
Overview
Eventbrite is an event management platform where users can browse and create events. Thanks to its livestreaming features, industry leaders can host webinars for other nonprofit professionals, empowering them to learn about different sector-specific subjects. On its platform, you'll find an incredible range of nonprofit webinars and other online events that can transform every aspect of your nonprofit management.
Level up your nonprofit skills on both general and niche topics like:
Managing and Sustaining Nonprofit Startups
Nonprofit Finance
Board Management, Engagement, and Diversity
Hear from a range of professionals across the industry and the globe! With plenty of webinars for nonprofits happening every day, you're sure to find training opportunities that pertain to you.
Explore
Browse Eventbrite's endless list of nonprofit webinars to find upcoming events. Make sure to filter for online events, rather than selecting a specific location. You can also narrow down the results by date, price, and category, so you can find exactly what you want.

16. Nonprofit Toolkit
Overview
Nonprofit Toolkit is a hub of digital courses and classes designed to help nonprofit professionals level up their skills. Created for mission-driven marketers, their on-demand content and live events alike share informative communications advice.
Learn about topics like:
Brand Development and Marketing
Website Development and Graphic Design
Copywriting
Through their courses, Nonprofit Toolkit strives to cover topics in-depth, so expect classes to run for about 90 minutes. This gives plenty of time for speakers to thoroughly review the materials and have time for interactive polls, discussions, and questions.
Explore
Visit their website to see upcoming training sessions. Note that they do charge a few for most of their classes, enabling them to provide quality education and thorough answers. You can browse and purchase their on-demand courses to see past events and courses, too. To hear about upcoming events, sign up for their email list, and you'll receive a monthly newsletter with information about their upcoming programs.

Get Started Attending Nonprofit Webinars
Whether you're looking to learn the basics of starting a nonprofit or receive targeted fundraising advice for corporate giving, there's a nonprofit webinar out there for you!
It doesn't matter if you're brand new to the space or a seasoned professional. You should never stop learning. By exploring this list of nonprofit webinars and training opportunities, you're off to a great start. But don't stop there! After you sign up for your next online event, keep learning with these other educational resources while waiting for the big day: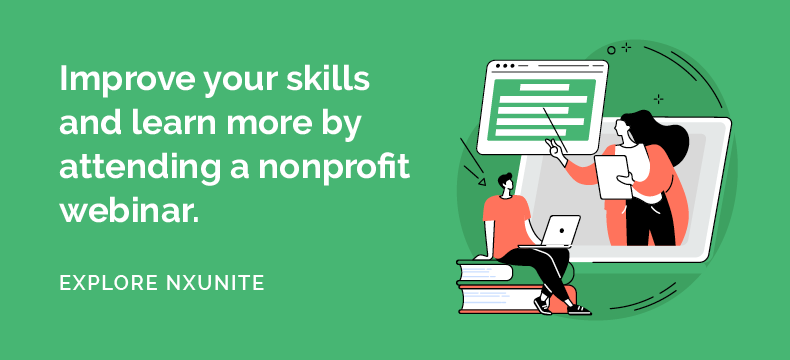 https://doublethedonation.com/wp-content/uploads/2022/09/Nonprofit-webinars_banner.jpg
380
1000
Adam Weinger
https://doublethedonation.com/wp-content/uploads/2022/03/logo-dtd.svg
Adam Weinger
2022-09-16 13:51:20
2023-07-06 15:30:10
16 Free & Low-Cost Nonprofit Webinars To Amplify Your Work