12 of the Best Nonprofit Conferences in 2024 and Beyond

Nonprofits are all about bringing people together to fight for positive societal change and make their communities better places to live. Nonprofit conferences aim to achieve the same goals by bringing together professionals from all types of organizations to learn from each other and identify ways to better work toward common and individual goals.
Attending a nonprofit conference is one of the best ways to grow professionally, make powerful personal and professional connections, and learn how to keep your organization on the cutting edge of the latest fundraising techniques and tools.
In this guide, we'll cover the benefits of nonprofit conferences, along with our top recommendations for conferences to add to your calendar. Here's what to expect:
When considering which conferences to attend, take your nonprofit's goals and your personal development goals into account. For example, are you looking to improve your approach to working with corporate giving, using nonprofit technology, or engaging with your major donors? Keep your goals in mind when browsing the conferences in this list to find opportunities that match your interests.


Benefits of Nonprofit Conferences
Attending a nonprofit conference will require a chunk of your time and your organization's resources to attend. You may have to block out a work day to participate, pay a registration fee, and travel to the conference location (if it isn't a virtual event). Considering all of those requirements, is attending a nonprofit conference really worth it for you and your organization?
To help answer this question, consider a few of the benefits of attending a nonprofit conference:
Stay up to date with trends and innovations. Targeted advertising, artificial intelligence, social media trends, and livestreaming are just a few of the innovative technological considerations that nonprofit professionals are talking about now. By attending nonprofit conferences, you can stay on the cutting edge of these new technologies and trends to ensure your organization is using technology to its full potential.
Network with fellow nonprofit professionals. The networking aspect of most nonprofit conferences allows you to make professional connections that can help your organization down the road. You can learn about other organizations' successes and failures and ask questions about how other nonprofits have tackled specific issues that you're also facing. The relationships you build with other nonprofit professionals can help your organization well into the future as you continue collaborating and sharing resources.
Learn fundraising best practices. Whether the conference topics include the benefits of corporate philanthropy for businesses and nonprofits, innovative marketing strategies, or insightful tips on engaging with different generations of donors, you're bound to leave with new knowledge in your pocket. You can apply what you learn to your organization's ongoing activities, programs, projects, and outreach strategies.
Many nonprofit professionals find that the value of attending conferences often makes up for the time and resources required to attend. Nevertheless, be sure to carefully consider whether conference attendance is something that you can fit into your organization's budget.


The Best Nonprofit Conferences in 2024
Nonprofit conferences happen throughout the year at different locations across the country (and virtually). Here are 12 of the best conferences to consider adding to your 2024 calendars:

Double the Donation's Matching Gift Summit
About this nonprofit conference: 
Matching gifts can be an incredible, yet often untapped source of fundraising support for nonprofits, universities, and other fundraising organizations. In matching gift programs, corporations match donations that their employees make to charitable organizations. According to recent matching gift statistics, $2-3 billion is donated annually through matching gift programs, but an estimated $4-$7 billion is left unclaimed.
Double the Donation's goal is to assist organizations in securing the matching gift revenue available to them. This includes through resources provided in our Matching Gift Summit, matching gift automation platform, and more.
Specifically, the Summit is an exclusive, invite-only conference dedicated to sharing matching gift best practices, resources, success stories, and more to help the largest national nonprofits manage this fundraising channel more effectively. Attendees will learn about forming strong business partnerships and earning valuable corporate sponsorships to support their projects, events, programs, and more. Plus, have the opportunity to engage with fundraising peers in round
Date: May 6th – 8th, 2024
Location: Atlanta, Georgia
Registration: https://events.doublethedonation.com/2024-Matching-Gift-Summit-Top-National-Nonprofits
Can't wait? Check out Double the Donation's online Matching Gift Academy to explore powerful matching gift insights in the meantime.

Nonprofit Marketing Summit
About this nonprofit conference: 
There are several marketing conferences on this list, and for good reason. Digital tools and strategies evolve constantly, making it imperative for nonprofit professionals to stay updated on the latest trends.
That's where the Nonprofit Marketing Summit comes in. This virtual conference brings together nonprofit marketing professionals and experts to share information about new digital marketing strategies and hear directly from the most influential thought leaders in the space. Plus, although this event is virtual, there are plenty of networking opportunities to take advantage of, including getting connected on social media and joining a text community.
Date: The 2023 conference has concluded, but be sure to check the website for upcoming dates.
Location: Virtual

Collaborative
About this nonprofit conference: 
Collaborative is a virtual and in-person conference run by Classy, an online fundraising software platform. The conference is focused on helping nonprofit professionals understand fundraising best practices and how to leverage nonprofit technology effectively.
As the conference's name suggests, the event is focused on bringing nonprofit professionals together in collaborative sessions and workshops. Plus, speakers include leaders from some of the most prominent nonprofit organizations across the country, connecting attendees directly with experienced leaders and influencers.
Date: The 2023 conference has concluded, but be sure to check the website for upcoming dates.
Location: Virtual and in-person

Nonprofit Technology Conference
About this nonprofit conference: 
Nonprofit technology, from matching gift software to constituent relationship management systems (CRMs), is what keeps the nonprofit sector in motion.
The Nonprofit Technology Conference (NTC) is an annual gathering hosted by NTEN, an organization that unites nonprofit professionals to discuss using technology for social good. This conference educates attendees on nonprofit tech best practices and how to use technology to promote change in your community.
Attendees include everyone from nonprofit staff members and volunteers to board members, consultants, and tech vendors. By attending, you'll have the opportunity to participate in breakout sessions, share resources with fellow attendees, and make long-lasting connections. Plus, the NTC is dedicated to fostering an inclusive and accessible environment, with racial affinity spaces, a dedication to accessibility for all, and more.
Date: The 2023 conference has concluded, but be sure to check the website for upcoming dates.
Location: Denver, Colorado

AFP ICON
About this nonprofit conference: 
AFP ICON is often considered the largest fundraising conference in the world. Hosted by the Association of Fundraising Professionals (AFP), ICON features dozens of speakers covering a wide range of topics. Past sessions include topics like using donor data to improve future fundraising efforts and ending mental health stigma in the nonprofit workplace.
Attending AFP ICON can help you set yourself and your organization up to effectively tackle the biggest fundraising challenges and opportunities for the year ahead.
Date: The 2023 conference has concluded, but be sure to check the website for upcoming dates.
Location: New Orleans, Louisiana

Cause Camp
About this nonprofit conference: 
Designated a "must-attend" nonprofit conference by Forbes, Cause Camp is an annual gathering of nonprofit leaders, professionals, and industry experts to share resources and discuss every aspect of the nonprofit sector. Cause Camp's breakout sessions go beyond simple discussions to equip attendees with actionable insights and training materials.
Additionally, participants can browse a comprehensive exhibit hall to connect with vendors and learn more about other nonprofit organizations in attendance. Plus, the conference's fun evening gatherings allow attendees to get to know one another in a more relaxed environment.
Date: The 2023 conference has concluded, but be sure to check the website for upcoming dates.
Location: Greater Sandusky, Ohio

Engage for Good
About this nonprofit conference: 
Engage for Good links nonprofit professionals with leaders from the corporate world whose organizations are dedicated to furthering positive social change. Attendees can participate in targeted workshops and networking sessions that bring together individuals who face similar issues or focus on similar topic areas.
As a nonprofit professional, attending this conference can allow you to understand corporate philanthropy from a business perspective and make connections with prospective corporate partners. Then, you can return to your organization with deeper insights that can optimize your corporate partnership strategy.
Date: The 2023 conference has concluded, but be sure to check the website for upcoming dates.
Location: Atlanta, Georgia

Upswell Summit
About this nonprofit conference: 
The Upswell Summit is an annual virtual event for community change-makers who are focused on making their communities stronger and more equitable. The event builds on discussions from previous Upswell events and will include discussions about the impact of the current political landscape on local communities. More information on speakers and panel topics is to come, so keep an eye on the Upswell website.
Date: The 2023 conference has concluded, but be sure to check the website for upcoming dates.
Location: Virtual

The Nonprofit Innovation & Optimization Summit
About this nonprofit conference: 
The Nonprofit Innovation & Optimization Summit ensures all attendees leave with strategies and advice for growing their online fundraising. Speakers include the leading experts in fundraising and marketing innovation, meaning attendees can receive insights into cutting-edge outreach techniques to better engage their audiences.
In addition, nonprofit leaders can browse new technology solutions in a sales-free environment to see which tools might work best for their organizations.
Date: The 2023 conference has concluded, but be sure to check the website for upcoming dates.
Location: Kansas City, Missouri

Nonprofit Storytelling Conference
About this nonprofit conference: 
The foundation of any powerful fundraising or marketing initiative is compelling storytelling. A story can help build a strong emotional connection with your nonprofit's supporters, inspiring them to lend a hand and support your cause.
The Nonprofit Storytelling Conference is designed to help nonprofit professionals tell better stories to raise more donations. The conference offers three types of sessions. The "Raise Money Today" sessions will help participants choose the right story to tell. The "Get it Done" sessions focus on crafting fundraising communications, such as fundraising appeal letters and new donor welcome messages. Lastly, the "Need to Know" sessions help participants tackle common fundraising challenges.
Date: The 2023 conference has concluded, but be sure to check the website for upcoming dates.
Location: San Antonio, Texas

Good Tech Fest
About this nonprofit conference: 
Good Tech Fest focuses on how to use technology and data to make a positive difference in the world. Sessions are led by data scientists, product managers, and fundraising and tech professionals. Attendees have the opportunity to learn about everything from machine learning tools and equity issues in the tech world to crypto philanthropy.
Date: The 2023 conference has concluded, but be sure to check the website for upcoming dates.
Location: Virtual

Bridge Conference
About this nonprofit conference: 
The Bridge to Integrated Marketing & Fundraising Conference, also known as the Bridge Conference, is an annual gathering of nonprofit fundraising professionals and nonprofit leaders along with consultants, agencies, and other marketing professionals. The conference covers both innovative fundraising and marketing strategies along with common issues nonprofits have traditionally faced, like how to keep donors engaged and transform them into recurring givers.
Date: The 2023 conference has concluded, but be sure to check the website for upcoming dates.
Location: National Harbor, Maryland


Tips for Making the Most of Your Conference Attendance
Your conference preparation shouldn't end after you complete the registration form. Conferences are concentrated, action-packed events that seem to fly by once you're there. That's why it's important to go in with an action plan of who you want to speak with and what you want to do while at the conference.
Here are a few tips for making the most of your conference attendance:
Do your research beforehand. Who will be at the conference? Who do you absolutely want to talk to before the event concludes? How can you start a natural conversation with those individuals that builds on things you have in common? Make a list of individuals you'd like to connect with and a few facts you already know about them.
Decide who will attend the conference. Should a group of staff members from your nonprofit attend the conference or just one or two individuals? Determine who will be the best representatives for your cause and who will benefit the most from attending.
Participate in everything you can. You probably won't be able to attend every single session or panel. However, make an effort to attend a wide array of presentations and discussions based on the topics that interest you the most or that you think will be most beneficial for your organization. This allows you to get the most value out of the event.
Seek out presentations that are outside of your purview. Consider attending one or two sessions or panels that don't directly relate to what you do daily. These sessions could end up being the most valuable because they show you a different perspective or share information about something that you aren't very familiar with.
Collect business cards. Gather business cards for organizations and individuals that you interact with and follow up with them after the conference. In these messages, thank them for their conversation or presentation and ask any follow-up questions you may have thought of since. If the individual lives nearby, see if you can schedule an in-person meeting or lunch with them to maintain the connection you've built.
Share the information you've learned with your team. Create a short presentation for your nonprofit's other team members who didn't attend the conference. Summarize the key takeaways you received from the conference and any changes or strategies you think the team should implement going forward. Let team members chime in with their thoughts and feedback on any proposed changes.
We also recommend carrying a folder and/or notebook with you during the conference to take notes and store business cards, handouts, and other printed materials.
Wrapping Up
Conferences can be valuable learning experiences that help you enrich your nonprofit with the best practices and strategies you learn about. They also offer the opportunity to engage with your fellow nonprofit professionals and make powerful, mutually-beneficial partnerships.
For more information about nonprofit conferences, bookmark the Double the Donation and NXUnite websites. These sites offer ongoing updates on nonprofit webinars, panels, and conferences that any nonprofit professional can join to expand their skill set and fundraising knowledge.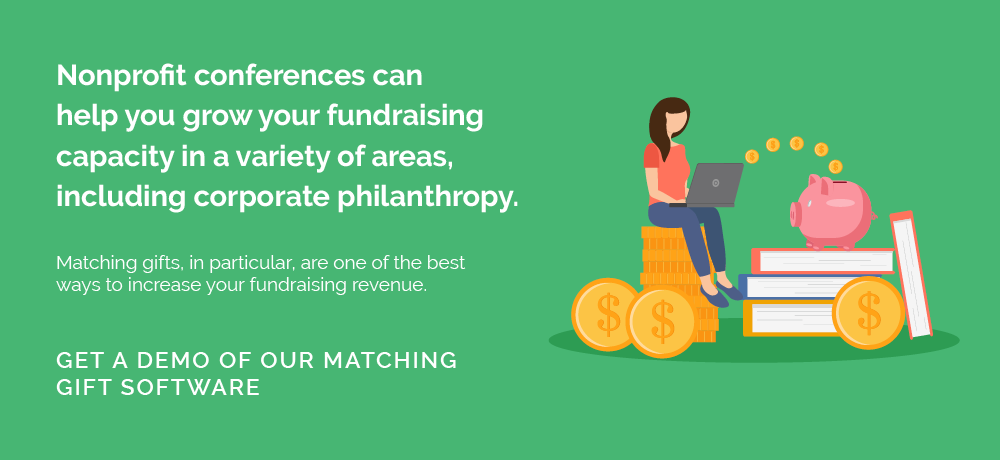 https://doublethedonation.com/wp-content/uploads/2023/12/Nonprofit-Conferences-Updated-Feature-Image.png
600
1600
Adam Weinger
https://doublethedonation.com/wp-content/uploads/2022/03/logo-dtd.svg
Adam Weinger
2023-12-07 15:01:38
2023-12-08 17:00:58
12 of the Best Nonprofit Conferences in 2024 and Beyond