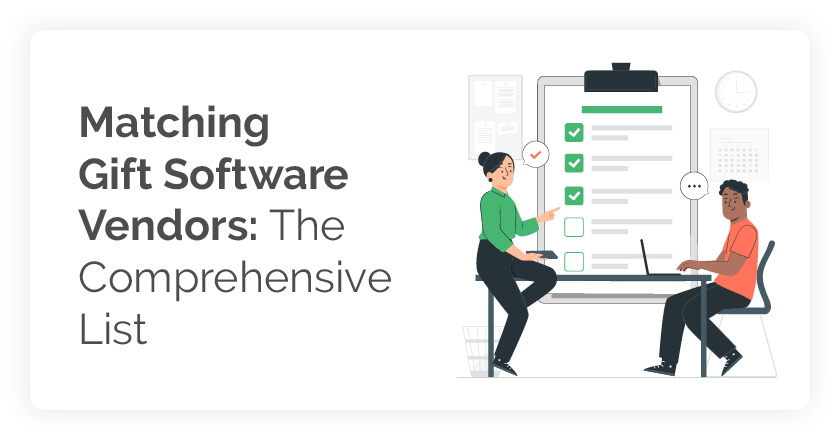 Matching Gift Software Vendors: The Comprehensive List
Whether your company is managing a corporate giving program or your nonprofit is seeking matching gift revenue, corporate philanthropy can be tricky to master.
For businesses, creating an effective matching gift program entails substantial hard work that will ultimately pay off. For nonprofits, it takes ongoing research to acquire much-deserved matching gift revenue. Nonetheless, corporate social responsibility is a growing, impactful phenomenon.
Matching gift programs are naturally complex, but fortunately, there are several technology solutions on the market. To kick off your research, let's go through each of these major areas:
If you're not already familiar with these philanthropic programs, take a look at this comprehensive guide on corporate giving. Otherwise, let's jump straight into the top matching gift software providers!


1. Top Matching Gift Software Providers for Nonprofits
Corporate giving represents a major revenue opportunity for nonprofits, but researching your donors' employers can be fairly difficult and time-consuming. Plus, for nonprofits, this process never ends.
Once you initially gather information on local companies' matching gift programs, your team has to stay up-to-date on the changes made within these programs. You also have to be constantly on the lookout for new employers each time a donor submits a gift. 
This may be doable for very small nonprofits, but as their donor bases grow, staying updated without effective software is virtually impossible.
Why It's Important for Nonprofits to Use Matching Gift Software
Many donors don't know how to navigate their employer's corporate giving process—and some are unaware that their employers even offer matching gift programs at all. For that reason, nonprofits tend to leave a substantial amount of revenue on the table every year.
In fact, an estimated $4-$7 billion in matching gift funds goes unclaimed annually.
Matching gift software not only helps spread awareness around matching gift programs, but also helps guide donors through the process in an easy and intuitive way. Any size nonprofit can benefit from a matching gift database—no matter how small or large. Without a comprehensive system, your nonprofit will inevitably overlook these major revenue opportunities.
So how do you choose the right matching gift software? Be sure to invest in a solution that's frequently updated, comprehensive, and easy to use, such as the leading matching gift solution: 360MatchPro by Double the Donation.

360MatchPro by Double the Donation
360MatchPro by Double the Donation is the complete end-to-end matching gift solution that automates the majority of the process. The platform pulls directly from Double the Donation's extensive matching gift database, giving you the most comprehensive coverage of matching gift programs.
Here's how it works to simplify corporate giving for nonprofits:
An individual submits a donation.

When donors enter their information into your donation forms, the platform automatically identifies their matching gift eligibility by scanning the details they provide. This may include email domains or employer information. 

360MatchPro automatically follows up. Depending on the donor's eligibility, the platform automatically triggers customizable follow-up emails to these donors. If they're eligible for a matching gift, they will be prompted to submit a request. If their eligibility is unknown or they are ineligible, they will be prompted to double check using the search tool.
The platform tracks matches to completion.

360MatchPro enables customizable tracking so you know where your donors are in the match process.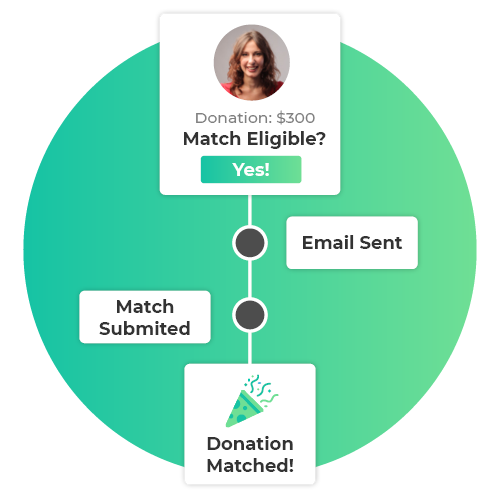 Benefits of using 360MatchPro by Double the Donation include:
More matching gift opportunities.

360MatchPro allows you to automatically determine matching gift eligibility among your donors, which means more matching gift requests will be successfully submitted.

More matches driven to completion.

The platform directs donors to their company's matching gift forms right after the donation has been made and continues to follow up afterward. This means more submissions will be completed and bring in exponentially more matching gift revenue for your organization.

More time to focus on top opportunities.

Because 360MatchPro automates every matching gift opportunity, big or small, your organization can focus its efforts on the most valuable match-eligible donations.

Closer relationships with corporate partners. Double the Donation's 360MatchPro is also the only matching gift software that offers custom matching gift program management functionality (where a company commits to matching donations made by employees to a specific nonprofit). This feature empowers organizations to facilitate unique or one-off match opportunities directly with the companies in their network, and the ease with which the programs are managed from both sides leads not only to more matching gift opportunities but to increasing donor reach, positive fundraising outcomes, and deepening long-term partnerships!
*As a note, this feature is designed specifically for fundraisers looking to manage custom matching gift initiatives—360MatchPro does not work directly with corporations. If you're a company interested in creating a matching gift program, contact us, and we'll share information about our corporate vendor partners.
Less effort for donors to get involved. Donors love elevating their giving impact with matching programs, but complicated processes can lead to eligible matches going unclaimed. 360MatchPro helps simplify the experience for qualifying donors, including with new streamlined auto-submission functionality.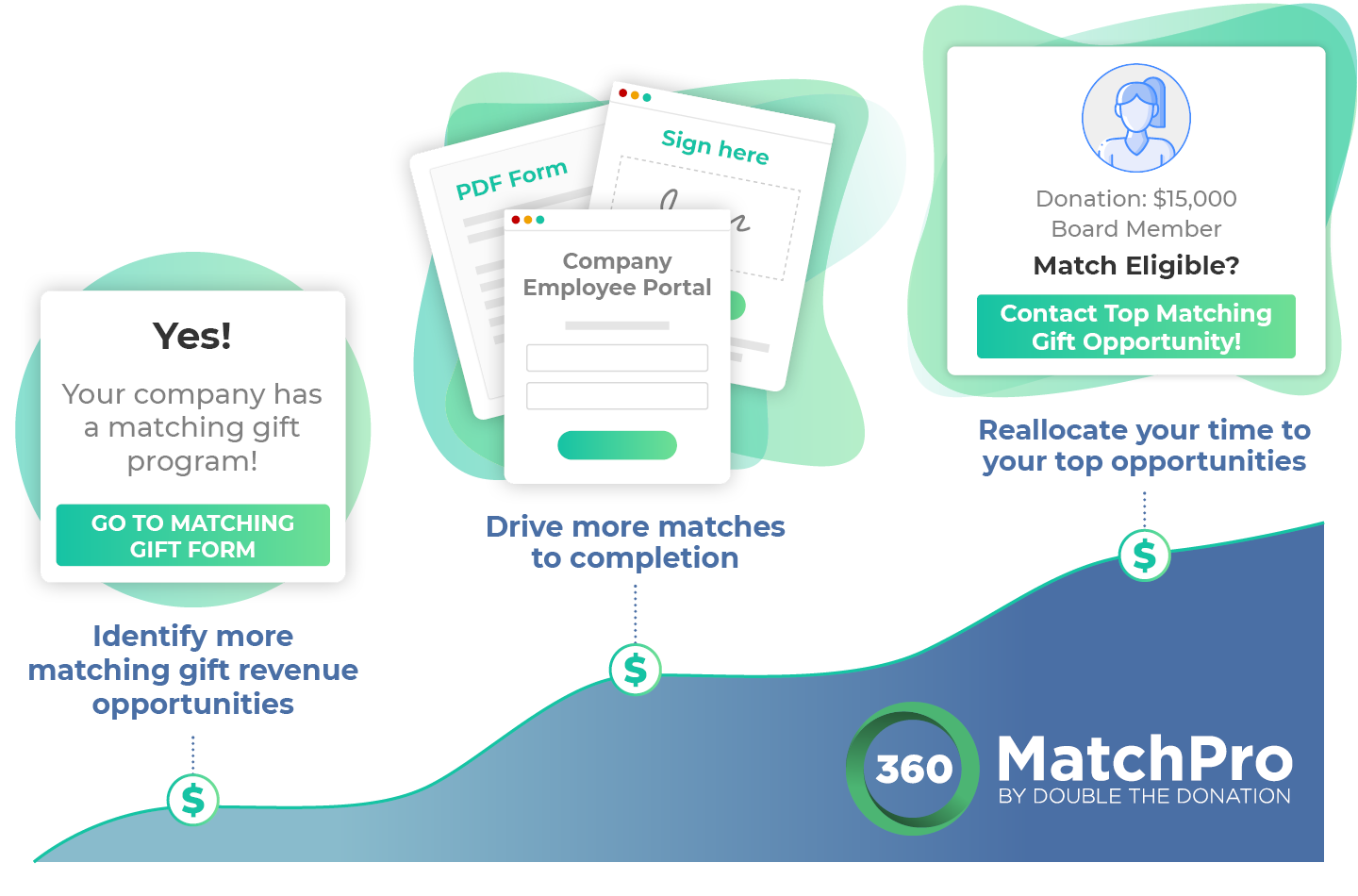 360MatchPro by Double the Donation will ensure your organization doesn't leave large sums of matching gift revenue on the table. The platform essentially serves as your own matching gift team, automating the process so your staff can focus on the most important thing: serving your mission.

360MatchPro Integrations
Unlike many matching gift software solutions for nonprofits, 360MatchPro integrates with more than 50 of the leading fundraising platforms. In other words, if your organization already leverages specific donation or CRM software, you won't have to worry about transferring your donor data between platforms.
The system also has state-of-the-art security that will protect all of your donors' data and help your team gain better insight into your revenue opportunities.
360MatchPro's integrations include:
CRMs,

such as Blackbaud (Raiser's Edge NXT) and Salesforce

Peer-to-peer fundraising platforms,

such as Classy and DonorDrive

Donation software,

such as Luminate, Convio, Funraise, and iModules

Corporate giving software, such as Millie, POINT, and Selflessly
These integrations allow you to continue using the fundraising software you already leverage while also sending the data through 360MatchPro's platform so you can automatically identify new matching gift opportunities.

360MatchPro is the next evolution of advanced matching gift tools for nonprofits. If your organization isn't using dedicated matching gift software, there's no doubt that you're missing out on major opportunities.
Interested in learning more about smart matching gift fundraising and best practices for leveraging 360MatchPro to your greatest potential? Check out Double the Donation's Matching Gift Academy here!


2. Matching Gift Software Vendors for Companies
If your company doesn't already have a philanthropic program in place, there's no time like the present to get started! After all, there are innumerable benefits to having these programs, including heightened employee engagement and a positive company reputation.
If you already have a match program in place, your company may be considering switching to an electronic matching gift system. Not only does that save valuable time, but it also ensures there aren't any gaps in your guidelines.
Let's go through each of the leading software vendors for companies:
These vendors deliver everything a company needs to outsource the employee matching gift administration process, volunteer grants, disaster relief, and broader workplace giving programs. And for your convenience, we've separated them out based on a key distinguishing factor⁠—whether they offer auto-submission functionality.

Offers Matching Gift Auto-Submission
Traditionally, donors looking to participate in matching programs have been required to submit their donation to a nonprofit organization, then complete a separate request process with their employer to secure the corporate match. This separate request often asks for information about the receiving organization, specific donations, and even the employee themselves, and it's often a critical roadblock keeping employee donors from completing their matches.
Today, many companies are rolling out matching gift auto-submission abilities, which allow donors to submit their match requests directly from their favorite organizations' donation confirmation pages with a single click.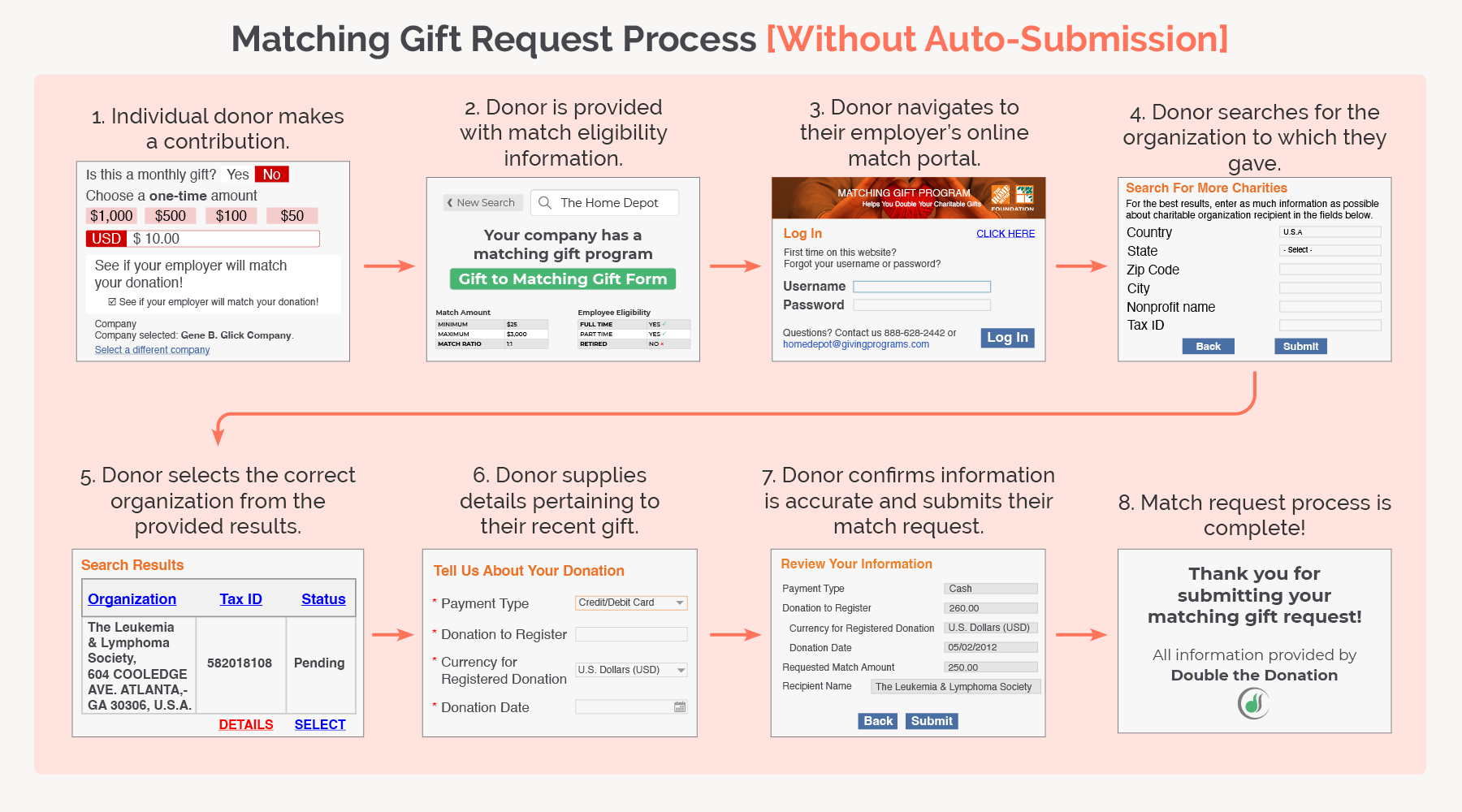 Let's take a look at some of the breakthrough matching gift software providers that are empowering companies and their employees with this functionality;

Millie
Millie provides workplace giving tools for all by allowing companies to create simple and flexible social impact programs on a budget. Their platform brings the power of a giving wallet to everyday donors by providing financial tools that allow for easy, simple, and strategic giving.
Millie allows companies to:
Match employee donations

Manage employee volunteerism by creating events and tracking impact

Build giving campaigns

Gift charitable dollars to employees and customers
Millie's workplace giving platform is designed to provide a comprehensive and affordable solution for companies of all sizes so that reaching CSR goals is achievable for all. Plus, they integrate with Double the Donation's 360MatchPro to offer innovative auto-submission for their corporate clients.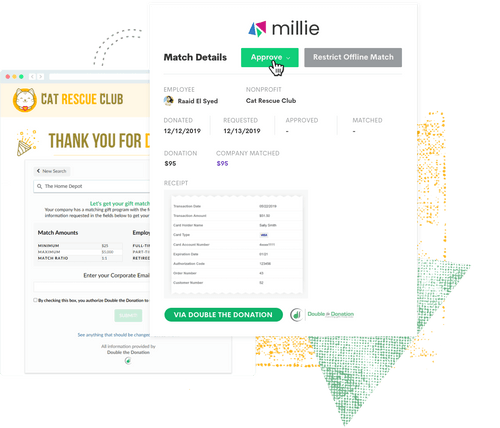 Learn more about Millie on their website here or check out our case study to see their matching gift auto-submission in action!


POINT
POINT is the ready-to-go social impact platform for companies serious about impact. Manage employee volunteering, giving, and nonprofit partnerships on one platform employees actually want to use.
As an innovative corporate giving provider, POINT enables businesses to:
Manage matching donation campaigns and initiatives
Manage employee volunteerism
Organize virtual volunteer opportunities
Co-host volunteer opportunities with local nonprofits
Fulfill tangible nonprofit needs through in-kind giving
Automatically track volunteering and giving statistics and reporting
Track impact of workplace giving initiatives
Plus, when companies purchase a subscription to POINT, they can gift the nonprofit POINT platform to nonprofits for free. Companies can collaborate with nonprofits on the same platform and give nonprofits the tools they need to find and manage volunteers seamlessly, saving them up to 15 hours per week.
Not to mention, POINT now offers matching gift auto-submission to make matching gifts as simple as possible for companies, donors, and nonprofits alike.

Selflessly
Selflessly is a comprehensive matching gift and corporate philanthropy management software. Developed in 2018, they aim to provide small and mid-sized businesses with the resources needed to launch and maintain their philanthropic initiatives effectively.
Selflessly helps businesses:
Donate to millions of local and national charities
Provide simple employee giving processes
Match employee donations
Report on giving and impact
Promote employee engagement
Locate and manage volunteer opportunities
Track volunteer time off
If you're looking for a powerful yet affordable matching gift solution for your business, Selflessly is a great way to go. As an added bonus, they even partner with our matching gift automation tool, 360MatchPro, to further streamline the giving and matching processes for employers and employees alike through matching gift auto-submission abilities!
Learn more about Selflessly on their website here or read our case study to see how this matching gift vendor is changing the game with auto-submission!
Does Not Yet Offer Matching Gift Auto-Submission
These other CSR platforms can offer excellent features and functionality regarding matching gift program management for companies, though they have not yet built out auto-submission capabilities with Double the Donation. This means that employees will be required to complete separate request processes to participate in their companies' giving initiatives.
However, matching gift auto-submission is the future of corporate gift-matching, so keep an eye out as more of these providers shift to automatic submissions as well.

America's Charities
America's Charities offers an entire suite of tools for companies. Their most comprehensive solution, Engage, is an end-to-end giving and corporate social responsibility (CSR) solution that offers a holistic view of your global impact.
The platform provides a comprehensive and flexible solution to help your company streamline community programs and maximize your social investment. Best of all? You can manage all of your corporate philanthropy and giving programs from one place.
Engage helps organize:
Corporate philanthropy, grants, and sponsorships

Donation matching

Employee workplace giving

Employee engagement

Volunteer programs
You can also track your goals easily and share eye-catching reports and dashboards using real-time data. Unfortunately, however, Engage does not currently offer matching gift auto-submission capabilities.
Learn more about America's Charities!


Benevity
Originally founded in Canada in 2008, Benevity has rapidly developed a major presence with companies based in the United States as well.
This workplace giving platform strives to create compelling corporate giving programs that help companies attract, retain, and engage employees. In addition to a matching gift program, the vendor allows businesses to implement other philanthropic programs, such as volunteer grants and charitable gift cards to motivate employees to generously give.
Through Benevity, corporations can evaluate their success in making a positive impact on their communities. That way, they can adjust their efforts to create the best possible giving program. However, Benevity has yet to offer matching gift auto-submission functionality.


Bright Funds
Bright Funds is a leading provider of corporate giving software as a service for workplace giving, volunteering, and grants management. With nearly a decade of experience, Bright Funds helps companies of all sizes multiply their impact through an intuitive, comprehensive corporate social responsibility platform.
Companies can build a culture of giving and grow their employees' impact with a matching gifts program on Bright Funds. Matching rules can be set up with a single click from the admin dashboard. The platform automatically enforces matching rules and budget limits, while ensuring that employees can only donate to vetted, eligible organizations. That gives companies more time to focus on engaging employees to participate and give back to the causes they care about.
With Bright Funds, companies can scale their impact from a single, flexible platform that includes:
Employee giving (one time and recurring donations)
Support for 1.8 million global nonprofits and 100 countries
Donation matching
Employee engagement
Full volunteer program management with a preloaded list of over 8 million opportunities
Integrated grants management
Managed donations disbursement
Real-time impact reporting
Integrations with many payroll, HRIS, volunteering, and other systems
Empower today's purpose-driven workforce to do good through Bright Funds' all-in-one corporate responsibility platform. As of yet, however, Bright Funds has not established an auto-submission functionality.
Learn more about Bright Funds!


Charityvest
Charityvest simplifies the giving process for both donors and charities alike. By allowing users to create personal charitable giving funds, donors can securely and freely donate stock and cash to charities without losing a percentage to transaction fees.
Charityvest for Workplaces provides employees with tax-deductible giving accounts and unlocks automatic charitable matching, reporting, and administration for companies. Their workplace giving programs are trusted and utilized by companies nationwide.
With Charityvest for Workplaces, your company can implement fully automated, rules-based grant matching, provide employees with unlimited zero-fee giving to millions of charities, and view real-time reporting on charitable impact. In the future, Charityvest for Workplaces may develop auto-submission functionality, but for now, employees are resigned to partake in manual submission processes.


CyberGrants
For over 20 years, CyberGrants has been a leader in the online grantmaking space. Over time, the company has recorded many firsts through its initiatives, including:
Developing the first online application

Providing the first online grants administration tools

Creating the first online workplace giving and volunteering systems for corporations
A few years ago, CyberGrants merged with the JK Group, which owned the Consiva and Easymatch platforms. Today, it manages employee giving programs for many global companies.
As a flexible philanthropic software platform, CyberGrants provides numerous innovative ways for companies to develop their workplace giving programs. CyberGrants has yet to roll out auto-submission features, still relying on manual requests from employee donors through the system.


SmartSimple
SmartSimple offers companies robust tools for grant management, employee giving, matching gifts, volunteer management, and more. 
When companies use SmartSimple to manage their workplace giving strategies, they can:
Approve matching gift requests while following their company guidelines

Manage volunteer programs and award grants

Manage in-kind giving

Monitor impact through detailed reporting
SmartSimple streamlines nearly every aspect of your company's workplace giving program, making it incredibly easy for employees to participate and boost your CSR impact in the greater community. However, they've yet to offer auto-submission functionality, which may be enabled in the future.

YourCause
Through its dedicated corporate social responsibility platform, YourCause helps corporations of all sizes. This platform, called CSRconnect, is a customizable community tool that centralizes employee engagement.
When businesses invest in the CSRconnect platform, they can enable year-round matching gifts, annual pledge campaigns, and more. Additionally, the platform leverages peer-to-peer fundraising. In other words, employees will raise money on behalf of the nonprofits they care about, and companies can match those donations⁠—though they've yet to establish a process for matching gift auto-submissions.
As a business professional, you've likely heard of the leading CRM platform Blackbaud. YourCause integrates with this major CRM software, meaning you won't have to spend time transferring your employees' data. If that's not convincing enough, the customizable software allows companies and employees to access 300,000+ global nonprofits from 170 countries!
---
For nonprofits and companies alike, corporate social responsibility is highly influential and catching on rapidly. From the nonprofit perspective, corporate philanthropy means boosting revenue. Not leveraging a matching gift database equates to not fulfilling your matching gift potential.
From the business perspective, corporate philanthropy means developing a brand, promoting a generous workplace, and giving back to the community. However, developing and maintaining a giving program is nearly impossible without the right software.
Now that you know more about specific software solutions, start leveraging this technology in your corporate giving strategy today!
Additional Resources for Nonprofits
Additional Resources for Corporations
Announcing New Matching Gift Auto-Submission Functionality.  Make the most of your company's matching gift programs by enabling auto-submission functionality! The easiest way to do so is by partnering with a corporate giving software provider that integrates with Double the Donation. The simpler the process, the more likely your employees are to get involved.

Matching Gifts: The Definitive Guide for Employers

. A surprising number of companies have not yet started a matching gift program, even though these programs are proven to help retain and engage employees, showcase CSR, and make a positive impact in the community. This guide from America's Charities will break down the basics and benefits of matching gift programs, explain how to set one up, offer advice from America's Charities' team of experts, and more. Take advantage of their years of experience, research, and expertise, and download this guide!

https://doublethedonation.com/wp-content/uploads/2016/12/Matching-Gift-Software-Vendors-The-Comprehensive-List.png
440
840
Adam Weinger
https://doublethedonation.com/wp-content/uploads/2022/03/logo-dtd.svg
Adam Weinger
2016-12-06 21:21:36
2023-11-10 13:40:58
Matching Gift Software Vendors: The Comprehensive List