Nonprofit Basics: Fundraising Strategy
Your nonprofit needs a strong fundraising strategy to drive revenue and deepen your impact. By clearly outlining your goals and creating a coherent map for the future, you can tailor your fundraising approach to your nonprofit's unique needs, goals, and audience.
What is a Fundraising Strategy?
According to Aly Sterling Philanthropy, a fundraising strategy is a blueprint made specifically to guide your fundraising approach. To effectively raise money and cultivate donor relationships, it's essential that you create a comprehensive fundraising strategy.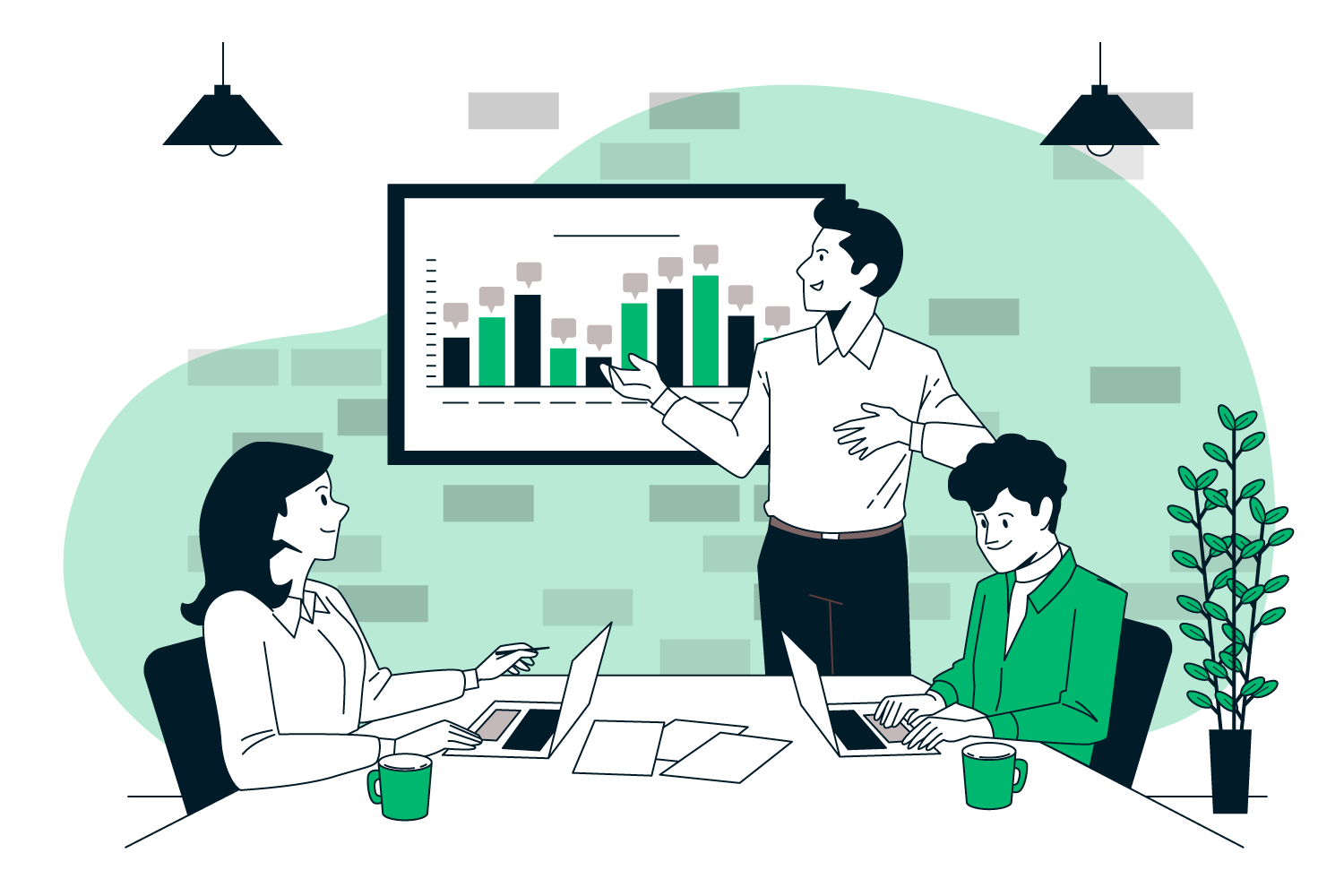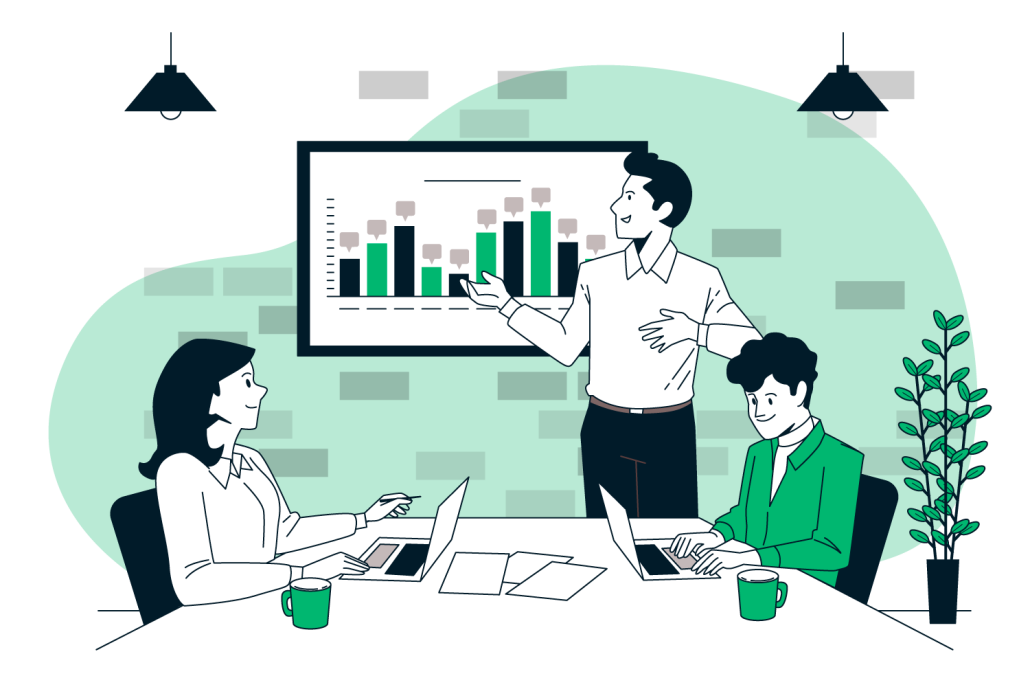 A concrete fundraising strategy can help your nonprofit in the following key ways:
Establishes clear direction for the future. A fundraising strategy allows you to set goals, define key performance indicators, and evaluate metrics that measure the success of your initiatives.
Improves your team's time management. When everyone on your fundraising team understands your organization's plan and how their work relates to overarching goals, productivity will increase.
Drives fundraising success. Creating a well-defined plan helps your organization take concrete steps towards achieving its fundraising goals. Over time, you'll be able to establish a reliable donation pipeline to power your organization's work.
Builds relationships with supporters. A strong fundraising strategy should have your unique audience in mind. Ask your donors about their motivations for supporting your organization, open ongoing channels of communication, and highlight initiatives that will resonate with supporters.
A fundraising strategy involves multiple moving parts, so it's important that you tap several nonprofit volunteers and staff to work together and develop a plan tailored to the unique state of your nonprofit.
How to Build a Fundraising Strategy
Let's take a closer look at how your organization can revamp its existing fundraising strategy or develop a brand new roadmap for fundraising success.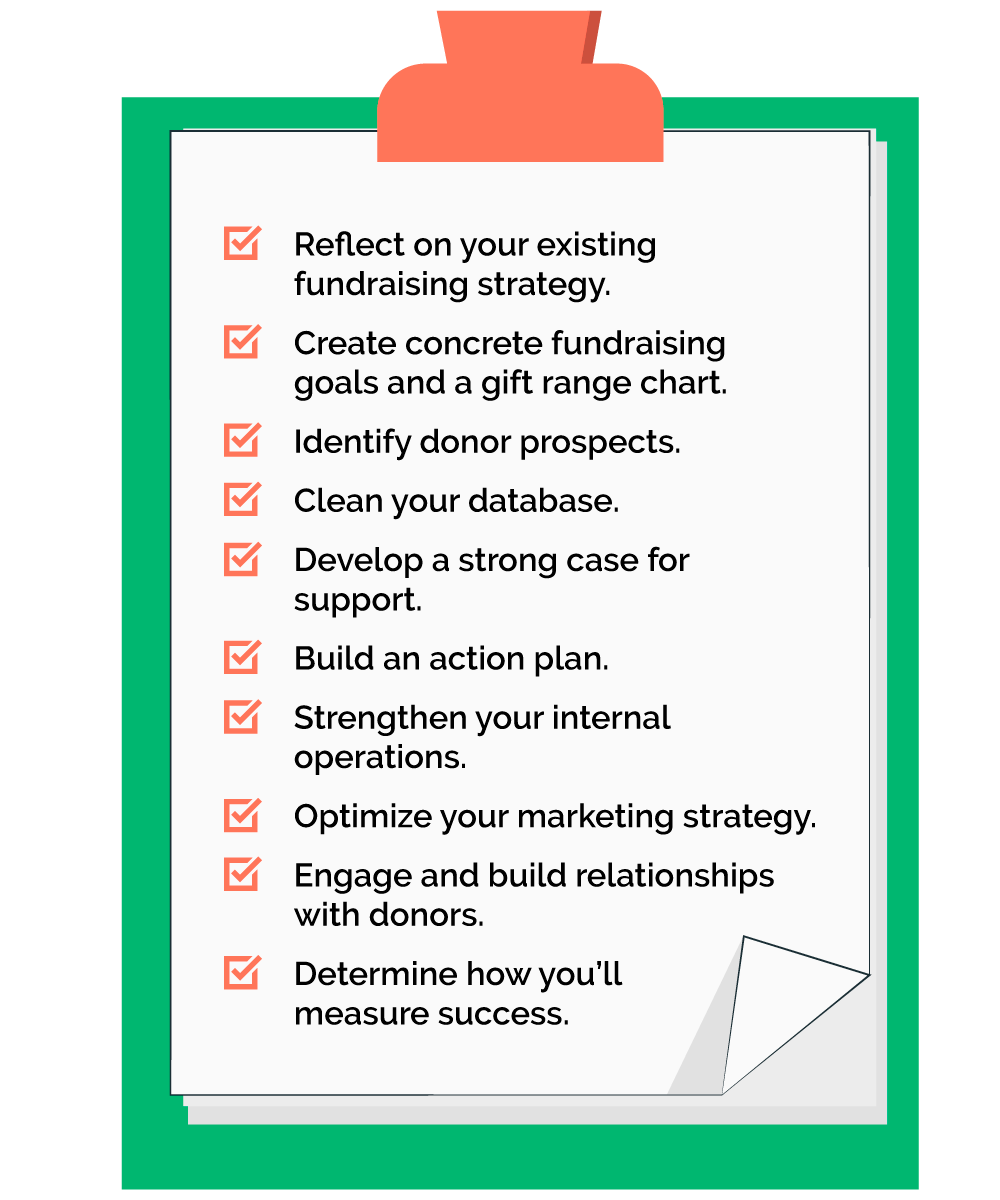 1. Reflect on your existing fundraising strategy.
Look at previous fundraising efforts and their outcomes, focusing on metrics like donor retention rate and total amount raised. What did your organization do well? Where do you have room for improvement?
If your nonprofit has grown since you last revisited your fundraising strategy, evaluate how your strategy should change to work for a larger organization. Working with a fundraising consultant is a great way to determine your organization's needs and establish a plan.
2. Create concrete fundraising goals and a gift range chart.
A fundraising goal defines the amount of money your nonprofit seeks to raise during a specific initiative or throughout the year. Analyze previous fundraising data or conduct a feasibility study if you're proposing a capital campaign to create your goals.
Use a gift range chart to assess the viability of your goals. A gift range chart outlines gift amount, number of gifts, number of prospects, and cumulative gift totals.
3. Identify donor prospects.
Conduct prospect research to determine which prospective donors have the most giving potential and are most likely to give to your organization. After determining which donors you'd like to focus on stewarding, you can begin allocating your resources towards different donor segments accordingly.
4. Clean your database.
Clean donor data is essential to stewarding strong relationships. Ensure that your donor database is updated with accurate contact information for your donors and remove duplicate entries. Good data hygiene allows you to customize donor outreach and marketing efforts.
5. Develop a strong case for support.
A case for support outlines your fundraising goals, how you'll achieve them, and what you plan to do with the money you raise. Articulating what you'll do once you achieve your fundraising goal is crucial to communicating the value of supporting your organization to potential donors.
Incorporate your case for support into your donor outreach strategy. When writing donation request letters, explain the specific ways a donation will support your nonprofit's work.
6. Build an action plan.
Based on the information you gathered previously, create an actionable list of steps. Your team can follow these steps to achieve your fundraising goals. These might include donor cultivation efforts, fundraising campaigns, or corporate partnership initiatives.
Your plan should be detailed, including who is responsible for each activity, the estimated cost, and how you'll measure success.
7. Strengthen your internal operations.
Everyone at your organization should understand how their work relates to your fundraising strategy. Leadership should delegate tasks, establish priorities, and support staff in adhering to goal timelines. Open channels of communication within your organization support strong internal operations.
8. Optimize your marketing strategy.
Reach supporters with an impactful nonprofit marketing strategy. Consider a multichannel approach, incorporating social media, direct mail, and other platforms in order to reach more potential supporters. Customize your messaging on each platform to target specific audiences, but make sure your branding is consistent across channels.
9. Engage and build relationships with donors.
Retaining existing donors is a cost-effective way to fundraise. Continue building relationships with your current donors by updating them on your fundraising progress and thanking them for their contributions. For instance, consider sending heartfelt letters and acknowledging supporters on a donor recognition wall.
10. Determine how you'll measure success.
Tracking key performance indicators allows your organization to quantify the success of different initiatives and organizational growth over time. Choose metrics closely related to your goals.
You might measure event attendance, donor retention percentage, or donor acquisition rate. Over time, these data points allow you to see what works well for your nonprofit and where you should change your strategy.
An effective fundraising strategy helps your organization lead successful fundraising campaigns and develop a sustainable stream of revenue. By clearly outlining your goals and how you'll achieve them, your nonprofit will be well-prepared to maximize donor support, even in the most turbulent of fundraising landscapes.
Other Resources to Explore
Nonprofit Basics – Learn more nonprofit management essentials by exploring other expert resources.
How to Start a Fundraiser – Discover effective strategies for planning your next fundraiser and driving amazing fundraising results.
The Complete Guide to Nonprofit Strategic Planning – With a strong strategic plan, your nonprofit will have a strong sense of what it needs to accomplish to advance its mission. Explore the basics of crafting a powerful nonprofit strategic plan for the future.
https://doublethedonation.com/wp-content/uploads/2022/12/Nonprofit-Basics-_-Fundraising-Strategy.png
760
2000
Adam Weinger
https://doublethedonation.com/wp-content/uploads/2022/03/logo-dtd.svg
Adam Weinger
2022-06-12 16:40:16
2022-12-21 16:56:05
Nonprofit Basics: Fundraising Strategy