What Is Phone Number Appending? How the Process Works
These days, people are glued to their phones, and most would probably consider either texting or calling as their primary form of communication with others. Therefore, making sure the phone numbers you have for your supporters are up to date is essential for smooth and effective communication with them.
Even if you know how important it is to have phone numbers for your supporters, you may not know how to go about gathering that information. Of course, you could periodically ask your supporters if they've gotten a new phone number. However, phone number appending is a much simpler way to collect phone numbers without bothering your supporters.
Phone number appending ensures that you have accurate phone numbers so that you can effectively reach out to your supporters and keep them engaged with your organization. Whether you're updating contact information or missing phone numbers from several individuals, phone appends can help you round out your supporter data without your supporters having to lift a finger.
Before seriously considering this type of service, you might have some questions about the phone number appending process. Here are some questions we'll go over in this article:
At Double the Donation, our main focus is educating nonprofits about matching gift opportunities and software. Matching gift software makes the process of acquiring matching gifts easier, just as phone appends make gathering current contact information for your supporters more efficient. We're happy to help nonprofits find ways to get the resources they need that will make their operations run smoother. That way, they can save time and reallocate it where it's really needed.
Click on the questions you're wondering about to learn more or keep scrolling to answer them all!
What is Phone Number Appending?
Phone number appending is the process of inputting supporter data into phone append software and receiving missing and updated phone numbers back.
When leveraging a data append provider, you'll simply provide them with identifying information for each supporter. Then, they'll use that information to correctly identify them within their comprehensive database of phone numbers. That way, you can contact your supporters using the correct information. Doing so will ensure that you're reaching your target audience.

What Advantages Does Phone Number Appending Provide?
Your organization likely already has phone numbers for some or all of your supporters. However, people change their phone numbers all the time, so the ones you have may no longer be accurate.
Phone number appending provides several general benefits for your organization, such as:
Updated contact information. Having the most current contact information for your supporters not only ensures that you can reach them but also that you can continue building relationships with them. Plus, you can do so without ever having to ask them to update their information.
Less time wasted on unviable numbers. Even if your organization has phone numbers for all of your supporters, chances are some of them are outdated. Calling or texting old or incorrect phone numbers wastes your time and energy that could be used to contact the people who will lend you their support.
Well-rounded supporter database. With any type of data, the more you have of it, the more robust and well-informed decisions you can make. Phone appends are no different. Having correct phone numbers for your supporters can help you to focus on the content of your campaigns rather than the method of communication.
In addition to these general advantages of phone appending, there are certain types of fundraising and outreach that your organization can leverage or improve with updated supporter phone number data.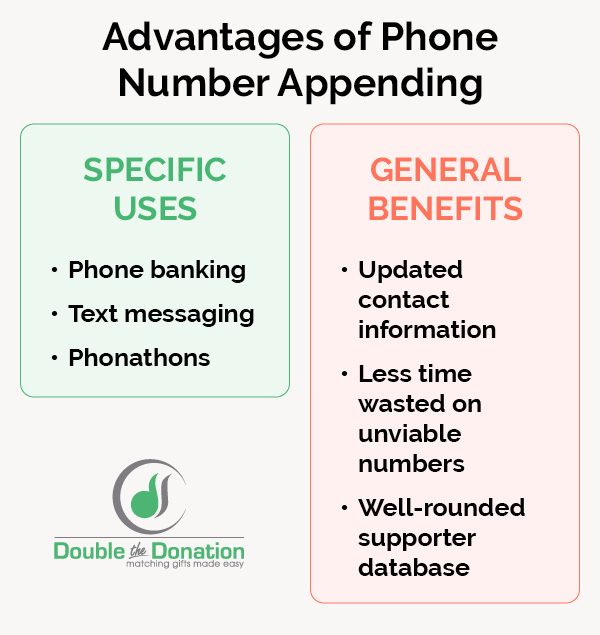 Specific Use Cases for Phone Number Appends
Of course, the top advantage of phone number appending is being able to actually reach your supporters, but what does that look like in different scenarios? Here are three different areas where phone number appending is particularly useful:
Phone banking. Calling people up and asking them to donate to your cause can be a more personal way of gathering funds. Take advantage of this fundraising method by using the most current phone numbers for your donors.
Text messaging. While calling is a great way to reach people, texting can elicit even quicker responses and opens up the opportunity for text-to-give. With cell phone appends, you can reach your supporters and receive donations even faster than before.
Phonathons. Schools and universities in particular love to fundraise by having current students call alumni and request donations. To reach your fundraising goals and avoid any mixups, you'll want to make sure your students have accurate contact information for the people they're calling.
If we've convinced you how important phone appends are, you might want to jump right into the process. Lucky for you, we'll walk you through it step by step.

What Does the Phone Number Appending Process Look Like?
Hiring a reliable phone append service provider makes phone number appending a breeze. All you have to do is supply them with the supporter information you do have so they can give you the phone numbers you need.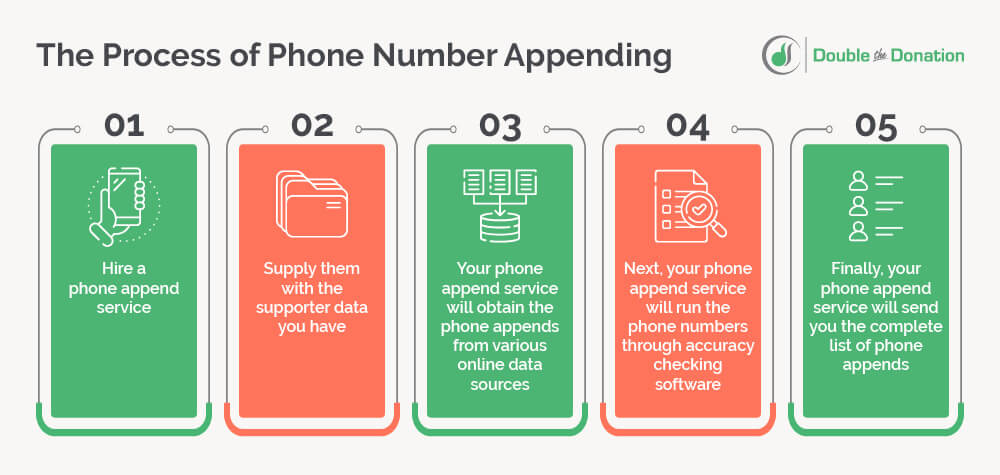 Examples of information you can provide to a phone append provider include:
A unique ID number
Full name
Region and postal address
Email address
Education information such as school, year, and major
Last donation amount and date
Date entry was last updated
You don't need to have all of this information to go through the phone number appending process. However, the more data you give to your phone append provider, the easier it will be for them to find accurate data.
Once your phone append service provider has your supporters' information, they can use it to find recent numbers for your constituents. In most cases, they'll obtain the numbers from a variety of data sources online.
To help you determine how accurate the phone appends they've found are, some phone append providers will run the numbers through software that checks for accuracy and may even conduct manual checks. They will then rate the accuracy of each append so you know how much you can trust each one.
Lastly, your phone append service will send you the complete phone appends. From here, update your nonprofit's CRM with the new and missing phone numbers for your supporters.

Can I Get Other Kinds of Data Appends?
Yes! There are plenty of other kinds of data appends, and most phone append services will offer them in addition to phone appends. If your nonprofit needs other data appends, check which ones your phone append service provides. Since they'll likely pull the data all at once, they'll probably them back to you at the same time as your phone appends.
Our quick guide to nonprofit data appends explains that there are several common types of data appends you can leverage, including:
Employer appends
Address appends
Date of birth appends

While employer appends can help you identify matching gift opportunities, email, postal address, and date of birth appends can improve your communication with supporters. Ultimately, strengthening your database with this information will allow you to cultivate stronger relationships and push your work forward altogether.

What Are Some Examples of How Nonprofits Actually Use Phone Appends?
If you're still unclear about whether your nonprofit could benefit from phone appends, it might help to hear some real examples of how organizations have used them in the past. That way, you can compare these organizations' situations to your own to figure out if you should move forward with the phone number appending process.
Here are some organization types that use phone appends and what they use them for:
Universities
We mentioned before how phonathons are a great way to connect with alumni and potentially receive donations from them. Besides phonathons, universities can also use phone appends to update alumni about current campus initiatives and invite them to alumni-specific events.
Political Organizations
Especially in the midst of election seasons, it's important to communicate your most important issues to voters and how your organization aims to solve them. However, these issues can be too complicated to spell out in a text or email. Contacting constituents over the phone presents the opportunity for you to actually converse with them about important topics and answer any questions they may have.
Advocacy Groups
If any of your supporters are young adults, you'll want to contact them in their preferred style of communication: texting. With phone appends, advocacy groups can share information about their causes with younger supporters using SMS outreach. That way, they can be sure that they're reaching out to their supporters in ways that work best for them.
Public Broadcasting Services
Does your organization run pledge drives on the radio or TV? Chances are, it'd be helpful to feature testimonies from real supporters. By calling previous donors and asking them to give a statement about their involvement with your nonprofit, you can encourage new donors to donate and one-time donors to convert into recurring donors.
Takeaway: Phone appends provide all sorts of benefits depending on your organization's needs. If you're unsure how it might play into your team's strategies, feel free to ask your service provider about how they've seen other organizations leverage them. With that in mind, it's time to find a phone append service that will provide you with accurate results.

Are There Guidelines for Selecting a Phone Append Service?
There are a couple of things to keep in mind when choosing a phone append service. After all, picking the right one could make the process quick and easy whereas selecting one that does not fit your organization's needs or standards could be a waste of your time.
There are some guidelines for picking the phone append service provider that's right for your nonprofit. For example, you'll want to find a phone append provider that:
Checks your current phone numbers. Receiving missing phone numbers is helpful, but what about the incorrect or outdated ones hiding in your supporter database? A good phone append service will check the phone numbers you currently have and update any that are no longer viable.
Offers other types of appends. If you need multiple kinds of data appends, it's best to get them all from the same service provider. This cuts down on costs and time needed to receive your data. To make the process easier, look for a phone append service that offers other types of appends in addition to phone appends, such as postal address and employer appends.
Provides landline and cell phone numbers. These days, most people communicate using their cell phone numbers, but some may prefer their landlines. It's important to find a phone append service provider that can find all relevant phone numbers no matter what type.
Checks for accuracy. The whole point of phone appends is that they will prevent you from calling the wrong numbers and wasting your time. Make sure that's the case by selecting a phone append service that has checks in place for accuracy.
Finds phone appends for individuals and businesses. Perhaps your organization has some businesses they need to update contact information for in addition to individuals. A good phone append service will be able to find appends for both individuals and businesses.
Works quickly. You probably won't want to wait long to incorporate your phone appends into your CRM and start putting them to use. See if your phone append service can provide an estimate of how quickly they'll be able to return your phone appends.
Gives nonprofits quotes. It's likely your organization has a budget for how much they're willing to spend on phone appends. Get an idea of how much a phone append service will cost you with a quote.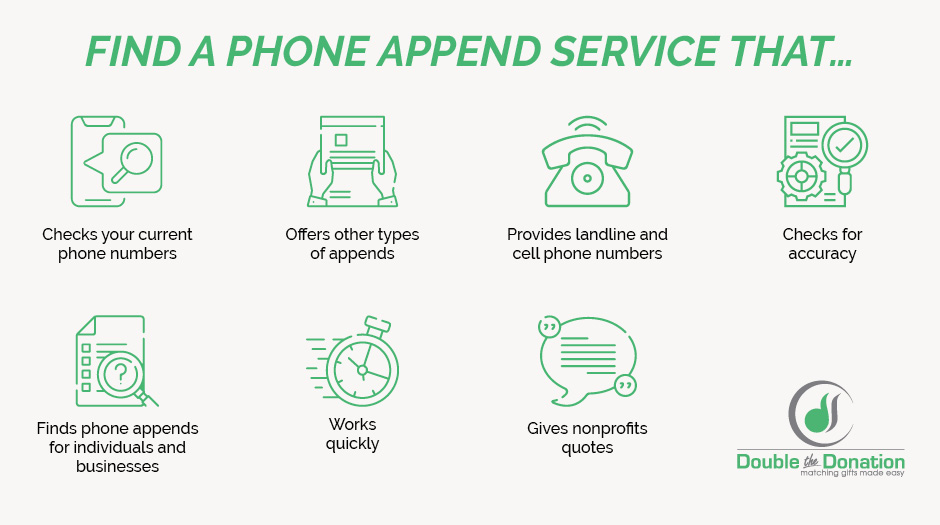 Think about which of these guidelines are most important to your organization and prioritize them when you conduct your phone append service search. It's even possible to find a phone append provider that has it all. For example, NPOInfo by Double the Donation offers everything we've listed above.

Wrapping Up
Communication with your donors and volunteers is what ensures lasting relationships and support. To make sure you can effectively reach out to your supporters through texts or phone calls, reach out to a phone append service and learn more about how they could help you find the phone numbers you need.
Once you have your phone appends, you might be looking for more tips that will help you keep donors and volunteers around. Check out these resources for advice on how to retain your supporters and put your phone appends to good use:
Improving the Donor Journey with Matching Gifts. Knowing that their employer will match their donations to your cause can get donors excited about the expanded impact they can have on your organization. Make sure to use your phone appends to inform your donors of any matching gift opportunities available to them.
Donor Thank-You Letters: What You Need to Say. Showing donors how much you appreciate them is an important part of your relationships with your supporters. Sending a simple thank-you text message or making a thank-you call can show how much you care.
Volunteer Engagement | Strategies for Smart Organizations. The best way to keep volunteers around is to make sure they're engaged and excited about helping your organization. This article will provide you with some tips for retaining volunteers. You're already off to a great start with phone appends because they'll allow you to stay in touch with your volunteers.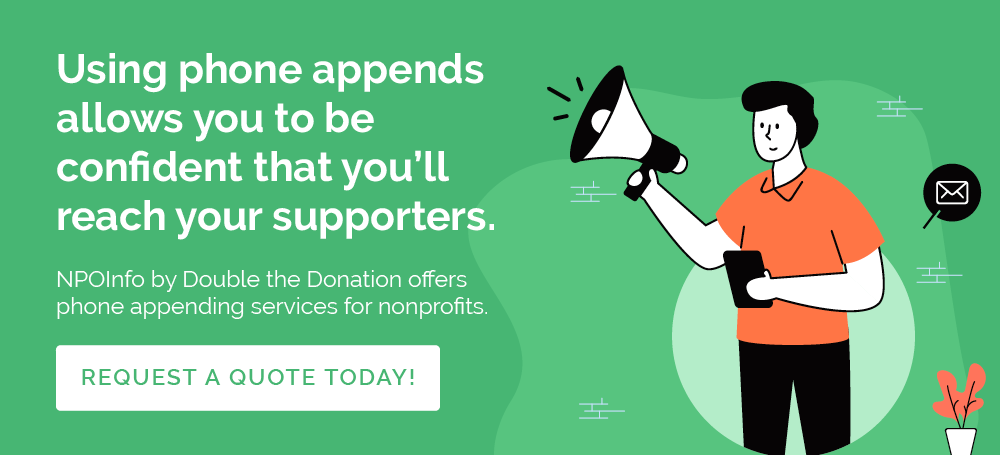 https://doublethedonation.com/wp-content/uploads/2022/07/Phone-Number-Appending_Feature.jpg
380
1000
Adam Weinger
https://doublethedonation.com/wp-content/uploads/2022/03/logo-dtd.svg
Adam Weinger
2022-07-26 11:52:20
2023-05-01 12:42:04
What Is Phone Number Appending? How the Process Works