AlumnIQ and Double the Donation Launch Advanced Matching Gift Integration
AlumnnIQ, a powerful and innovative fundraising platform, has partnered with Double the Donation to bring automated matching gift technology to its clients. This partnership will allow universities using AlumnIQ to access 360MatchPro, the industry leading matching gift solution.
"Double the Donation shares our mission to propel fundraisers forward with top-notch technology, so integrating 360MatchPro was an obvious choice," said Steve Rittler, Founder and CEO of AlumnIQ. "With this matching gift software, our clients will be able to double eligible donations without having to manually pursue matching gift requests."
360MatchPro and AlumnIQ integrate seamlessly, allowing users to activate this solution with just a couple of clicks. Then, universities can begin identifying match-eligible donors during the donation process, taking the guesswork out of matching gift campaigns.
360MatchPro then automates matching gift messaging post-transaction, guiding donors directly to their specific matching gift submission form. These combined solutions can help universities everywhere double or even triple their matching gift revenue.
"Double the Donation is proud to launch this partnership and add valuable matching gift technology to the AlumnIQ platform." says Adam Weinger, President at Double the Donation. "This integration will empower universities to tap into the billions of dollars in matching gift revenue that goes unclaimed each year."
This robust integration between AlumnIQ and Double the Donation provides advanced matching gift fundraising automation without any extra effort from fundraisers. With this technology, universities can target the 18 million individuals who qualify for matching gift programs through their employers.

Activate in Seconds and Start Raising More from Matching Gifts!
AlumnIQ and 360MatchPro integrate seamlessly so that you can start driving donations in no time. Simply navigate to the "Employer Match" section of your AlumnIQ giving settings. From there, you can enter your 360MatchPro credentials to activate the integration.
Once you're all set up, your donation forms will be equipped with the 360MatchPro search field where donors can search for the name of the employer. This streamlined search bar then gets to work, suggesting companies as the donor types for a simple selection process. This field even takes spelling errors, parent companies and subsidiaries into account, making it simple for donors to be accurately identified as match-eligible. You can even customize the text surrounding this search bar, so that you can choose how to ask donors for their employer information.

After the donation process, donors will be presented with a direct link to their matching gift submission form – meaning they can start the gift matching process with just one click. This link is accompanied by matching gift guidelines including program eligibility, offered match ratio and more.
360MatchPro also automates matching gift messaging through branded, customizable emails. These messages also contain a direct link to donors' specific matching gift submission forms, providing another touchpoint for donors to double their donations through employer gift matching.
With 360MatchPro and AlumnIQ, your organization can easily fuel your fundraising through employer matching gifts!
Looking to learn more? Check out our in-depth integration guide to get started!

Drive More Matching Gifts to Completion with 360MatchPro!
AlumnIQ and 360MatchPro provide advanced fundraising features.
With this solution, your institution can:
Identify more matching gift revenue opportunities: 360MatchPro enables you to automatically collect matching gift eligibility from donors using email domains, within donation forms, on confirmation screens, or by email. The more matching gift opportunities 360MatchPro discovers and shares with donors, the more matching gift requests your donors will successfully submit.
Drive more matches to completion, from form submission to corporate payment: Direct donors immediately to their matching gift forms after the donation process is complete. Then, provide the right information to the right donors at the right time with custom emails based on match eligibility. Target follow-ups drive more completed submissions than ever before, bringing exponentially more matching gift checks from companies through your door.
Reallocate your time from routine follow-up to your top opportunities: Your time is valuable, so why spend it chasing small dollar-value matching gifts? Let 360MatchPro automate your matching gift outreach while flagging your highest-value opportunities, allowing your team to personalize follow-ups to the most valuable match-eligible donations. Rest easy knowing that 360MatchPro can handle the rest.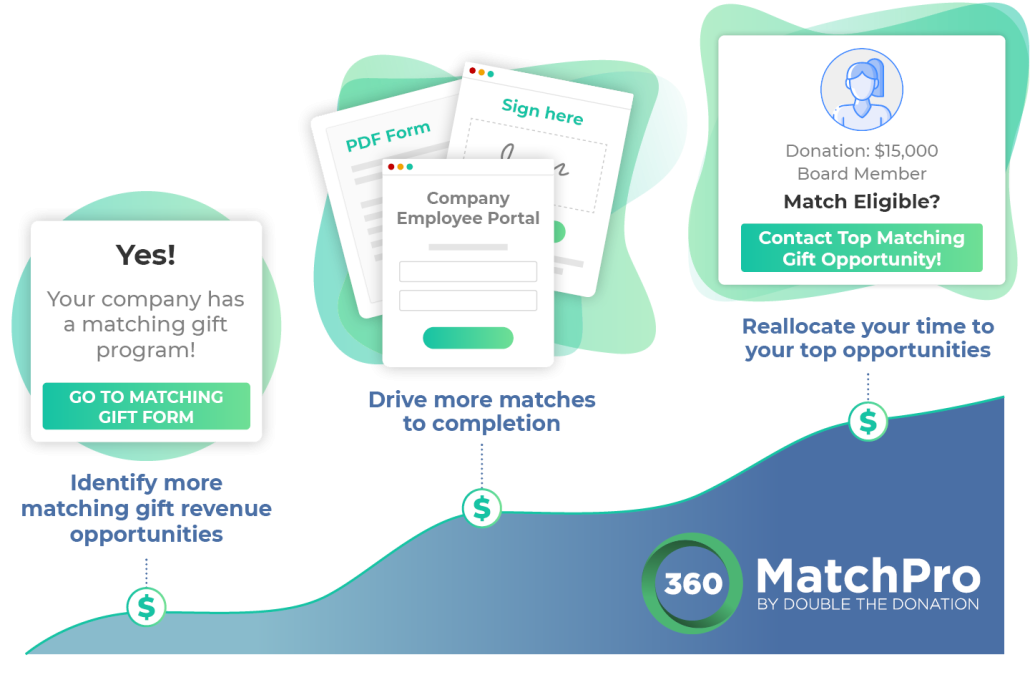 Ready to learn more? Request a personalized demo with Double the Donation.
---
About AlumnIQ: AlumnIQ is designed for today's engagement environment: mobile, integrated, personalized, and measured in every imaginable regard. Their system delivers information – not simply data – that you can use to effectively implement programs and services your constituents want and need to be a part of. The AlumnIQ goal is to make data management easier and more efficient so your staff can maximize their efforts on constituent engagement. To learn more, visit: https://www.alumniq.com/
About Double the Donation: Automate your matching gift fundraising with the industry-leading solution from Double the Donation. The 360MatchPro platform provides nonprofits with tools to identify match-eligible donors, drive matches to completion, and gain actionable insights. 360MatchPro integrates directly into donation forms, CRMs, social fundraising software, and other nonprofit technology solutions to capture employment information and follow up appropriately with donors about matching gifts. To learn more visit https://doublethedonation.com/get-a-demo/
https://doublethedonation.com/wp-content/uploads/2022/06/Double-the-Donation-AlumnIQ-feature.png
290
775
Adam Weinger
https://doublethedonation.com/wp-content/uploads/2022/03/logo-dtd.svg
Adam Weinger
2021-04-13 11:41:40
2023-09-18 03:04:32
AlumnIQ and Double the Donation Launch Advanced Matching Gift Integration