Phonathons: The Fundraiser's Ultimate Guide & 15+ Top Tips

Phonathons are a tried-and-true resource for all sorts of nonprofits and higher education institutions to engage donors and raise money effectively. While the benefits of a phonathon campaign are fairly straightforward, running a successful campaign is no easy task.
One thing that phonathons have historically struggled with has been identifying donors who may be eligible for a matching gift from their employer⁠—and pursuing those corporate matches to completion.
So how do you optimize matching gifts in your phonathons? Here at Double the Donation, we've compiled a number of tips and tricks to effectively communicate with your donors about matching gifts and raise more in phonathon revenue overall.
To plan a successful phonathon campaign, be sure to: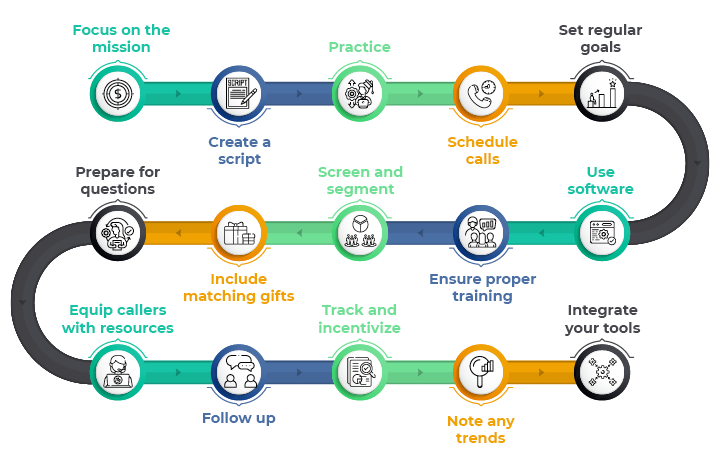 By adding matching gifts to your phonathon strategy, your campaign will see even greater success. If you can capitalize on that potential during your phonathon, you'll see a massive increase in funds brought in.
Are you ready to find out how to optimize your organization's upcoming phonathon to raise more? Let's dive in.


1. Focus on the larger mission.
The most successful fundraising campaigns are focused on more than raising a certain dollar amount. If you can help donors understand why your cause is a worthy one, then you are far more likely to succeed. By highlighting the larger purpose of the campaign, you can motivate both donors and callers to feel good about what they're doing!
To illustrate our point, take a look at two possible phonathon script introductions:
Phonathon Script Introduction #1: "I'm calling on behalf of University X to raise money for our annual phonathon campaign. Would you consider making a donation of $100 to the university's endowment fund?"
Phonathon Script Introduction #2: "I'm calling on behalf of University X to raise money for our annual phonathon campaign. Would you consider making a donation of $100 to the university's endowment fund? Every dollar you donate will go to scholarships for students in financial need!"
See the difference? In both cases, the caller is asking for the same dollar amount. But in our second example, the donor understands how their donation will be helping someone in need.

2. Create a standardized script.
For many of your callers, this will be their first phonathon campaign. The idea of getting on the phone with alumni to ask for donations can be extremely intimidating.
Creating a detailed and interactive script can help ease the nerves of new callers and standardize your donor's experience. Here are the key components to any phonathon script:
Introduction: Answer the most basic questions: Who are you? What is your relationship to the organization running the campaign? Why are you calling?
Statement of purpose: Why is your organization asking for donations? What will the contributions be used for?
First ask: Make the initial request for a donation. What is the suggested donation amount? If the donor has made a donation previously, how much should the caller suggest they donate this year?
Gift confirmation: Success! How do we close the deal? How do we deal with different payment methods?
Answers to common objections: Not everyone wants to donate. How do we respond to common objectives such as a lack of interest, recent issues with the organization, or other giving priorities?
Non-pledge close: For those calls that don't end in success, it's important to help close the conversation gracefully to maintain the relationship with the donor.
A great script is arguably the most important component of a successful phonathon, as it's a resource that every caller will use. Spend significant time working with your organization's communication director to put this resource together.

3. Practice with mock calls.
Having a team of well-trained callers is the secret to any successful phonathon campaign.
Prepare callers by organizing mock calls. During this time, they'll read through the provided script and respond to a variety of different "donor personas." See how they respond when a donor has questions about the campaign, voices objections, or is looking to complete their transaction.
This strategy will help you callers feel more at ease when it comes time to dial a real donor's phone number. Plus, it can help get some of the roadblocks and uncertainties out of the way early!

4. Schedule calls when donors are home.
One of the most common challenges for phonathon callers is simply reaching the donor in the first place.
To improve the chances that your donors pick up the phone, consider calling during the hours when they are most likely to be home and available. These are some of our favorite times to do so:
Monday – Thursday, 6:00 PM – 9:00 PM. If you call within this time window, most donors will be home from work. Yet, it's early enough that you reduce the risk of waking anyone up (tip: cranky donors rarely give donations).
Sunday, 5:00 – 9:00 PM. At this time on a Sunday, most donors will be finished with their weekend errands and are likely available for a conversation.
Make sure that you're planning to reach donors when they're ready and able to chat for the greatest fundraising success.

5. Set nightly/weekly fundraising goals.
Setting goals greatly increases your chances of fundraising success. Encourage your callers to set nightly or weekly donation goals to instill a sense of accomplishment when they reach and exceed their objectives.
Then, there are plenty of opportunities to make the most of your tracking results. We suggest that you:
Identify any knowledge gaps and situations where additional training is needed.
Assign your most effective callers to your highest-value prospective donors.
Communicate the concrete donation impact of your callers' fundraising goals.
Setting detailed objectives helps your organization keep track of how many donations you're bringing in within a certain timeframe. You can even leverage some friendly competition between callers this way!

6. Use phonathon management software.
Consider purchasing phonathon software from a well-established vendor, such as industry leader Wilson-Bennett Technology's DonorConnect. This type of tool can save you time, money, and many of the technical headaches that would ordinarily get in the way of a successful campaign.
Common tasks that phonathon software handles include:
Managing and updating your donor database.
Automating pledge verification via email.
Tracking call results.
Issuing reports on campaign progress.
By automating these time-consuming tactical steps, you can spend your time managing callers, increasing donations, and engaging in deeper relationships with supporters.

7. Train callers on matching gifts.
Using matching gifts to boost phonathon funds starts and ends with your callers. These individuals are the voice of your campaign, working hard to help you fulfill your mission. They need to be prepared to both speak to and answer any questions a prospect may have regarding matching gifts.
While you may understand the value of capturing employer data and pursuing a matching gift from your donors, your caller and digital engagement teams may not. Make sure the people who will be having those real-time conversations understand the what, why, and how of matching gifts.
Consider these four components of effective matching gift phonathon training:
Materials: Document how callers should ask about matching gifts and the process by which they should share company rules, guidelines, and instructions.
Speakers: Who at your organization is responsible for matching gifts? Invite him or her to speak with your callers.
Practice: Have your callers pair up and do trial runs on a few matching gift companies. Provide feedback as needed.
Coaching: Like with anything, there's always room for improvement. Listen for matching gift asks during calls and provide guidance to improve techniques.
Ensuring your team is on the same page about matching gift goals will make the ask that much easier when the opportunity arises. Being a caller for a phonathon is no easy task. But with proper training, you'll situate your callers in the best possible position to make matching gift asks.

8. Implement screening and segmentation.
Make the most of your callers' (and your donors!) time by pre-screening and segmenting your calling list beforehand in terms of matching gift prospects.
Think of it this way: would you rather call 10 people and have 1 person respond positively, or call 5 and have 3 people respond positively? By segmenting your contacts prior to reaching out, you're ensuring that each call is a more valuable use of your team's time and resources.
For matching-gift-related segmentation, you'll be enacting a three-point process:
First, pre-screen your file for matching gift eligibility. It is likely that a sizable percentage of your existing prospects are matching gift eligible. Know who they are in advance.
Second, append relevant information to your file. Append employer data and phone numbers to either your entire file or best prospects.
Third, segment your calling list accordingly. Assign your best callers to high-value match-eligible prospects. Not only are those candidates' donations likely to get matched, but they are likely to have higher average donation amounts. If they don't respond the first time, this group might even be worth a second call!
Increasing matching gift eligibility awareness is only going to help your campaign. Give your callers the information they need to have the biggest impact.
Of course, call volume is always going to be crucial for successful phonathons. But if your organization can be even 10% more deliberate about who you're calling, it can have a great impact on your call conversion rate.

9. Include matching gifts in call scripts.
With over 18 million individuals working for companies with matching gift programs, many of your phonathon donors are bound to be eligible for a corporate match. Your callers should always be asking donors if their employer offers a matching gift program.
Here's how (it's as easy as A-B-C!):
A: Ask every time. Few donors are thinking about (or are even aware of) matching gifts. Let them know about the potential.
B: Be persistent. Donors sometimes default to, "I don't think so," when asked if their company will match their donation. Have callers ask for an employer name and then quickly research that specific company.
C: Come prepared. If a donor submitted a matching gift in the past, come to the call prepared with the company's matching gift information. Make the process simple and easy for your donors.
Let's walk through an example of how to properly incorporate matching gifts into your script. A normal phonathon call will consist of the following steps:
The caller introduces themself and the organization that's fundraising.
The caller asks the potential donor if they are willing to donate.
The potential donor says yes/no.
If the answer is no, the caller politely thanks the prospect for their time and ends the call.
If the answer is yes, the caller begins the donation process with the new donor and helps guide them through the experience.
Once the donation is secured, have your caller make the matching gift ask. Use a template similar to this:
Many companies actually match donations made by their employees to schools and other nonprofits. Do you know if you or your spouse works for a company that offers a matching gift program? I'm happy to do a quick check to see if your company will double or possibly triple your donation.
Scripts take the guesswork and pressure out of calls. Plus, if your request process is standardized, you're in a better position to evaluate and adjust according to the results.

10. Prepare for donor questions.
Some donors will be hesitant to give, especially if they've never contributed financially to your organization before. If they have questions about your mission, your particular fundraising need, or anything else that might be holding them back, you'll want to have the answers prepped and ready.
Additionally, your donors might have questions about matching gift opportunities. Be sure your callers are able to provide basic information on company gift-matching by answering questions such as these: What is a matching gift? How do I figure out if my company will match my gift? What's the submission process?
Making sure that everyone is on the same page with regard to these questions will help ensure that your callers can give supporters the most thorough and accurate information and best drive as many donations as possible.

11. Equip callers with matching gift resources.
Do your callers have the information they need to help donors? They obviously can't be expected to memorize the program guidelines for all the thousands of companies that offer matching gifts⁠—so where can they find that information to pass along?
That's where your matching gift company database comes in! This type of tool allows users to conduct a quick search of an employer name and receive detailed guideline information in seconds. Equip callers with access to this comprehensive database to uncover the following:
Employee eligibility
Types of qualifying nonprofits
Match ratios
Match minimums and maximums
Forms and guidelines
Submission deadlines and instructions
Providing callers with this ample information will help them quickly and easily answer common questions from donors. Once a donor has expressed interest in requesting a matching gift, you want your caller to be able to help in any way they can. Don't miss out on a matching gift due to a technical or otherwise avoidable issue!

12. Follow up with match-eligible donors.
If a donor has expressed interest in matching gifts on the phone, your organization has to follow up afterward to increase the likelihood of your turning interest into action.
Immediately after the conversation, send an email with matching gift request instructions for the individual's employer. You'll also want to include matching gift reminders across various donor communications, including:
Pledge acknowledgments
Thank you's
End-of-year reminders
Telling donors their gift is eligible for a match is only one component of boosting matching gifts. It's far more valuable if you pair that information with actionable next steps.
We also recommend embedding matching gift information into your website. Give your alumni and supporters a trusted place to find their matching gift info and guided the next steps on an easy-to-find webpage, so they can take action after speaking with your ambassadors. This helps interested supporters discover gift matching and double their own donations!

13. Track and incentivize successful conversations.
Are your callers held accountable and rewarded for their overall fundraising and matching gift performance? One of the best ways to ensure that callers know how important matching gifts are to your phonathon is by implementing tracking with incentives.
Giving your callers something to work towards will only help your fundraising efforts. Then, once they reach and surpass their goal, provide them with a small token of appreciation⁠: such as a t-shirt, hat, mug, or even public recognition!
Tracking and incentivizing fundraising results also gives you a positive metric for tracking caller proficiency and efficiency. This enables you to define where your phonathon is doing well and where it has room for improvement. Once you've isolated those areas, you are in a great position to adjust your efforts as needed.

14. Keep an eye on trends in employer information.
As you start to collect employer information from your alumni and supporters, you may notice trends in company data. Be sure to ask questions like these:
Do a lot of your donors work for the same companies?
In similar industries?
In specific locations?
Do those common companies your donors work for have strong matching gift programs?
Is there a concentrated area of match-eligible donors you could target for your next campaign?
These are all characteristics you can determine with greater accuracy the more donors you collect employer data from. While these are nice-to-know facts for general fundraising initiatives, they can also have a more significant impact on your greater matching gifts strategy.
Therefore, make sure you're considering matching gifts when analyzing those trends for future initiatives. You never know when that information could come in handy for future events, digital outreach, or even a future phonathon!

15. Integrate your fundraising and matching gift tools.
Phonathons and other digital engagement events can be huge operations, and a lot can get lost in the shuffle if you don't have the right tools. Luckily, providing a scalable system for your fundraising ambassadors and callers is an easy and effective way to organize your donor data. With matching gifts added to the mix, you'll want an automated system to take care of all the nitty-gritty details for you.
We recommend using a phonathon system to manage all your digital engagement needs⁠—particularly one that integrates with powerful gift matching tools! Donor Connect by Wilson-Bennett Technology and 360MatchPro by Double the Donation offer an integrated solution that allows callers to retrieve and communicate valuable matching gift information when speaking to donors in real-time.
It takes virtually no effort from your team to get set up with the integration, and you'll be able to start using it right away in your next digital engagement event. Automate the best practices listed above by incorporating the autocomplete search tool within Donor Connect scripts, automated email outreach, and regularly updated donor data.

Bonus! Fundraising advice from phonathon experts.
Hear from the phonathon fundraising experts at Wilson-Bennett Technology: a phonathon management services and software company serving nonprofits since 1998.
Todd Smith
Founder and CEO – Wilson-Bennett
Ensure training is ongoing throughout the campaign and each caller receives assistance, along with reminders, before calling begins each session.
We always encourage callers to excel while teaching methods to overcome negative comments.
During training, be sure to explain campaign policies and procedures, ensuring callers make the highest quality call on behalf of your institution.
Rob Schlitts
President – Wilson-Bennett
"Play chess with your phonathon."
Matching the right prospects up with the right caller makes for a great connection, conversation, and ultimately a gift. Your alumni and student callers will both enjoy the ability to connect with prospects that share similar traits and experiences.
A well-trained student caller will always be the engine of a successful phonathon.
---
Many organizations take advantage of the fundraising opportunities phonathons provide. However, most don't think about the potential of incorporating matching gift promotions into those invaluable donor conversations.
By following these tried-and-true phonathon fundraising tips, you can set up your team⁠—and your mission⁠⁠—for long-term success. Looks like it's time to get calling!
For more information, be sure to check out our other educational fundraising resources below: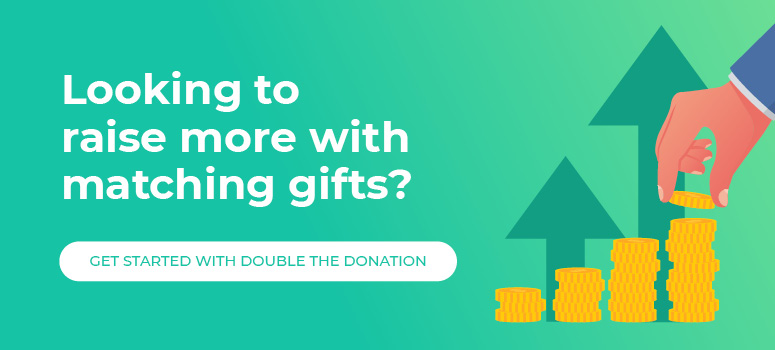 https://doublethedonation.com/wp-content/uploads/2022/06/DTD_Phonathons_Feature-1.png
275
725
Adam Weinger
https://doublethedonation.com/wp-content/uploads/2022/03/logo-dtd.svg
Adam Weinger
2021-10-25 18:19:53
2022-06-20 07:55:58
Phonathons: The Fundraiser's Ultimate Guide & 15+ Top Tips