Choosing a Donor Database: 13 Tips to Avoid Mistakes
With so many platforms and vendors out there, choosing the right donor database for your nonprofit is no easy feat.
But when you consider how crucial your donor database is to the success of your operations, it couldn't be more important to choose the right one.
With the right platform on your side, you'll be able to get a comprehensive picture of your donors and more efficiently manage your efforts to see better fundraising results.
Unfortunately, many nonprofits go into the buying process unprepared. Without having done their research and knowing the right questions to ask, these organizations fall into many mistakes that can hurt their operations and limit their success.
Luckily, these mistakes are completely avoidable if you know what to expect when shopping for a new nonprofit CRM.
To prevent you from falling into the same traps, we'll take you through the top 13 tips to keep you from making mistakes when choosing a donor database:
By the time we're done, you'll be prepared to pick the perfect donor database. Let's get started!
Need a refresher on buying software? Check out Salsa's infographic before diving in.


Donor Database Tip #1: Don't shop for the wrong type of software.
Fortunately for nonprofits everywhere, there are tons of different fundraising software solutions to help organizations optimize the fundraising process.
Unfortunately, this multiplicity only complicates the buying process.
When shopping for a new nonprofit donor database, you'll first want to make sure that a donor database is actually the type of software you need.
To refresh, nonprofits use donor databases to house all of the important information they receive about their donors throughout the span of the donor's' relationship with the organization.
You can track virtually anything, like:
Biographical information and demographics
Contact information
Households and relationships
Donation and volunteer history
Interests and affinities
And much more!
Donor databases allow organizations to track all donor data centrally, so all data sources can communicate with each other to give nonprofits a 360° view of their donors.
All different types of nonprofits rely on databases to keep track of constituent information and daily operations. There are general, all-purpose nonprofit databases as well as specialized, industry-specific solutions such as museum management tools or camp databases. If your nonprofit has highly specific needs, make sure you search for software that supports those goals!
For all nonprofits, creating a centralized system for storing all of the information you collect from donors and other supporters is one of the first steps to developing more targeted fundraising and engagement strategies. Learn more about what goes into effective data management by reading this post from DNL OmniMedia.
The takeaway: There are many different types of fundraising software out there. If you're shopping for a donor database, make sure it's the best solution to fit your needs.

Donor Database Tip #2: Put thought into your reasons for buying.
If you're considering a new donor database, it's probably because your organization needs a change.
Maybe you're limited by the incomplete insights you've been receiving from housing your donor data in multiple platforms.
Maybe you're tired of wasting so many man hours cleaning up your data.
Maybe you're already using a platform that's too expensive, and you just want something a little more affordable.
Point is, there are many reasons why nonprofits shop for a new (or their first!) donor database.
While we couldn't possibly list out all of the reasons organizations shop for new software, here are a few of the most common:
To gain a more complete understanding of their donors.
To achieve more efficient or seamless operations.
To free up staff time.
To better organize their data.
To better oversee staff and volunteer efforts.
To switch to a platform that's easier to use.
To upgrade to a platform that's larger or more scalable.
To switch to a platform with a more comprehensive feature set.
To find a platform with better support or training.
To change to a platform that's more cost-effective.
While all platforms will provide similar benefits, some platforms will be better at providing certain functionalities than others.
That's why it's important to determine exactly why you're shopping for a new nonprofit CRM. That way, you can make sure that the platform you end up buying actually aligns with your reasons for shopping.
The takeaway: Going into the buying process aware of why you're shopping will ensure that your organization finds a solution that can address the areas you'd most like to improve.

Donor Database Tip #3: Select a platform that supports all of the users you need.
To accommodate nonprofits of all sizes, donor database vendors usually price their software partially based off of how many people can use it.
Unfortunately, many organizations go into the buying process unaware of this fact and end up buying a solution that can't support all of the users they need.
That means at least one important staff member won't have access to all of the tools and information required to help them do their job as well as possible, limiting the greater success of the organization.
Luckily, this mistake is super easy to avoid. All you need to do is determine how many staff members will be using the software before you buy. This way, you can select an interface that gives you the right number of users for your organization, like DonorPerfect: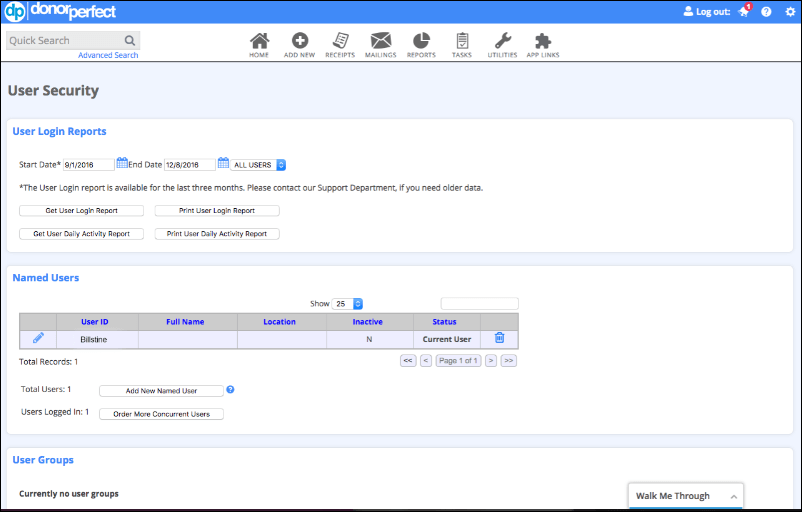 While some organizations with small staffs only need access for one or two users, large organizations might need a platform that supports dozens. It all depends on the needs and makeup of your organization.
The takeaway: Don't buy a solution only to find out that all of the necessary staff members don't have access to it. Think about how many users you'll need from the beginning to find a donor database that's the perfect size for your organization.

Donor Database Tip #4: Find a platform that has room to accommodate all of your constituents.
The price of donor databases is also usually influenced by the number of constituent profiles that it allows.
And it makes sense! Nonprofit donor databases are donor-centric, so it's only natural that their price would be determined by the number of donors they can accommodate.
As such, you'll want to check (and double check!) that the nonprofit CRM you're considering can hold the entirety of your donor base.
If not, you won't be able to track all of your donors' important information, leaving you with little to no insight into a portion of your base.
Check out DonorPerfect's donor database software to see what a comprehensive product looks like for your constituent profiles. Below you'll see a list of donor profiles: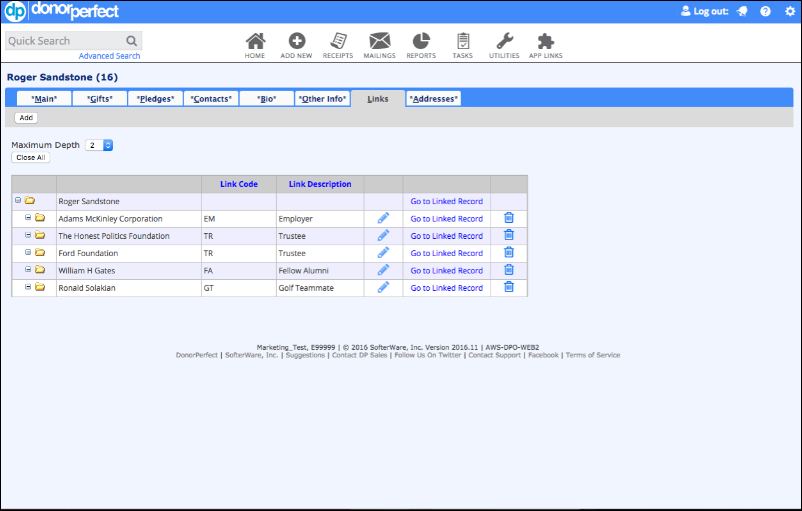 Considering that one of the main benefits of using a donor database is to give your organization the most complete picture of your donors available, buying a platform that's too small would totally defeat the purpose of buying new software.
The takeaway: Find a platform that's the right size for you so that all of your donors will be housed comfortably in your new donor database.

Donor Database Tip #5: Give your organization room to grow.
On that note, when determining how many supporter profiles your new nonprofit CRM should hold, you'll also want to look towards the future.
Chances are, your nonprofit is growing and changing quickly. And with the help of your new donor database, your growth should skyrocket!
Your donor database shouldn't just support the number of donor profiles you have right now; it should also give you room to grow.
Buying a scalable solution ensures that you can continue accommodating all of the new donor information you receive as your base expands. If you buy a solution that's too limited, you'll only be buying a new donor database sooner.
However, be wary. While you want to dream big, you also don't want to buy a solution that's too large, or else you'll be wasting money on something you don't need.
The takeaway: When determining how many donor profiles your new database should support, consider the foreseeable future. You'll want to strike the perfect balance by finding a solution that can grow with you but that still fits your current needs.

Donor Database Tip #6: Choose a platform that supports all of the necessary functionalities.
While most donor databases will have a similar set of basic functionalities, some are more comprehensive or specialized than others.
Because features vary from platform to platform, you'll need to determine whether or not the provider you're considering has all of the functionalities you need to execute your efforts.
For example, if you're buying software with the main goal of making your operations more efficient, you'll want to find a donor database with as many automated features as possible, such as generating donation receipts after supporters submit their donations online.
In addition to automation features, to get the most out of your CRM, you should look for the following capabilities:
Detailed constituent profiles. Not only is it important for you to track a donor's basic information and past giving history. To get a complete picture of each donor, you should be able to add custom fields to your profiles to track a donor's interests and past interactions with your nonprofit.
Gift management and custom webforms. When you have a CRM that can process donations and build forms, you don't have to worry about transferring your donor data; it will already be integrated with your donor database.
Email Communications. Collecting donor data can be used to improve your communications and provide donors with the most relevant information. With that said, having the ability to send out mass and automated emails through your CRM can make the process seamless. For instance, your segmented list of donors can easily be linked to your automated communications so that you can send targeted emails.
Reporting and analytics. Another piece of your CRM should be focused on analyzing the data from your donor profiles and donation forms to provide you with reports on giving habits, as well as preferred donation methods. This information can help you improve your online fundraising efforts. Check out Salsa's reports: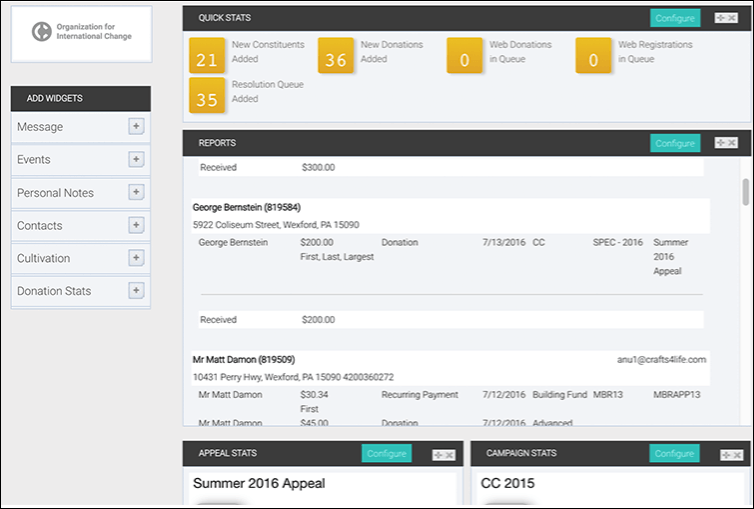 If the base platform you're considering doesn't have all of the functionalities you need, these gaps can often be addressed by compounding your donor database with expansions.
Expansions simply refer to other software solutions that have been developed by the same vendor and, as such, are easily integrated with your donor database.
For example, because Salsa specializes in CRMs, they provide excellent donor management software that can be integrated with your CRM to provide a more comprehensive set of features.
Whether you're supplementing your donor database with expansions or just need the base software, make sure that your platform of choice will support all of the features you need.
If not, it's time to look at a different solution!
The takeaway: Buy a donor database that has all of the required features so you can most effectively manage your fundraising efforts.

Donor Database Tip #7: Make sure the platform can be integrated with the necessary third party platform.
If the platform you're looking at doesn't have all of the features you need, you might still be able to supply those features with integrations.
Integrations are similar to expansions in that they can be added onto your donor database to provide additional functionality.
The only difference is that these platforms that have been developed by a third-party vendor, so incorporating them into your donor database might prove a little more difficult.
Some common donor database integrations include:
Matching gift services
Accounting
Email marketing
Social media management
Wealth screening and prospect research services
Make sure that your donor database can support any integrations you need to fill in the features you're missing.
If you're already using a third-party platform to supply these missing functionalities, this will be as simple as asking your vendor if the software can integrate with your current platform.
Check out Salsa Labs' donor database integrations with both Double the Donation's matching gift tools below: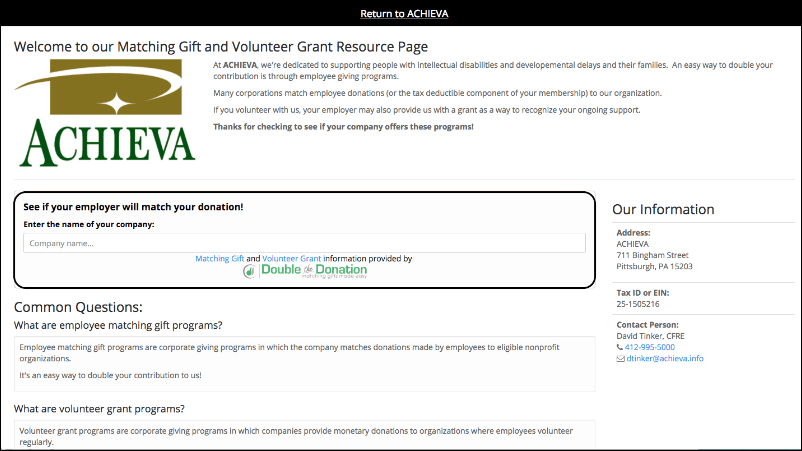 Salsa integrates with DonorSearch's prospect research tools, too: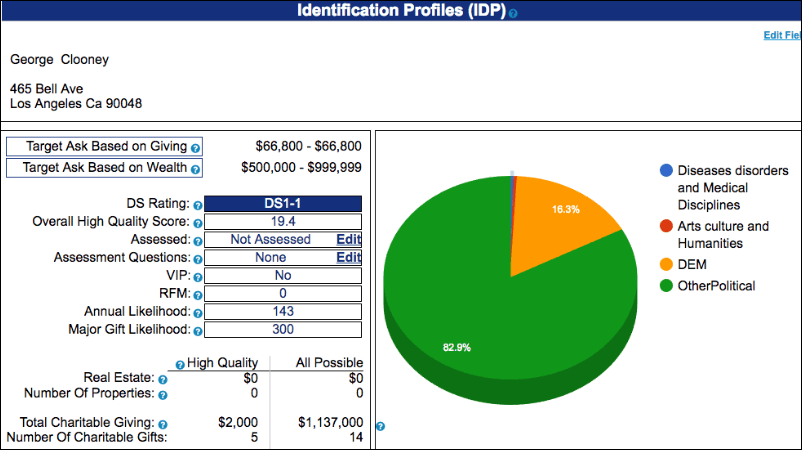 It will be much more difficult (and potentially detrimental to your operations) if it turns out that the third-party platform you're using isn't integratable with your new donor database.
Switching to a new platform will require more data transfer and time, since you'll have to learn a new interface. In other words, it will only detract from your fundraising efforts.
The takeaway: Your new donor database should support all of the integrations you need to provide all of the features that will set you up for success!

Donor Database Tip #8: Explicitly ask about price.
Considering that price is one of the biggest anxieties that nonprofits have when shopping for new software, you'd be surprised by how many organizations don't ask about price.
It's an all-too-easy mistake to make. The organization goes onto the vendor's website, sees the list price, and automatically assumes that's what they'll be paying.
While we would all like to hope that any donor database vendor would be transparent and spell out the costs, unfortunately that won't always be the case.
That's why it could not be more important for your organization to ask about the costs outright.
Donor databases are highly customizable tools. Thus, even the same platform can vary drastically in price.
The list price (that displayed on the pricing page of the vendor's website) usually only accounts for the number of users, the number of donor profiles, and the basic feature set.
However, there are many other factors that can influence the price of your nonprofit CRM, such as:
Expansions and integrations.
Costs associated with training and IT support.
Payment processing fees.
Data transfer and clean-up.
Updates to your software as technology advances.
Make sure your donor database actually fits into your budget by asking about costs at the beginning of the buying process.
The takeaway: The price of donor databases can be impacted by many different factors. Ask your vendor explicitly about costs to make sure your purchase won't strain your organization fiscally.

Donor Database Tip #9: Make sure your platform doesn't require difficult data migration.
In order to get up and running with your new donor database, you'll need to transfer over all of the donor data you already have.
Unfortunately, data migration will always come with difficulties. It's a long process that requires:
Cleaning up your existing data (as to only transfer what's relevant).
Exporting it from the old platform.
Importing it into the new platform.
Going back over your data to ensure that it was correctly transferred.
Just how difficult this process is will depend on how compatible your current systems are with your new donor database and how much support the vendor provides.
With some platforms, data transfer will be much more involved. While this might not seem like a big deal, choosing software that requires an especially difficult data migration process is a big mistake.
Not only will this be a headache for your organization, but it can also put a dent in your operations.
Think about it: the longer it takes you to transfer your data over, the longer it will be before you can start using your new software to improve your fundraising.
But that doesn't necessarily mean you should jump right in and do it yourself. Data migration is a complex process, and each platform is different. The best vendors will assess your data and provide you with assistance, if necessary.
Remember that your constituent data is the most valuable data your organization has — importing it right the first time will ensure your organization can raise more and be more efficient in the long run.
The takeaway: Data migration is a huge part of getting your donor database set up. Find a vendor who will provide you with the support you need so that it won't be hassle.

Donor Database Tip #10: Your platform must be secure.
Your donor database will be home to all of your donor data, including your donor's sensitive information.
That being the case, you'll want to be absolutely sure that the donor database you're considering has the proper security measures in place to protect this information.
One of the main features your donor database should include is advanced control over permissions. This feature will allow you to give only certain staff members access to information, so that only the people who absolutely need access to confidential information will have it.
Additionally, if your donor database comes with online fundraising tools (or you're otherwise accepting donors' payment information), you should make sure that the database is PCI-compliant. Being PCI-compliant simply means that the platform's payment processing tools are in keeping with the security standards set out by the Payment Card Industry.
Failing to ask about security could mean that you're putting your supporters' confidential information in jeopardy.
If that information were to fall into the wrong hands, not only would you be damaging the trust you've so carefully built up with your donors, but you might also face legal repercussions.
Secure your peace of mind by asking your vendor about security!
The takeaway: Handling sensitive information requires the right precautions. Asking your vendor about security is the only way to ensure that your donor database can properly protect your donors.

Donor Database Tip #11: The platform should come with enough training.
Let's be honest—many of us aren't as savvy with technology as we'd like to think.
While we hope that your donor database will be relatively intuitive for your staff to use, learning how to use any new platform will naturally require some training.
Without the proper training, you and your staff might be able to use your donor database, but you definitely won't be able to utilize it as effectively as possible.
Get the most out of your new software by making sure it comes with the level of training you need.
Most vendors offer a couple of different options for training to accommodate for a range of budgets.
The most basic option is usually a free, pre-recorded training video you can watch on the computer. While this will give your staff a general idea of the platform's interface and functionality, training won't be adjusted to fit the unique needs of your organization.
If you're willing to splurge a little bit, you can pay to receive custom training. With this option, someone will walk your staff through the platform with a specific focus on the modules you'll be using most. Training can either be done online or on-site, and staff will have the opportunity to ask any questions that might come up.
Whether or not customized training is worth it to you will depend on the needs and resources of your organization. But if you need it, make sure it's a viable option.
The takeaway: The proper level of training will allow your staff to make the most out of the new donor database to see the best fundraising results.

Donor Database Tip #12: Make sure your organization will receive sufficient support.
Your working relationship with your vendor won't just end the minute they've set up your donor database and taught you how to use it.
You'll be using your platform for years to come (at least, we hope so!). Chances are, at some point during these many years, you'll run into some technical difficulties.
If your vendor provides excellent support, this will be no big deal. They'll quickly field your problem and get you back on track before you've strayed too far.
Now imagine the other scenario: your donor database suddenly crashes, and you can't get a consultant on the phone. You try to contact them by email, but still no luck. Days go by before—finally—you hear something back.
After days of waiting, it looks like your problem is going to be resolved. But once you have that consultant on the phone, they're inattentive and unhelpful, and it still takes them a week to fix the issue.
Meanwhile, your organization has been missing out on a countless number of fundraising opportunities. Who knows how many dollars you've lost or how many new donors you've missed out on.
Point being, it could not be more important to make sure that your platform comes with sufficient support. Your vendor should be readily available to help you with any issues that come up and should be able to address these issues with little turnaround time.
When it comes to your fundraising, it could make all the difference!
The takeaway: Buying a donor database with insufficient support can be detrimental to your fundraising. Make sure your software is always running at top speed by choosing a donor database with support that's attentive, efficient, and available.

Donor Database Tip #13: Consult a second opinion.
Say you're making a big purchase like a car or a mattress.
You're shelling out your hard-earned dollars, so you wouldn't just go into the purchase blind. We're willing to bet that you'd probably go online or flip through Consumer Reports first to see if you could find any reviews that would help you make your decision. You might even ask one of your friends for their advice on which product they like best.
So, why wouldn't you do the same when shopping for your donor database?
Second opinions not only attest firsthand to the value of the product you're considering, but they can also give you that extra boost of confidence you might need before going through with the purchase.
In other words, consulting a second opinion will help you decide if the platform you're considering is really the right one for you.
For the best advice, turn to current users.
While you can likely find reviews online, you should also ask your vendor if they can refer you to any of their other clients whose organizations are similar to your own.
The advice of current users will be invaluable. They use the platform every day, likely to assist with efforts similar to your own.
Nobody better understands the day-to-day difficulties that nonprofits face, so they'll be able to give you a well-rounded view of the platform's strengths and weaknesses.
It never hurts to ask, so don't be shy about requesting references from your vendor. If they have happy customers and a truly great product, they'll want to put you in touch!
The takeaway: A second opinion will give you the assurance and insight you need to decide if the new donor database you've been considering is the perfect fit for your organization.
---
There are a lot of considerations that go into choosing the right donor database for your organization. With so much to think about from fundraising to constituent profiles, it's no wonder that nonprofits can run into so many obstacles.
However, if you go into the buying process prepared, there's no reason why you shouldn't be able to avoid these mistakes.
Now, start the search for your perfect donor database!
For more information on donor databases, take a look at these additional resources:
Nonprofit CRM Software. Check out our guide on CRM software for all the tips and helpful pointers your organization needs.
Donor Database Software: Top 10 Nonprofit Platforms. Take a look at out top 10 donor database platforms for nonprofits to get your search started.
Salsa's 7 Tips to Convince Your Board to Invest in Fundraising Software. If you need help convincing your board to invest in fundraising software, check out Salsa's tips to win them over.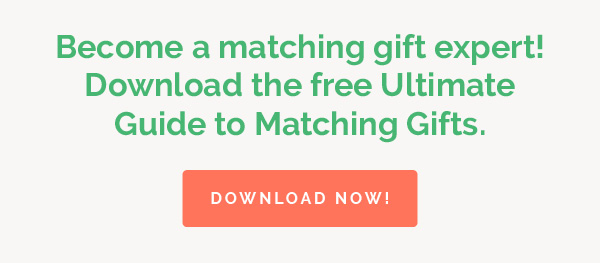 https://doublethedonation.com/wp-content/uploads/2022/05/choosing-a-donor-database-tips.jpg
321
845
Adam Weinger
https://doublethedonation.com/wp-content/uploads/2022/03/logo-dtd.svg
Adam Weinger
2016-07-29 16:00:39
2022-06-20 07:54:35
Choosing a Donor Database: 13 Tips to Avoid Mistakes