Double the Donation and Classy Launch Matching Gift Functionality on Embedded Donation Forms
Double the Donation and Classy have come together to debut a recent development in their existing integration. This pair has now launched 360MatchPro matching gift functionality on Classy's embedded donation forms.
Classy's preferred matching gift solution, 360MatchPro, already works with Classy's standard donation forms to identify match-eligible donors and drive their matching gift requests to completion. As Classy continues to develop more ways for nonprofits to create meaningful connections with supporters through a full suite of giving experiences, they recognize the importance of offering a robust matching gift solution on all of their available donation pages to drive giving opportunities forward.
"Our customers consistently share their success with 360MatchPro, making it an important offering in the Classy fundraising suite," said Thom Morris, Director of Product Marketing at Classy. "Classy's embedded donation forms convert at 2x the industry average and we're seeing our nonprofit customers grow their revenue as a result. With the addition of 360MatchPro, we are excited to fuel matching gift funds through this integration to double the impact on the increase in donations from our embedded forms."
This new product integration will offer similar functionality to the existing standard donation form counterpart, providing nonprofits with a seamless integration experience. This means that as donors navigate their donation flow, they will be able to drive matching gift donations regardless of which form they are using.
"Our organization, Double the Donation, already makes it simple for nonprofits to capitalize on matching gift funds and fuel fundraising success," said Adam Weinger, President of Double the Donation. "With our new integration release, we are excited to extend this functionality to organizations using the embedded donation form solution."
This integration can be seamlessly activated within the Classy platform, making it simple for nonprofit fundraisings to capitalize on the billions of dollars offered through matching gift programs each year.

Activate in Seconds and Start Raising More from Matching Gifts!
360MatchPro integrates seamlessly with Classy to provide users with a simple, no-code setup process. Once a fundraiser gets signed on with both Classy donation forms and Double the Donation's 360MatchPro, they can connect the two services. 
By navigating to the Double the Donation app in the "Apps and Services" section of their Classy account, users can add the matching gift solution to their desired donation forms.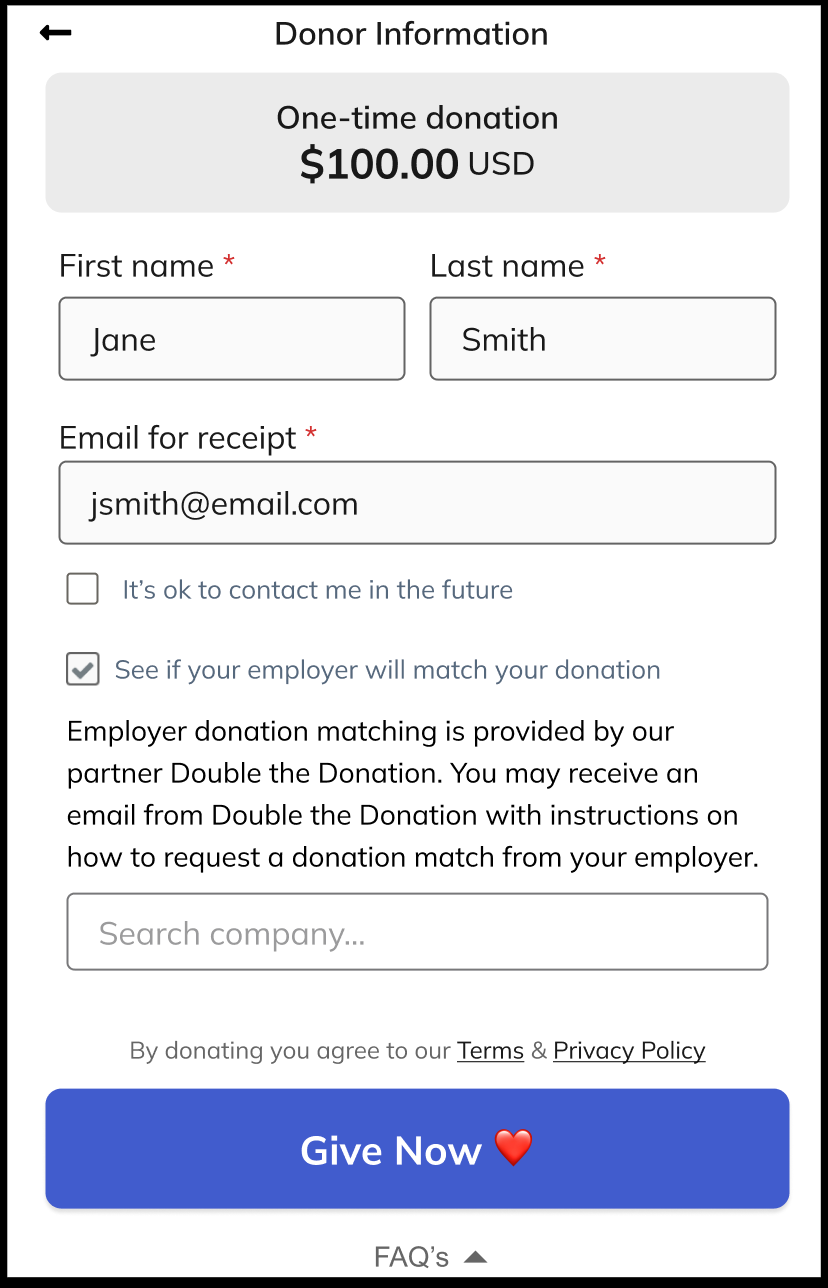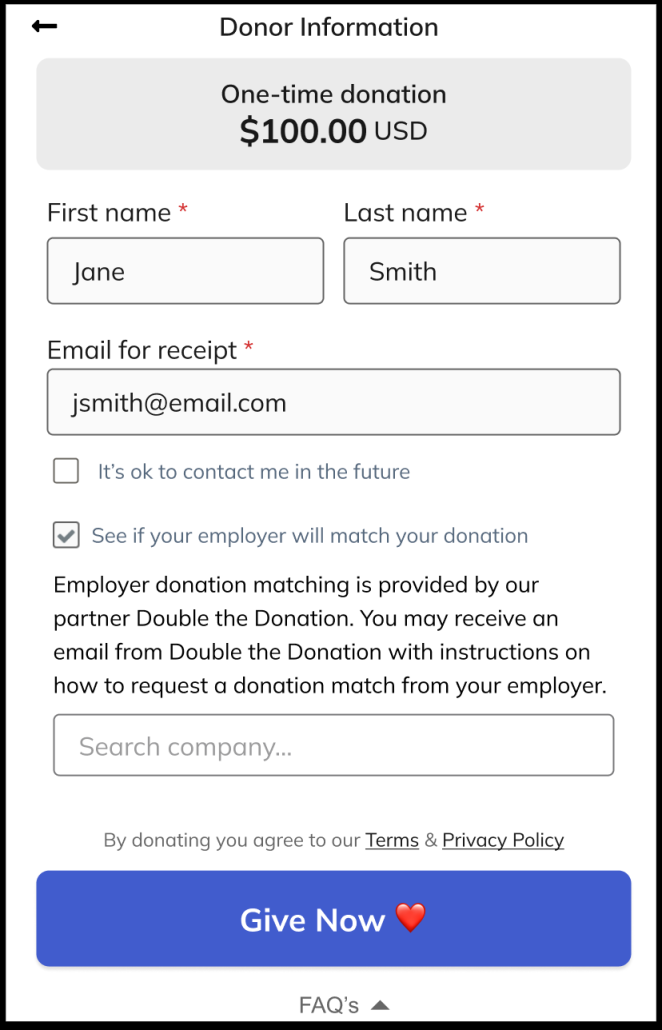 Once the integration is activated, each solution works together to drive revenue opportunities for your organization. By finding matching gift opportunities and driving them to completion, 360MatchPro and Classy make it simple to optimize the giving process.

Drive More Matching Gifts to Completion with 360MatchPro!
360MatchPro and Classy offer valuable matching gift features to help your organization double donations for your mission.
With the power of this solution, your organization can:
Identify more matching gift revenue opportunities: 360MatchPro enables you to automatically collect matching gift eligibility from donors using email domains, within donation forms, on confirmation screens, or by email. The more matching gift opportunities 360MatchPro discovers and shares with donors, the more matching gift requests your donors will successfully submit.
Drive more matches to completion, from form submission to corporate payment: Direct donors immediately to their matching gift forms after the donation process is complete. Then, provide the right information to the right donors at the right time with custom emails based on match eligibility. Target follow-ups drive more completed submissions than ever before, bringing exponentially more matching gift checks from companies through your door.
Reallocate your time from routine follow-up to your top opportunities: Your time is valuable, so why spend it chasing small dollar-value matching gifts? Let 360MatchPro automate your matching gift outreach while flagging your highest-value opportunities, allowing your team to personalize follow-ups to the most valuable match-eligible donations. Rest easy knowing that 360MatchPro can handle the rest.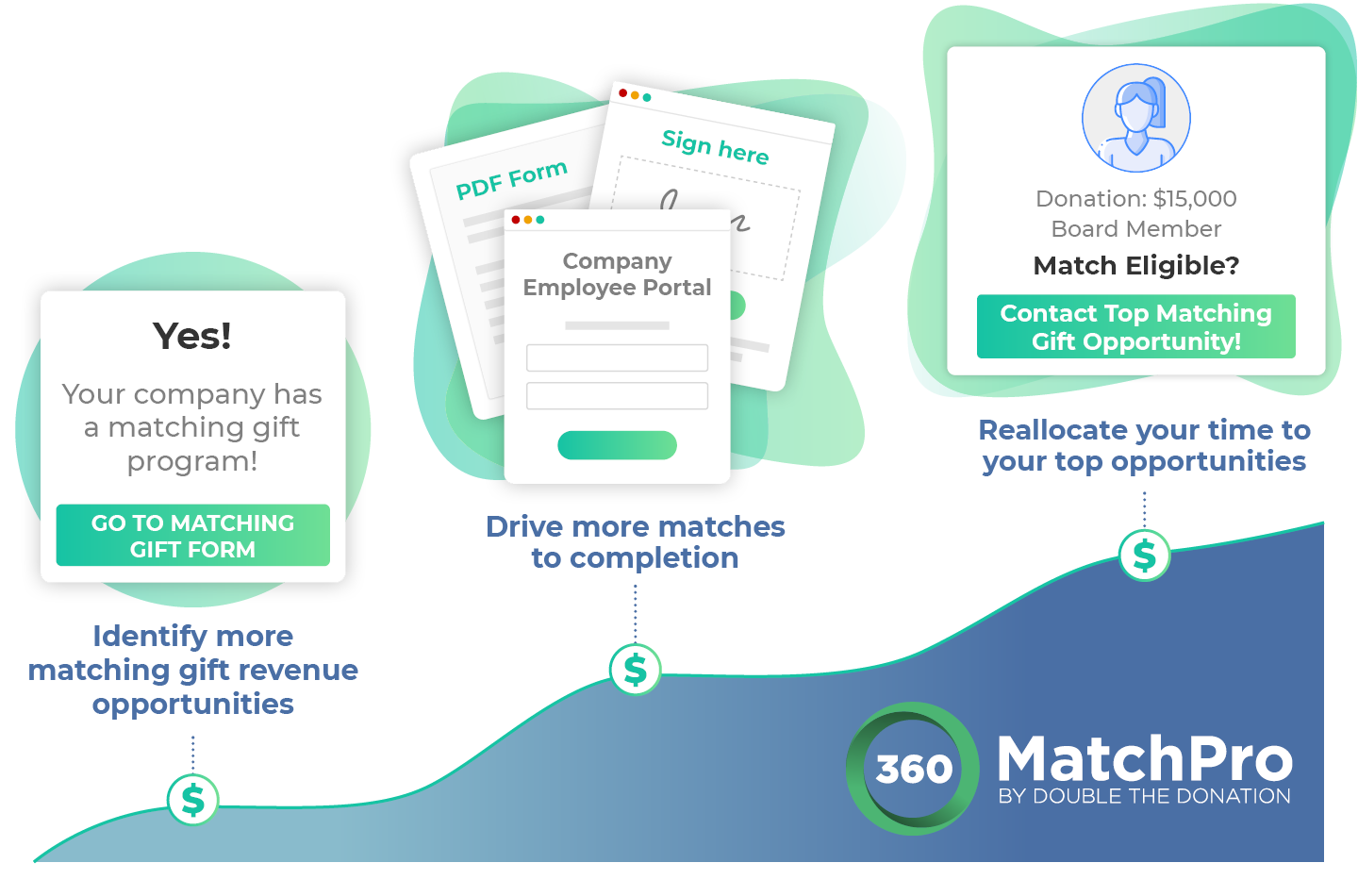 Ready to get started? Schedule a personalized demo.
---
About Classy: Classy is a social enterprise that creates online fundraising software for nonprofits, modernizing the giving experience to accelerate social impact around the world. Based in San Diego, CA, Classy is trusted by organizations of all sizes, from the fastest-growing nonprofits like Team Rubicon and The Trevor Project, to some of the world's largest social organizations, such as The Salvation Army, Robin Hood Foundation, and Shriners Hospitals for Children. Classy also hosts the Collaborative conference, a two-day immersive experience that unites the most inventive minds in the social sector to uncover the ideas and strategies necessary to propel our industry forward and unlock the world's generosity. For more information, visit www.classy.org or follow Classy on LinkedIn.
About Double the Donation: Automate your matching gift fundraising with the industry-leading solution from Double the Donation. The 360MatchPro platform provides nonprofits with tools to identify match-eligible donors, drive matches to completion, and gain actionable insights. 360MatchPro integrates directly into donation forms, CRMs, social fundraising software, and other nonprofit technology solutions to capture employment information and follow up appropriately with donors about matching gifts. To learn more visit https://360matchpro.com/demo-request/
https://doublethedonation.com/wp-content/uploads/2023/03/Double-the-Donation-Classy-Modal-feature-Image.png
580
1550
Adam Weinger
https://doublethedonation.com/wp-content/uploads/2022/03/logo-dtd.svg
Adam Weinger
2023-03-10 15:14:27
2023-09-14 21:23:53
Double the Donation and Classy Launch Matching Gift Functionality on Embedded Donation Forms