Double the Donation and CharityStack Integrate 360MatchPro Into Donation Experience
Double the Donation and CharityStack are proud to announce a new partnership together, providing advanced matching gift functionality to nonprofits looking to raise more without having to ask for more out of their donors' wallets.
The partnership comes in the form of an integration between 360MatchPro, Double the Donation's most advanced matching gift software, and CharityStack's intuitive donation pages.
"Partnering with Double the Donation was an easy choice," said Mubarrat Choudhury, Founder at CharityStack. "With our dynamic form designs and the 360MatchPro powered matching gift search, organizations can expect to see a solid rise in matching gift engagement from their donorbase."
Donors on CharityStack pages can now interact with 360MatchPro's auto-complete search tool to find their company's matching gift programs and discover their own match potential. This closes the awareness gap for the 78% of donors who are unaware of their eligibility for a matching gift from their employers.
"It's a simple fact that matching gift automation make a huge difference for fundraisers as they strive to meet their goals," said Adam Weinger, President at Double the Donation. "And a direct integration between 360MatchPro and CharityStack means donors interact with matching gifts at a key point in their giving process. It's a simple addition that boost revenue for organizations without any extra effort from their busy teams."
Read more about the integration below!

Activate in Seconds and Start Raising More from Matching Gifts!
Getting started with the CharityStack and 360MatchPro integration is quick and easy to configure. From the CharityStack backend, nonprofit clients can add their 360MatchPro credentials to activate their integration. From here, it's just a matter of toggling on matching for the desired forms. From there, donors can start discovering their match eligibility in no time!
On CharityStack donation pages, donors can search their company name and 360MatchPro will present smart results from its database of over 25,000 corporations. 360MatchPro can then follow up with donors via email after their donation is complete to continue the matching gift submission process.
Donors can then double, triple, and sometimes quadruple their gift impact with a matching gift from their employer sent directly to the nonprofit.

Drive More Matching Gifts to Completion with 360MatchPro!
Joint efforts between CharityStack and Double the Donation mean nonprofits can easily raise more from matching gifts–check out some more details below!
Identify more matching gift revenue opportunities: 360MatchPro enables you to automatically collect matching gift eligibility from donors using email domains, within donation forms, on confirmation screens, or by email. The more matching gift opportunities 360MatchPro discovers and shares with donors, the more matching gift requests your donors will successfully submit.

Drive more matches to completion, from form submission to corporate payment: Direct donors immediately to their matching gift forms after the donation process is complete. Then, provide the right information to the right donors at the right time with custom emails based on match eligibility. Target follow-ups drive more completed submissions than ever before, bringing exponentially more matching gift checks from companies through your door.

Reallocate your time from routine follow-up to your top opportunities: Your time is valuable, so why spend it chasing small dollar-value matching gifts? Let 360MatchPro automate your matching gift outreach while flagging your highest-value opportunities, allowing your team to personalize follow-ups to the most valuable match-eligible donations. Rest easy knowing that 360MatchPro can handle the rest.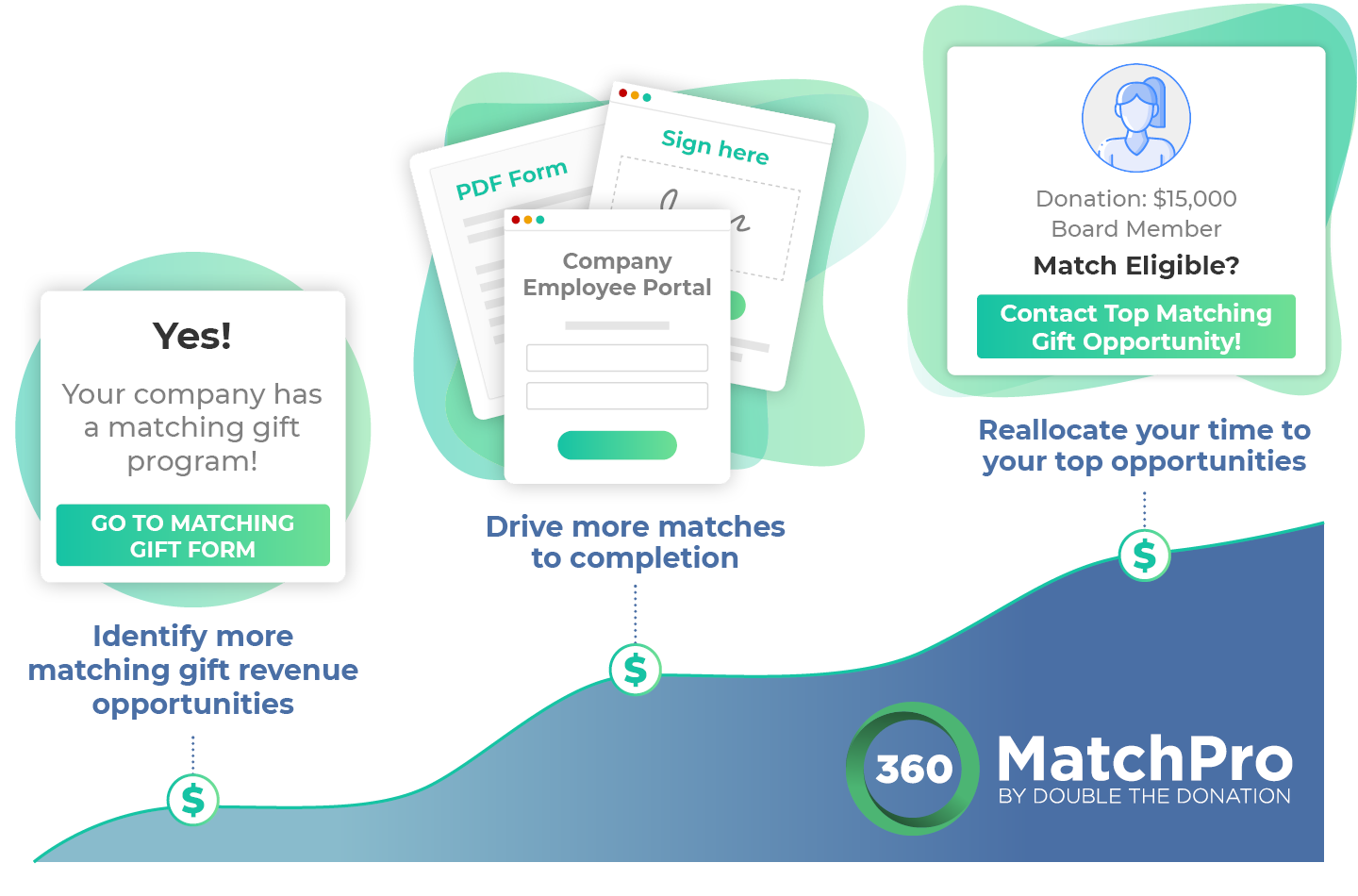 Ready to start your matching gifts journey? Request a demo today and make sure to let us know you use CharityStack!
---
About CharityStack: CharityStack is a single platform to create your nonprofit, fundraise your first dollar, set up banking, & start making an impact. For more, visit CharityStack.org.

About Double the Donation: Automate your matching gift fundraising with the industry-leading solution from Double the Donation. The 360MatchPro platform provides nonprofits with tools to identify match-eligible donors, drive matches to completion, and gain actionable insights. 360MatchPro integrates directly into donation forms, CRMs, social fundraising software, and other nonprofit technology solutions to capture employment information and follow up appropriately with donors about matching gifts.
https://doublethedonation.com/wp-content/uploads/2023/03/DTD-CharityStack-annoucement-image.png
580
1550
Adam Weinger
https://doublethedonation.com/wp-content/uploads/2022/03/logo-dtd.svg
Adam Weinger
2023-03-15 11:46:47
2023-03-16 19:27:58
Double the Donation and CharityStack Integrate 360MatchPro Into Donation Experience