Givinga and Double the Donation Partner to Enable Matching Gift Auto-Submission
Double the Donation is proud to partner with Givinga to help employees of companies with matching gift programs more effectively submit their matching gift requests. 
"We believe there are innovative and impactful ways to expand corporate matching, and our partnership with Double the Donation gives us an opportunity to showcase our Easy Match capabilities," said Joe Phoenix, Cofounder and CEO of Givinga. "Combining Double the Donation's charity matching services with our corporate-giving-made-easy capabilities will allow our partners to reimagine corporate philanthropy by aligning with employees and customers to maximize impact."
With matching gift auto-submission, donors who give to nonprofits using 360MatchPro can not only discover their match eligibility in real time as they give, but can also immediately submit their matching gift request – no redirect required. 
"We're excited to offer our nonprofit clients what they've been requesting since the birth of matching gifts: a way for donors to submit their matching gift requests with no hassle," said Adam Weinger, President at Double the Donation. "Double the Donation and Givinga are aligned in our mission to close the matching gift loop to benefit nonprofits, donors, and companies alike."
Givinga and Double the Donation look forward to expanding the possibilities for donors to give flexibly with the support of their employers, and for nonprofits to reap the benefits of matching gift programs.

The Matching Process Made Easy for Donors, Companies, and Nonprofits
The new integration between Givinga and 360MatchPro by Double the Donation means after giving on an integrated donation page where 360MatchPro is enabled, donors can immediately submit their matching gift request directly from the nonprofit's donation confirmation page.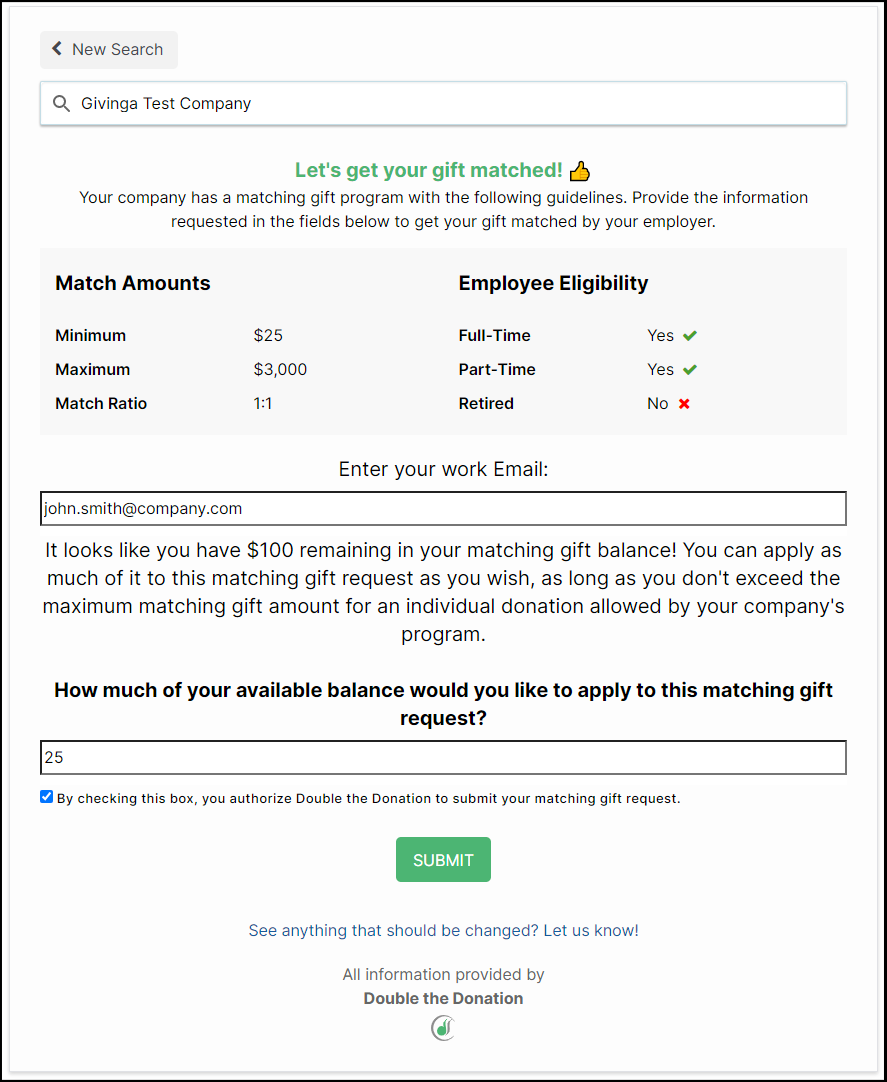 Employees of Givinga clients can then enter their company email address, then choose how much of their available matching funds they can request to be sent to the nonprofit. Once the donor hits "Submit" – that's it! The matching gift request has been submitted, without any need for a redirect or re-entry of donation information. 

Making Corporate Philanthropy Better, One Match at a Time
Givinga and Double the Donation's partnership brings donors, companies, and nonprofits closer together in making a positive difference, one match at a time. If you want to learn more about our matching gift auto-submisison initiative, read more here–and if you're just getting started with matching gifts as a nonprofit or higher education institution, request a demo from Double the Donation today!
---
About Givinga: Givinga is on a mission to redefine philanthropy. They've developed tools and technology to remove the traditional barriers to philanthropy, empowering companies to develop modern giving solutions that align with and enhance their corporate strategy. Givinga's technology, Philantech®, supports workplace giving programs, brands seeking to enhance their charitable impact, startups reimagining B2C charitable giving, foundations looking to increase donor engagement, and more.
About Double the Donation: Automate your matching gift fundraising with the industry-leading solution from Double the Donation. The 360MatchPro platform provides nonprofits with tools to identify match-eligible donors, drive matches to completion, and gain actionable insights. 360MatchPro integrates directly into donation forms, CRMs, social fundraising software, and other nonprofit technology solutions to capture employment information and follow up appropriately with donors about matching gifts.
https://doublethedonation.com/wp-content/uploads/2023/03/DTD_Givinga-announcement-feature.png
290
775
Adam Weinger
https://doublethedonation.com/wp-content/uploads/2022/03/logo-dtd.svg
Adam Weinger
2023-03-16 11:21:41
2023-03-16 19:27:51
Givinga and Double the Donation Partner to Enable Matching Gift Auto-Submission