Companies in Philadelphia That Offer Matching Gifts
Here at Double the Donation, we specialize in helping nonprofits increase their donations through corporate match programs such as matching gifts and volunteer grants. Both of these programs involve a corporation matching a contribution made by an employee to an eligible nonprofit, and these initiatives can be a great source of funding for local nonprofits in any city.
Today, we're looking at Philadelphia, PA. We're going to examine the matching gift programs of the following Philadelphia-based companies:
Comcast Corporation
Aramark
Lincoln Financial Group
AmerisourceBergen
First, we'll examine the city's financial standing overall before diving into some of its biggest corporate philanthropy providers and how your organization can best capitalize on the opportunities at hand.

Corporate Matching in Philadelphia, Pennsylvania
Philadelphia is the largest city in the state of Pennsylvania and the 6th most populated in the US. The city boasts several Fortune 500 companies with a strong history of corporate giving, as well as the Philadelphia Stock Exchange. The city of brotherly love is the economic and cultural center of the state. Home to over 1.5 million people, Philadelphia has the 9th largest GDP in the United States.
In addition to headquartering some major corporations, the city is home to many nonprofit organizations that could benefit from more information about matching gift programs.

Discovering Matching Gift Opportunities
To truly capitalize on the opportunities offered by corporate philanthropy programs in Philadelphia, nonprofits should consider adding a matching gift tool to their resources.
For example, 360MatchPro is a software that fully automates the matching gifts process. By streamlining the discovery of and outreach to match-eligible donors, the program handles much of the solicitation process for you. Any nonprofit looking to expand on its already-established matching gifts processes would benefit from this type of software.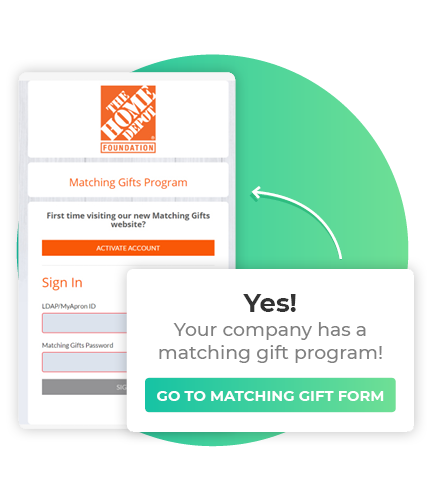 Not to mention, Double the Donation's 360MatchPro empowers organizations with the tools to embed an industry-leading matching gift database directly on their website and donation forms so donors can search for their eligibility with ease. Further, eligible donors will be provided with detailed and company-specific information on the gift confirmation screen and automated follow-up emails regarding how to begin the process.
With that in mind, explore the following list, complete with some of Philadelphia's most prominent corporate philanthropy opportunities.

List of Matching Gift Companies in Philadelphia
Check out the following Philadelphia-based companies that offer standout corporate philanthropy programs in the area.
Comcast Corporation

Headquartered in Philadelphia, Comcast Corporation is one of the largest US-based telecommunications companies today. And they provide generous employee matching gift initiatives for their staff of nearly 200,000 team members. Currently, full- and part-time individuals qualify for matching donations to most of their favorite nonprofits—including health and human services, arts and cultural organizations, civic and community groups, environmental nonprofits, and more.
Donations between $5 and $1,000 will be matched at a 1:1 rate, effectively empowering individual employees to double their donations to charitable causes.
Read more about Comcast Corporation's matching gift program.
Aramark

Aramark is a food service and hospitality company based in Philadelphia, PA. With over 245,000 employees, this Fortune 500 company aims to engage its workforce and its overall community with two generous matching gift programs.
Each year, full-time employees have the opportunity to partake in Aramark's Matching Gifts to Education Program (up to $2,000 per fiscal year) and Aramark's Matching Gifts Program to Other Nonprofit Organizations (up to $250 per fiscal year).
Read more about Aramark's matching gift program.
Lincoln Financial Group
Lincoln Financial is a Fortune 200 holding company based in Philadelphia. Donations between $50 and $10,000 will be matched at a 1:1 ratio, and almost all 501(c)(3) organizations are eligible for Lincoln Financial's program. Not to mention, Lincoln Financial Group encourages full-time, part-time, and retired employees to get involved through charitable giving!
Read more about Lincoln Financial Group's matching gift program.
AmerisourceBergen

Currently headquartered in Conshohocken, PA (just outside of Philadelphia), AmerisourceBergen is a global healthcare and American drug wholesale company. The corporation, the product of a merger between Bergen Brunswig and AmeriSource, ranks #8 on the Fortune 500 list.
AmerisourceBergen matches full-time and part-time team members' donations to most 501(c)(3) nonprofits, with a generous matching threshold of up to $10,000 per employee per year. The company typically matches at a 1:1 ratio, though periodically increases its match rate to 150% around Giving Tuesday and other special promotions.
Read more about AmerisourceBergen's matching gift program.
---
And that's just a portion of the charitable-minded companies with corporate philanthropy initiatives like these. To dive into even more businesses that offer matching gifts or volunteer grants across the globe, click here.

https://doublethedonation.com/wp-content/uploads/2013/02/Companies-That-Match-Gifts_Philadelphia-1.jpg
600
1600
Adam Weinger
https://doublethedonation.com/wp-content/uploads/2022/03/logo-dtd.svg
Adam Weinger
2013-02-06 23:15:29
2023-11-29 20:24:04
Companies in Philadelphia That Offer Matching Gifts