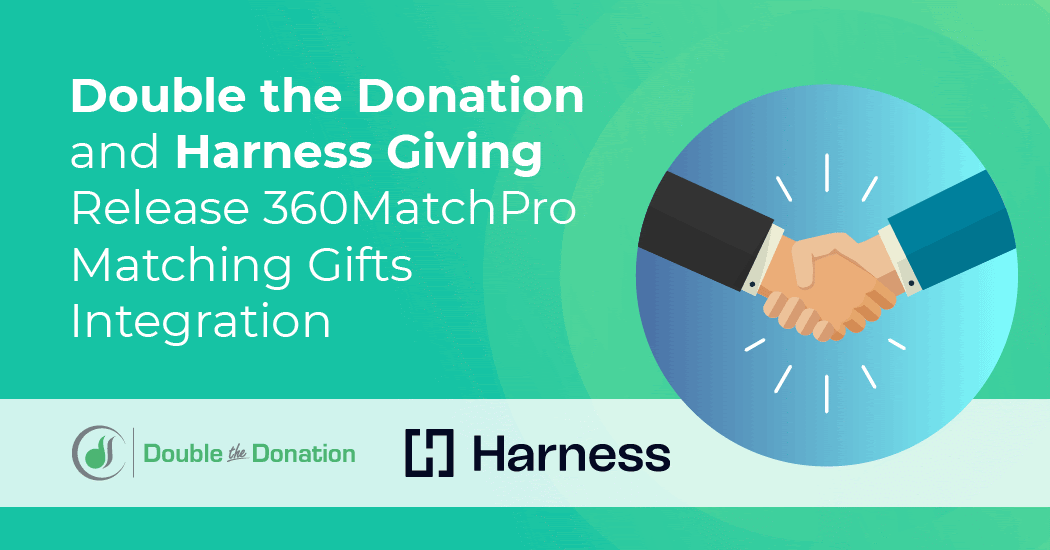 Double the Donation and Harness Giving Release 360MatchPro Matching Gifts Integration
Double the Donation and Harness Giving have teamed up to provide nonprofits with advanced matching gift automation functionality with a 360MatchPro integration with Harness Giving forms.
"At Harness, we believe that the giving process should be empowering for the donor and stress-free for the nonprofit," said Miraj Patel, Founder and CEO at Harness Giving. "By incorporating matching gifts seamlessly into our giving forms, donors are equipped with the tools to double their impact without major efforts from the nonprofit. It's a clear win-win for everyone."
The new integration allows donors to discover their match eligibility via a search from Double the Donation's database of over 24,000 companies. Once a donor finds their company, they are presented with information on their employer's matching gift program and are guided to complete the matching gift process.
"Our aim is to close the donor awareness gap and help nonprofits claim some of the $4-7 billion left on the table each year," said Adam Weinger, President at Double the Donation. "With this new integration, Harness and Double the Donation are aligned in our mission to help organizations raise more from matching gifts."
Now, mutual clients of Harness and Double the Donation can boost their fundraising potential by activating the turnkey integration. Read on to learn more about how 360MatchPro operates on Harness Giving pages.

Activate in Seconds and Start Raising More from Matching Gifts! 
With the new Harness Giving and 360MatchPro by Double the Donation integration, you can easily set up a connection without any custom coding required. Just enter your API keys from your 360MatchPro account to your Harness Giving platform, toggle Employer Matching on for your desired forms, and you're ready to go!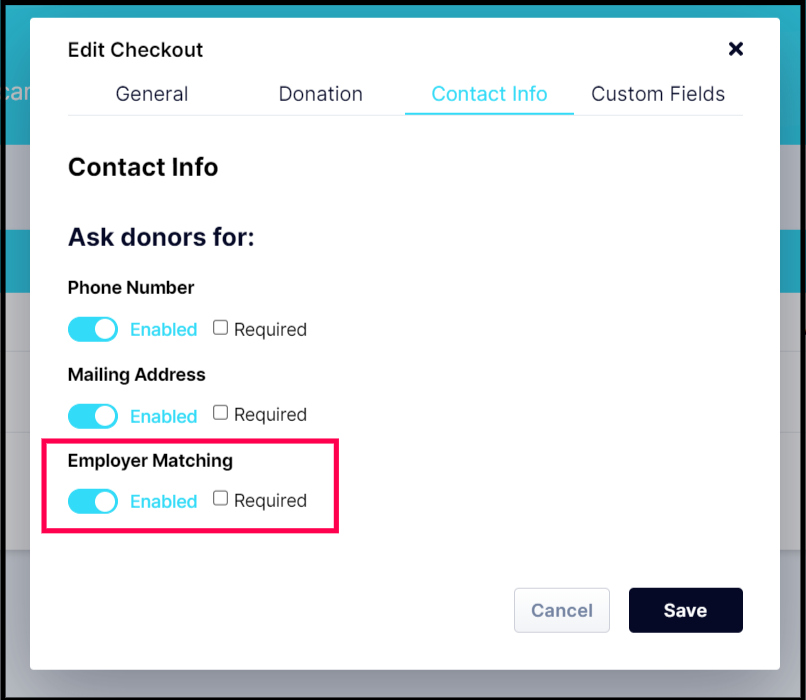 Once you've completed the setup process, donors will be able to search their employer's name on the donation page via the 360MatchPro auto-complete search tool. 360MatchPro can then send them their next steps via email to help move that gift to completion!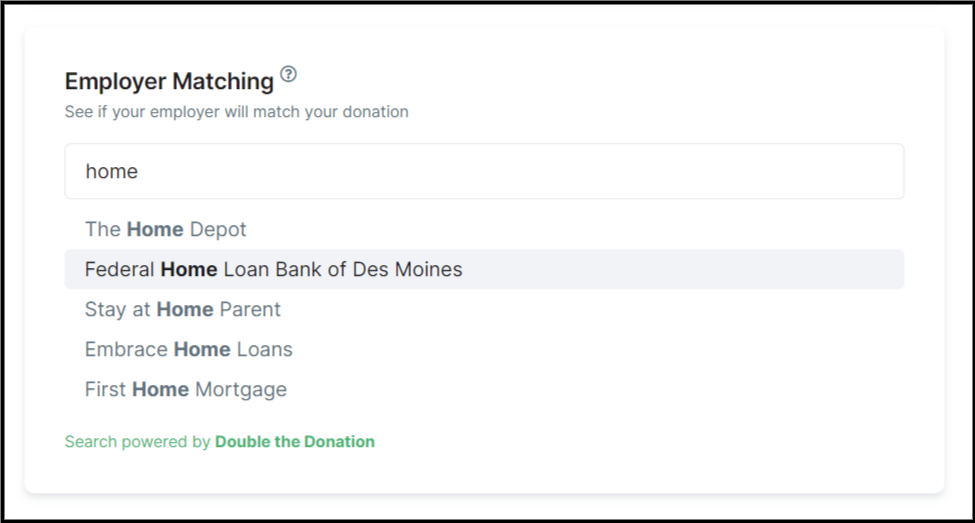 The new functionality integrates seamlessly with the Harness Giving donation experience, meaning your donors can discover their eligibility while your giving pages maintain their modern Harness Giving style. 

Drive More Matching Gifts to Completion with 360MatchPro!
The 360MatchPro and Harness Giving integration empower donors to deepen their impact on the organizations and campaigns they care about most, and empowers nonprofits to pursue their matching gift opportunities with more advanced and easy-to-use functionality. Check out these extra benefits: 
Identify more matching gift revenue opportunities: 360MatchPro enables you to automatically collect matching gift eligibility from donors using email domains, within donation forms, on confirmation screens, or by email. The more matching gift opportunities 360MatchPro discovers and shares with donors, the more matching gift requests your donors will successfully submit.

Drive more matches to completion, from form submission to corporate payment: Direct donors immediately to their matching gift forms after the donation process is complete. Then, provide the right information to the right donors at the right time with custom emails based on match eligibility. Target follow-ups drive more completed submissions than ever before, bringing exponentially more matching gift checks from companies through your door.

Reallocate your time from routine follow-up to your top opportunities: Your time is valuable, so why spend it chasing small dollar-value matching gifts? Let 360MatchPro automate your matching gift outreach while flagging your highest-value opportunities, allowing your team to personalize follow-ups to the most valuable match-eligible donations. Rest easy knowing that 360MatchPro can handle the rest.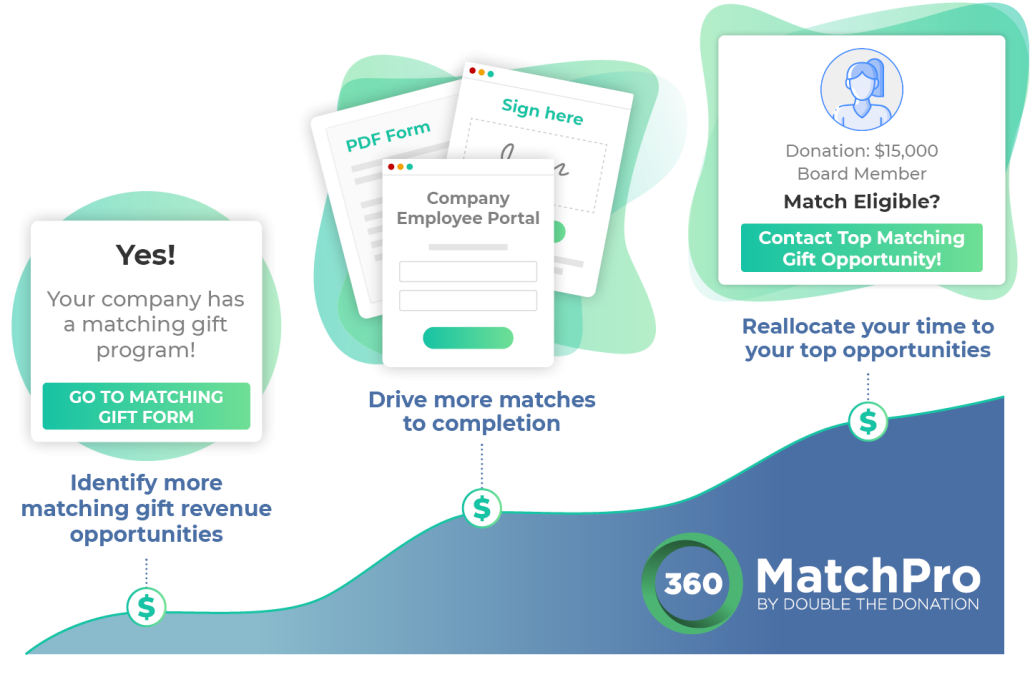 Ready to get started with raising more from matching gifts? Request a demo today and let us know you use Harness Giving for your fundraising!
About Harness Giving: With a focus on recurring giving, our subscription platform helps nonprofits create seamless, gratifying experiences – from marketing and fundraising to stewardship. Donating should never  feel out of reach, so our customizable tools encourage people to give in ways that suit them best, helping nonprofits tap into a wider network of donors.
 About Double the Donation: Automate your matching gift fundraising with the industry-leading solution from Double the Donation. The 360MatchPro platform provides nonprofits with tools to identify match-eligible donors, drive matches to completion, and gain actionable insights. 360MatchPro integrates directly into donation forms, CRMs, social fundraising software, and other nonprofit technology solutions to capture employment information and follow up appropriately with donors about matching gifts.
https://doublethedonation.com/wp-content/uploads/2023/03/DTD_Harness_Integration.gif
550
1050
Adam Weinger
https://doublethedonation.com/wp-content/uploads/2022/03/logo-dtd.svg
Adam Weinger
2023-03-01 12:00:10
2023-09-14 21:26:54
Double the Donation and Harness Giving Release 360MatchPro Matching Gifts Integration