Raklet Chooses 360MatchPro by Double the Donation as Exclusive Matching Gift Software Provider
Double the Donation and Raklet are pleased to announce their new matching gift integration partnership. This duo has come together to help organizations earn more revenue through employer matching gifts, one of the most popular forms of corporate philanthropy. Through this partnership, Raklet users can take advantage of 360MatchPro by Double the Donation, the industry's leading provider of automated matching gift software.
360MatchPro integrates seamlessly within the Raklet platform to help nonprofits identify match-eligible donors and drive their matching gift requests to completion. By automating the gift matching process from start to finish, this integration can help organizations take advantage of the $4-7 billion offered in matching gifts each year.
"360MatchPro provides a perfect matching gift solution for our clients – it is simple, automated and effective," said Gercek Karakus, CEO of Raklet. "Double the Donation has really provided an opportunity for nonprofits to grow through this integration."
360MatchPro works with Raklet confirmation forms to identify which donors qualify for matching gift programs. Then, through automated yet personalized outreach, it provides donors with simple ways to submit a matching gift request without any unnecessary effort. This makes it easy to educate donors and earn more matching gift revenue for your organization.
"We are so excited to work with Raklet and bring matching gift automation to their platform," said Adam Weinger, President of Double the Donation. "Our tools make it easy to raise more in matching gifts without calling on nonprofits to chase down matching gift funds. This automated system allows nonprofits to earn more without any extra effort – so they can focus on the causes they care about."
Through a simple and seamless setup process, Raklet users will be able to close the donor awareness gap and fuel their matching gift funds with 360MatchPro.

Activate in Seconds and Start Raising More From Matching Gifts!
360MatchPro works with Raklet confirmation forms to grow matching gift revenue for your organization. The setup process is simple, so your organization can get up and running in no time!
First, you can navigate to the "App Store" from within your Raklet platform. You will then see the "Double the Donation" integration, which will prompt you to enter your 360MatchPro credentials.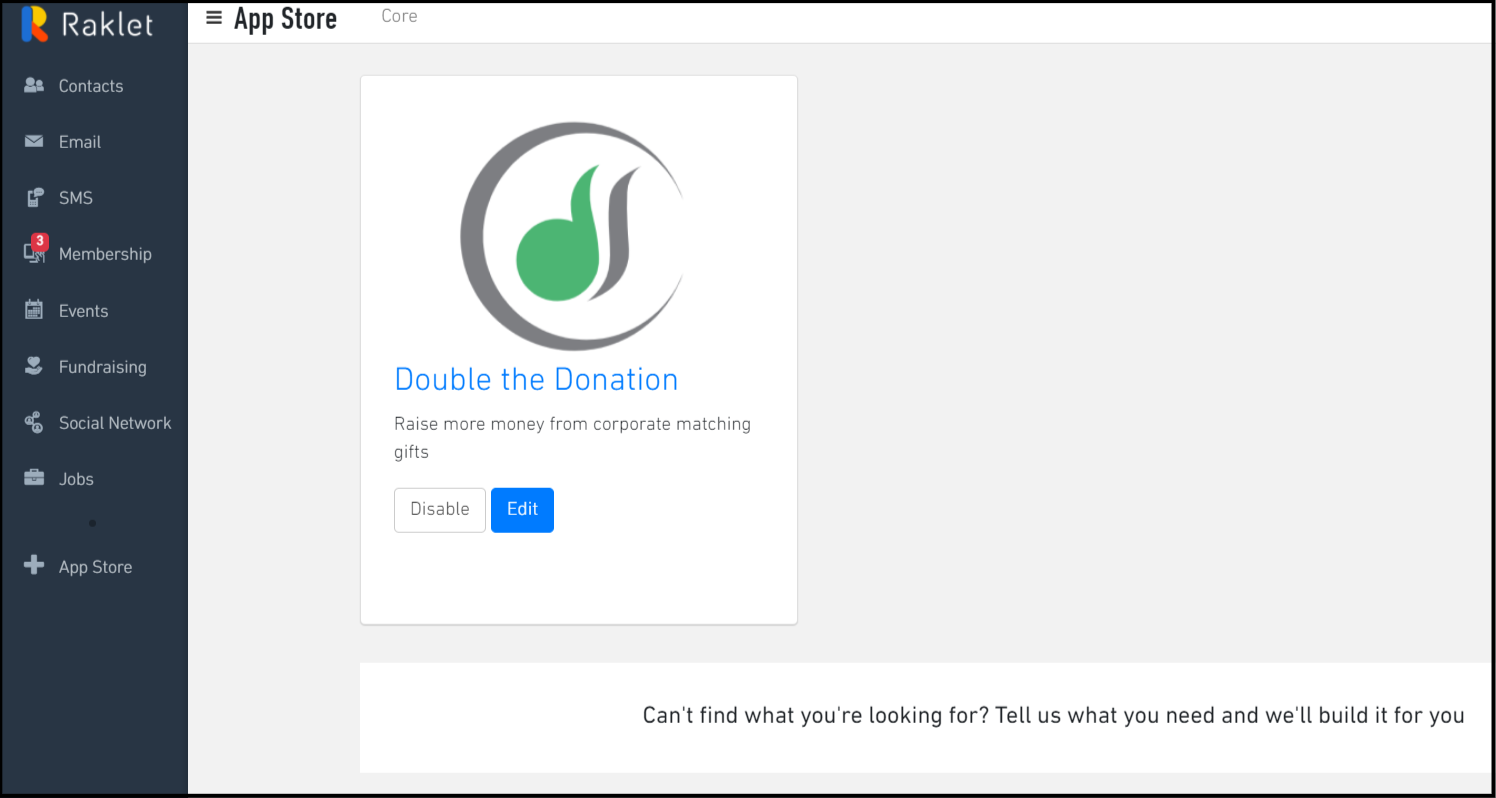 Activating this integration will add the 360MatchPro search tool to your Raklet confirmation forms. This will allow donors to search for their company name from the 360MatchPro database directly after submitting their donation. This database is composed of tens of thousands of corporate matching gift programs – making it easy to map your donor to their employer's program.
Once the donor selects their matching gift program from the streamlined search tool, they will receive a direct link to their matching gift submission form along with their program's matching gift guidelines – meaning they can start the matching gift process with just one click!
360MatchPro also automates matching gift outreach to serve as an additional donor touchpoint after the donation process. Though this automated system, your organization can send customizable emails that also contain direct links to donors' matching gift submission forms. This provides them with an additional chance to learn about matching gift opportunities and begin their submission process.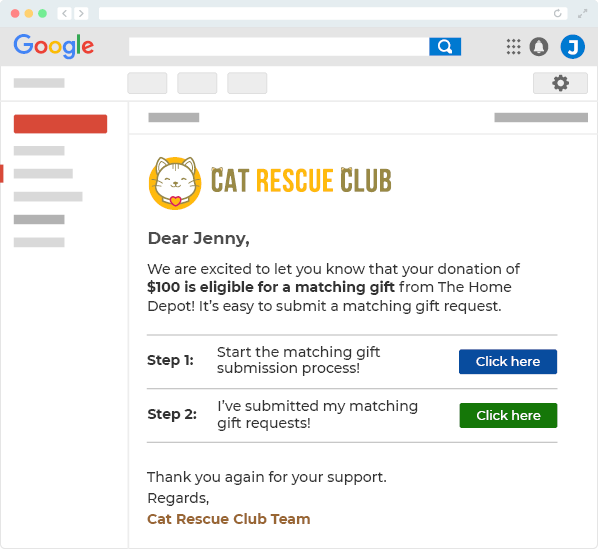 These automated avenues make it easier than ever to educate donors and drive revenue through employer gift matching programs!
Looking to learn more? Check out our in-depth integration guide to get started!

Drive More Matching Gifts to Completion with 360MatchPro!
360MatchPro uses specialized functionality to fuel your fundraising initiatives! It can:
Identify more matching gift revenue opportunities: 360MatchPro enables you to automatically collect matching gift eligibility from donors using email domains, within donation forms, on confirmation screens, or by email. The more matching gift opportunities 360MatchPro discovers and shares with donors, the more matching gift requests your donors will successfully submit.
Drive more matches to completion, from form submission to corporate payment: Direct donors immediately to their matching gift forms after the donation process is complete. Then, provide the right information to the right donors at the right time with custom emails based on match eligibility. Target follow-ups drive more completed submissions than ever before, bringing exponentially more matching gift checks from companies through your door.
Reallocate your time from routine follow-up to your top opportunities: Your time is valuable, so why spend it chasing small dollar-value matching gifts? Let 360MatchPro automate your matching gift outreach while flagging your highest-value opportunities, allowing your team to personalize follow-ups to the most valuable match-eligible donations. Rest easy knowing that 360MatchPro can handle the rest.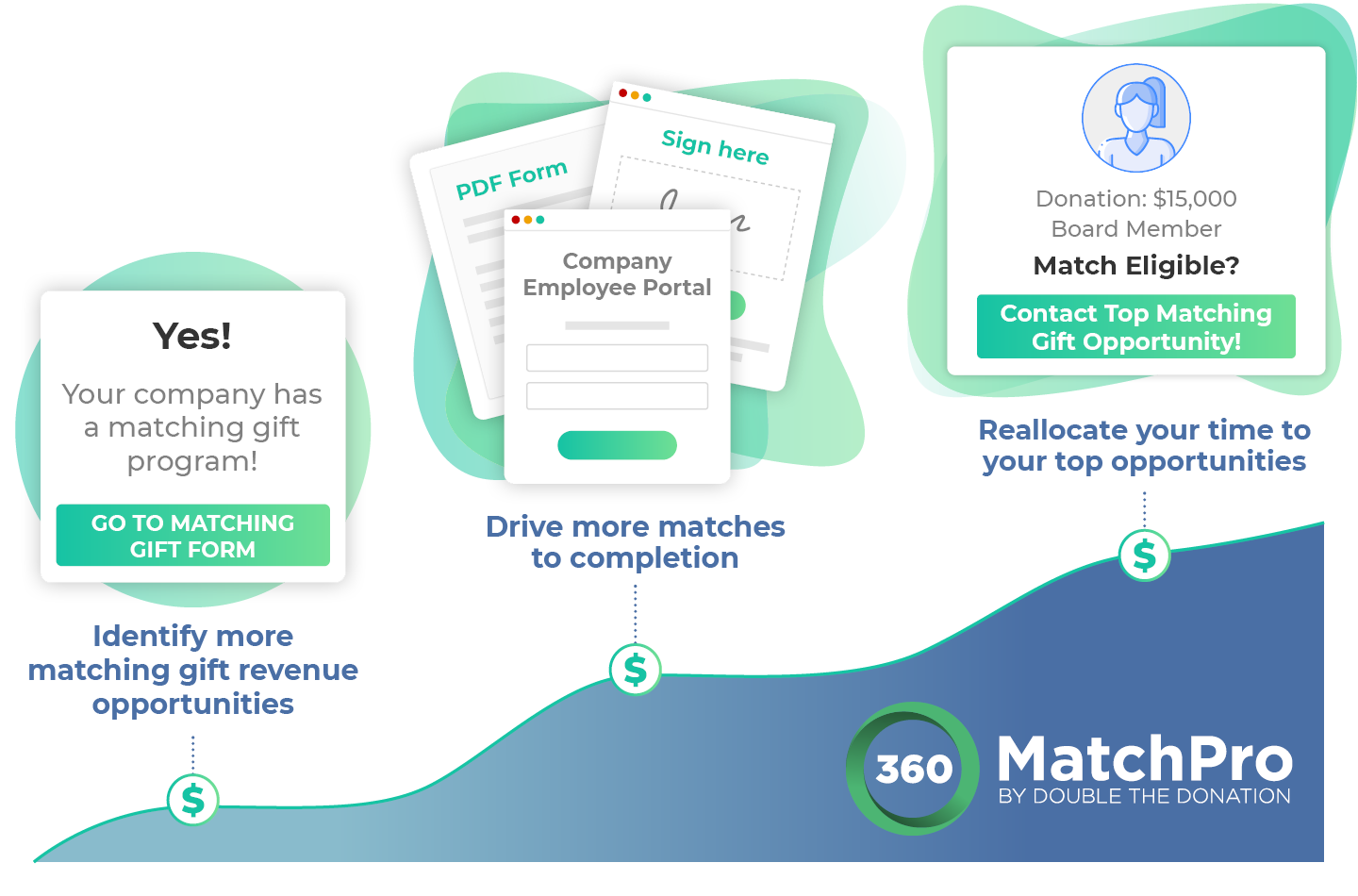 Ready to get started? Schedule a personalized demo to see how 360MatchPro could help your organization raise more matching gift funds.
---
About Raklet: Raklet is an all-in-one non-profit management software that allows you to engage with volunteers and donors in a meaningful, digital way. On top of a powerful CRM, you can create fundraising campaigns, send emails and SMS, organize events & sell tickets, have your private social network and your own branded mobile app, and much more. It's a simple and easy way to increase community engagement and grow your non-profit organization. To learn more, visit the Raklet website.
About Double the Donation: Automate your matching gift fundraising with the industry-leading solution from Double the Donation. The 360MatchPro platform provides nonprofits with tools to identify match-eligible donors, drive matches to completion, and gain actionable insights. 360MatchPro integrates directly into donation forms, CRMs, social fundraising software, and other nonprofit technology solutions to capture employment information and follow up appropriately with donors about matching gifts. To learn more visit https://360matchpro.com/demo-request/
https://doublethedonation.com/wp-content/uploads/2022/06/Double-the-Donation-Raklet-feature-1.png
290
775
Adam Weinger
https://doublethedonation.com/wp-content/uploads/2022/03/logo-dtd.svg
Adam Weinger
2021-02-10 16:42:34
2022-06-20 07:55:39
Raklet Chooses 360MatchPro by Double the Donation as Exclusive Matching Gift Software Provider