Hopsie Chooses Double the Donation for Integrated Matching Gift Solution
Double the Donation, the leading provider of matching gift and volunteer grant solutions to nonprofits, is excited to announce the integration of its 360MatchPro corporate matching gift solution with Hopsie, a fundraising platform dedicated to inspiring action. 
"We are a fundraising platform that inspires action by sharing the stories of our nonprofit clients and helping them inspire their audience," says Alex Morse, CEO of Hopsie. "By integrating with Double the Donation, we're able to offer Hopsie users a way to raise more with little effort so they can focus on making their stories heard."
360MatchPro enables nonprofits to take advantage of the underutilized matching gift space by providing their donors with an opportunity to search their company name, find their eligibility, and get their gift matched by their employer. The automated search tool maps donors' entries to their employer and the 360MatchPro plugin provides a direct pipeline to the appropriate company gift matching request form. The entire process is automated, freeing up organizations' time so they can dedicate their efforts to creating positive change in the communities they serve.
"We're proud to assist in Hopsie's mission to help organizations reach their full fundraising potential so they don't have to worry about where the money for their efforts comes from," says Adam Weinger, president at Double the Donation. "With our automated follow ups and easy-to-use data, 360MatchPro makes sure nonprofits' efforts go to the things they really care about." 
Hopsie has enhanced both functionality and customer experience by substituting the previous Amply solution with the 360MatchPro solution by Double the Donation. With the new integrated solution, 360MatchPro and Hopsie now offer nonprofits the opportunity to claim the billions of dollars in matching gift revenue left on the table each year. 

Activate in Seconds and Start Raising More from Matching Gifts!
Activating 360MatchPro for your Hopsie forms is quick and simple: just navigate to your Hopsie editor, enter your public API key, and click "Enable" to get up and running! Once you're all done with setup, you'll see the autocomplete search tool on your donation page and the matching gift plugin on the confirmation screen. 
With your 360MatchPro and Hopsie accounts linked, donors will now be able to discover their match eligibility and go straight to their matching gift request form after they complete a donation to your organization. Double the Donation has found that a third of donors who are encouraged by the possibility of a match are likely to donate a higher dollar amount than they originally intended! That's why the 360MatchPro tool informs donors of their eligibility during the giving process. That, paired with easy next steps to submitting their match request to their employer, makes the 360MatchPro and Hopsie integration a key value-add for nonprofit clients.
Minimizing the effort donors have to make to get their gift matched maximizes the chances of your org seeing not only matches to your donor's contributions, but larger individual donations as well.
Looking to learn more? Check out our in-depth integration guide to get started!

Drive More Matching Gifts to Completion with 360MatchPro!
$4-7 billion in matching gift revenue goes unclaimed each year. That's money corporations set aside specifically for the nonprofits their employees support! Make sure your organization is claiming some of those funds with the 360MatchPro and Hopsie integration.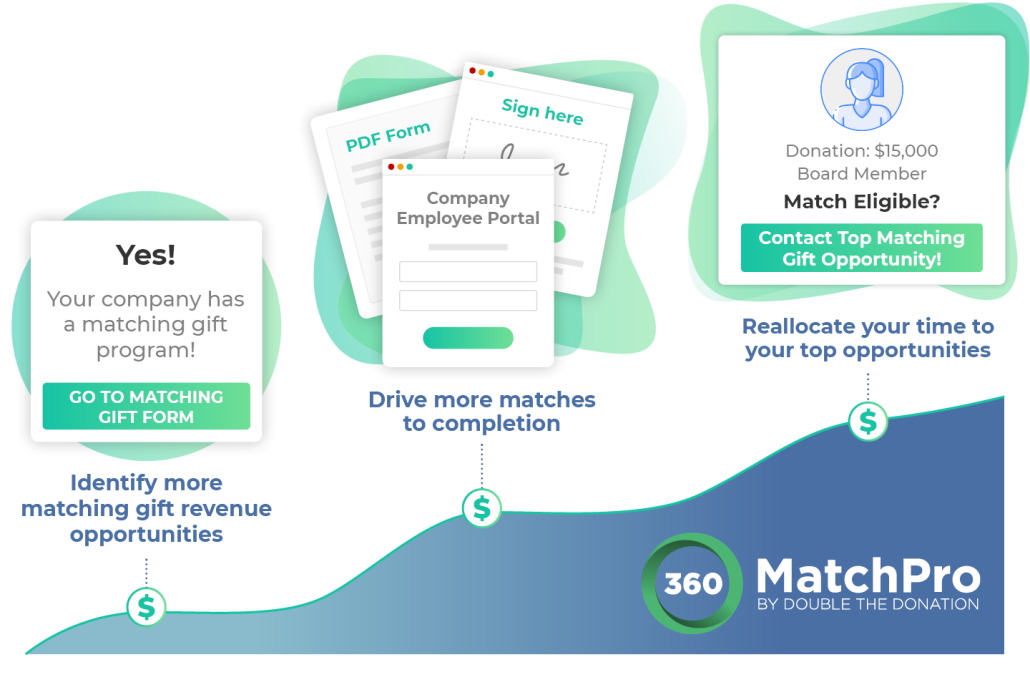 Hopsie and Double the Donation are dedicated to offering organizations great value with little to no complicated IT work, time, or effort on the nonprofit's part. Take the stress out of gift matching with our features:
Identify more matching gift revenue opportunities:

360MatchPro enables you to automatically collect matching gift eligibility from donors using email domains, within donation forms, on confirmation screens, or by email. The more matching gift opportunities 360MatchPro discovers and shares with donors, the more matching gift requests your donors will successfully submit.

Drive more matches to completion, from form submission to corporate payment:

Direct donors immediately to their matching gift forms after the donation process is complete. Then, provide the right information to the right donors at the right time with custom emails based on match eligibility. Target follow-ups drive more completed submissions than ever before, bringing exponentially more matching gift checks from companies through your door.

Reallocate your time from routine follow-up to your top opportunities:

Your time is valuable, so why spend it chasing small dollar-value matching gifts? Let 360MatchPro automate your matching gift outreach while flagging your highest-value opportunities, allowing your team to personalize follow-ups to the most valuable match-eligible donations. Rest easy knowing that 360MatchPro can handle the rest.
Don't wait to get started – request a personalized demo today and make sure you mention you use Hopsie when you request!
---
About Hopsie: Hopsie is a white label fundraising application that provides nonprofits with emotionally compelling donation forms, crowdfunding tools, peer to peer fundraising, and automated communications. Backed by an experienced team of nonprofit founders, each feature was built thoughtfully and with the purpose of helping nonprofits save time and money, so that they can focus their efforts on the incredible work that they do.
About Double the Donation: There's an unnecessary gap between fundraising organizations and corporate giving programs, to the tune of $4-7 billion in unclaimed matching gift revenue annually. Double the Donation helps nonprofits and educational institutions increase fundraising from corporate matching gift and employee volunteer grant programs. Double the Donation maintains a database of employee matching gift and volunteer grant programs. With more than 20,000 entries in the database, Double the Donation presents match-eligible donors with their company's specific program requirements, including a direct link to their company's online matching gift submission portal or PDF download.
https://doublethedonation.com/wp-content/uploads/2022/06/Double-the-Donation-Hopsie-Feature.png
290
775
Adam Weinger
https://doublethedonation.com/wp-content/uploads/2022/03/logo-dtd.svg
Adam Weinger
2021-02-16 16:48:40
2023-09-14 20:40:08
Hopsie Chooses Double the Donation for Integrated Matching Gift Solution