BetterUnite Announces 360MatchPro by Double the Donation as Exclusive Matching Gift Software Provider
BetterUnite, an industry-leading fundraising software provider to nonprofits seeking comprehensive solutions, announces 360MatchPro will replace Amply as the platform's exclusive matching gift software provider. Double the Donation and BetterUnite have come together to provide the best-available matching gift automation software to BetterUnite users. This integration allows donors to discover their matching gift eligibility in a simple step, and provides nonprofits the tools they need to see donations double.
"360MatchPro by Double the Donation fits perfectly into BetterUnite's mission to provide the best ecosystem of software solutions the industry has to offer," says Leya Simmons, Co-founder of BetterUnite. "We both put nonprofit client and donor experience first and that's why this switch was an easy decision."
360MatchPro integrates seamlessly with BetterUnite to maximize matching gift revenue for nonprofits and enhance donor experience with the matching gift process. This integration simplifies the matching gift process for donors by guiding them directly from a donation form to a matching gift submission – and creates success for nonprofits by taking care of the heavy-lifting with automated tools that boost matching gift revenue.
"Double the Donation is proud to partner with BetterUnite to expand accessibility to matching gift software for nonprofits," says Adam Weinger, President at Double the Donation. "Our integration will allow more nonprofits to expand their fundraising operations without detracting from the time and resources they need to advance their important causes."
With the BetterUnite and 360MatchPro integration at their disposal, nonprofit organizations can take their fundraising operations to the next level, ensuring donors are empowered to double their donation and impact with matching gifts.

Activate in Seconds and Start Raising More from Matching Gifts!
You can activate this integration in a few easy steps to start your matching gifts journey with 360MatchPro and BetterUnite today. It's as simple as navigating to the "integrations" tab on your BetterUnite platform, selecting Double the Donation, and entering your public and private API keys provided to you by Double the Donation!
Once your integration is live, donors will be able to check their matching gift eligibility from within your donation forms by entering their employer information into the autocomplete search tool, and will be linked directly to their specific employer's matching gift forms from the confirmation page! This functionality makes driving each match to completion achievable with a simple click for the donor.
360MatchPro goes beyond this primary touchpoint to include email automation for follow-ups, ensuring that no match is missed. Donors will receive guided next steps depending on whether or not they provided employer information within the donation form itself to see their donations and impact on your cause doubled.
This feature will ensure your organization is able to maximize matching gift revenue and educate donors with minimal effort!
Looking to learn more? Check out our in-depth integration guide to get started!

Drive More Matching Gifts to Completion with 360MatchPro!
The 360MatchPro and BetterUnite integration will equip your organization with the tools it needs to boost matching gift revenue and provide a streamlined experience for donors giving to your organization's cause. 
Check out some of these features from the 360MatchPro-BetterUnite integration:
Identify more matching gift revenue opportunities:

360MatchPro enables you to automatically collect matching gift eligibility from donors using email domains, within donation forms, on confirmation screens, or by email. The more matching gift opportunities 360MatchPro discovers and shares with donors, the more matching gift requests your donors will successfully submit.

Drive more matches to completion, from form submission to corporate payment:

Direct donors immediately to their matching gift forms after the donation process is complete. Then, provide the right information to the right donors at the right time with custom emails based on match eligibility. Target follow-ups drive more completed submissions than ever before, bringing exponentially more matching gift checks from companies through your door.

Reallocate your time from routine follow-up to your top opportunities: Your time is valuable, so why spend it chasing small dollar-value matching gifts? Let 360MatchPro automate your matching gift outreach while flagging your highest-value opportunities, allowing your team to personalize follow-ups to the most valuable match-eligible donations. Rest easy knowing that 360MatchPro can handle the rest.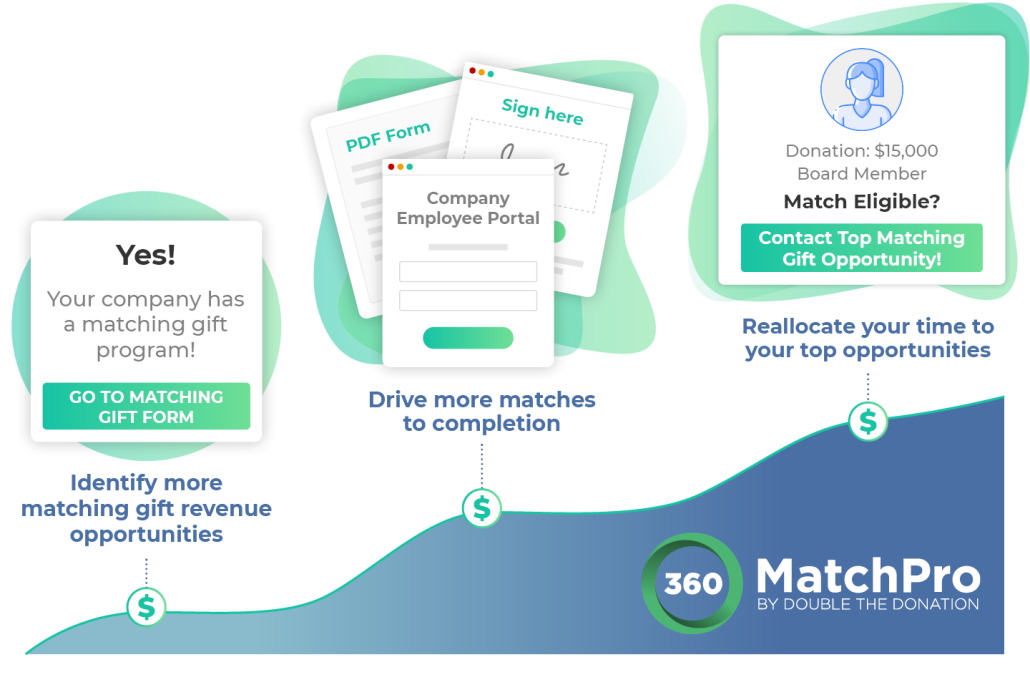 Ready to get started on your matching gifts journey? Request a demo today and be sure to mention you use BetterUnite when you request!
---
About BetterUnite: BetterUnite provides industry leading fundraising software to all nonprofits in one comprehensive solution for free. BetterUnite was built to make life and work easier for mission-driven organizations. Rather than using multiple independent and costly fundraising software platforms, BetterUnite has created the very best of fundraising and donor management modules so that you can fund faster, all in one place. Simply put, BetterUnite is your one-stop-shop for reaching your fundraising goals. For more information on BetterUnite, visit https://www.betterunite.com/. 
About Double the Donation: Automate your matching gift fundraising with the industry-leading solution from Double the Donation. The 360MatchPro platform provides nonprofits with tools to identify match-eligible donors, drive matches to completion, and gain actionable insights. 360MatchPro integrates directly into donation forms, CRMs, social fundraising software, and other nonprofit technology solutions to capture employment information and follow up appropriately with donors about matching gifts.
https://doublethedonation.com/wp-content/uploads/2022/06/BetterUnite-Announces-360MatchPro-by-Double-the-Donation-as-Exclusive-Matching-Gift-Software-Provider-1.png
440
1220
Adam Weinger
https://doublethedonation.com/wp-content/uploads/2022/03/logo-dtd.svg
Adam Weinger
2021-02-23 18:48:06
2022-06-20 07:55:42
BetterUnite Announces 360MatchPro by Double the Donation as Exclusive Matching Gift Software Provider