Feeling Blessed Offers Matching Gifts Automation to Nonprofits with Double the Donation
Double the Donation and Feeling Blessed are now partners, providing an integration between Feeling Blessed online donation forms and 360MatchPro, the most advanced matching gifts automation tool from Double the Donation. 
"Feeling Blessed allows organizations to raise more from their supporters via an intuitive online and mobile experience," shares Muhammed Tauseef Rab, Founder and CEO at Feeling Blessed. "We're proud to now offer our clients the ability to maximize their fundraising with Double the Donation."
The new integrated solution helps organizations raise more by helping donors identify their match eligibility and take their next steps to fulfill their matching gift requests from their employer. The partnership aims to close the gap of 78% of donors unaware of their employers' matching gift program policies.
"We're excited to offer nonprofits using Feeling Blessed the opportunity to streamline their matching gifts outreach and marketing to their donor and supporter bases," says Adam Weinger, President at Double the Donation. "We're looking forward to the value corporate philanthropy will provide to donors and nonprofits alike."
Nonprofits who are mutual clients of Feeling Blessed and Double the Donation can identify match-eligible donors, automate timely outreach, and deliver back actionable analytics.

Activate in Seconds and Start Raising More from Matching Gifts!
No IT or custom development work is needed for organizations to activate their 360MatchPro and Feeling Blessed integration! All a client needs to do is enter their API keys from their 360MatchPro account into their Feeling Blessed account, and 360MatchPro's search tool and thank-you page plugin will appear across their donation forms.
For donors, the process is seamless and intuitive. When a donor gives a gift to an organization with an active integration on a Feeling Blessed donation form, they'll be asked to provide their employer name during the giving process.
If the donor is eligible for a matching gift from their employer, 360MatchPro will surface information about the company's program on the Feeling Blessed Thank-you page. From here, donors can start their matching gift submission process with the click of a button – and organizations can manage automated follow ups from their own 360MatchPro accounts.

Drive More Matching Gifts to Completion with 360MatchPro!
Feeling Blessed and Double the Donation's new partnership brings the ease and value of corporate matching gift automation to a whole new population of nonprofit organizations looking to raise more each year. Clients of Double the Donation can take advantage of a number of features to leverage their matching gift strategy. 
Identify more matching gift revenue opportunities: 360MatchPro enables you to automatically collect matching gift eligibility from donors using email domains, within donation forms, on confirmation screens, or by email. The more matching gift opportunities 360MatchPro discovers and shares with donors, the more matching gift requests your donors will successfully submit.

Drive more matches to completion, from form submission to corporate payment: Direct donors immediately to their matching gift forms after the donation process is complete. Then, provide the right information to the right donors at the right time with custom emails based on match eligibility. Target follow-ups drive more completed submissions than ever before, bringing exponentially more matching gift checks from companies through your door.

Reallocate your time from routine follow-up to your top opportunities: Your time is valuable, so why spend it chasing small dollar-value matching gifts? Let 360MatchPro automate your matching gift outreach while flagging your highest-value opportunities, allowing your team to personalize follow-ups to the most valuable match-eligible donations. Rest easy knowing that 360MatchPro can handle the rest.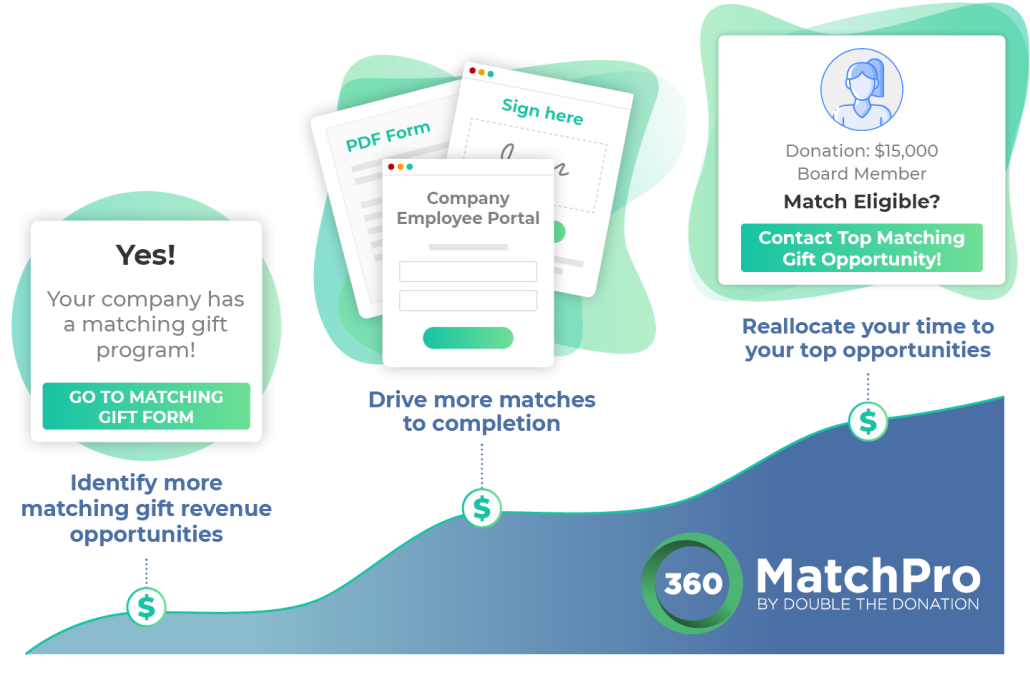 Ready to start raising more with matching gifts? Schedule a personalized demo today. 
---
About Feeling Blessed: Feeling Blessed is a donation platform with a mission to empower Muslims to become consistent givers. We use technology to create a community of donors and charities who together have embarked on a journey to reinvent giving. Organizations reach their financial goals quicker by joining the platform seamlessly and presenting their causes to all the donors on the platform. For more information please check out our website nonprofits.feelingblessed.org/
About Double the Donation: Automate your matching gift fundraising with the industry-leading solution from Double the Donation. The 360MatchPro platform provides nonprofits with tools to identify match-eligible donors, drive matches to completion, and gain actionable insights. 360MatchPro integrates directly into donation forms, CRMs, social fundraising software, and other nonprofit technology solutions to capture employment information and follow up appropriately with donors about matching gifts.
https://doublethedonation.com/wp-content/uploads/2022/06/Double-the-Donation-FeelingBlessed-feature.png
290
775
Adam Weinger
https://doublethedonation.com/wp-content/uploads/2022/03/logo-dtd.svg
Adam Weinger
2022-03-07 16:59:34
2022-12-06 15:08:34
Feeling Blessed Offers Matching Gifts Automation to Nonprofits with Double the Donation