Companies in Chicago, Illinois with Matching Gifts
We at Double the Donation aid nonprofit organizations in their fundraising efforts using corporate matching gift programs. These programs occur when an employee makes a donation to an eligible organization, and their company  "matches" the gift. 
As a nonprofit, the best place to start increasing matching gifts is knowing who the largest companies are in your area offering these programs. In this post, we highlight some of the great local companies in the city of Chicago that currently offer matching gift programs. We'll examine the following companies:
ADM
Allstate
Baxter
Exelon
Harris Bank
McDonald's
Motorola Solutions
Follow along for a look at Chicago's corporate philanthropy and how your nonprofit can discover these opportunities for yourself.

Chicago, IL Matching Gifts
Chicago, Illinois hosts 37 Fortune 500 companies and is the third-largest city in the US by population size. The city is a major finance center involved with the transportation, telecom, and commerce industries and is home to one of the world's busiest airports. Additionally, the GDP (gross domestic product) of Chicago is ranked #4 in the US and #13 out of all cities in the world.
Needless to say, there is a huge opportunity for corporate philanthropy in the city. 
Nonprofits across Chicago and Illinois can benefit from the generous matching gift programs offered by their donors' employers once they can figure out how to capitalize on them. Before diving into the matching gift opportunities available in Chicago, let's look at how nonprofits can secure these gifts.

Our Favorite Way to Discover Matching Gift Opportunities
The most difficult part of securing a matching gift from a local company is simply finding the opportunities that exist. Many donors are unaware of these opportunities to increase their donations and therefore don't seek them out.
We always recommend using a matching gift tool if your organization is looking to increase your donations through matching gifts. From there, you just need to figure out which tool is right for your nonprofit's specific needs.
For example, 360MatchPro is a robust software option that automates much of the matching gift solicitation process. With it, your organization can automatically find and contact donors that are match-eligible, saving valuable time and energy for your fundraising team. This tool offers an industry-leading matching gifts database that you can embed directly on your website and/or online donation form. With it, donors can discover whether they're match-eligible and if they are, how to begin the match request paperwork.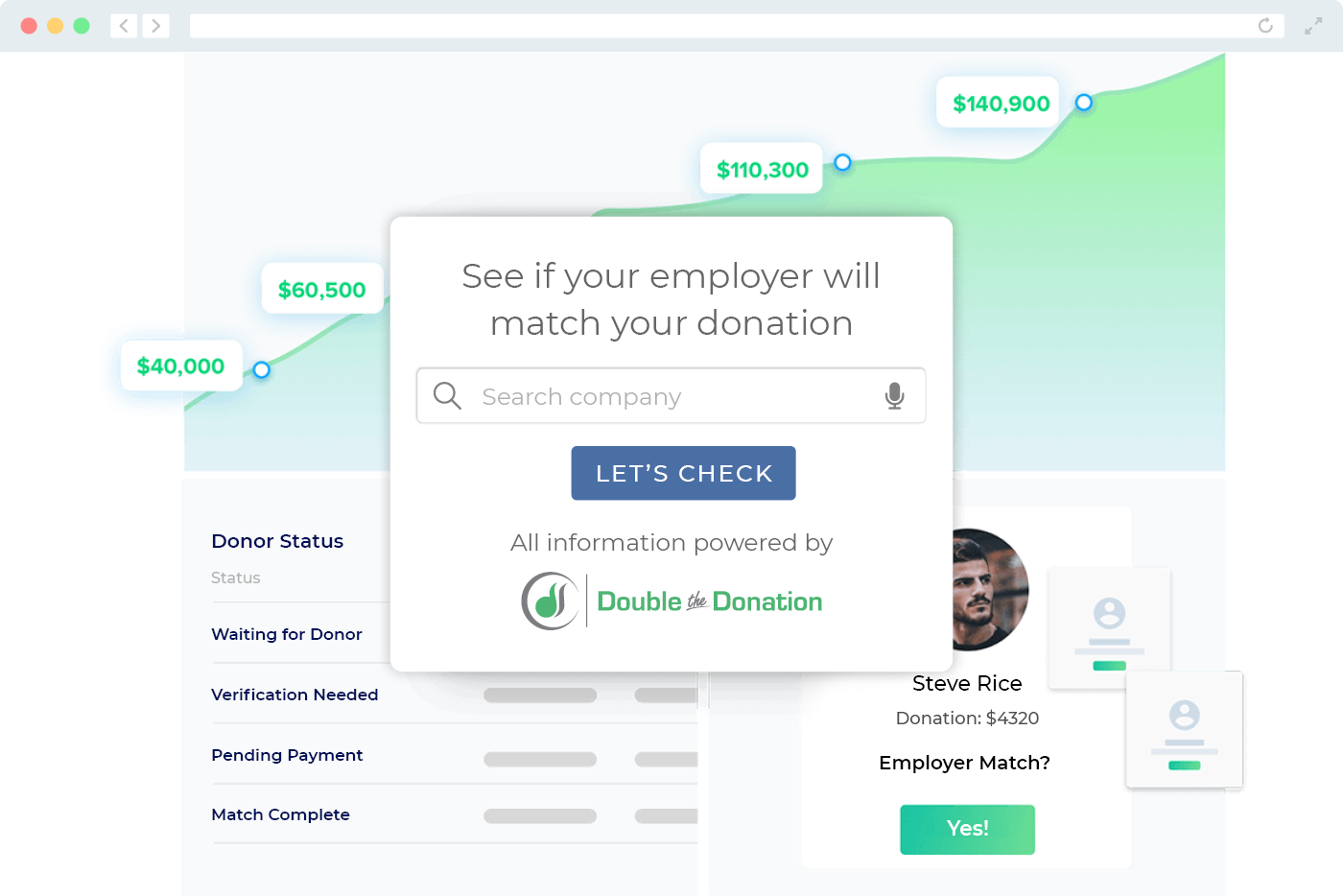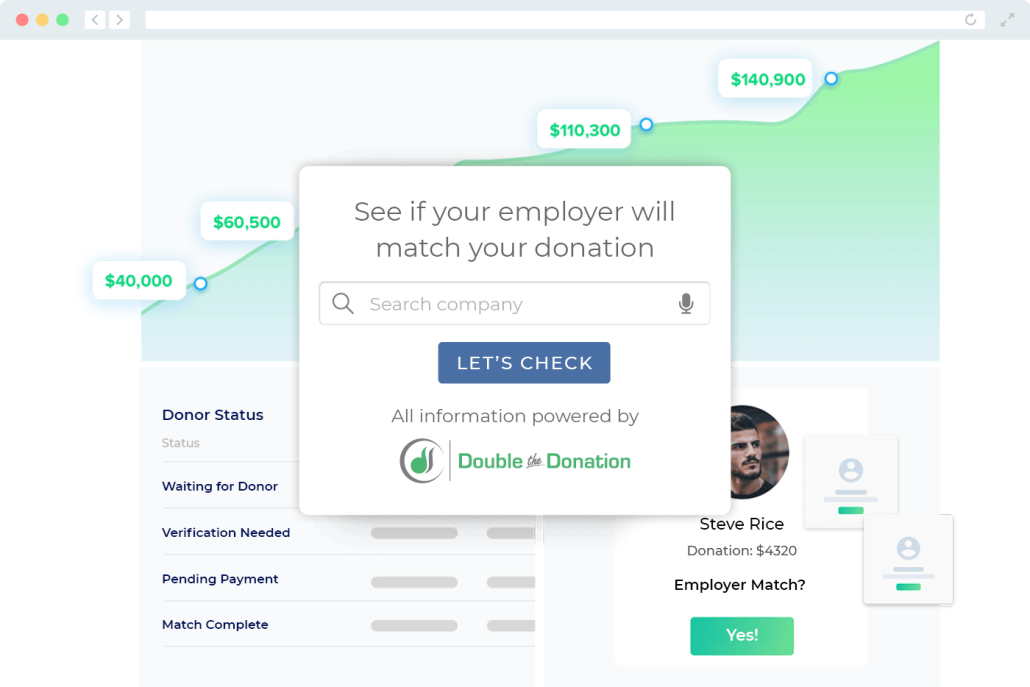 With that, continue on to learn about the matching gift opportunities available in Chicago, Il.

List of Chicago Corporate Donation Matching Programs
In order to help nonprofits get started increasing their fundraising, we at Double the Donation have created a short listing of some of the companies that currently offer matching gift programs in the Chicago area.
ADM

Headquartered in Chicago, Illinois, ADM, or The Archer-Daniels-Midland Company, is a generous provider of matching gifts. Currently, the company matches full-time employee donations of between $100 and $5,000 per person on an annual basis. At a 1:1 ratio, most nonprofit organizations qualify for funding from ADM.
Read more about ADM's matching gift program.
Allstate

The Allstate Corporation offers a Matching Hands matching gift program for donations to higher education at a 1:1 ratio. They also offer a 15 percent company match on donations to other nonprofits.
Read more about Allstate's matching gift program.
Baxter International

Baxter is an American healthcare company headquartered in Illinois. Employees donating at least $25 to eligible organizations can apply to have their donations matched.
Read more about Baxter's matching gift program.
Exelon

Exelon Energy Corporation, headquartered in the Chase Building in downtown Chicago, takes part in corporate giving by matching employee donations up to $2,000.
Read more about Exelon's matching gift program.
Harris Bank

Harris Bank or BMO Financial Group will donate up to $1,000 annually per employee match. Full, part-time, and retirees are all eligible.
Read more about Harris Bank's matching gift program.
McDonald's

McDonald's will match employee donations up to $5,000 per year per employee (and $10,000 per employee at or above the level of the Vice President) to qualified education, civic, cultural, health, and youth nonprofits at a 1:1 ratio.
Read more about McDonalds' matching gift program.
Motorola Solutions

Motorola Solutions matches donations made by both current full-time and part-time employees to nearly all nonprofits. Gifts made between $50 and $7,500 qualify for employer matching at a dollar-for-dollar ratio.
Not to mention the company also offers a volunteer grants program for employees who donate more than 10 hours of their time to a nonprofit organization.
Read more about Motorola Solutions' matching gift program.
---
Matching gift programs are a powerful force in helping nonprofits reach their fundraising goals, and Chicago is a great place to start when looking for these opportunities! Start with the above list, and branch out from there— the possibilities are endless when it comes to corporate philanthropy around the U.S.

https://doublethedonation.com/wp-content/uploads/2013/05/Companies-That-Match-Gifts_Chicago.jpg
600
1600
Adam Weinger
https://doublethedonation.com/wp-content/uploads/2022/03/logo-dtd.svg
Adam Weinger
2013-05-15 23:48:08
2023-09-12 14:51:07
Companies in Chicago, Illinois with Matching Gifts