Double the Donation and REACH Partner with New Matching Gifts Integration
REACH and Double the Donation have teamed up to boost nonprofit fundraising efforts with a seamless matching gifts integration, powered by 360MatchPro. The partnership and integration bring matching gifts directly to nonprofits REACH donation forms. 
"REACH provides nonprofits with a software that truly serves them. The 360MatchPro integration automates the corporate matching gift process, using Double the Donation's extensive matching gift database," said David McWilliams, CEO at REACH. "This gives our nonprofits' donors the tools needed to easily double their contribution and in turn, extend the nonprofits' reach and global impact. It's an integration that just makes sense."
Now, when nonprofits connect their 360MatchPro account to their REACH donation forms, donors can discover their match eligibility in real time and take their next steps directly after making their initial gift. 
"Despite the great strides we've taken toward matching gift awareness, there are still huge populations of donors who are unaware of their employers' programs," said Adam Weinger, President at Double the Donation. "By partnering with REACH, Double the Donation can assist nonprofits to connect with even more members of their supporter community about matching gifts."
Want to see more details about the REACH and 360MatchPro integration? Keep reading!

Activate in Seconds and Start Raising More from Matching Gifts!
Integrating 360MatchPro with REACH forms takes only a few steps. A mutual client of REACH and Double the Donation will simply enter their 360MatchPro API keys into their REACH portal to connect their accounts. Once this is complete, it's just a matter of choosing which forms on which to add 360MatchPro's donor-facing tools. 
Once integrated on a REACH form, 360MatchPro immediately goes to work helping donors discover their company's matching gifts program. From a simple search of Double the Donation's database to clear next steps on REACH confirmation pages, donors are guided every step of the way to matching gift success.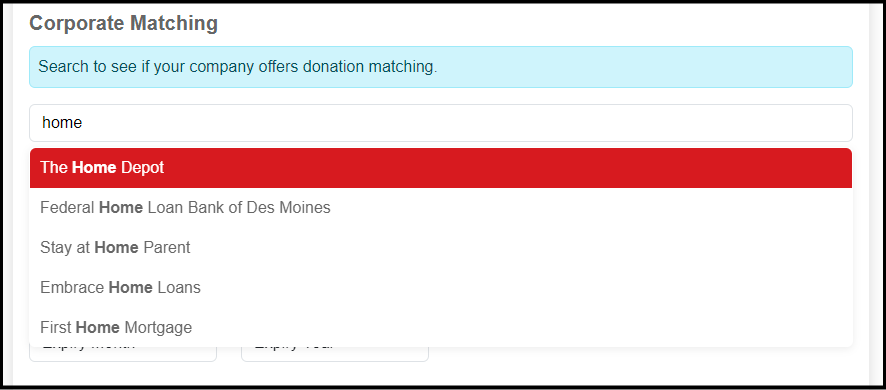 The donation record, with associated company information, is then immediately sent to 360MatchPro, where the nonprofit has the power to automatically send follow up emails personalized to the organization's branding and the donor's status in the match process. 

Drive Donations to Completion with 360MatchPro!
The new REACH and Double the Donation partnership empowers fundraisers to deepen their relationships with donors, and empowers donors to deepen their impact on the causes they care about. 
Some other key features of matching gifts automation you can look out for:

Identify more matching gift revenue opportunities: 360MatchPro enables you to automatically collect matching gift eligibility from donors using email domains, within donation forms, on confirmation screens, or by email. The more matching gift opportunities 360MatchPro discovers and shares with donors, the more matching gift requests your donors will successfully submit.

Drive more matches to completion, from form submission to corporate payment: Direct donors immediately to their matching gift forms after the donation process is complete. Then, provide the right information to the right donors at the right time with custom emails based on match eligibility. Target follow-ups drive more completed submissions than ever before, bringing exponentially more matching gift checks from companies through your door.

Reallocate your time from routine follow-up to your top opportunities: Your time is valuable, so why spend it chasing small dollar-value matching gifts? Let 360MatchPro automate your matching gift outreach while flagging your highest-value opportunities, allowing your team to personalize follow-ups to the most valuable match-eligible donations. Rest easy knowing that 360MatchPro can handle the rest.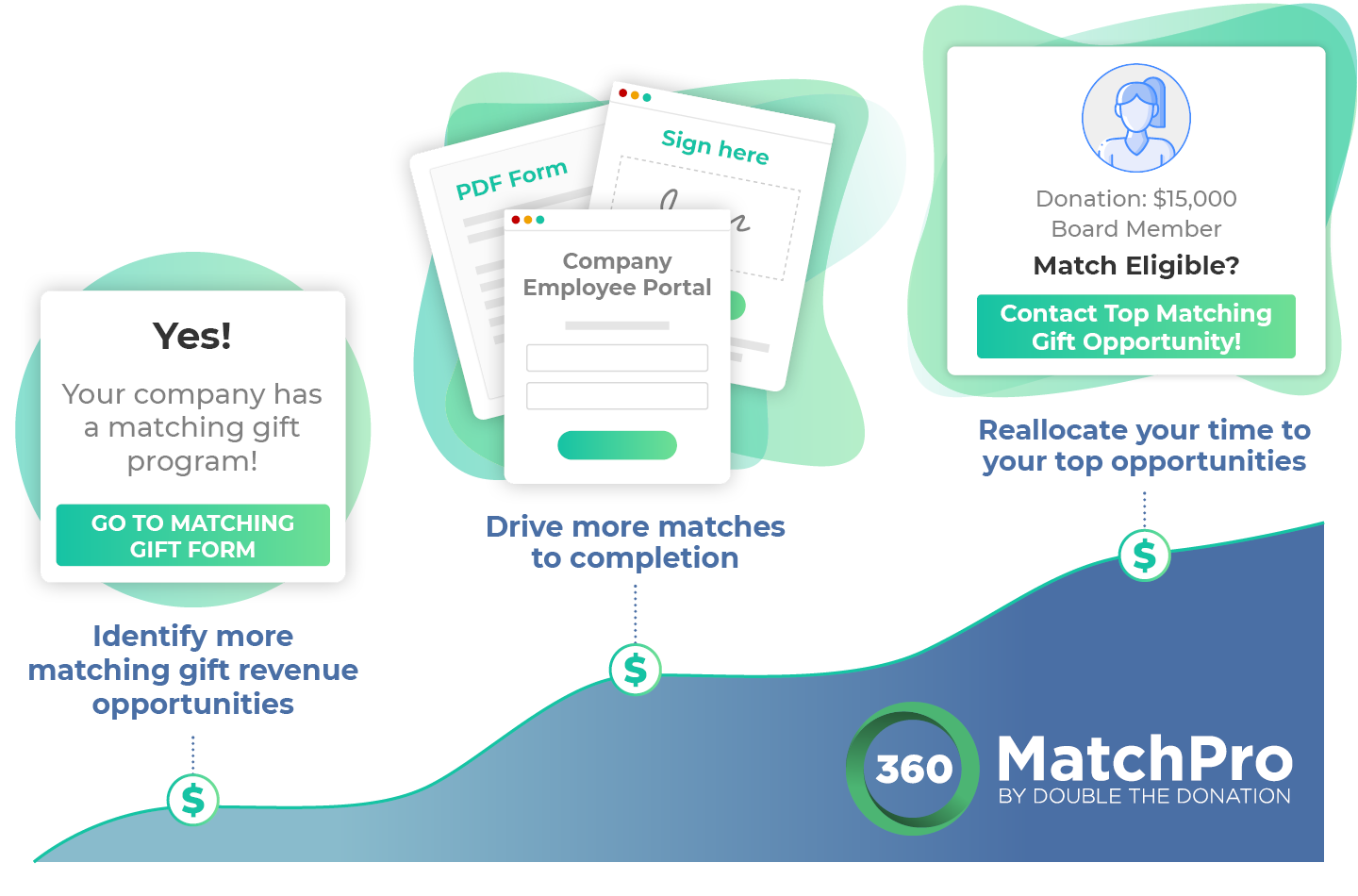 Ready to get started with matching gifts automation using REACH? Request a demo today. 
---
About REACH: REACH helps your nonprofit work smarter and operate more efficiently. We provide nonprofits with robust software to help you manage your donors, fundraise and run your sponsorship programs.
About Double the Donation: Automate your matching gift fundraising with the industry-leading solution from Double the Donation. The 360MatchPro platform provides nonprofits with tools to identify match-eligible donors, drive matches to completion, and gain actionable insights. 360MatchPro integrates directly into donation forms, CRMs, social fundraising software, and other nonprofit technology solutions to capture employment information and follow up appropriately with donors about matching gifts. To learn more about Double the Donation, visit https://doublethedonation.com and request a demo at https://360matchpro.com/demo-request/. 
https://doublethedonation.com/wp-content/uploads/2023/09/DTD_REACH-Partnership-announcement-Feature.png
290
775
Adam Weinger
https://doublethedonation.com/wp-content/uploads/2022/03/logo-dtd.svg
Adam Weinger
2023-09-05 15:00:39
2023-09-05 15:01:08
Double the Donation and REACH Partner with New Matching Gifts Integration