Companies with Innovative and Unique Matching Gift Programs
At Double the Donation, we maintain the industry's most comprehensive and up-to-date matching gift database⁠—with records for more than 24,000 companies with matching gift programs. Since each company that offers matching gifts is able to determine its own minimum and maximum donation amounts, match ratios, qualifying employees and nonprofit types, and more, we end up with a ton of innovative and unique matching gift programs.
And truthfully, all matching gift programs are great. But there are a few that really stand out to us as offering something particularly special for their employees and the nonprofits they support.
Corporate giving engages employees' passions and provides additional funding for nonprofits, which in turn helps entire communities. And offering creative programming and unique incentives for getting involved is a great way to drive participation and, therefore, impact.
Let's look at a few employers with unique programs and what makes them stick out from the crowd. In this guide, we'll explore the following companies' initiatives:
There are a number of creative ways that businesses get their employees more involved in charitable giving. The ideas differ, but they all do a great job of helping charitable organizations increase fundraising revenue and better support their overall missions.
And when nonprofit fundraisers like yourself keep these companies at top of mind, you'll be better equipped to make the most of such opportunities as they arise.
General Electric — First Matching Gift Program
When it comes to matching gift innovation, General Electric is likely going to top every list. That's because GE pioneered the first matching gift program in 1954, and its 60+ years of matching gift history and generous donation limits continue to lead the way for other businesses to follow.

Since the inception of its matching program, the company has donated over $1 billion in employee matching gifts. That means that GE is a matching gift leader not only for being first but also for staying at the top of the pack for all this time.

Today, employees may request matching gifts up to $5,000 per year at a 1:1 ratio through the GE matching gift program.
Learn more about General Electric's matching gift program.

BP — Offers Charitable Giving Stipends
Each year, BP (formerly British Petroleum) gives employees $300 to donate to nonprofits of their choosing. That's it—no strings attached. BP is committed to helping local communities, and they let employees feel more involved by letting them choose where the money goes. This program, known as the Fabric of America Program, is open to every current BP employee.

In addition to its charitable grant initiative, BP also offers a traditional matching gift program that matches up to $5,000 worth of donations per employee at a 1:1 ratio.
Learn more about BP's matching gift program.

CVS Health ⁠— Incorporates Fundraising Event Matches
Some companies, such as CVS, want to prioritize certain forms of giving. CVS incentivizes its employees to raise money for nonprofit events, like the popular run/walk/ride, which is also known as peer-to-peer fundraising. To encourage participation, the company matches the donations raised by employees between $250 and $1,000 per year.

For teams of volunteers, they offer even high fundraising grant donation caps. When five or more CVS employees fundraise for an eligible organization together, CVS will match up to $5,000 worth of fulfilled pledges, with a minimum of $500 raised across the team.
Learn more about CVS's matching gift program.

Expedia ⁠— Internationally Eligible Program
Matching gifts aren't just for American companies, either. For example, Expedia and its subsidiaries have employees in over 30 countries. But for a long time, they did not match donations to nonprofits in all of those locations.

Now, Expedia offers matching gifts to eligible nonprofits across the globe! Donations are matched at a 1:1 ratio, and employees can request matches on as much as $4,000 worth of charitable gifts per year.

Through the Expedia Cares Program, employees can give back to their communities in a number of ways, such as through matching gifts, a global ambassador program, and more.
Learn more about Expedia's matching gift program.

HP, Inc. ⁠— Offers Volunteer Grants
Employing more than 58,000 people, HP is a leader in the information technology sector. It's also a leader in the matching gift world, specifically through its Good Cards program.

Each quarter, any employee who volunteers for at least 10 hours (and tracks their time through the company's innovative internal volunteer system) receives a $50 grant which they can donate to a charity of their choosing. Plus, HP also offers a generous matching gift program where it'll match philanthropic employees' donations of up to $2,500 per year.
Learn more about HP's matching gift program.

Microsoft ⁠— Highest Employee Participation
This major company is well-represented in the philanthropic world. Since 1983, it's hosted an annual Giving Campaign that makes a considerable impact on eligible nonprofits. It also hosts another program called Hack for Good, which tackles pressing societal problems.

But one of its most impressive successes is its matching gift program. In fact, Microsoft is currently the largest contributor of matching gift and volunteer grant funds, and it also boasts the highest level of employee participation at over 65% involvement.

Our matching gift statistics indicate that, inclusive of the corporate match, Microsoft employees have donated more than $1 billion to nonprofit causes.
Learn more about Microsoft's matching gift program.

RealNetworks⁠ — Unique 5-Year Anniversary Grant
RealNetworks matches employee donations at a 1:1 ratio up to $10,000 per team member per year. That's a whole lot of good⁠—but RealNetworks doesn't stop there.

After five years with the business, employees receive a $500 grant that can be contributed to any eligible nonprofit. This unique corporate giving offering helps increase staff retention with the company, rewards long-term employees with a significant, mission-focused incentive, and ultimately benefits the nonprofits their employees support.
Learn more about RealNetworks' matching gift program.

Soros Fund Management ⁠— Highest Maximum Match Amount
Because this successful company encompasses fewer than 500 people, it can afford to offer generous donation maximums and matching ratios that are significantly higher than the typical employer.

Today, employee gifts are matched at a 2:1 ratio for gifts up to $100,000 per year, with partners being eligible to request donation matches at a 1:1 ratio. Most nonprofits qualify to receive funding through the matching program, with an additional volunteer grant initiative available as well.
Learn more about Soros Fund Management's matching gift program.
Pew Charitable Trusts ⁠— Religiously Inclusive Program
The Pew Charitable Trusts is a generous matching gift provider for all sorts of nonprofit causes. In fact, full-time and part-time employees qualify to request matches at a 2:1 rate for personal gifts made up to $10,000 on an annual basis. That makes the company cap per employee a bountiful $20,000 per year!

But one thing that really makes this company's matching initiative stand out is the fact that the program is inclusive of just about all kinds of religious organizations. This encompasses places of worship like churches, synagogues, mosques, and more—which are generally excluded from many companies' match offerings.

So if your nonprofit group is religious in nature, the Pew Charitable Trusts is a top matching gift company to be aware of!
Learn more about Pew Charitable Trusts' matching gift program.
Nike ⁠— Sports-Related Triple Match Program
Nike is another company that matches employee donations to most nonprofit causes, including educational institutions, health and human services, arts and cultural organizations, civic and environmental groups, and more.

Then, in order to further amplify impact for the causes most closely aligned with the company's athletics-focused mission, Nike offers a unique triple match for employees giving to community sports-related organizations. For qualifying nonprofits, employee gifts are matched at a 2:1 rate, ultimately tripling the initial donor contribution up to $25,000 per team member per year.
Learn more about Nike's matching gift program.
Blue Shield of California ⁠— Special Board Member Match
Some companies also want to incentivize employee participation with nonprofits on a deeper level—such as by volunteering on the organization's board of directors. That's exactly what Blue Shield of California does!

This company offers a traditional matching gift program open to all current employees who support qualifying California-based nonprofits and select national organizations. Then, they offer an additional matching initiative for employees who serve as board members of nonprofit causes. This unique board member match goes above and beyond the typical match program, offering elevated match rates and increased maximum donation amounts.
Learn more about Blue Shield of California's matching gift program.
Innovative Discovery ⁠— Seamless Auto-Submission Functionality
Speaking of innovation, legal services provider Innovative Discovery offers a particularly standout matching gift program in the way that employees can get involved. By introducing matching gift auto-submission through their corporate giving platform in partnership with Double the Donation, ID team members can complete their part of the matching gift request process more easily than ever before.

Now, with just a few clicks from their favorite nonprofits' donation confirmation screens, employees can authorize Double the Donation to submit the matching gift request on their behalf—no separate forms or redirected pages required!
Learn more about Innovative Discovery's matching gift program.
---

How a Matching Gift Database Can Help
While these programs are certainly unique, there are tens of thousands of other companies that match gifts, too. It's too many to keep up with on your own! Thus, to effectively uncover available opportunities and identify your organization's eligibility, you'll likely need the help of a matching gift database like Double the Donation.
Double the Donation is the industry's leading provider of matching gift software, and we work with some of the largest organizations across the globe. We also boast the most accurate and up-to-date database of information regarding these programs. As such, we work to equip nonprofits and their donors with the tools they need to implement matching gift efforts in their overall fundraising strategies with ease.
The matching gift tool, which can be integrated across your organization's website, donation form, email communications, and more, allows fundraisers to maximize corporate giving revenue by…
Enabling donors to search for their employers with an auto-completing company information field to identify and flag match-eligible donors;
Providing users with company information and matching gift eligibility criteria in real-time;
Guiding donors to request their matches with direct links to their employers' online submission portals;
Tracking donors' progress throughout the matching gift request and fulfillment processes.

Not to mention, it's all automated⁠—allowing your team to reallocate more time and effort to your highest-value priorities!
---
Next Steps
Plenty of companies offer matching gift programs, so it's important for nonprofits to promote corporate giving to donors. After all, one of the biggest roadblocks facing matching gift success is a lack of awareness of corporate giving. According to our research, that results in more than $4 to $7 billion dollars worth of potential matching gift funds going unclaimed each year.
Don't let your nonprofit add to that statistic. Now that you know how to pinpoint available matching gifts, get started boosting your corporate fundraising efforts.
Stay up-to-date with your donors' employers and keep your eyes peeled for top matching gift opportunities. You'll be sure to come across even more unique programs!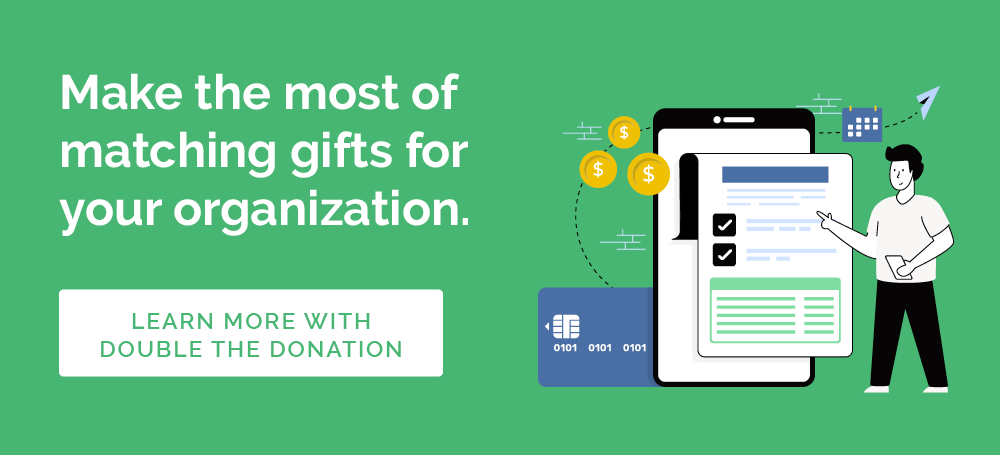 https://doublethedonation.com/wp-content/uploads/2015/04/DTD_Companies-with-Unique-and-Innovative-Matching-Gift-Programs_Feature.png
600
1600
Adam Weinger
https://doublethedonation.com/wp-content/uploads/2022/03/logo-dtd.svg
Adam Weinger
2023-04-15 13:44:34
2023-09-12 14:58:02
Companies with Innovative and Unique Matching Gift Programs