Companies With Matching Gift Programs in San Francisco
Here at Double the Donation, we often get questions from nonprofits regarding how to jump in with matching gift fundraising efforts. Want an easy place to start? Connect with corporate giving programs by looking for existing match initiatives in your own backyard.
San Francisco⁠—and the surrounding Bay Area⁠—is home to over 7.7 million people and has a GDP of over $577 billion. The area is a major financial hub for Northern California and is, therefore, the home of some of the nation's best corporate giving programs.
That means that San Francisco presents major matching gift potential for nonprofits with a large donor population in the area.
In this guide, we're going to examine some of the largest San Francisco-based companies offering standout matching gift programs. These include (but are certainly not limited to):
Wells Fargo
The Gap Corporation
Visa
Levi Strauss & Co.
PG&E
Marin CABT
LinkedIn
But before we look at some of the city's most promising matching gift opportunities, let's see how you can begin soliciting matching gifts more effectively⁠—with matching gift tools.

The Best Way to Discover Matching Gift Opportunities
The biggest obstacle for a nonprofit trying to increase donations through matching gifts is a lack of knowledge surrounding the programs. Whether on the nonprofit end or the donor end, it's difficult to capitalize on matching gift programs when either party is unaware that they exist!
The easiest way for your nonprofit to combat this is with the help of matching gift software such as Double the Donation's 360MatchPro. This matching gift automation tool is well-suited for nonprofits looking to increase their matching gift fundraising efforts.
With 360MatchPro, you can:
Automatically uncover match-eligible donors with four powerful identification methods (donation form search tool, confirmation screen widget, email outreach, and email domain screening);
Trigger automated and personalized follow-up communications informing donors of their match eligibility;
Provide detailed company-specific program guidelines and next steps, including a direct link to their employers' online matching gift forms;
Access a robust matching gift dashboard that provides detailed and birds-eye analytics, overviews top companies searched, and tracks matches through the process to forecast incoming revenue.
Plus, doing so not only increases the funding your organization receives through corporate matching programs but also drives donor engagement and allows your fundraising team to save time and reallocate resources to your most valuable priorities.
Now, read on for a look at some of San Francisco's top companies with matching gift programs.
(Hint: Looking for more information on these generous California-based match programs? They're all listed in our comprehensive matching gift database!)

1. Wells Fargo
Wells Fargo was founded in 1852 in the heart of the budding American West. Initially, the banks' founding capital was only $300,000. More than 160 years later, the banking giant generates nearly $83 billion in revenue per year.
And the company, which is dedicated to corporate responsibility, has been recognized for its commitment to philanthropy, sustainability, and diversity.
Wells Fargo will match a donation as small as $25 and as large as $2,000, per employee per year. Full-time and part-time employees are eligible to have their donations matched, in addition to retired team members. Additionally, Wells Fargo contributes more than $500,000 in volunteer grants, thus incentivizing its employees to donate their time as well.
Learn more about Wells Fargo's corporate matching program.
2. The Gap Corporation
The Gap Corporation's hold on the clothing market expands far beyond its name-sake apparel store. The company owns Banana Republic, Old Navy, and Athleta.
In 2021, The Gap funded over $1.3 million of employee-driven community investment and matched donations to more than 3,000 nonprofit groups.
The Gap will match donations as small as $10and as large as $15,000. Employees who donate at least 15 hours of their time are also eligible to receive volunteer grants of $150. The company also encourages teams of employees to volunteer with organizations that serve women or children by offering up to $250 in volunteer grants.
Learn more about The Gap's corporate matching program.
3. Visa
Visa Inc. employs over 21,500 individuals and generates over $21.8 billion in revenue annually. The credit-card giant processes billions of transactions every year.
Visa has a strong commitment to corporate responsibility and has been a proud sponsor of the Olympics and Paralympics since 1986.
Visa will match employee donations as small as $20 and as large as $5,000. The company encourages employees to volunteer by picking one outstanding member from each region to give a grant of up to $5,000 for the organization to which they had dedicated the most hours.
Learn more about Visa's corporate matching program.
4. Levi Strauss & Co.
Levi Strauss and Co. has been operating out of San Francisco since its creation in 1873. The jean company now employs over 16,600 individuals and generates more than $2.8 billion in revenue yearly.
Committed to social responsibility, Levi Strauss and Co. has hosted a worldwide day of service for the last decade. Employees from around the world are given the day off to volunteer with local nonprofits. The company also works with its factories located around the world to make the lives of the workers better.
Levi's will match employee donations as small as $25 and as large as $1,200. The program applies to current and retired employees as well as part-timers. If a Levi's employee volunteers for a minimum of 10 hours to a select nonprofit, the company will issue a volunteer grant of up to $2,400.
Learn more about Levi Strauss and Co.'s corporate matching program and volunteer grant program.
5. Pacific Gas & Electric (PG&E)
PG&E has several philanthropic programs in place, including a focus on STEM education, economic and community vitality, and environmental education and conservation efforts.
In 2021, Pacific Gas & Electric employees volunteered over 22,000 hours to support communities in Northern and Central California and donated more than $23 million, with many of those donations being matched by PG&E to amplify total giving impact. Since the start of the program, PG&E employees and retirees have contributed more than $100 million toward charitable and community-focused causes.
PG&E matches gifts at a minimum of $25 and a maximum of $1,000 at a 1:1 ratio.
Learn more about PG&E's corporate matching program.
6. Marin Center for Anxiety and Behavioral Therapy
Marin Center for Anxiety and Behavioral Therapy is one of the leading Child Therapy practices in Marin County and San Francisco.
Marin CABT offers an employee matching gift program that's accessible by both full-time and part-time employees, as well as their spouses. The practice will match donations up to $500 at a 1:1 ratio in most instances. However, if the donation is benefitting a nonprofit working with mental health issues, the donation will be matched on a 2:1 ratio.
Learn more about Marin Center for Anxiety and Behavioral Therapy's matching gift program.
7. LinkedIn
LinkedIn functions as a work-based social network, through which employers and employees in an industry can connect. 
The company matches gifts for full-time and part-time employees on a match ratio of 1:1, with the minimum match set at $25 and the maximum match set at $15,000.
Learn more about LinkedIn's matching gift program.
---
Eager for more? Check out the generous matching gift initiatives at these additional companies that call the Bay Area home:
(Hint: click on the company names to explore their matching gift guidelines, submission processes, and more!)
However, even this list is not exhaustive! There are always more matching gift opportunities to explore.
And remember⁠—our matching gift database is the best place to look for all of the above information and more on companies across the globe.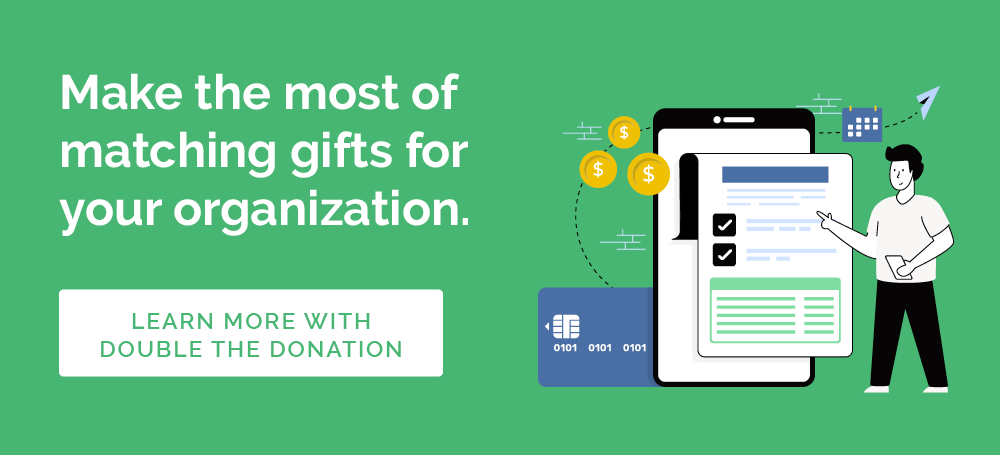 https://doublethedonation.com/wp-content/uploads/2017/11/DTD_Companies-With-Matching-Gift-Programs-in-San-Francisco_Feature.png
600
1600
Adam Weinger
https://doublethedonation.com/wp-content/uploads/2022/03/logo-dtd.svg
Adam Weinger
2017-11-17 14:25:32
2023-11-30 02:42:12
Companies With Matching Gift Programs in San Francisco