Double the Donation's Year in Review: 2021

If you've been following along for some time now, you'll know that 2021 was a big year for us over at Double the Donation. We partnered with fantastic fundraising solutions to provide thousands of mission-driven organizations with our constantly improving tools, working alongside nonprofits as they make their impact on the world.
Over time, we are continuing to develop our company, refine our products, and expand our network of social good. Let's walk through a recap of what the past year has brought to our team!
Product Updates & Enhancements
We've made a lot of significant changes to the Double the Donation platform in the last year in order to provide increased functionality and streamline matching gift processes. These are some of our most impactful advancements:
Focusing on 360MatchPro: We've phased out Double the Donation's Legacy Plan (formerly "Premium Plan") in order to focus exclusively on our more effective, comprehensive automation solution, 360MatchPro. Now, all organizations can make the most of their matching gift potential using first-in-class 360MatchPro matching gift automation!
Launching multi-channel outreach: Thanks to a Twilio integration, we've rolled out multi-channel donor outreach⁠! This means fundraisers can communicate via automated SMS in addition to existing email functionality, reaching donors through multiple channels and providing opportunities for additional touchpoints.
Publishing real-time matching gift analytics: Our real-time matching gift dashboard (available online here) provides viewers with continuously updating information on our database development. This includes total company records, number and percentage of match-eligible donor coverage, form availability, and more!
Adding an end-of-year email stream: The end of the year can be one of the most crucial times for nonprofit fundraisers, and our new end-of-year email streams can help make the most of matching gifts. Our new customizable pre-written email templates allow you to retroactively follow up with match-eligible donors who had given previously in the year in order to boost year-end revenue.

For information on even more Double the Donation updates and enhancements, check out our product release notes. We're always working to provide the best solution possible for our clients!
Expanding Client Base
The Double the Donation client network continues to grow as well! In 2021, more than 1,000 new accounts were set up on our 360MatchPro platform with thousands of additional organizations using our various offerings, allowing a range of mission-driven and charitable organizations to begin maximizing employer matching gifts.
That is in addition to the 8,500+ nonprofits already using the platform, which includes all sorts of schools and universities, arts and culture organizations, health and human services groups, and tons of other 501(c)(3) organizations.
Here's what a few of our newest clients have to say:

CityTeam: "Talk about seamless integration! The set-up for connecting DTD with our CRM system AND our email platform literally happened in just a few clicks. We appreciate the prompt replies from every DTD team member. The interface is easy to use, and we began seeing the ROI in the first go-live minutes."
– Tamara Wheeler, Vice President of Marketing & Development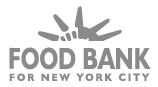 Food Bank For New York City: "Double the Donation is such a helpful tool to ensure we are presenting the most current matching gift opportunities to our donors both during and after the online giving experience. The platform automates so many processes we would otherwise conduct manually."
– David Jones, Vice President for Fundraising Operations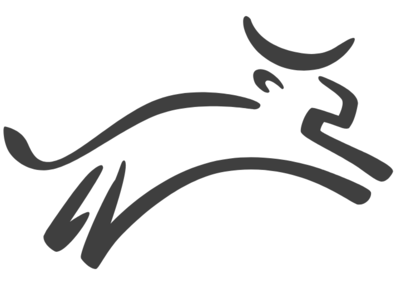 Heifer International: "Our integration with Double the Donation was so easy, and we love having a dashboard at our fingertips. This allows us to follow up with donors and ensure that their matching gifts are applied properly."
– Bert Kimrey, Director of Community Marketing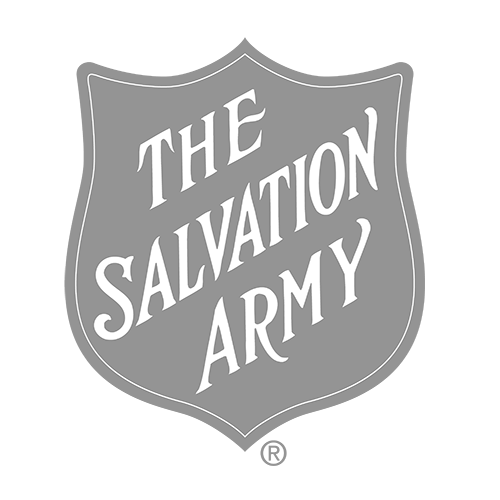 The Salvation Army of the United States (Nationals): "Not only does Double the Donation make it easy for Salvation Army donors to submit their matching gifts, but their tools were easy for our team to implement and use. We have been very impressed since making the switch."
– Dale Bannon, National Community Relations and Development Secretary
And that hardly scratches the surface of the new accounts we've set up in the past year! Organizations like Vanderbilt University, the University of Notre Dame, UNICEF USA, and more are continuing to expand their matching gift strategies with our tools as well.
New Partnerships & Integrations
Last year alone, Double the Donation launched more than 22 new software integrations with innovative and leading fundraising solutions. These new partners continue to build on our growing partner network, providing a seamless matching gift experience for thousands of users.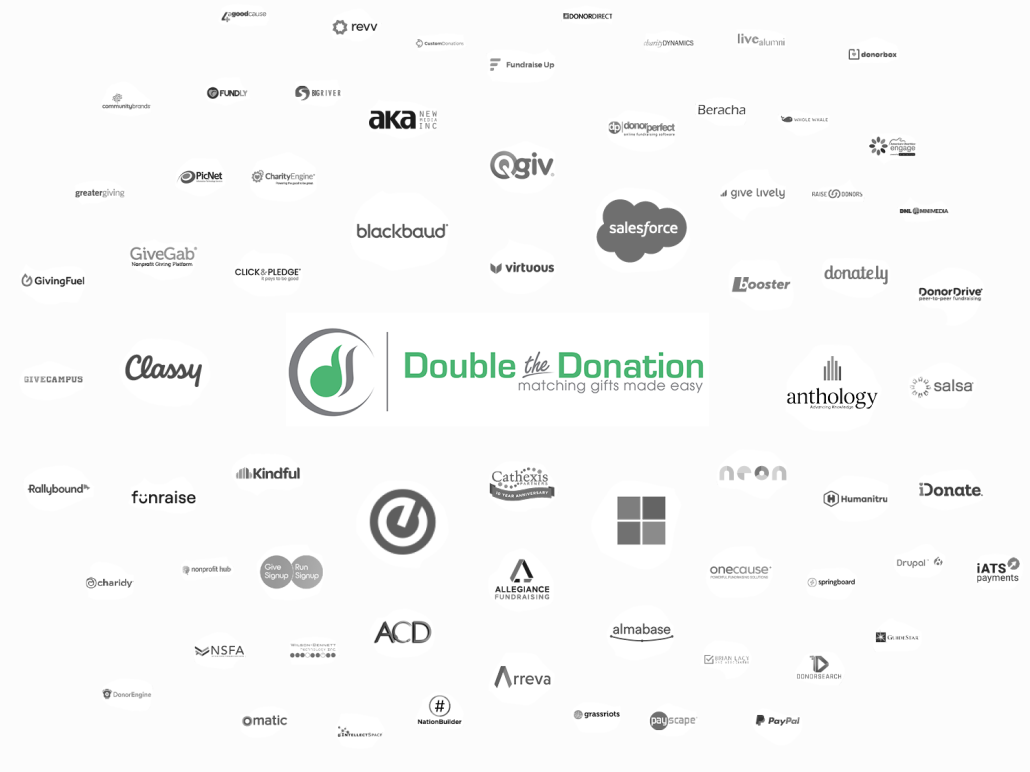 Thanks to partnerships like these, our matching gift software integrates perfectly with all sorts of online donation tools, peer-to-peer fundraising platforms, nonprofit CRMs, and more.
To find out whether your favorite fundraising platform(s) integrates with Double the Donation, explore our Knowledge Base and search for the provider in question! Or, check out a complete list of our 70+ integration partners here!
Overall Matching Gift Fundraising Success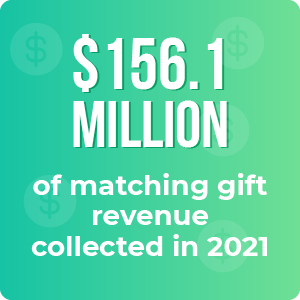 We love seeing our software helping nonprofits collect more in individual donations and corporate funding. Their successes are our successes⁠—and last year, we'd certainly call it a success!
In 2021 alone, charitable organizations identified more than $156.1 million in matching gift revenue using Double the Donation's tools. Additionally, our clients boast a 54% open rate for matching gift emails, more than 2.7 times higher than the average nonprofit rate of 20%.
Not only is our solution putting more dollars toward your cause, but it's also improving supporter relations with increased engagement opportunities and magnified donor impact. That's what we consider a win-win.
Matching Gift Database Development
At Double the Donation, we pride ourselves on having the most comprehensive and up-to-date matching gift database solution. In order to stay on top, it's important that our industry-leading solution continues to grow.
As of December 2021, the Double the Donation database contains the following information:
24,231+ total company records
26,803,317+ employees represented
99.68% coverage of match-eligible donors
80.96% matching gift form availability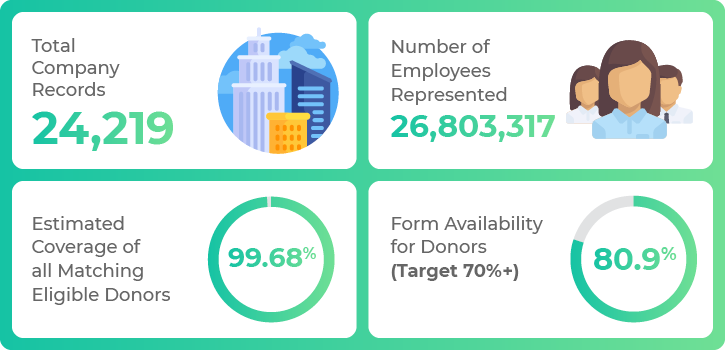 These metrics are currently at their all-time highs, and they're only going up from here!
The extent of our matching gift coverage directly impacts the results that our nonprofit clients see. As such, we've made it a priority to ensure we are continuously adding new companies and subsidiaries, providing available online match request forms, and updating information where necessary.
Double the Donation Company Growth

As our product continues to grow, so does the company behind it. In 2021, the Double the Donation staff has expanded to include nine new team members in sales, partnerships, client onboarding, and marketing roles.
Plus, we're also working to develop our client success teams by bringing on additional customer support staff. This allows us to better cater to the organizations that use our tools and meet their needs in the most effective ways possible⁠—which is always the goal!
---
As you can see, it was quite the year over here. We're so grateful for the clients, partners, and donors who worked with us to make 2021 our year. We certainly could not have done it without you.
Here's to seeing what 2022 will bring!

https://doublethedonation.com/wp-content/uploads/2022/06/DTD_Year-in-Review-2021_Feature.png
275
725
Adam Weinger
https://doublethedonation.com/wp-content/uploads/2022/03/logo-dtd.svg
Adam Weinger
2021-12-07 16:54:03
2022-11-27 18:43:57
Double the Donation's Year in Review: 2021