Double the Donation and Blackbaud Enhance Matching Gift Integration with Raiser's Edge NXT and 360MatchPro
Double the Donation and Blackbaud are thrilled to debut their recent integration enhancements. This duo has teamed up to bring even greater matching gift functionality to their existing integration.
As a Premier ISV Partner in the Blackbaud ecosystem, Double the Donation offered a robust CRM integration, designed to automate matching gift outreach to donors post-contribution. This new integration update now functions specifically with RE NXT donation forms, allowing donors to identify themselves as match-eligible during the donation process – leading to greater donor reporting along with more tailored, personalized messaging and next steps.
"360MatchPro has proven to provide tremendous value in helping RE NXT customers take full advantage of matching gift opportunities," said Ben Wong, Senior Principal Technical Product Manager. "This latest enhancement presents the matching gift opportunity directly to donors, which will help raise matching gift revenue as well as foster donor engagement and improve data reporting, and it's delivered in a simple package that I know customers will love."
This integration enhancement provides an additional touchpoint to donors when they're most engaged: during the donation process. As the donor navigates through their typical giving flow, 360MatchPro will work to identify matching gift opportunities and drive matching gift requests to completion.
"Many donors have trouble navigating the matching gift process, leaving nonprofits responsible for donor follow ups and outreach efforts," said Adam Weinger, President of Double the Donation. "Our enhanced RE NXT integration allows nonprofits to transfer that responsibility to an automated solution so that they can increase their matching gifts while focusing their energy and effort on top priority tasks within their organization."
360MatchPro works seamlessly with RE NXT, providing fundraisers with leading matching gift automation across nonprofit and educational industries. Using this enhanced integration, users can expect simple matching gift solutions to drive fundraising success.

Activate in Seconds and Start Raising More from Matching Gifts!
The 360MatchPro and RE NXT donation form integration has a simple set up process so that you can drive matching gift revenue in no time. Simply connect your RE NXT and 360MatchPro accounts using the process outlined in our integration guide. Then, you can drag and drop the 360MatchPro search tool directly onto your RE NXT donation forms.

Once you place the matching gift search bar on your form, then you're all set! Donors will now be able to identify themselves as match-eligible during the donation flow and receive matching gift follow ups directly on the confirmation screen.
This process can help your organization harness the $4-7 billion in matching gift revenue that goes unclaimed each year.
Looking to learn more? Check out our in-depth integration guide to get started!

Drive More Matching Gifts to Completion with 360MatchPro!
360MatchPro ensures your matching gift opportunities don't fall through the cracks.
Take advantage of this solution to:
Identify more matching gift revenue opportunities: 360MatchPro enables you to automatically collect matching gift eligibility from donors using email domains, within donation forms, on confirmation screens, or by email. The more matching gift opportunities 360MatchPro discovers and shares with donors, the more matching gift requests your donors will successfully submit.
Drive more matches to completion, from form submission to corporate payment: Direct donors immediately to their matching gift forms after the donation process is complete. Then, provide the right information to the right donors at the right time with custom emails based on match eligibility. Target follow-ups drive more completed submissions than ever before, bringing exponentially more matching gift checks from companies through your door.
Reallocate your time from routine follow-up to your top opportunities: Your time is valuable, so why spend it chasing small dollar-value matching gifts? Let 360MatchPro automate your matching gift outreach while flagging your highest-value opportunities, allowing your team to personalize follow-ups to the most valuable match-eligible donations. Rest easy knowing that 360MatchPro can handle the rest.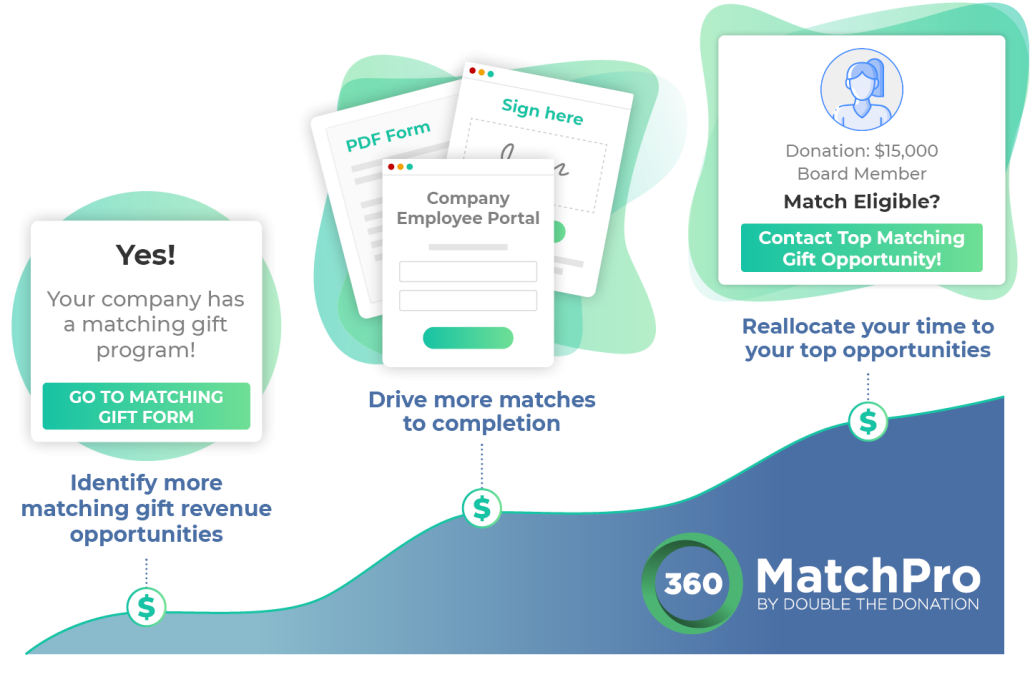 Ready to drive matching gifts for your next fundraising effort? Schedule a personalized demo to learn how matching gifts can fund your mission.
---
About Blackbaud: The Blackbaud Partner Network is a group of leading technology and services firms providing the social good community with the solutions, applications, and strategies they need to make a difference in their local communities and worldwide. To learn more about Blackbaud's Technology Partner program, visit: http://www.blackbaud.com/partners
About Double the Donation: Automate your matching gift fundraising with the industry-leading solution from Double the Donation. The 360MatchPro platform provides nonprofits with tools to identify match-eligible donors, drive matches to completion, and gain actionable insights. 360MatchPro integrates directly into donation forms, CRMs, social fundraising software, and other nonprofit technology solutions to capture employment information and follow up appropriately with donors about matching gifts. To learn more visit https://360matchpro.com/demo-request/
https://doublethedonation.com/wp-content/uploads/2022/06/Double-the-Donation-Blackbaud-feature.png
290
775
Adam Weinger
https://doublethedonation.com/wp-content/uploads/2022/03/logo-dtd.svg
Adam Weinger
2021-12-05 16:38:29
2023-09-14 21:18:27
Double the Donation and Blackbaud Enhance Matching Gift Integration with Raiser's Edge NXT and 360MatchPro