PatronManager and Double the Donation Announce Matching Gifts Integration
PatronManager – Patron Technology's powerful ticketing and CRM solution – and Double the Donation are proud to launch a matching gift integration between PatronManager donation forms and 360MatchPro, the leading matching gifts automation provider by Double the Donation. The new integration allows nonprofit organizations to identify more matching gift opportunities during the donation process and drive more matching gifts to completion. 
"Matching gifts are a key element of the fundraising strategy for many PatronManager clients, so we're thrilled to collaborate with Double the Donation," says Jen Leavitt, VP of Product at Patron Technology. "With this partnership, our clients will be able to drive more revenue, learn more about their patrons than ever before, and strengthen the 360-degree view of their data that is essential to building fruitful donor relationships."
Now, donors are able to discover their match eligibility, develop an understanding of their employers' programs, and pursue their match directly following their donation submission. With this powerful partnership, Double the Donation and PatronManager can help nonprofit organizations start raising more from matching gifts as soon as they activate the integration. 
"When it comes to matching gifts, there are two key elements that spell success for nonprofits looking to raise more: effective education and seamless processes," says Adam Weinger, President at Double the Donation. "Our new partnership with PatronManager creates that educational space and that immediate call to action for donors, all easily included within the donation experience."
Client organizations of PatronManager and Double the Donation can now look forward to claiming some of the $4-7 billion left on the table in matching gift funds each year.

Activate in Seconds and Start Raising More from Matching Gifts!
The PatronManager and Double the Donation teams have worked together to develop a solution that takes no complicated IT work for an organization to get started. Organizations can enter their API key from 360MatchPro into their PatronManager account, place Double the Donation's search tool on their donation forms, and save! 

Once this process is complete, organizations begin the process of capturing match eligible transactions and guiding donors to their matching gift request forms! Seamlessly included in the donation process, the 360MatchPro autocomplete search tool and confirmation page plugin encourage donors to submit their matching gift requests immediately after they give their initial gift. 
360MatchPro collects this data and transforms it into actionable insights for organizations to keep donor information streamlined and consolidated, resulting in a wealth of useful corporate philanthropy-related data for fundraising teams.
Looking to learn more? Check out our in-depth integration guide to get started!

Drive More Matching Gifts to Completion with 360MatchPro!
PatronManager is designed to grow and flourish alongside nonprofits as they evolve. Double the Donation is proud to become a part of that story of growth and enriched experience by providing PatronManager users with the most advanced matching gift automation tool in the space. 
Check out some key features below: 
Identify more matching gift revenue opportunities

: 360MatchPro enables you to automatically collect matching gift eligibility from donors using email domains, within donation forms, on confirmation screens, or by email. The more matching gift opportunities 360MatchPro discovers and shares with donors, the more matching gift requests your donors will successfully submit.

Drive more matches to completion, from form submission to corporate payment

: Direct donors to their matching gift forms immediately after the donation process is complete. Then, provide the right information to the right donors at the right time with custom emails based on match eligibility. Target follow-ups drive more completed submissions than ever before, bringing exponentially more matching gift checks from companies through your door.

Reallocate your time from routine follow-up to your top opportunities

: Your time is valuable, so why spend it chasing small dollar-value matching gifts? Let 360MatchPro automate your matching gift outreach while flagging your highest-value opportunities, allowing your team to personalize follow-ups to the most valuable match-eligible donations. Rest easy knowing that 360MatchPro can handle the rest.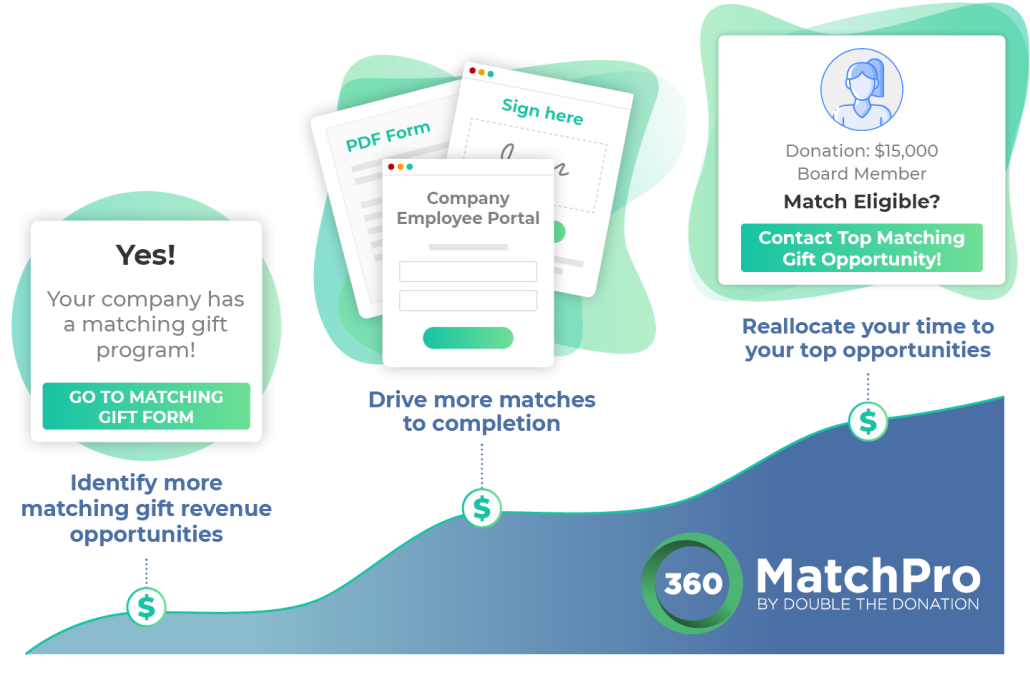 Ready to get started with your own matching gift journey? Schedule a private demo with the Double the Donation team today, and make sure to mention you use PatronManager!
---
About PatronManager: PatronManager, a product of Patron Technology, is a powerful arts and cultural organization ticketing solution built entirely on Salesforce. Its powerful CRM helps arts organizers sell more tickets, raise more money, and cultivate stronger bonds with their audience. For more information, please visit patronmanager.com.
About Double the Donation: Automate your matching gift fundraising with the industry-leading solution from Double the Donation. The 360MatchPro platform provides nonprofits with tools to identify match-eligible donors, drive matches to completion, and gain actionable insights. 360MatchPro integrates directly into donation forms, CRMs, social fundraising software, and other nonprofit technology solutions to capture employment information and follow up appropriately with donors about matching gifts. To learn more about Double the Donation, visit https://doublethedonation.com and request a demo at https://360matchpro.com/demo-request/. 
https://doublethedonation.com/wp-content/uploads/2022/06/Double-the-Donation-PatronManager-Feature.png
290
775
Adam Weinger
https://doublethedonation.com/wp-content/uploads/2022/03/logo-dtd.svg
Adam Weinger
2021-11-15 17:00:09
2022-06-20 07:56:00
PatronManager and Double the Donation Announce Matching Gifts Integration