DonorDock and Double the Donation Announce Matching Gifts Integration with 360MatchPro
The Double the Donation and DonorDock teams are excited to announce a new integration between DonorDock online donation forms and 360MatchPro by Double the Donation. Nonprofit organizations can now use the two solutions together to raise more from matching gifts by incorporating valuable company information and outreach to donors during the giving process. 
"Our team is proud to unveil a partnership that allows our nonprofit clients to drive more value with every donor interaction," says Matt Bitzegaio, Founder at DonorDock. "We hope that with this new integration, organizations will be able to start receiving more and more of the money left unclaimed each year in matching gifts."
With $4-7 billion left on the table in matching gift revenue every year, the potential value for nonprofits leveraging automation is huge – and 360MatchPro can help orgs reach that potential with easy autocomplete company search, clear and easy-to-use CTAs for donors, and automated follow up email streams to capture as many match eligible donations as possible. 
"The Double the Donation team has identified lack of donor awareness as the number one barrier for nonprofit organizations receiving what they should each year in matching gift revenue," says Adam Weinger, President at Double the Donation. "Our new integration with DonorDock is designed to close that awareness gap directly from the point of initial donation onward."

Activate in Seconds and Start Raising More from Matching Gifts!
So how do nonprofit organizations get started using the DonorDock and 360MatchPro integration? The process is simple: organizations can enter their API keys retrieved from their 360MatchPro account into their DonorDock account to get started. Once the keys are verified, the integration is live and active on DonorDock forms.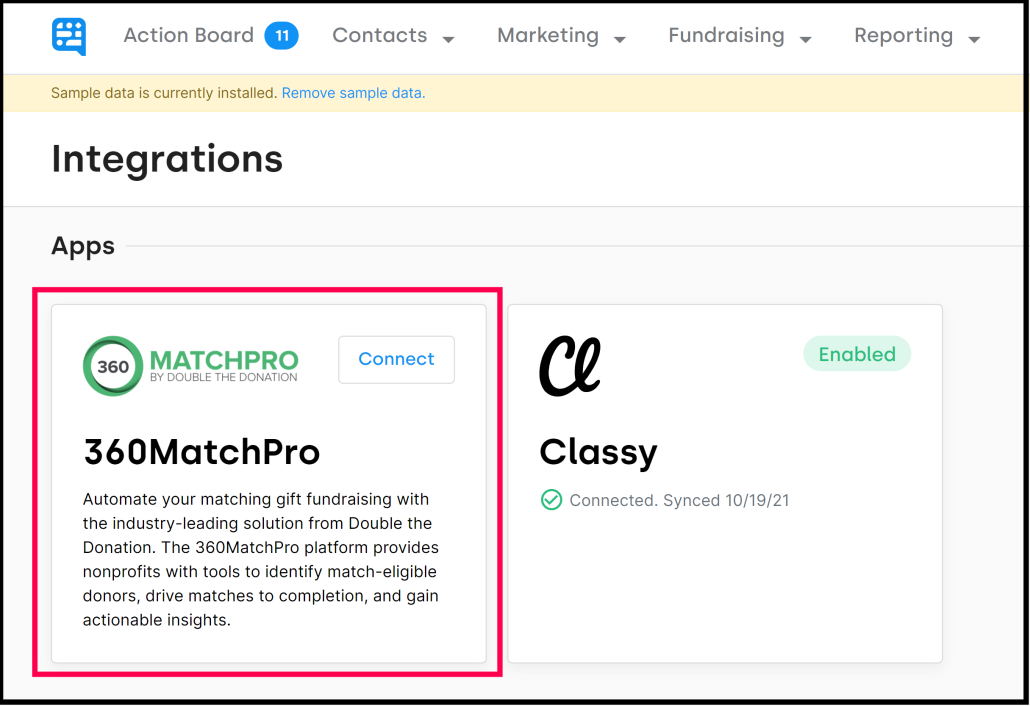 Here is where 360MatchPro can go to work. The advanced matching gift tool will start requesting employer information from donors as those donors give on a DonorDock form. When a donor selects their company name or uses a corporate email address, they'll be prompted to take the next steps toward their gift match directly on the confirmation page.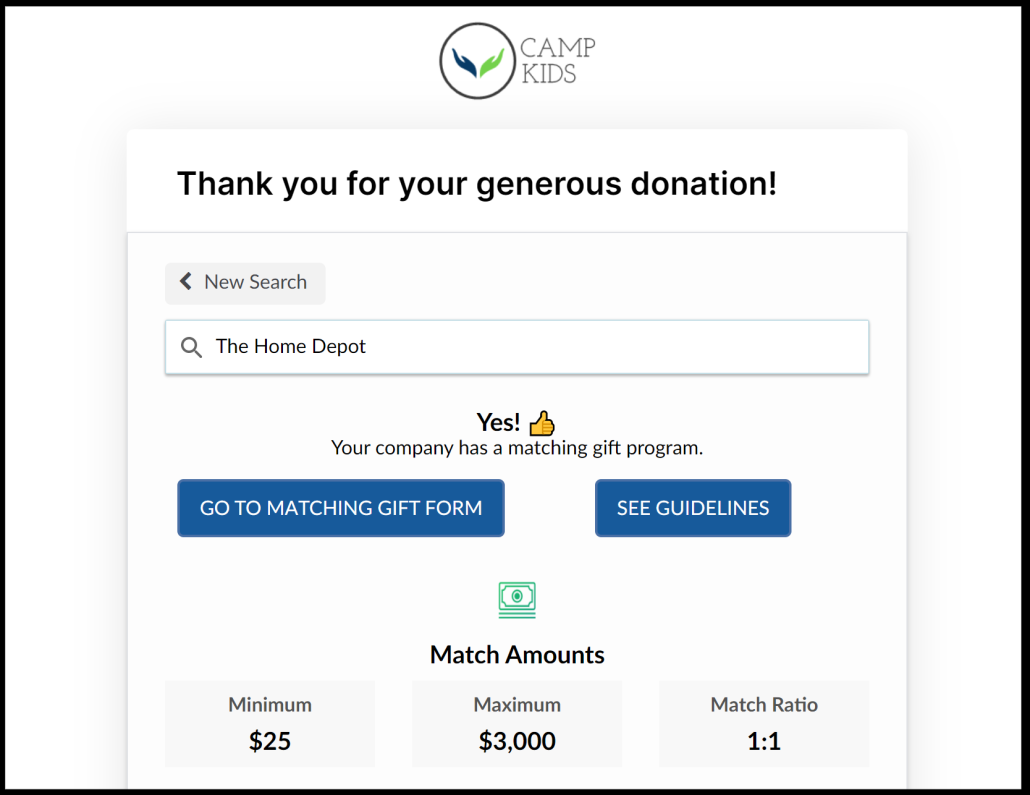 With the new integration, nonprofits can collect employer information, encourage donors to educate themselves about their own company's corporate philanthropy programs, and take the necessary steps to double their impact!
Looking to learn more? Check out our in-depth integration guide to get started!

Drive More Matching Gifts to Completion with 360MatchPro!
Double the Donation and DonorDock have partnered so nonprofits can take everything they love about their easy-to-use fundraising platform and boost their revenue with powerful matching gift automation software. 
Some additional features organizations can expect to leverage:
Identify more matching gift revenue opportunities:

360MatchPro enables you to automatically collect matching gift eligibility from donors using email domains, within donation forms, on confirmation screens, or by email. The more matching gift opportunities 360MatchPro discovers and shares with donors, the more matching gift requests your donors will successfully submit.

Drive more matches to completion, from form submission to corporate payment:

Direct donors immediately to their matching gift forms after the donation process is complete. Then, provide the right information to the right donors at the right time with custom emails based on match eligibility. Target follow-ups drive more completed submissions than ever before, bringing exponentially more matching gift checks from companies through your door.

Reallocate your time from routine follow-up to your top opportunities:

Your time is valuable, so why spend it chasing small dollar-value matching gifts? Let 360MatchPro automate your matching gift outreach while flagging your highest-value opportunities, allowing your team to personalize follow-ups to the most valuable match-eligible donations. Rest easy knowing that 360MatchPro can handle the rest.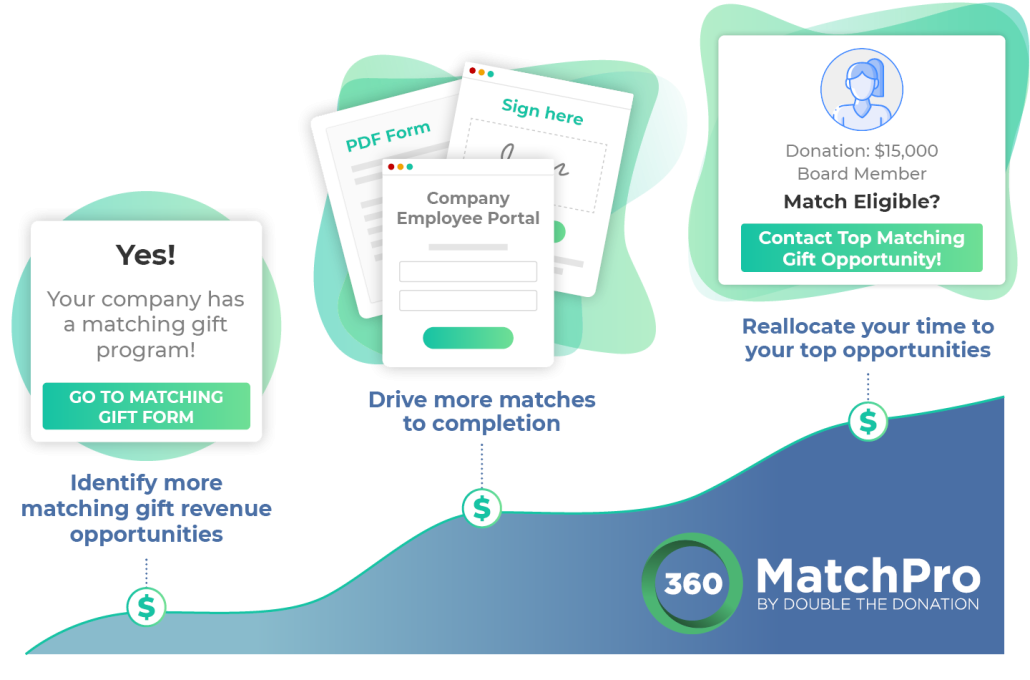 Ready to start raising more with matching gifts? Schedule a personalized demo today. 
---
About DonorDock: DonorDock believes that software should make your life easier, not more frustrating. DonorDock makes it easier for nonprofits to track and grow their contacts, fundraising and marketing. DonorDock manages contacts, donors, emails, donations, memberships, volunteers, tasks and more. DonorDock was voted "Easiest to Use" Nonprofit Software and "Best Return on Investment" by G2, the leading software review website. DonorDock was founded in 2017 by people passionate about making nonprofit software faster, more helpful, and more affordable for small to medium sized nonprofits. Learn more at DonorDock.com.
About Double the Donation: Automate your matching gift fundraising with the industry-leading solution from Double the Donation. The 360MatchPro platform provides nonprofits with tools to identify match-eligible donors, drive matches to completion, and gain actionable insights. 360MatchPro integrates directly into donation forms, CRMs, social fundraising software, and other nonprofit technology solutions to capture employment information and follow up appropriately with donors about matching gifts.
https://doublethedonation.com/wp-content/uploads/2022/06/Double-the-Donation-DonorDock-feature.png
290
775
Adam Weinger
https://doublethedonation.com/wp-content/uploads/2022/03/logo-dtd.svg
Adam Weinger
2021-11-09 17:00:43
2022-06-20 07:56:00
DonorDock and Double the Donation Announce Matching Gifts Integration with 360MatchPro