Double the Donation and FlexFormz Launch Advanced Matching Gift Automation with 360MatchPro
Double the Donation and FlexFormz are thrilled to debut their technical integration partnership. This duo has come together to provide an automated matching gift solution to their nonprofit clients – helping these organizations target the 26 million individuals who qualify for employer matching gift programs.
"Employer matching gifts can make a real impact on nonprofits, and we wanted to provide our clients with the best possible avenue to capture these funds," said Rebecca Vanderwerf, President of FlexFormz. "This new integration makes matching gift fundraising simple, and we can't wait to roll out this feature for our users."
The solution, 360MatchPro, is designed to identify match-eligible donors and then drive their matching gift requests to completion. Through an automated outreach process, fundraisers everywhere can increase contributions and fuel donor engagement without any unnecessary effort.
"We were instantly impressed with the FlexFormz donation pages, and we are so excited to add matching gift automation to this platform's list of value adds," said Adam Weinger, President of Double the Donation. "We're confident that our combined solutions could make a lasting, positive impact on our fundraising clients."
While matching gift programs are widespread, a lack of donor awareness leads to $4-7 billion in matching gift revenue going unclaimed each year. This FlexFormz and Double the Donation integration is designed to close the donor awareness gap and ensure matching gift funds don't go unclaimed, but rather make a positive impact on the nonprofit organizations for which they were created.

Activate in Seconds and Start Raising More from Matching Gifts!
360MatchPro integrates seamlessly with FlexFormz so that you can get up and running with just a couple of clicks. Simply navigate to your FlexFormz dashboard to download the Double the Donation add-on, then install the plugin to your WordPress website.
Next, add the 360MatchPro search field to your desired donation pages. This streamlined field allows donors to enter the name of their employer and discover their employer gift matching eligibility. Once the donor begins typing, the search bar then gets to work, scanning Double the Donation's extensive matching gift database to map donors to their matching gift request form following the donation process.
By adding this functionality to your donation pages, you can begin identifying match-eligible donors during the contribution process – to then drive them to submit their employer matching gift requests!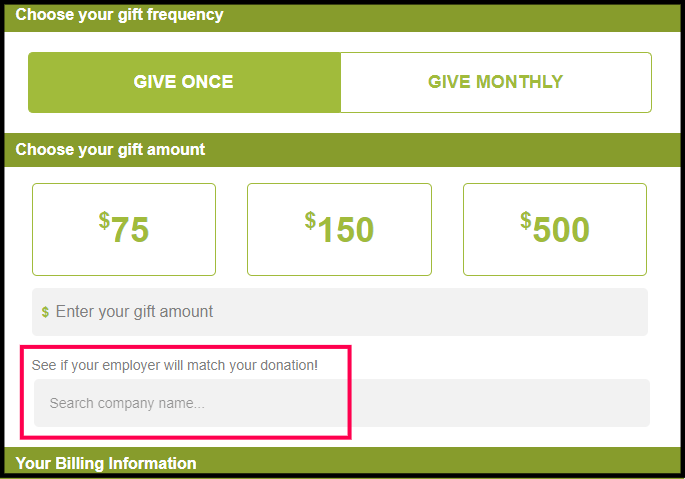 After the donation process, donors can access their employer matching gift request forms both from the confirmation page and through customizable automated emails. These messages provide the donors' company-specific matching gift request pages – meaning they can begin the matching gift process with just one click!
Looking to learn more? Check out our in-depth integration guide to get started!

Drive More Matching Gifts to Completion with 360MatchPro!
The 360MatchPro and FlexFormz integration was designed to help your nonprofit drive revenue without requiring any unnecessary work from your team.
Using this robust solution, your organization will:
Identify more matching gift revenue opportunities: 360MatchPro enables you to automatically collect matching gift eligibility from donors using email domains, within donation forms, on confirmation screens, or by email. The more matching gift opportunities 360MatchPro discovers and shares with donors, the more matching gift requests your donors will successfully submit.
Drive more matches to completion, from form submission to corporate payment: Direct donors immediately to their matching gift forms after the donation process is complete. Then, provide the right information to the right donors at the right time with custom emails based on match eligibility. Target follow-ups drive more completed submissions than ever before, bringing exponentially more matching gift checks from companies through your door.
Reallocate your time from routine follow-up to your top opportunities: Your time is valuable, so why spend it chasing small dollar-value matching gifts? Let 360MatchPro automate your matching gift outreach while flagging your highest-value opportunities, allowing your team to personalize follow-ups to the most valuable match-eligible donations. Rest easy knowing that 360MatchPro can handle the rest.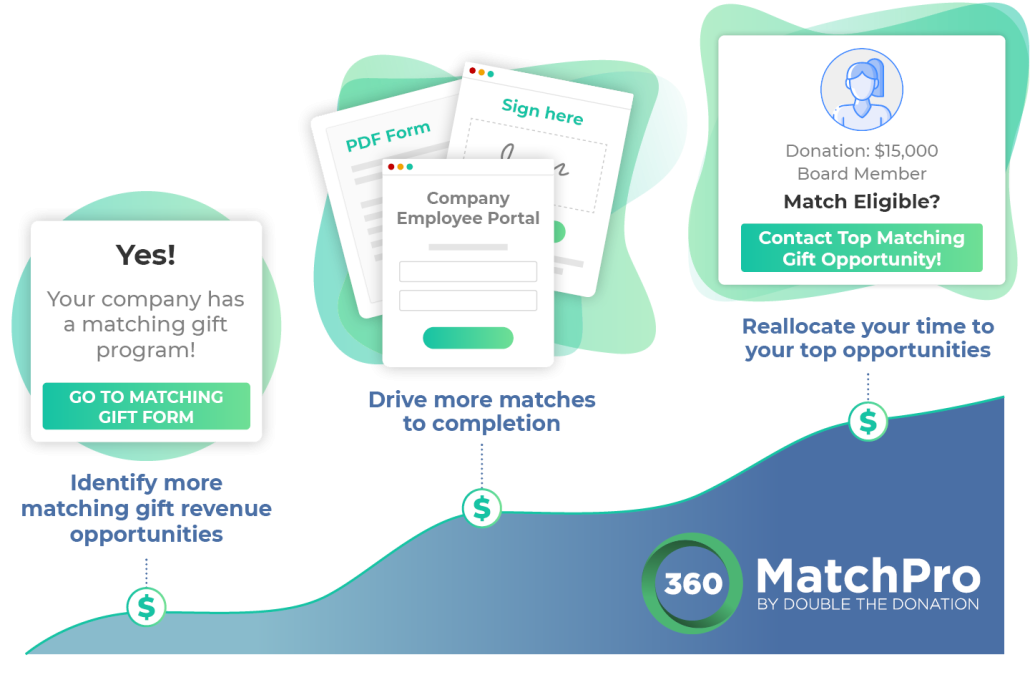 Ready to see it in action? Schedule a personalize demo to learn how the FlexFormz and 360MatchPro integration can drive revenue for your nonprofit.
---
About FlexFormz: Easily create innovative contextual and full-page donation forms designed to increase conversion rates. FlexFormz make it easy – even for non-technical users – to create a new form or campaign via simplified WordPress dashboard tools. FlexFormz specializes in effective giving forms that donors love to use, reducing form abandonment. FlexFormz integrates with multiple CRM databases to provide clean, actionable data and powerful real-time reporting. FlexFormz has no setup fees, no monthly fees, and no minimum usage requirements. To learn more, check out their website at: https://flexformz.com/
About Double the Donation: Automate your matching gift fundraising with the industry-leading solution from Double the Donation. The 360MatchPro platform provides nonprofits with tools to identify match-eligible donors, drive matches to completion, and gain actionable insights. 360MatchPro integrates directly into donation forms, CRMs, social fundraising software, and other nonprofit technology solutions to capture employment information and follow up appropriately with donors about matching gifts. Learn more by requesting a demo at: https://360matchpro.com/demo-request/ 
https://doublethedonation.com/wp-content/uploads/2022/06/Double-the-Donation-FlexFormz-feature.png
290
775
Adam Weinger
https://doublethedonation.com/wp-content/uploads/2022/03/logo-dtd.svg
Adam Weinger
2021-06-15 15:19:26
2023-01-15 17:05:17
Double the Donation and FlexFormz Launch Advanced Matching Gift Automation with 360MatchPro