CSI Debuts Advanced Matching Gift Functionality for iMIS with 360MatchPro by Double the Donation
Double the Donation is excited to debut its latest partnership with Computer System Innovations (CSI), a leading iMIS authorized solution provider supporting organizations in the not-for-profit marketspace. Through this partnership, CSI has integrated iMIS and CSiDonate with the industry leading matching gift solution, 360MatchPro by Double the Donation.
"Our team was eager to integrate CSiDonate with the leading matching gift solution, and 360MatchPro by Double the Donation was the obvious choice," said Douglas Morris, Founder and CPO of CSI. "Their hassle-free software makes it easy for fundraisers to drive revenue, and we knew it could create a positive impact on our clients."
Using CSiDonate and 360MatchPro, nonprofits and educational institutions can easily harness employer matching gift funds using an automated, easy-to-navigate system. This seamless solution works to identify match-eligible donors, drive matching gift donations and track valuable donor metrics.
"CSI has provided innovative software for years, and we are so excited for our integration to be added to their available functionality," said Adam Weinger, President of Double the Donation. "Many fundraisers miss out on matching gift revenue, and our solution is designed to close that revenue gap and create more fundraising opportunities for iMIS users."
With this integrated solution, fundraisers everywhere can use CSI and Double the Donation to target the 26 million individuals who work for companies with employer matching gift programs, leading to real fundraising impact without unnecessary effort.

Activate in Seconds and Start Raising More from Matching Gifts!
360MatchPro integrates seamlessly within the CSI platform so that your organization can begin driving matching gift revenue in no time. To get started, simply navigate to your system settings and select the option to enable the Double the Donation integration. You will then be able to enter your 360MatchPro credentials.

Once you've completed the steps above, you can add the 360MatchPro search tool to your desired donation forms with just a few clicks. This allows donors to identify themselves as match-eligible during the donation process using the 360MatchPro streamlined search field. This smart search bar recognizes spelling errors, parent companies, and subsidiaries so that donors can identify their employer without running into roadblocks.
After the donation process, donors can access a direct link to their employer's matching gift submission form on the confirmation screen – meaning they can kick off the matching gift process with just one click! This post-transaction message coupled with automated email follow-ups ensure that your donors have all the resources they need to start doubling donations.
These simple steps are all it takes for your organization to begin leveraging the gift-matching power of 360MatchPro.
Looking to learn more? Check out our in-depth integration guide to get started!

Drive More Matching Gifts to Completion with 360MatchPro!
360MatchPro and CSI work together to bring fundraisers the best matching gift fundraising solution. Using 360MatchPro's advanced technology, your team can:
Identify more matching gift revenue opportunities: 360MatchPro enables you to automatically collect matching gift eligibility from donors using email domains, within donation forms, on confirmation screens, or by email. The more matching gift opportunities 360MatchPro discovers and shares with donors, the more matching gift requests your donors will successfully submit.
Drive more matches to completion, from form submission to corporate payment: Direct donors immediately to their matching gift forms after the donation process is complete. Then, provide the right information to the right donors at the right time with custom emails based on match eligibility. Target follow-ups drive more completed submissions than ever before, bringing exponentially more matching gift checks from companies through your door.
Reallocate your time from routine follow-up to your top opportunities: Your time is valuable, so why spend it chasing small dollar-value matching gifts? Let 360MatchPro automate your matching gift outreach while flagging your highest-value opportunities, allowing your team to personalize follow-ups to the most valuable match-eligible donations. Rest easy knowing that 360MatchPro can handle the rest.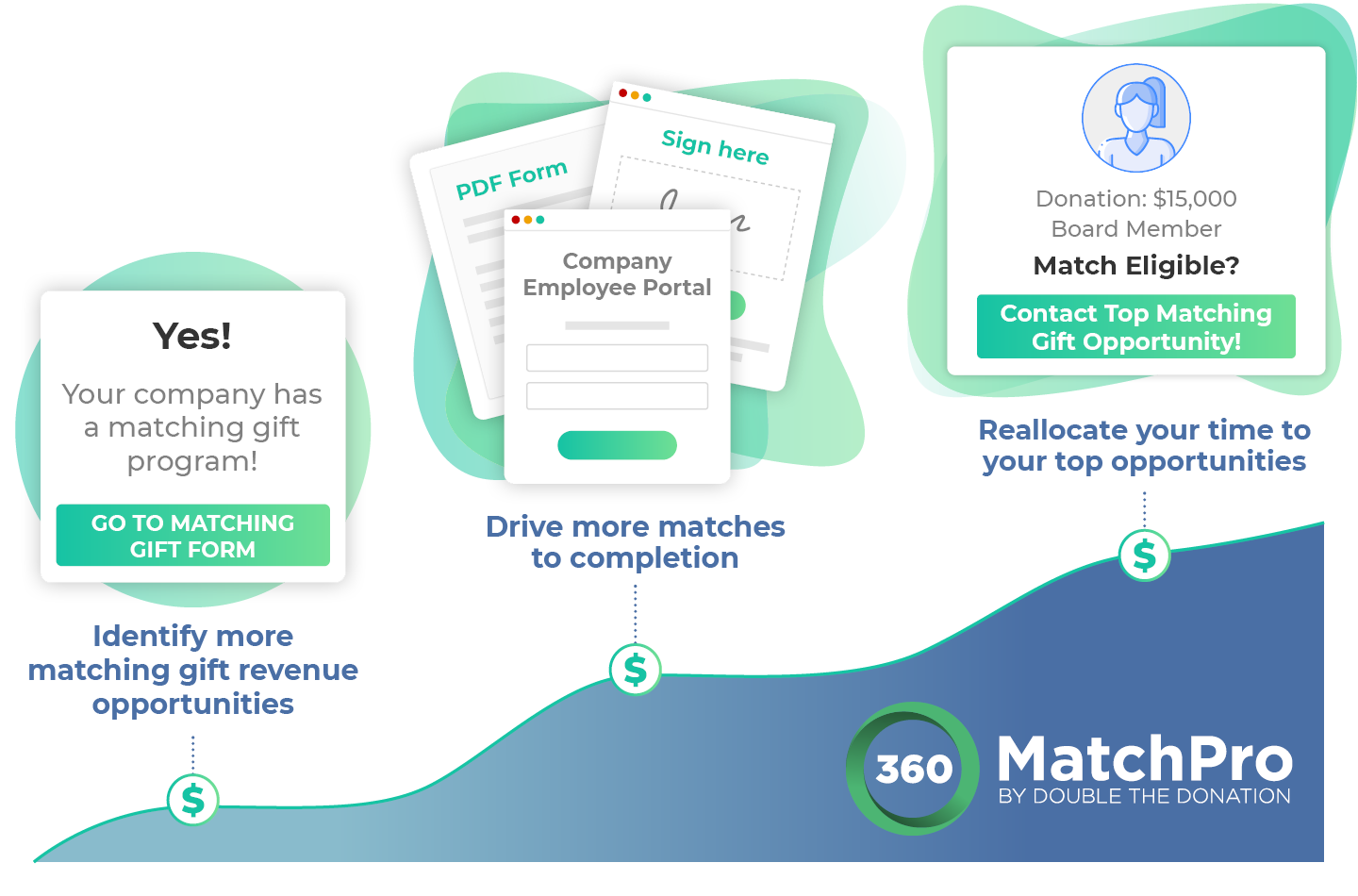 Ready to get started? Schedule a personalized demo to learn how 360MatchPro will help you drive matching gift revenue.
---
About CSI: Since 1991, CSI has worked to provide innovative, custom products to its constituents. They specialize in making, selling, and implementing sustainable software solutions for the not-for-profit marketspace. Using certified technology, their team can provide fundraisers of all types with the resources they need to advance their missions with navigable technology. To learn more about CSI and their solutions, check out: https://www.csiinc.com/
About Double the Donation: Automate your matching gift fundraising with the industry-leading solution from Double the Donation. The 360MatchPro platform provides nonprofits with tools to identify match-eligible donors, drive matches to completion, and gain actionable insights. 360MatchPro integrates directly into donation forms, CRMs, social fundraising software, and other nonprofit technology solutions to capture employment information and follow up appropriately with donors about matching gifts. To learn more about Double the Donation, visit https://doublethedonation.com and request a demo at https://360matchpro.com/demo-request/.
https://doublethedonation.com/wp-content/uploads/2022/06/Double-the-Donation-CSI-feature-1.png
290
775
Adam Weinger
https://doublethedonation.com/wp-content/uploads/2022/03/logo-dtd.svg
Adam Weinger
2021-07-06 15:47:41
2023-01-15 17:05:55
CSI Debuts Advanced Matching Gift Functionality for iMIS with 360MatchPro by Double the Donation